Chess pie is an old Southern recipe, so you know it's going to be good! You can't go through the holiday season without making this old fashioned chess pie at least once, but I bet you'll want to make it again and again!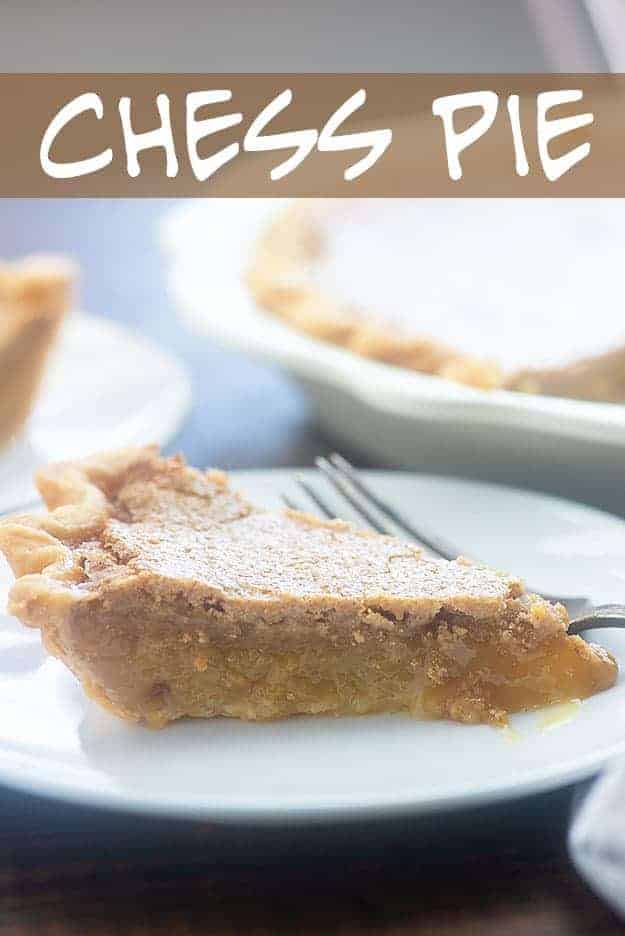 I grew up in central Illinois, but my grandma and her family grew up about 5 hours south of us in southern Missouri. They were "from the south." I mean, they met all the criteria: all of the sisters cooked AMAZING southern food and they all had the sweetest southern accents.
Sure, it's maybe not as 'south' as some people, but it counts. The food that came out of my grandma's kitchen proves it. 😉

Anyway, have you ever had Chess pie? It's a southern classic and oh man. It's so good.
What is chess pie?
Southern chess pie is a custard based pie made with butter, eggs, cornmeal, and loads of sugar. I think it tastes a bit like a custard-y sugar cookie pie.
If you have a sweet tooth, you will probably love this rich pie.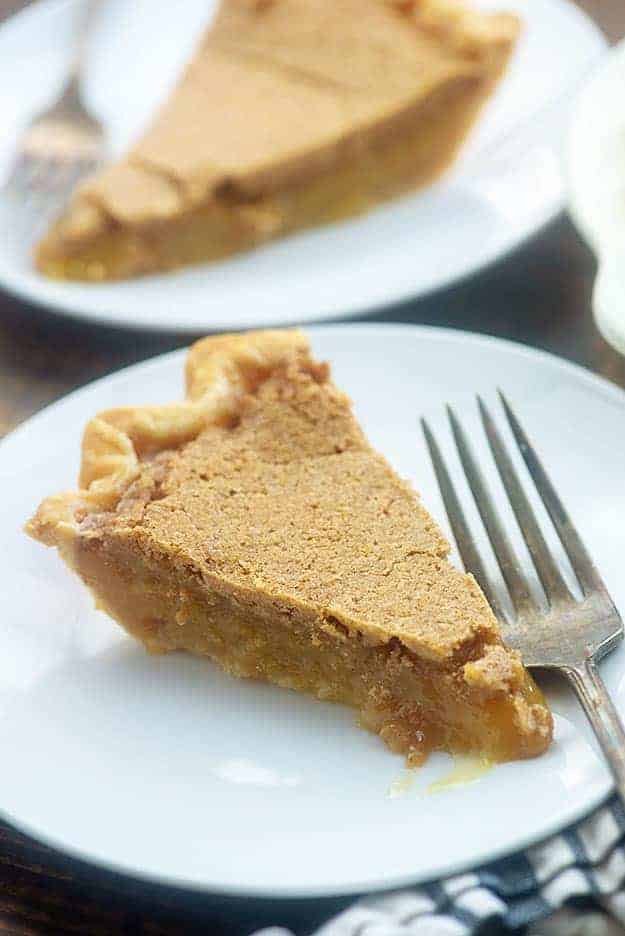 Chess Pie Recipe:
This post contains affiliate links.
I'm going to walk you through how to make this easy chess pie real quick, but for the full recipe with exact measurements and instructions, scroll on down to the recipe card.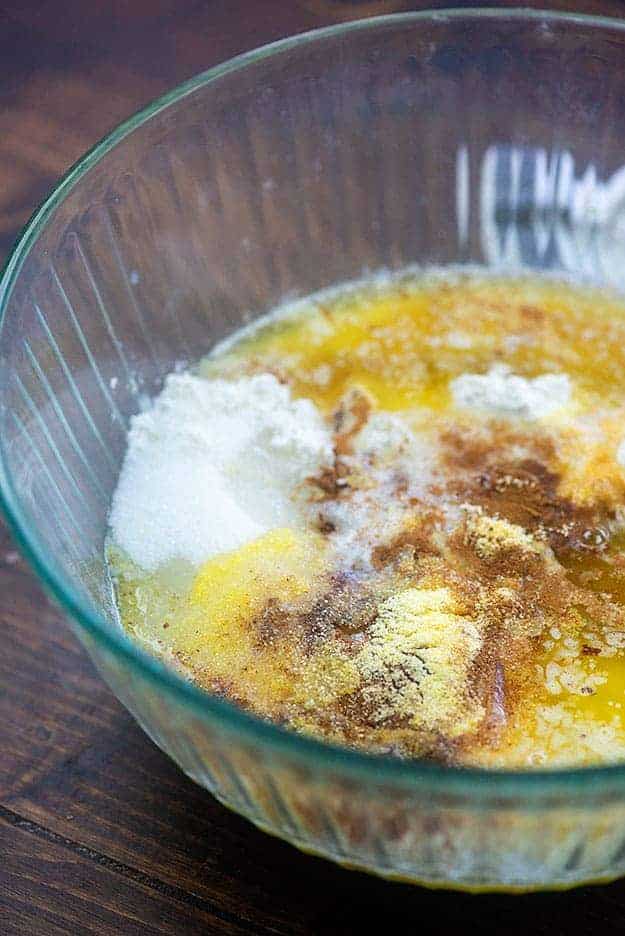 To start, you'll need sugar, cinnamon, cornmeal, flour, and salt in a mixing bowl.
Dump in some melted butter, beaten eggs, milk, vinegar, and vanilla.
Whisk that mixture up until it's well combined and creamy.
That's it for the filling, you guys. Could this pie be any easier??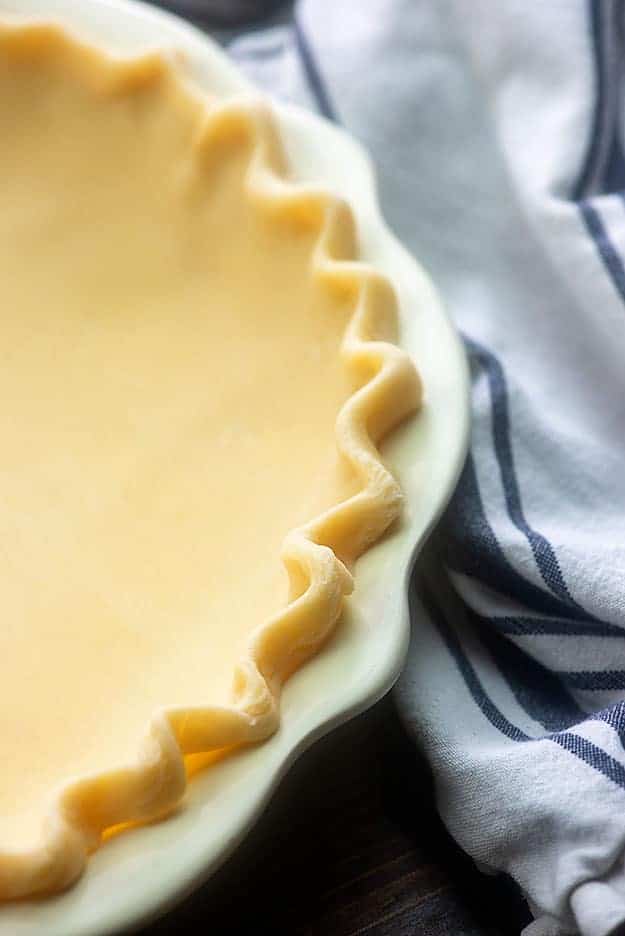 Grab your pie crust and place it in a deep dish pie plate.
You can use a homemade crust or store bought. I'll always prefer homemade, but you do you.
Crimp the edges of your crust and pour the filling in carefully.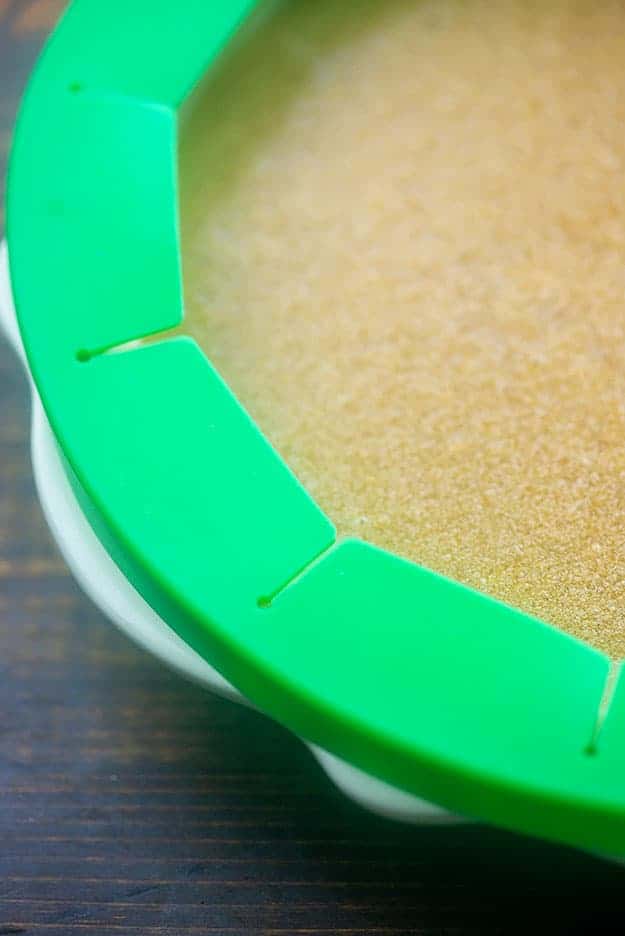 I like to use a pie shield to prevent my crust from burning. You can use foil, but I always find it tricky to peel it off of a hot pie plate. These pie shields are so simple and they take up almost no space in the kitchen. I add them on before baking and remove about 15 minutes before the pie is finished.
Transfer your pie to a hot oven and bake for about an hour or until the pie is cooked through.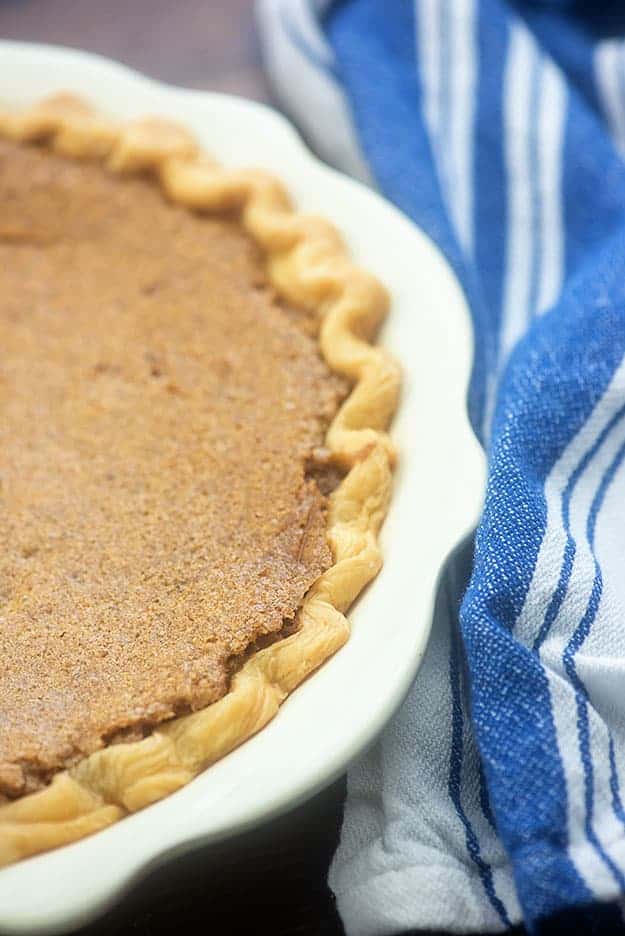 How to tell when chess pie is done:
There are two easy ways to check for doneness in a custard pie.
Insert a butter knife about an inch from the edge of the pie crust. If it comes out clean, your pie is done.
Alternately, shake the pie plate gently. The center of the pie should jiggle slightly when it's done.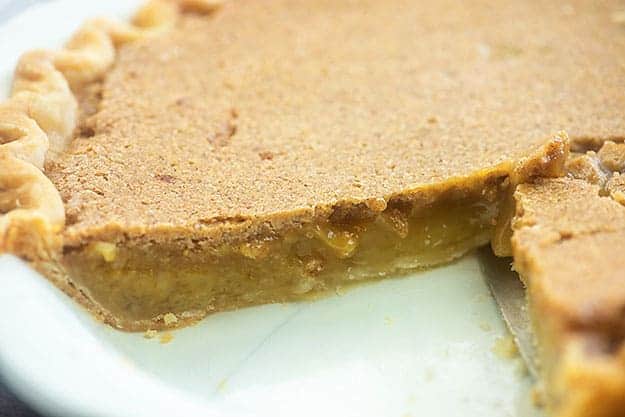 More pie recipes you'll love:
Buttermilk Pie: This one is super similar to chess pie and I bet you'll love them both.
Ginger Bourbon Peach Pie: Fresh or frozen peaches work well here.
Brown Sugar Pie: Brown sugar is life and I've turned it into a pie!
Chocolate Pecan Pie: A classic pie with a chocolate twist.
Strawberry Rhubarb Pie: Tart rhubarb and sweet berries. So good!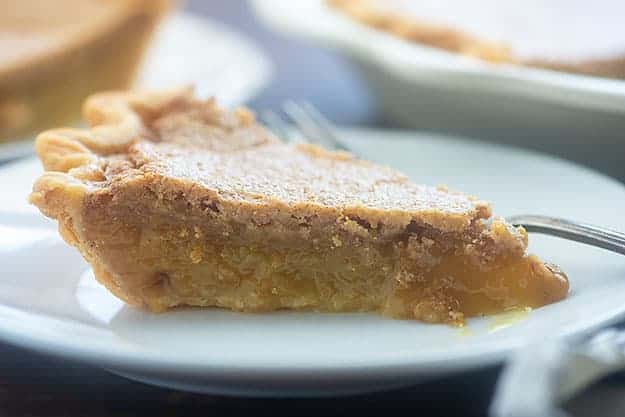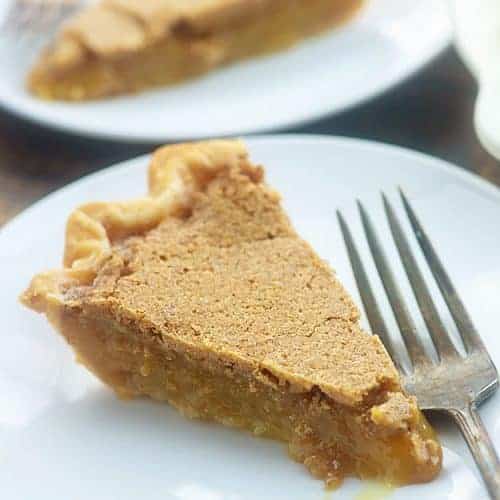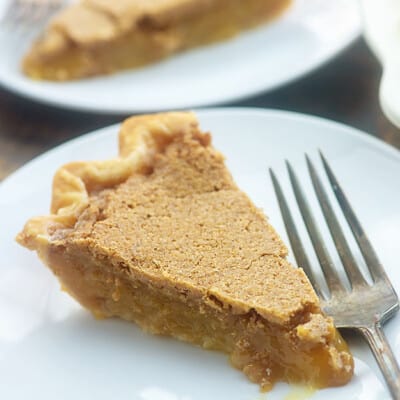 Chess Pie
This southern chess pie is one of the easiest pies to make with every day ingredients. Use a store bough crust to make it extra easy or follow along with my perfect homemade crust.
Prep15 minutes
Cook55 minutes
Chill Time3 hours
Total1 hour 10 minutes
Ingredients
For the crust
1-1/2 cup cold butter cubed
3 cups flour
1 teaspoon salt
Pinch of white sugar
1 large egg beaten
5 tablespoons cold water
1 tablespoon vinegar
For the filling
2 cups sugar
2 tablespoons cornmeal
1 tablespoon all-purpose flour
1 teaspoon cinnamon
1/4 teaspoon salt
4 large eggs lightly beaten
1/2 cup melted butter
1/4 cup milk
1 tablespoon white vinegar
1 teaspoon vanilla
Instructions
To make the pie crust
Add the butter, flour, salt, and sugar to a large bowl and work it together with a pastry cutter until you have coarse crumbs.

Pour in the egg, water, and vinegar and stir until just combined.

Separate into 2 balls of dough and place in freezer bags.Place each bag in the freezer. You'll only need one ball of dough for this pie, the second should keep in the freezer for 6 months or more.

Remove one ball of dough after 20 minutes in the freezer and roll it out on a floured surface into a 10 inch circle.

Place the dough in the pie pan and tuck the edges under to make a neat, thick crust around the edges. Crimp the edges with your fingers or a fork.Place in the refrigerator until ready to fill.
To make the filling
Preheat oven to 350 degrees.

Add the sugar, cornmeal, flour, cinnamon, and salt to a mixing bowl and stir to combined.

Add the beaten eggs, butter, milk, vinegar, and vanilla to the bowl and whisk well to combine.

Carefully pour the filling into the prepared pie crust.

Bake for 55 minutes or until the center is just slightly jiggly or a tester inserted one inch from the side comes out clean.

Cool for 3 hours before cutting and serving.
Nutrition Information:
Serving: 1slice| Calories: 632kcal (32%)| Carbohydrates: 89g (30%)| Protein: 9g (18%)| Fat: 26g (40%)| Saturated Fat: 15g (94%)| Cholesterol: 178mg (59%)| Sodium: 615mg (27%)| Potassium: 111mg (3%)| Fiber: 1g (4%)| Sugar: 50g (56%)| Vitamin A: 890IU (18%)| Calcium: 42mg (4%)| Iron: 2.9mg (16%)