It's Fall. Because I say so. Because I want it to be. Because my kids look cute in their new Fall clothes. Because there are leaves in my front yard. Because I baked a pumpkin pie yesterday.
See? Fall.
I mean, let's be real – for me, a food blogger who creates recipes for a living, it's been Fall for about 3 months. I've been baking with pumpkin since June. 😉 Gotta get ahead of the game, friends!

But, I'm still going at it, because I LOVE pumpkin and this pumpkin pie is a total winner. It's not your usual pumpkin pie – it gets topped off with this crunchy walnut topping that is just the perfect contrast to the creamy pumpkin custard.
If you're feeling a little adventurous and want to branch out from the recipe on the back of the can of pumpkin, I vote that you give this pie a try! It's really so good!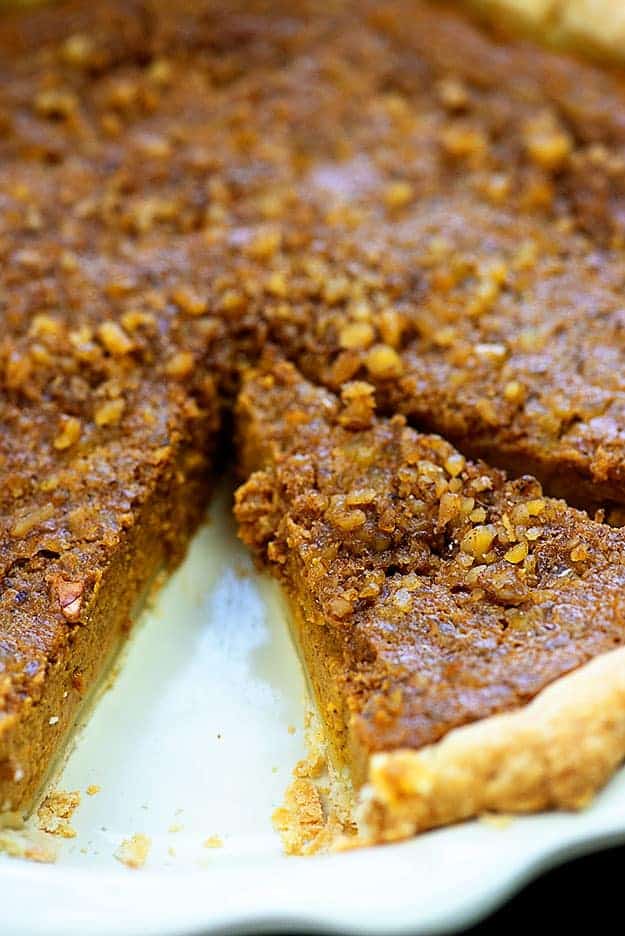 How to make pumpkin pie filling:
The filling in this pumpkin pie recipe is beyond simple. You'll start by whisking together pumpkin, brown sugar, heavy cream, eggs, and pumpkin pie spice.
Once it's smooth and creamy, pour your pumpkin pie filling into a pie plate that's lined with a crust.
You can use store-bought or you can use homemade. The crust from my strawberry rhubarb pie is actual perfection. Highly recommend you go that route, but I won't judge if you're short on time and want to start with refrigerated pie crust.
Anyway, pour that filling into your pie crust and pop the pie in the oven until the filling is just about set.
Time for the topping!
Walnut topping for pumpkin pie:
This topping is super simple, but it adds a nice little crunch to contrast with the sweet, creamy pie filling.
You'll want to add walnuts, brown sugar, cinnamon, and salt to a blender or food processor and pulse until you have fine crumbs.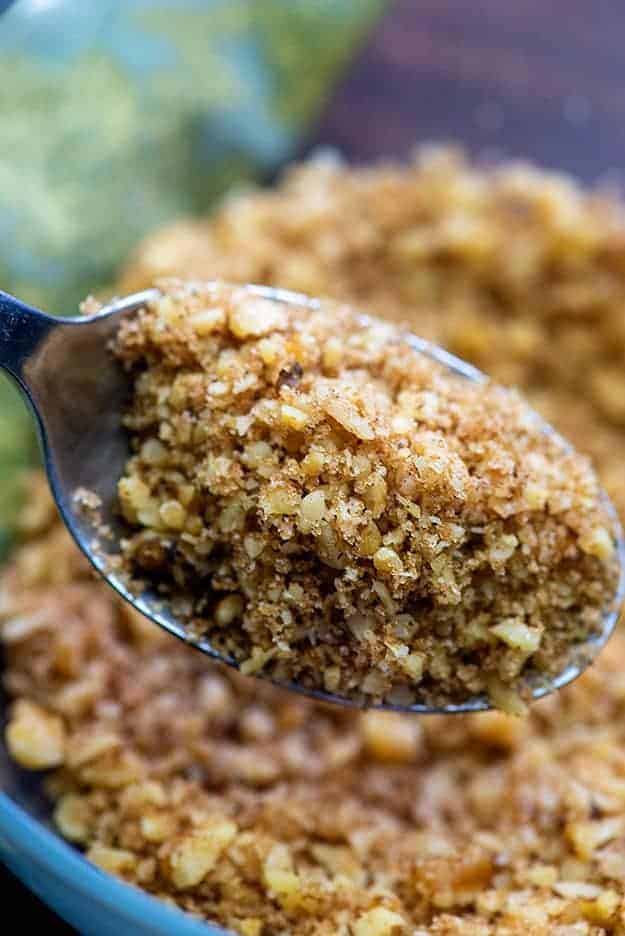 Sprinkle that right over the pie filling and pop it all back in the oven.
When the pie is set, remove from the oven to cool to room temperature before popping it in the refrigerator.
We prefer our pumpkin pie to be good and cold, so we don't dig in until it's had a few hours in the fridge.
As always, a dollop of whipped cream is a must for pumpkin pie!
More pie recipes:
Buttermilk Pie: Sweet and simple – a Southern classic.
Bourbon Peach Pie: We make this one every summer.
Mini S'mores Pie: These are easy to customize for every holiday with a few colored sprinkles.
Brown Sugar Pie: Just the name makes me want to dig in!
Pumpkin Pie with Walnut Topping
This creamy pumpkin pie has a sweet and crunchy topping that makes it stand out a bit from other pumpkin pies!
Prep20 minutes
Cook1 hour
Ingredients
Walnut Topping
1/2 cup walnut pieces
2 tablespoons brown sugar
1/2 teaspoon ground cinnamon
Instructions
For the filling:

Beat the pumpkin, cream, brown sugar, eggs, pumpkin pie spice, and salt until smooth and creamy.

Arrange the pie crust in a 9-inch pie plate. Crimp the edges.

Pour the filling carefully into the pie plate.

Bake at 350 degrees for 30 - 45 minutes or until filling is nearly set. If the crust starts to brown, tent with foil.

For the topping:

While the pie is baking, place all ingredients in a blender and pulse until finely chopped.

Remove the pie from the oven and sprinkle topping evenly over pie.

Reduce oven to 325 and bake for 15 minutes longer or until filling is completely set.

Cool completely before serving.
Tips & Notes:
Top with whipped cream, as desired.
Nutrition Information:
Serving: 1slice| Calories: 318kcal (16%)| Carbohydrates: 36g (12%)| Protein: 4g (8%)| Fat: 18g (28%)| Saturated Fat: 8g (50%)| Cholesterol: 75mg (25%)| Sodium: 219mg (10%)| Potassium: 159mg (5%)| Fiber: 2g (8%)| Sugar: 25g (28%)| Vitamin A: 4224IU (84%)| Vitamin C: 1mg (1%)| Calcium: 61mg (6%)| Iron: 1mg (6%)
This recipe was lightly adapted from Bon Appétit, November 2009
This recipe was originally published in September 2010. It's been updated with new photos and video in September 2019. Original photo below: