August 21, 2018
Mini Christmas S'mores Pie
This s'mores pie recipe makes a bunch of miniature pies all dressed up for the holidays! Your guests will love being served their own individual pies. Big thanks to DairyPure for sponsoring this recipe.
It's here. December.
That magical time of year when the lights twinkle and the snow dusts the ground and the kids are on their best behavior for St. Nick and, oh right, mom and dad are losing their minds in the hustle and bustle of holiday prep.
Ahhh, so magical.
This year, I'm working with DairyPure to bring you a simple 5 ingredient recipe that will impress your family while still allowing you plenty of time to spend creating memories. 'Tis the season, after all.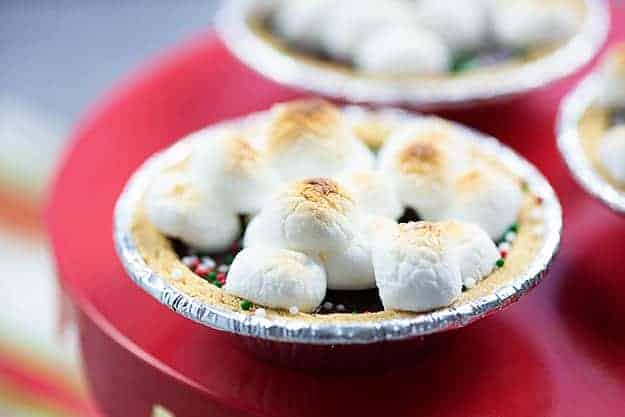 Also, did I mention s'mores? In December? Because I'm making that a thing now. Here in Illinois, it's definitely too cold to be sitting outside around a campfire this time of year, so I thought it best to bring the s'mores love indoors with this simple 5 ingredient s'mores pie recipe.
I know that people don't normally think holidays when they hear the word s'mores, but if food blogging has taught me anything, it's that putting red and green sprinkles on something instantly makes it holiday ready. Seriously. Try it. Instant festivity.
These s'mores pies are miniature, because who doesn't love having an entire pie to themselves? You could totally make one large pie if you wanted too, though.
You'll start with the mini graham cracker crusts that you can find in most any grocery store. To that, you'll add your seriously amazing filling. It's not pudding, folks. It's chocolate ganache.
I just went for it, you know?
Anyway, chocolate ganache is such a simple but fancy way to dress up a recipe, so you definitely need this one in your repertoire. It's just warm heavy whipping cream poured over chocolate (chopped chocolate or chocolate chips both work – as dark as you like!). You'll stir until the chocolate melts and the mixture is smooth and creamy.
Pour the filling into your crust and pop it all in the fridge for an hour or two. Easy peasy.
Right before serving, you'll want to top the pies with a handful of mini marshmallows and pop them under the broiler for a couple of minutes to toast the 'mallows.
Once your marshmallows are all toasty and amazing, dump on the sprinkles. Instant Christmas pie!!
DairyPure is all about helping you simplify your holidays this season with easy 5-ingredient or less recipes so you can spend more time creating #SimplyMadeMemories. Tell me how you plan to use DairyPure to spend less time on complicated recipes this season and visit bit.ly/SimplyMadeBuns to see even more simple holiday recipes.
Visit http://bit.ly/SimplyMadeBuns for more recipe ideas and savings! (Note: coupons not valid in Maine and North Dakota)
Mini Holiday S'mores Pie
Servings: 6 servings
Course: Dessert
Cuisine: American
Keyword: easy dessert recipes, holiday recipes, no bake dessert recipes
Calories: 539 kcal
This s'mores pie recipe makes a bunch of miniature pies all dressed up for the holidays! Your guests will love being served their own individual pies.

Ingredients
6 miniature graham cracker crusts
3/4 cup DairyPure Heavy Whipping Cream
11 ounces milk chocolate chips
1 cup miniature marshmallows
1 tablespoon red and green sprinkles
Instructions
Heat the whipping cream in the microwave for 1 minute 30 seconds and stir well. Cream should be hot to the touch, but not boiling.

Add the chocolate chips to a small mixing bowl and pour the hot cream over the chocolate. Stir well until the chocolate has melted and the mixture is smooth and creamy.

Pour the mixture into the miniature pie crusts filling each one to the top.

Place the pies in the refrigerator for 1 hour to firm up.

Remove the pies from the refrigerator and split the marshmallows evenly between the tops of the pies. Place under the broiler for 2 minutes to toast the marshmallows, keeping a close eye so as not to burn them. Alternately, use a kitchen torch to toast the marshmallows.

Sprinkle the tops with red and green sprinkles and serve immediately.
Nutrition Facts
Mini Holiday S'mores Pie
Amount Per Serving (1 pie)
Calories 539 Calories from Fat 270
% Daily Value*
Fat 30g46%
Saturated Fat 15g94%
Cholesterol 48mg16%
Sodium 186mg8%
Potassium 54mg2%
Carbohydrates 62g21%
Fiber 1g4%
Sugar 43g48%
Protein 4g8%
Vitamin A 555IU11%
Vitamin C 0.5mg1%
Calcium 88mg9%
Iron 1.4mg8%
* Percent Daily Values are based on a 2000 calorie diet.
Nutrition Disclaimer: All information presented on this site is intended for informational purposes only. I am not a certified nutritionist and any nutritional information shared on bunsinmyoven.com should only be used as a general guideline.