These mini cherry pies make excellent Valentine's Day treats, with the little heart on top, but they taste great all year round! With only four simple ingredients these are so simple to make and couldn't be any cuter!
True story: The first time I ever tasted cherry pie, I was in a pie eating contest.
I don't know what I was thinking, but in 7th grade the school had a pie eating contest for some unknown reason and I, one of the shyest kids in school, threw my name in the hat. Whyyyyyy? It was the most out of character thing I've ever done, honestly.
When my name was picked I very nearly died. It was me and 3 dudes, hands tied behind our backs, face first in cherry pie. I came in 3rd place.
Anyway, that happened.
But now I love cherry pie! That sweet tart filling, the flaky crust…what's not to love? Aside from the middle school flashbacks, that is.
And when you make your cherry pie in a muffin tin topped with little hearts made of pie dough? So darn cute and just about the easiest thing ever!
I could definitely win a pie eating contest with these babies.
How to Make:
Crust: On a floured surface, roll out your pie crust and use a three inch diameter cookie cutter to cut out circles of pie dough.
Next use a small heart shaped cookie cutter on the remaining dough to make the top layer of the crust.
You'll need 12 circles and 12 hearts. You'll need to re-roll the dough to get there.
Filling: When you've finished lining the muffin tin with the circular cuts of dough, begin spooning the cherry pie filling (about one large spoonful size) onto the dough. When you've finished adding the filling, top each mini pie with one of the hearts.
Egg Wash: In a small bowl add a single egg and a splash of water. Mix together until well combined and then use a brush to coat the heart shaped dough layer with the egg wash. When each pie has been brushed with the egg, sprinkle the tops with sugar. We use a coarse sugar for this, like Sugar in the Raw. It makes for a pretty topping with a little crunch.
Bake: Place the muffin tin cherry pies in the oven and bake until the crust is golden brown. Allow to cool for a few minutes before serving.
Helpful Tip!
Mix It Up!
Not into cherry pie? Swap in your favorite pie filling!
Homemade dough works just as well as refrigerated dough, if that's what you prefer.
You can use any shape cookie cutter for the top piece of crust. Get creative for other holidays too!
Leftover Hack!
Leftover pie? Never heard of it.
If you run into this issue though, do me a favor and toss one of these mini cherry pies into a blender with some ice cream and milk. It's a cherry pie milkshake!
More sweet treats!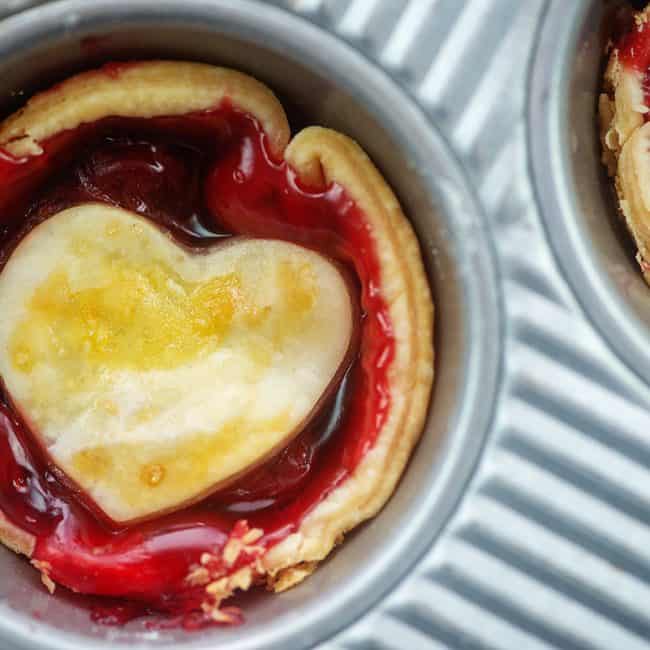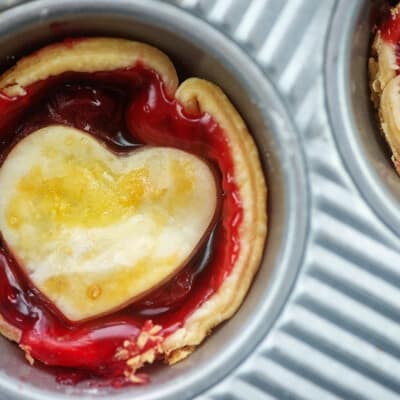 Mini Cherry Pies
These mini cherry pies call for just 4 ingredients! You can swap out the pie filling for any flavor you prefer and switch up the shape of the top crust, if you wish.
Prep15 minutes
Cook20 minutes
Ingredients
2 refrigerated pie crusts
2 cups canned cherry pie filling
1 large egg
2 tablespoons coarse sugar
Instructions
Preheat oven to 400 degrees.

Dust your work surface with flour and then unroll one pie crust. Use a rolling pin to lightly flatten and stretch the dough.

Use a 3-inch diameter round cookie cutter to cut as many circles out of the dough as you're able.

Unroll the second pie crust and use a rolling pin to flatten and stretch the dough lightly. Use a small heart shaped cookie cutter to cut 12 pieces of dough. Cut additional circles from the dough to get 12 total circles and 12 hearts.

Gently press one circle of dough into each well of a muffin tin.

Spoon the cherry pie filling evenly into the dough.

Top each pie with a heart.

Whisk together the egg and one tablespoon of water until smooth. Brush over the tops of the pies and sprinkle with the sugar.

Bake for 20 minutes or until the crust is golden brown.

Remove from the oven to cool before removing from the muffin tin and serving.
Tips & Notes:
We were able to get 7 circles of dough from one crust and 12 hearts + 3 more circles from the second crust. Re-roll the scraps to make the last 2 circles of dough. You may not use the full 2 cups of pie filing, depending on how full you fill your muffin tins. We use Sugar in the Raw for sprinkling on the top. Regular granulated sugar also works.
Nutrition Information:
Serving: 1pie| Calories: 189kcal (9%)| Carbohydrates: 27g (9%)| Protein: 2g (4%)| Fat: 8g (12%)| Saturated Fat: 2g (13%)| Trans Fat: 1g| Cholesterol: 16mg (5%)| Sodium: 129mg (6%)| Potassium: 75mg (2%)| Fiber: 1g (4%)| Sugar: 2g (2%)| Vitamin A: 104IU (2%)| Vitamin C: 1mg (1%)| Calcium: 12mg (1%)| Iron: 1mg (6%)