This Lemon Lush Dessert is bursting with sweet & tart lemon goodness! It's light, creamy, and perfect for a hot summer night. These gorgeous layers are impossible to resist.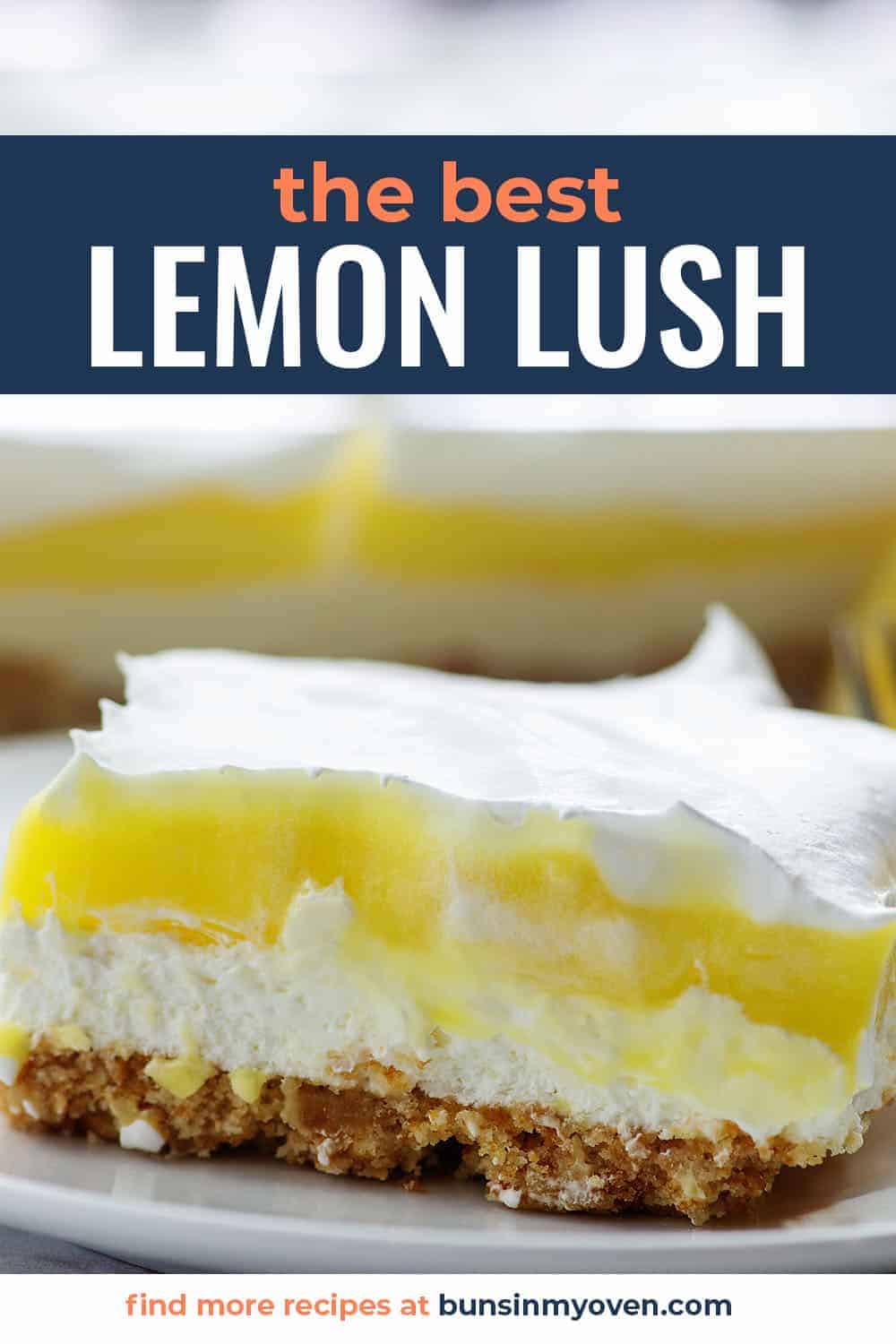 I've never been a huge fan of lemons until, oh, the last year or so.
Suddenly, we ALWAYS have a bowl full of lemons on the counter.
If I'm not squeezing lemon juice over roasted veggies (seriously, try this if you have already!) or adding lemon zest and juice to my rice pilaf, I'm using them in my lemon chicken orzo soup.
And now? Now I've gone all in on the lemon love and I'm sharing with you this recipe for lemon lush.
If you like lemons, you'll love this!
It's the perfect balance of sweet and tart and it's so creamy and simple. Best summer treat ever!
Ingredient Notes:
This post contains affiliate links. As an Amazon associate and member of other qualifying programs, I earn from qualifying purchases.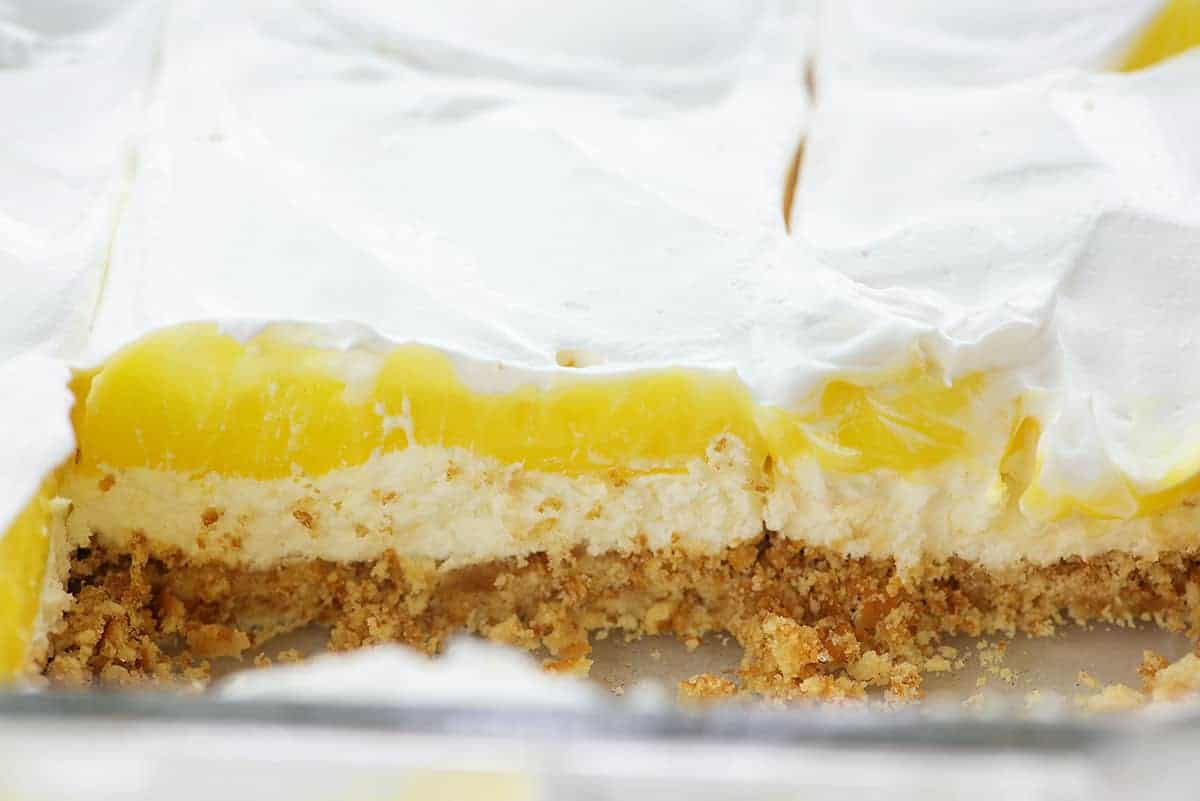 For the crust:
Nilla Wafers – They're so good and they will make the perfect crumbly crust for this lemon lush recipe! You'll turn them into fine crumbs to make the crust.
Sugar – To sweeten up the crust up a bit!
Butter – You'll mix the crushed wafers and the sugar up with some melted butter to bind it all together.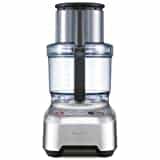 Food Processor
We use our Breville food processor in all kinds of recipes! It makes short work of chopping veggies and many other other tasks. This is our favorite food processor because it is so heavy duty and it will last!
For the cream cheese layer:
Cream Cheese – Definitely start with room temperature cream cheese so it'll be much easier to work with.
Powdered Sugar – The perfect way to sweeten up all that cream cheese!
Whipped Topping – Adding some refrigerated whipped topping such as Cool Whip to the mix will add more rich creamy flavor to the lemon lush!
Lemon Zest – Grab your grater and zest a lemon, it'll add so much flavor! You won't use the lemon itself in this recipe, just the zest. Slice it up and use it for iced tea or another beverage or recipe.
For the lemon pudding layer:
Instant Lemon Pudding – You'll need two boxes of the instant pudding mix. It's so simple and it'll add wonderful lemon flavor to the dessert!
Milk – For preparing the lemon instant pudding.
For topping:
Whipped Topping – You'll finish these lemon lush dessert bars by topping them with a final layer of rich, decadent Cool Whip!
What We Love About This Recipe:
Fresh, tart, and perfect for summer!
This dessert is quite simple to whip up, but because it's layered it looks fancy!
While you do have to turn the oven on, it's just for a quick 10 minute bake. This dessert is *almost* no bake, which we love!
How To Make Lemon Lush:
Crust: Start by making the base layer by crushing some Nilla wafers in a food processor or by hand with a ziploc bag and a mallet or rolling pin. You'll want fairly fine crumbs to make the base.
Place the crumbs in the bottom of a 9×13, pour over some melted butter, stir to combine, and then press the crumbs firmly over the bottom of the pan.
Bake the crust for 10 minutes to let it harden up a bit. This will help it hold together better when serving.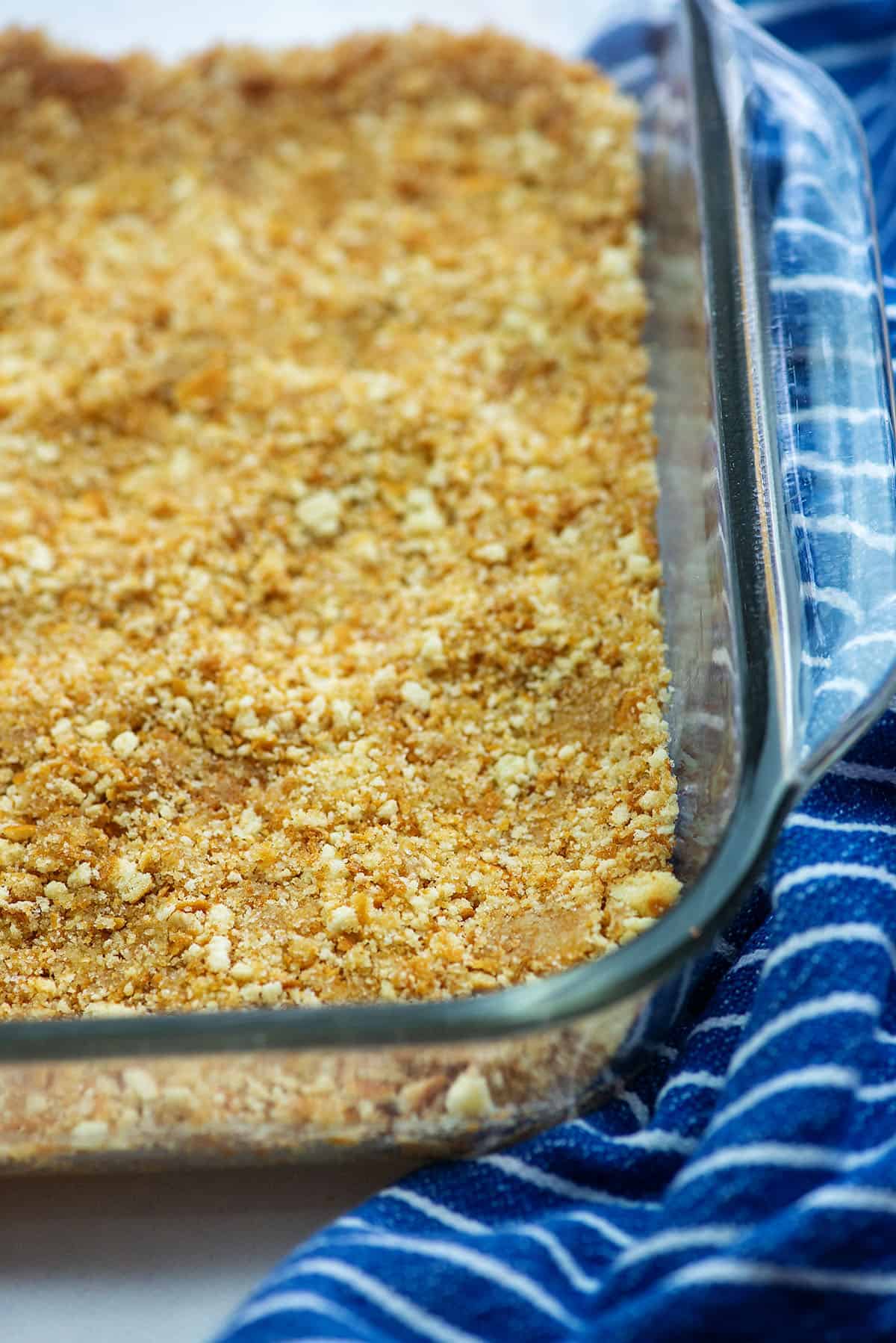 The next layer is a glorious no bake cheesecake situation.
You'll just beat together cream cheese, powdered sugar, Cool Whip, and lemon zest.
This is the microplane grater I use to zest lemons. It works great!
Spread this over the cooled crust.
The third layer is our lemon layer!
Whisk together 2 packages of instant lemon pudding along with cold milk.
As it starts to thicken up a bit, spread the lemon pudding over the cheesecake layer.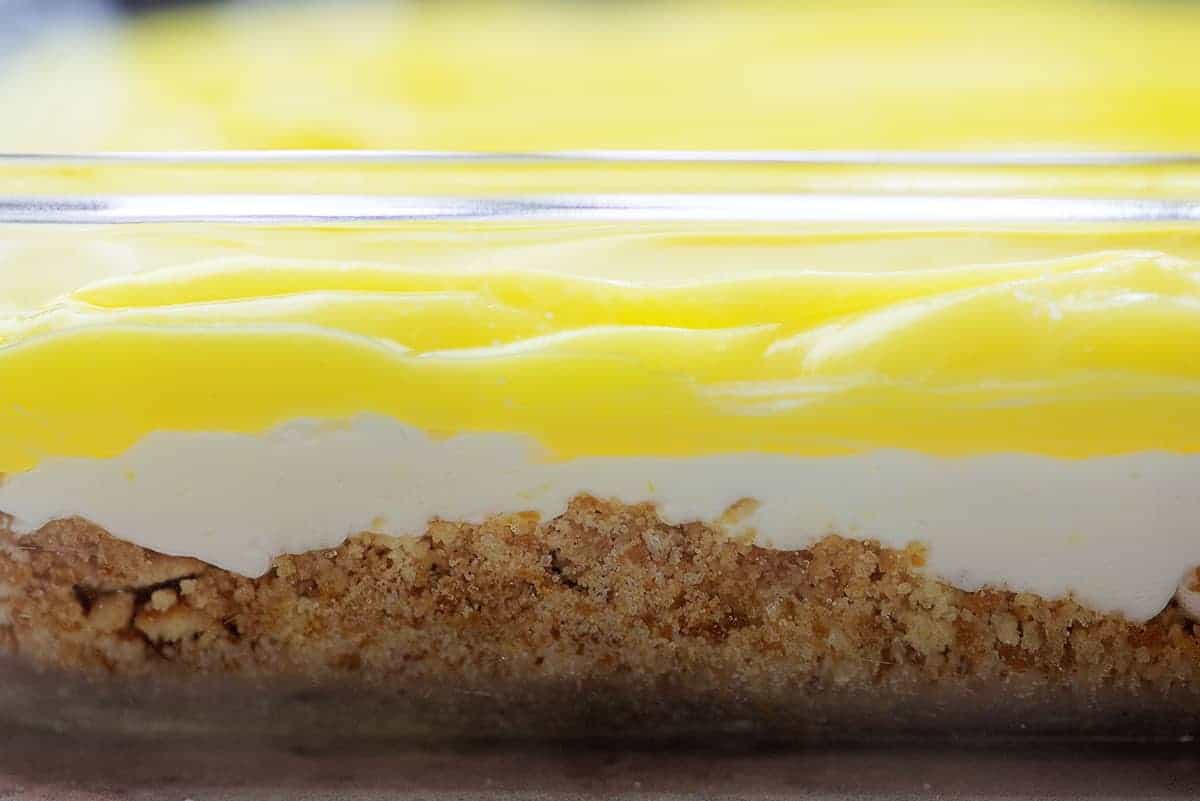 The final layer is Cool Whip!
You can certainly use real whipped cream if you prefer, but we like the way Cool Whip holds up.
Just spread in evenly over the lemon pudding and then pop the whole dish in the fridge for at least an hour to set up nicely.
The longer this sets, the better the Nilla wafers get, if you ask me. We often make this the night before serving.
Helpful Tip!
If you want a neater presentation with perfectly sliced bars of dessert place it in the freezer instead of the fridge. They'll firm up more and slice easier.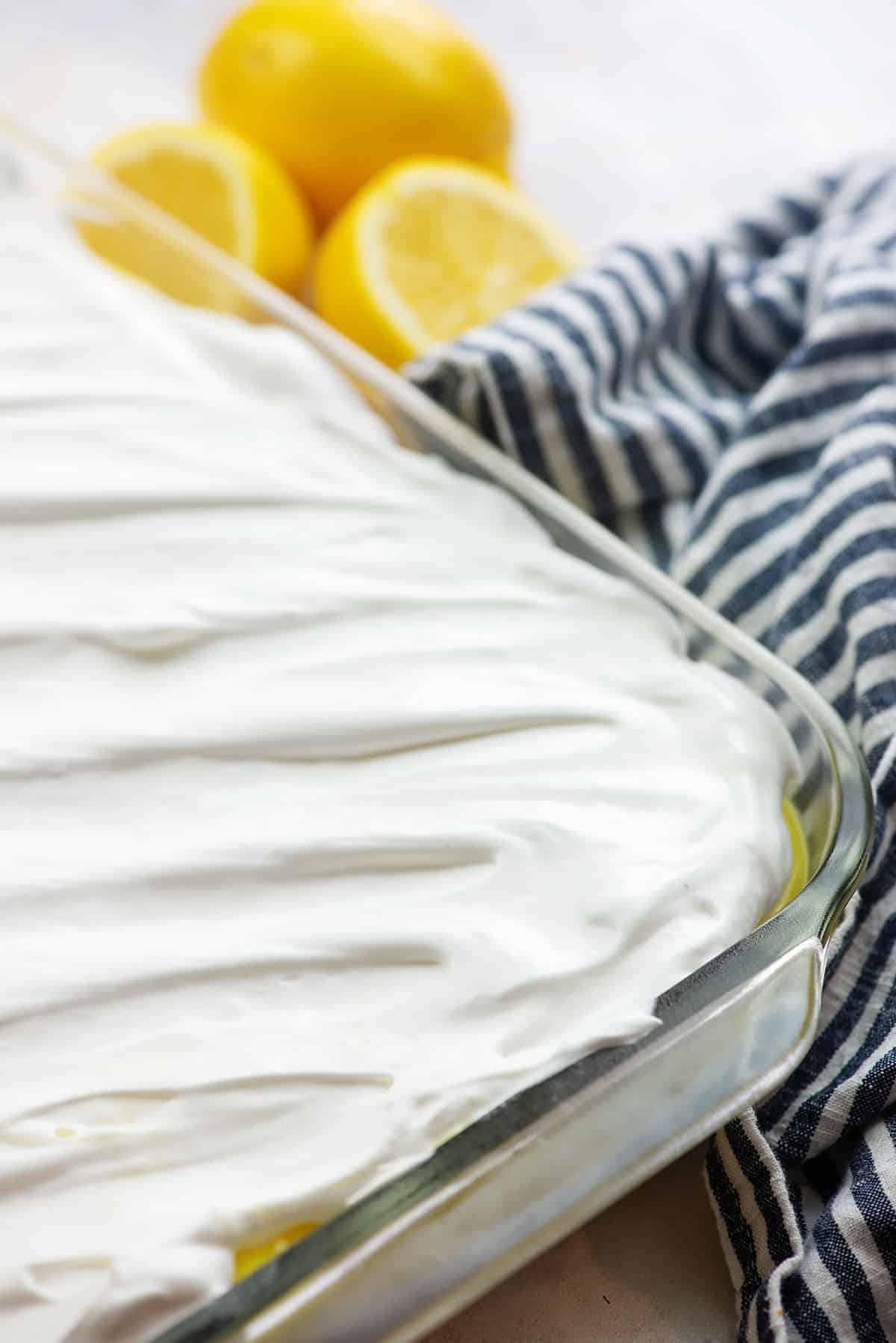 FAQ's:
How to store lemon lush?
You can keep this dessert stored in the fridge in an airtight container for at least 3 to 4 days. If you don't plan on serving this immediately you may want to wait to add the whipped topping until serving!
Can you freeze lemon lush?
Yep, as long as they are in a freezer safe container you can freeze this dessert. They'll take on a different texture so you may even prefer them frozen over refrigerated.
More summer favorites!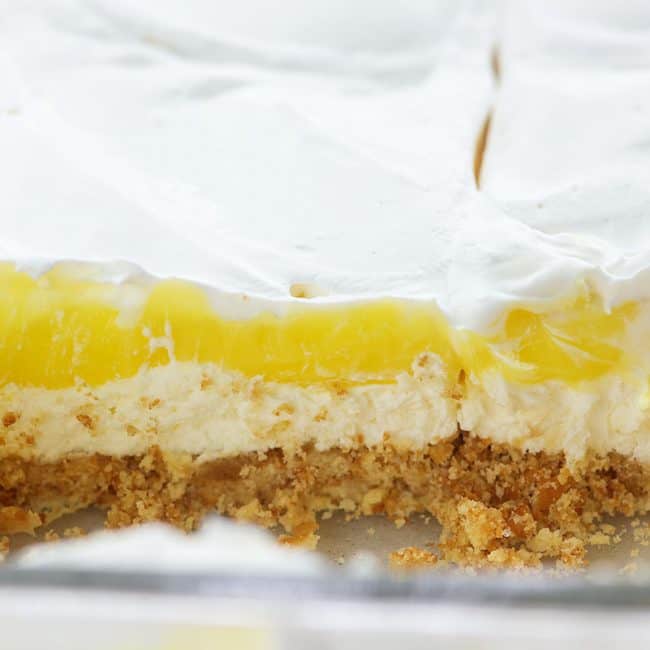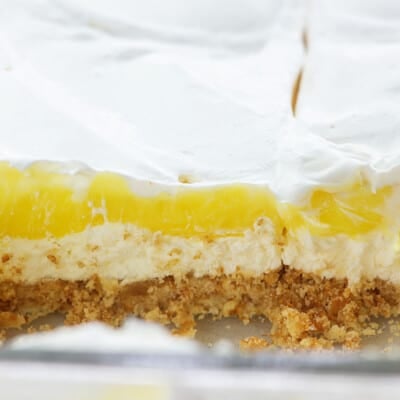 Lemon Lush
This lemon lush recipe is light, creamy, and bursting with sweet and tart lemon flavor! We love it during the hot summer months.
Prep30 minutes
Chill Time1 hour
Total1 hour 30 minutes
Ingredients
For the crust:
12 ounces Nilla Wafers
1/3 cup butter melted
3 tablespoons sugar
For the cream cheese layer:
8 ounces cream cheese room temperature
1 cup powdered sugar
8 ounces refrigerated whipped topping
1 lemon zest only
For the lemon pudding layer:
2 boxes instant lemon pudding 3.4 ounces each
3 cups cold milk
For topping:
8 ounces refrigerated whipped topping
Instructions
To make the crust:
Preheat oven to 350 degrees.

Add the Nilla wafers to a food processor and process until you have fine crumbs. Alternately, place the wafers in a ziploc bag, seal, and crush with a mallet or rolling pin.

Pour Nilla wafer crumbs into a 9×13 baking dish along with the melted butter and sugar. Stir to combine.

Press the crumbs out to cover the bottom of the dish.

Bake for 10 minutes. Cool for 30 minutes.
To make the cheesecake layer:
Place the cream cheese, powdered sugar, and whipped topping into a mixing bowl.

Use a microplane grater to zest the lemon and add lemon zest to the mixing bowl.

Beat on medium speed with an electric mixer until well combined.

Spread the cream cheese mixture over the cooled crust.
To make the lemon layer:
Add the pudding mix and cold milk to a mixing bowl and whisk well to combine.

Once the pudding mixture has begun to thicken, spread in evenly over the cheesecake layer.
For topping:
Spread the whipped topping over the lemon pudding in an even layer.

Cover with plastic wrap and refrigerate for at least 1 hour before serving.
Tips & Notes:
The crust softens up the longer it sits. We prefer to serve this after 8 hours in the fridge, but it's good in just an hour. Leftovers will last for 4-5 days tightly covered.
Nutrition Information:
Serving: 1slice| Calories: 471kcal (24%)| Carbohydrates: 61g (20%)| Protein: 5g (10%)| Fat: 24g (37%)| Saturated Fat: 14g (88%)| Cholesterol: 41mg (14%)| Sodium: 354mg (15%)| Potassium: 169mg (5%)| Fiber: 1g (4%)| Sugar: 34g (38%)| Vitamin A: 538IU (11%)| Calcium: 116mg (12%)| Iron: 1mg (6%)