This lemon pepper chicken marinade is just what you need to infuse chicken breast or thighs with zesty lemon, pepper, and garlic flavor! Tender and juicy chicken is so easy when you start with our flavorful marinade!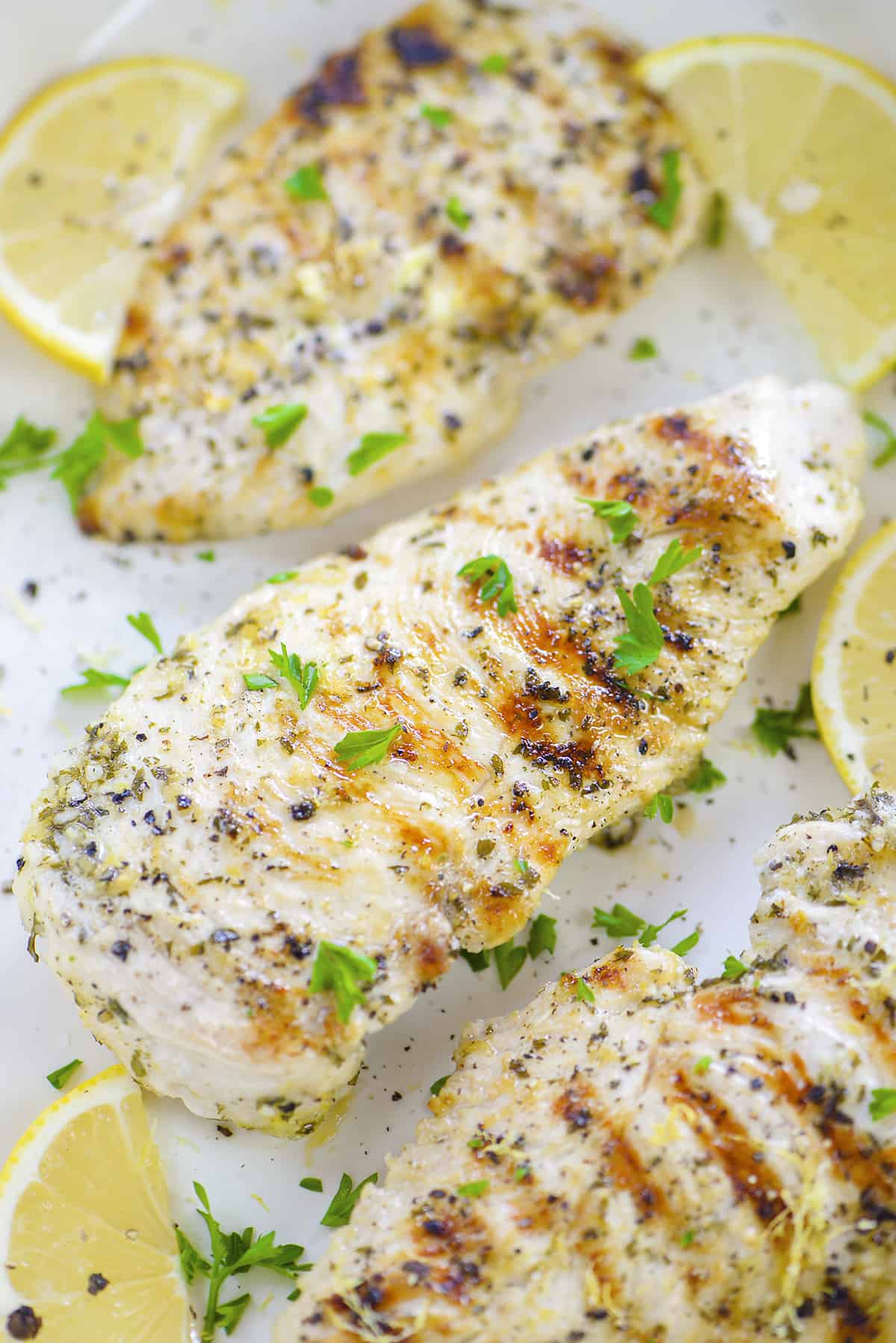 Based on my experience, everyone loves chicken and we're all looking for more ways to get it on the table!
We love making grilled chicken all summer long, since it's such a simple and healthy way to cook our favorite protein.
The only concern? Grilling up dry, boring, bland chicken.
Not a problem at all when you start with our lemon pepper chicken marinade!
Marinating chicken helps to keep it tender, moist, and flavorful.
Our lemon pepper chicken marinade is bursting with bright, zesty lemon flavor, a bit of garlic, and a little kick of black pepper. This flavor combo is perfect for a tasty dinner!
Not a fan of lemon? Try our Grilled BBQ Chicken! It's a summer favorite.
Ingredient Notes:
This post contains affiliate links. As an Amazon associate and member of other qualifying programs, I earn from qualifying purchases.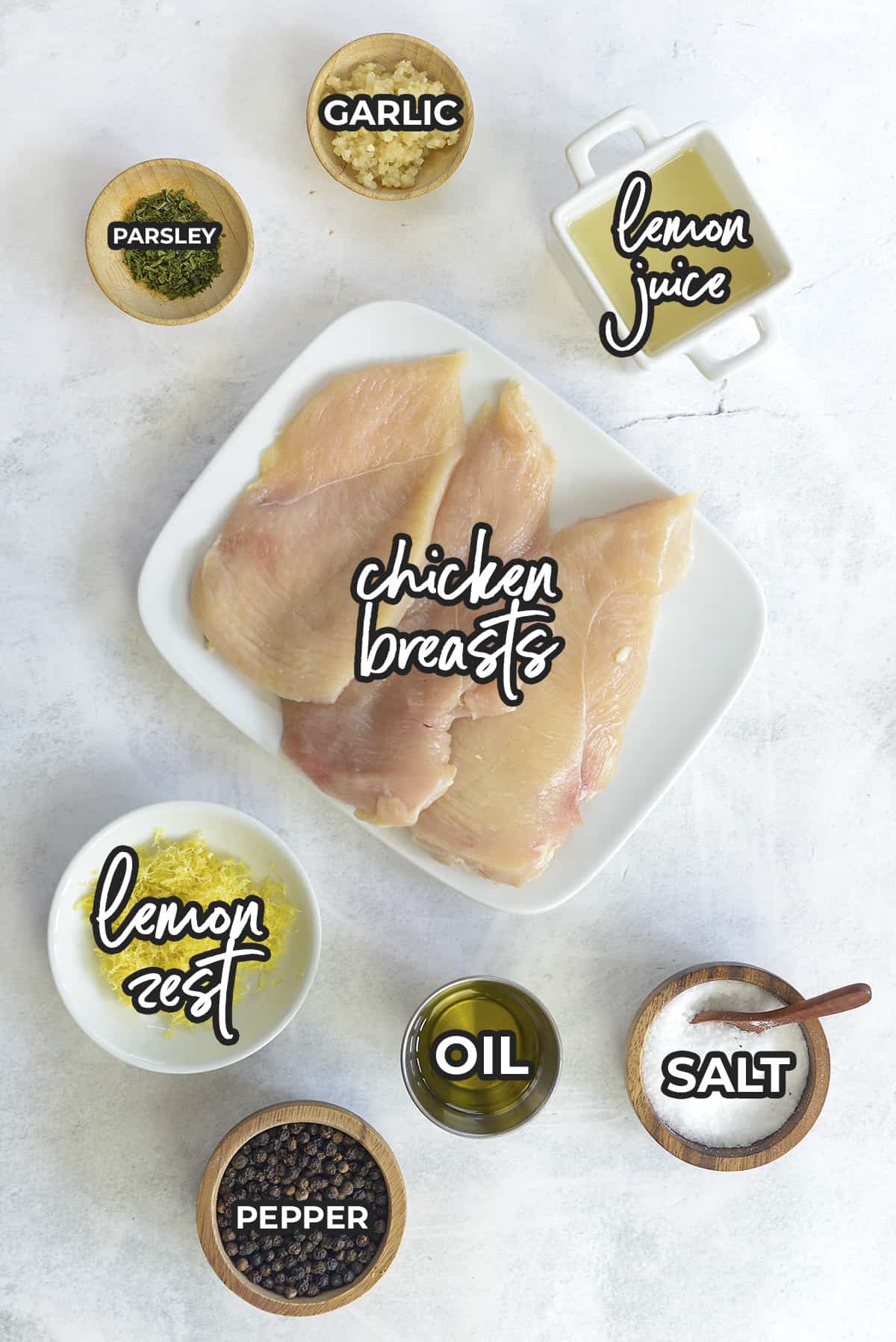 Chicken – We use this marinade with chicken breasts but it would work just as well with boneless chicken thighs and chicken tenderloins!
Olive Oil – The base of this marinade starts with olive oil. Use some good robust olive oil. It works best for marinades and has lots of flavor!
Lemon – While you could use a jar of lemon juice, we highly recommend fresh! Use a citrus squeezer to juice it and a microplane grater to make some lemon zest.
Garlic – Freshly minced garlic is the way to go here. You'll use three whole cloves which will add all the garlic flavor we need to the marinade!
Seasoning – You want the lemon and pepper flavors to stand out the most in this chicken marinade so you'll use freshly cracked pepper with a bit of salt and some dried parsley.
What We Love About This Recipe:
There is so much great lemon flavor in this marinade when you use a fresh lemon for juice and zest!
You can use this marinade on chicken, but it would also work with pork chops and roasted veggies! Imagine it on potatoes! Yum!
This recipe is gluten free, low carb and keto friendly, and only takes about 10 minutes to prep!
How To Make Lemon Pepper Marinade: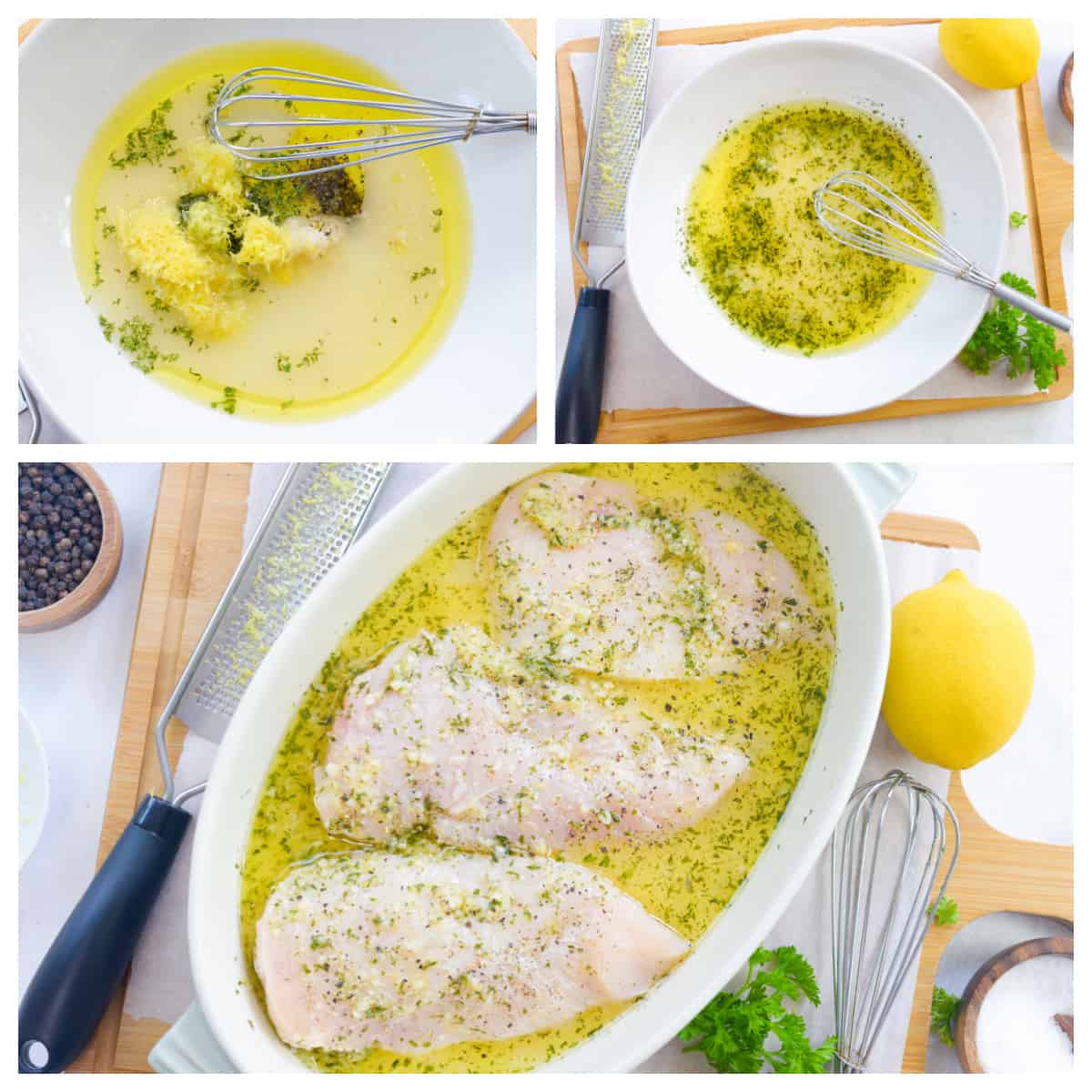 Combine: Start by adding all of the ingredients including the olive oil, lemon juice, zest, garlic and seasoning to a bowl and whisk it together until well combined.
Marinate: After preparing the lemon pepper marinade all that's left to do is add to some chicken! Pour it over chicken breast, thighs, or tenders and refrigerate for at least 4 hours but no more than 12.
After marinating, cook the chicken however you like! Some suggestions are below.
How To Cook Marinated Chicken:
You can cook marinated chicken any way you like. The time will vary based on the cut of chicken and method so always use a meat thermometer (linked below) to make sure it has reached a safe internal temp of 165 degrees!
Grilled – We love grilled chicken! It's the best way to get that perfect char flavor on it. You can grill this lemon pepper marinated chicken with a gas, charcoal, or pellet grill until it has reached a safe temperature. For the average sized chicken breast, this is somewhere around 6 minutes per side over medium heat.
Baked – Prepare a baking sheet or dish with some non-stick spray and bake the marinated chicken at 400 degrees for about 35 to 40 minutes, flipping halfway through, until it reaches a safe temp. You could easily throw some baby potatoes or green beans in with the chicken!
Pan Fried – A nice heavy cast iron skillet works wonders for cooking tasty pan seared chicken breast! Heat the skillet up with a bit of oil and pan fry the chicken on both sides, about 5-6 minutes per side depending on how thick your chicken is.
Air Fried – Quick, easy, and mess free! Spritz an air fryer basket with some oil and cook the marinated chicken at 380 degrees for 10 minutes or until the chicken reaches 165 degrees.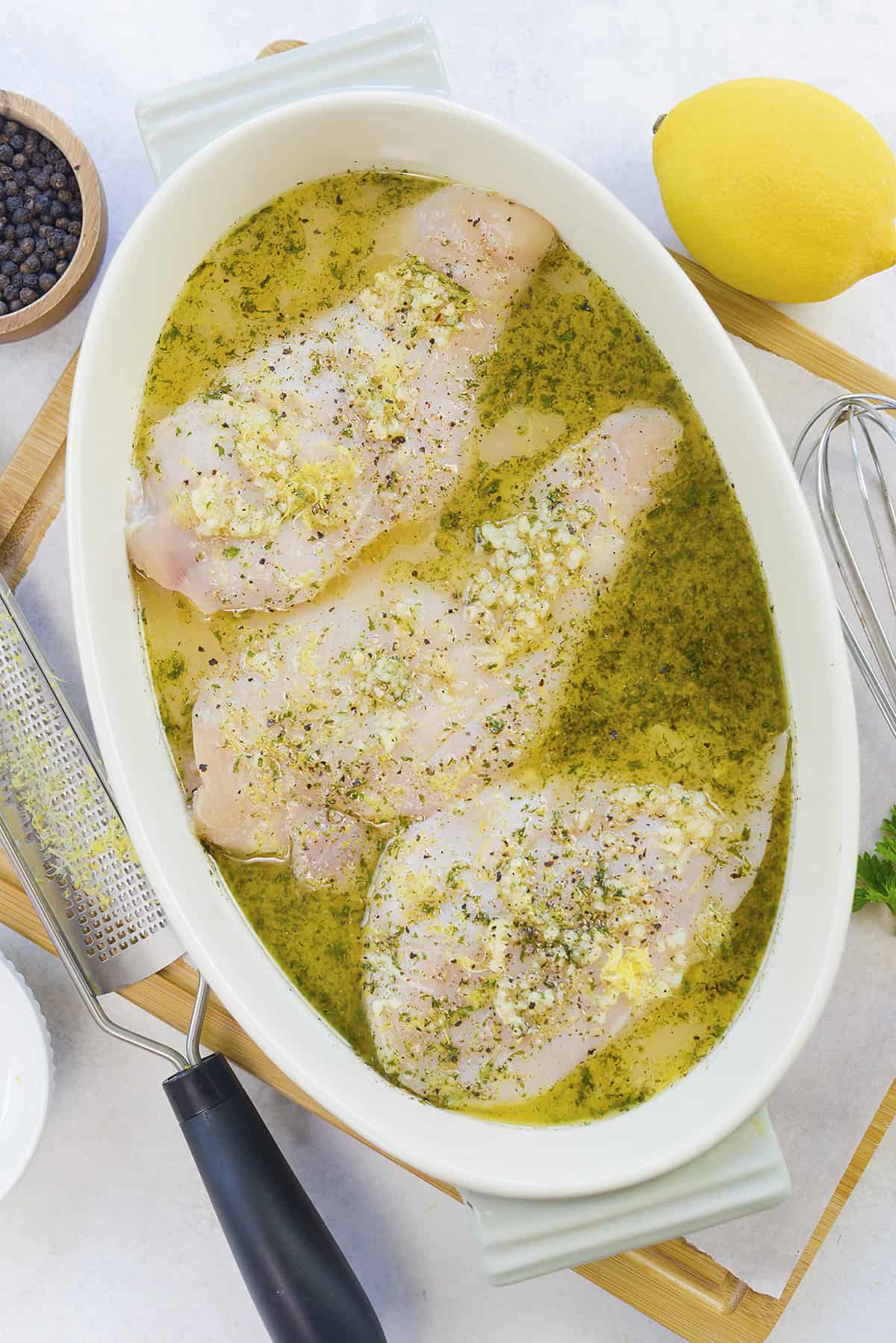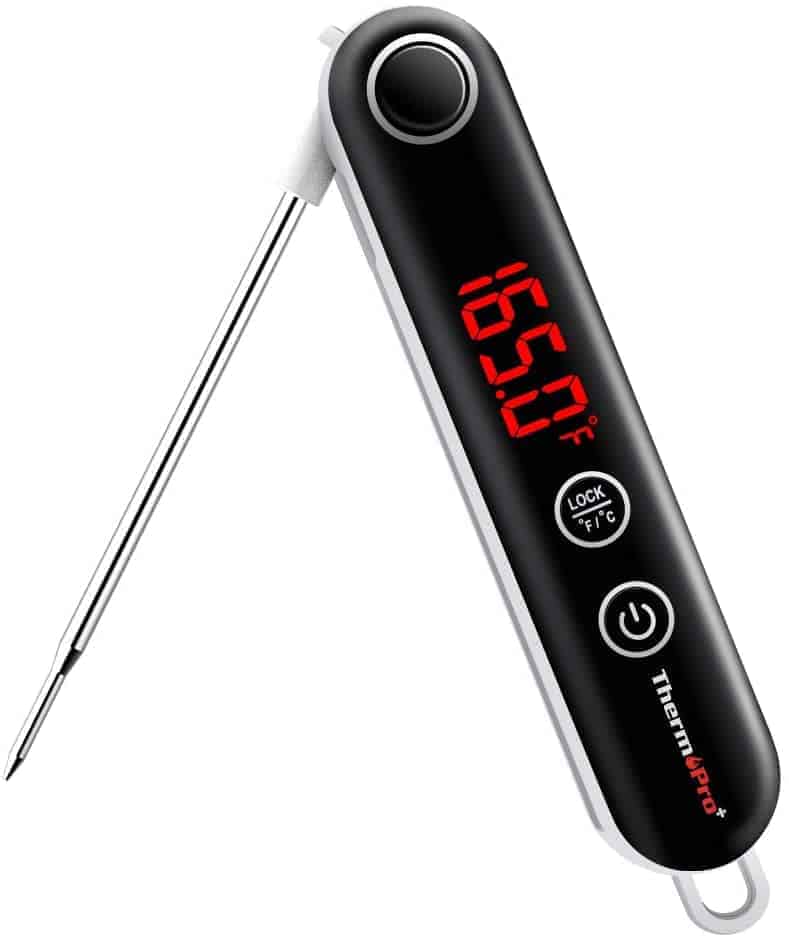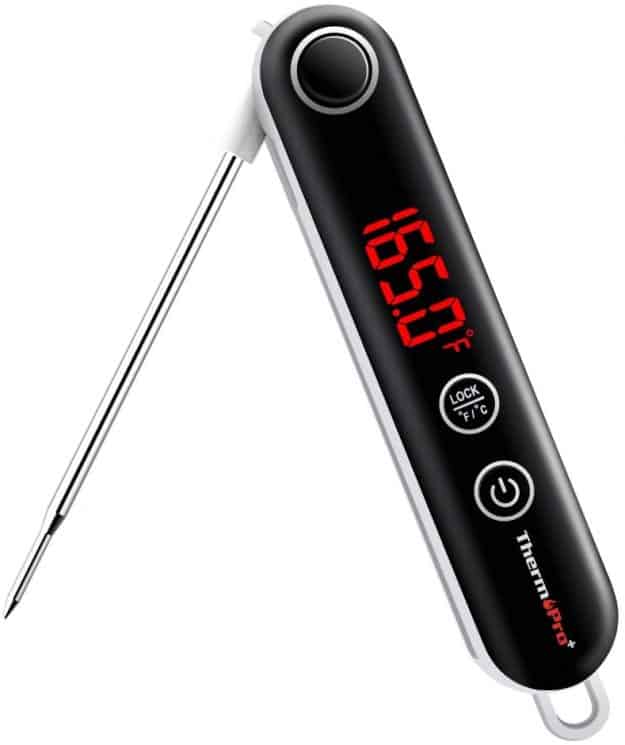 I love using this meat thermometer for making sure the meat is fully cooked! Easy for beginners & absolutely worth the low cost.
What to Serve with Lemon Pepper Chicken:
There are lots of good sides that'd pair well with some grilled, baked, pan fried, or air fried lemon pepper chicken. Here are a few suggestions:
FAQs:
Why marinate chicken?
Marinating chicken helps to tenderize the meat, add moisture while cooking, and allow the seasonings to soak into the meat and season it throughout.
How long to marinate chicken?
Our lemon pepper chicken marinade contains lemon juice, and the acidity will start to break down the chicken if left in the marinade for too long. We recommend marinating your chicken for at least 4 hours but no more than 12.
What type of oil to use in chicken marinades?
We start our lemon pepper chicken marinade with a robust olive oil. It adds flavor and helps keep the chicken moist while cooking.
Can you freeze chicken in marinade?
Yes, you can freeze chicken in marinade. Once frozen, it will stop absorbing the flavors. We often toss fresh or frozen breasts in our marinade, place it all in the freezer, and then let it thaw overnight before grilling for dinner.
MORE MARINATED MEAT RECIPES!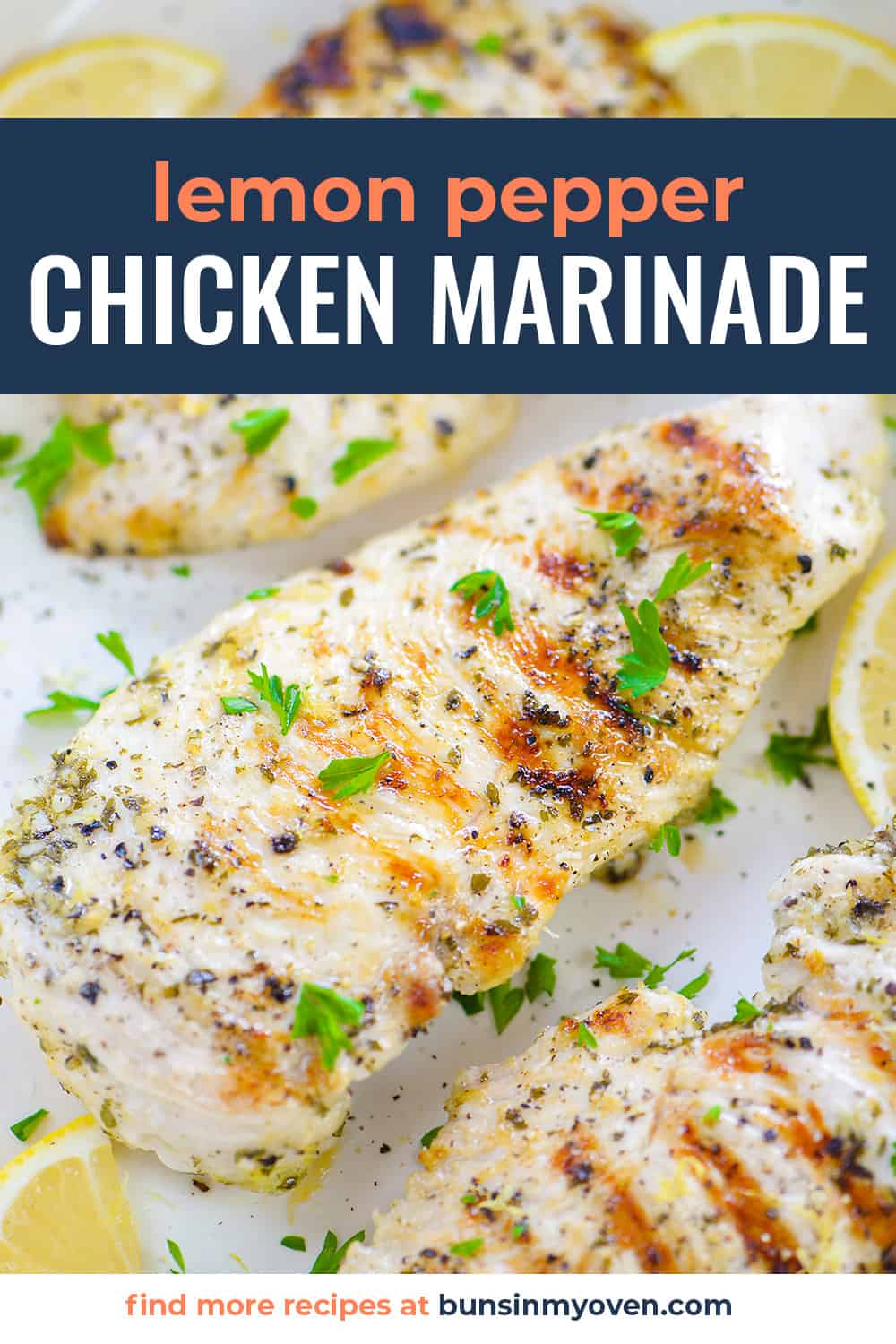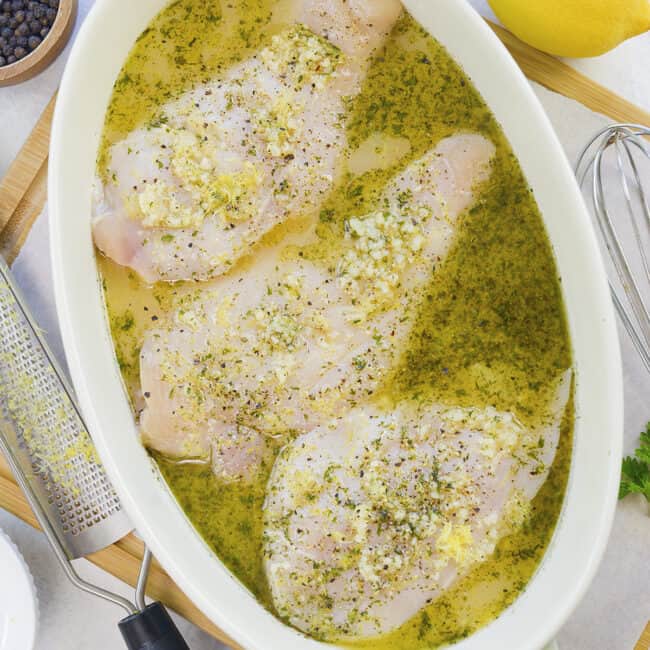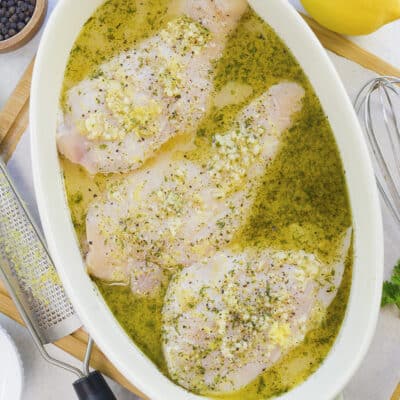 Lemon Pepper Chicken Marinade
Bright lemon flavor, garlic, and cracked pepper shine in this bold, zesty lemon pepper chicken! Perfect for tossing on the grill or in the air fryer! This marinade also works well on pork chops and can even be used to season roast vegetables.
Prep10 minutes
Marinating Time4 hours
Total4 hours 10 minutes
Ingredients
2 tablespoons olive oil
2 lemons juiced, about 4 tablespoons
Zest of 1 lemon
3 garlic cloves minced
2 teaspoons freshly cracked pepper
1 teaspoon salt
1 teaspoon dried parsley
1 1/2 pounds chicken breasts or thighs
Instructions
Add all of the ingredients to a small bowl and whisk to combine.

Pour over chicken and toss to coat.

Refrigerate for at least 4 hours and up to 12 hours before cooking chicken on the grill, stove top, or air fryer.

Discard any leftover marinade.
Tips & Notes:
We recommend marinating the chicken for at least 4 hours for best flavor. Do not leave chicken in the marinade longer than 12 hours or the acid in the lemon will begin to break down the meat. This recipe also works well on chicken tenderloins and pork chops. To use this marinade on vegetables, toss your favorite vegetables in the marinate for 30 minutes to an hour and then drain off excess marinade and roast. We like this on broccoli, potatoes, and cauliflower.
Nutrition Information:
Calories: 267kcal (13%)| Carbohydrates: 3g (1%)| Protein: 37g (74%)| Fat: 12g (18%)| Saturated Fat: 2g (13%)| Polyunsaturated Fat: 1g| Monounsaturated Fat: 6g| Trans Fat: 0.02g| Cholesterol: 109mg (36%)| Sodium: 780mg (34%)| Potassium: 677mg (19%)| Fiber: 1g (4%)| Sugar: 1g (1%)| Vitamin A: 58IU (1%)| Vitamin C: 17mg (21%)| Calcium: 20mg (2%)| Iron: 1mg (6%)