My marinated flank steak is cooked indoors on the stove and finished in the oven, making it perfect for a quick dinner! The flank steak marinade is full of citrus flavor from the orange and lime juice!
Soooo, let's talk about guilty pleasures, shall we?
My husband, kids, and I lived in Nebraska for basically all of 2014. We hated it. We missed our family back here in Illinois, my husband's job was not quite what we had anticipated, we had no friends, life was just rough. And then we discovered a hibachi restaurant that we all fell madly and deeply in love with. I'm not saying that restaurant made us enjoy Nebraska, but it definitely made us hate it a little less.
We started going almost weekly. Which, if you've ever been to a hibachi joint, you can imagine how that was on the budget. Not good, you guys. It was very not good on the budget.
Then we moved home and had to move on from our love of hibachi. There are a couple of joints here, but none of them as good as the Nebraska hibachi. Go figure.
Of course, we replaced that obsession with a new restaurant near my husband's current job. A Brazillian grill.
Dudes. It's like we took one ridiculously expensive restaurant and replaced it with an even more ridiculously priced place. We only go about once every few months, because we are trying to be responsible human beings who do not become homeless because they ate too much juicy, tender, seriously good steak. It's a struggle.
I've had to recreate a few of our favorites. This citrus marinated flank steak? Total favorite from our Brazillian grill. The flavors are so bright and fresh, which is a little unexpected for a steak. I usually marinate with a completely different flavor profile, so anytime I make this it's a total treat.
The steak is super juicy, tender, and just so so good. It's not quite as perfect as the Brazillian joint's, but it's close enough for me. And holy cow, it's cheaper by about 834%.
Serve this with my cauliflower potato salad as a light side, some fried zucchini, and some homemade biscuits. Biscuits might not be the most traditional option, but we eat them with as many meals as possible, because they're so good. 😉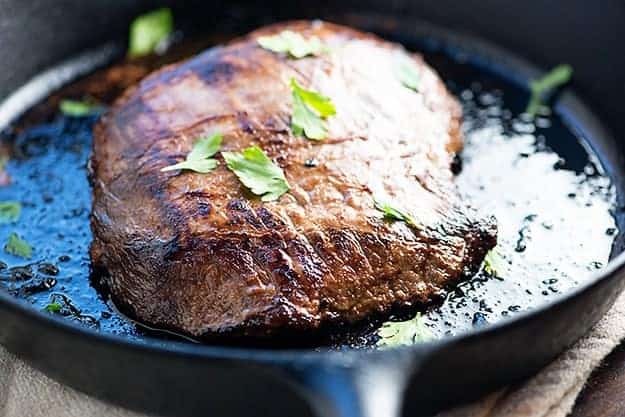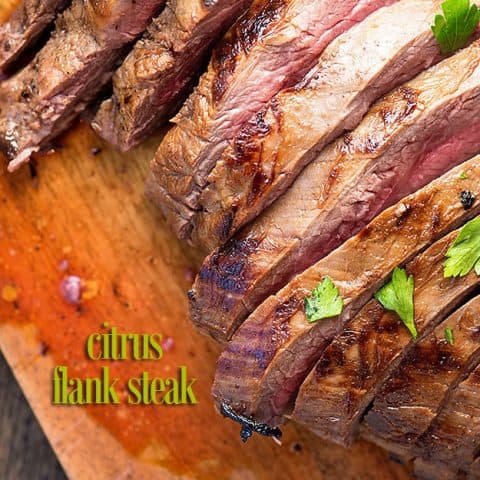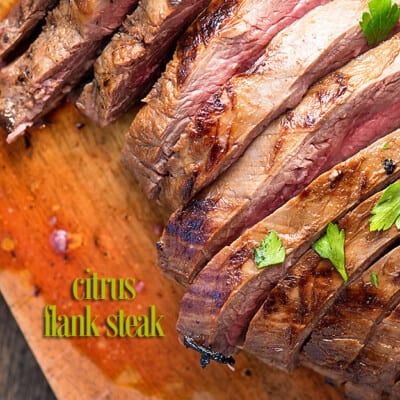 Citrus Marinated Flank Steak
This marinated flank steak reminds me of the version we enjoy at the Brazillian steak house. So good!
Prep5 minutes
Cook10 minutes
Total15 minutes
Ingredients
1 1/2 pounds flank steak
3/4 cup orange juice
1/4 cup olive oil
2 tablespoon lime juice
2 tablespoons honey
1 tablespoon salt
1 teaspoon garlic powder
1 teaspoon onion powder
1 teaspoon hot sauce
1 tablespoon butter
1 tablespoon cilantro chopped
Instructions
Add the flank steak to a large zip top bag.

In a small bowl, whisk together the orange juice, olive oil, lime juice, honey, salt, garlic powder, onion powder, and hot sauce. Pour over the meat. Seal bag and place in the fridge for at least 6 hours and up to 36 hours before cooking.

Preheat oven to 400 degrees.

Heat a large, oven safe skillet over high heat. When the pan is hot, add the butter and let melt.

Drain the marinade from the steak and pat to dry. Place dried steak in the skillet over high heat and cook for 3 minutes per side.

Place the skillet in the oven and cook for 4 minutes for medium rare or 6 minutes for medium.

Let steak rest for 10 minutes before cutting. Sprinkle with cilantro and serve.
Nutrition Information:
Calories: 485kcal (24%)| Carbohydrates: 15g (5%)| Protein: 37g (74%)| Fat: 31g (48%)| Saturated Fat: 10g (63%)| Cholesterol: 123mg (41%)| Sodium: 594mg (26%)| Sugar: 13g (14%)