Our Keto Fried Zucchini is a gluten free, grain free recipe that might just be my favorite way to eat zucchini! This crispy coated zucchini is perfect dipped in ranch and so good that I have to fight my kids for these!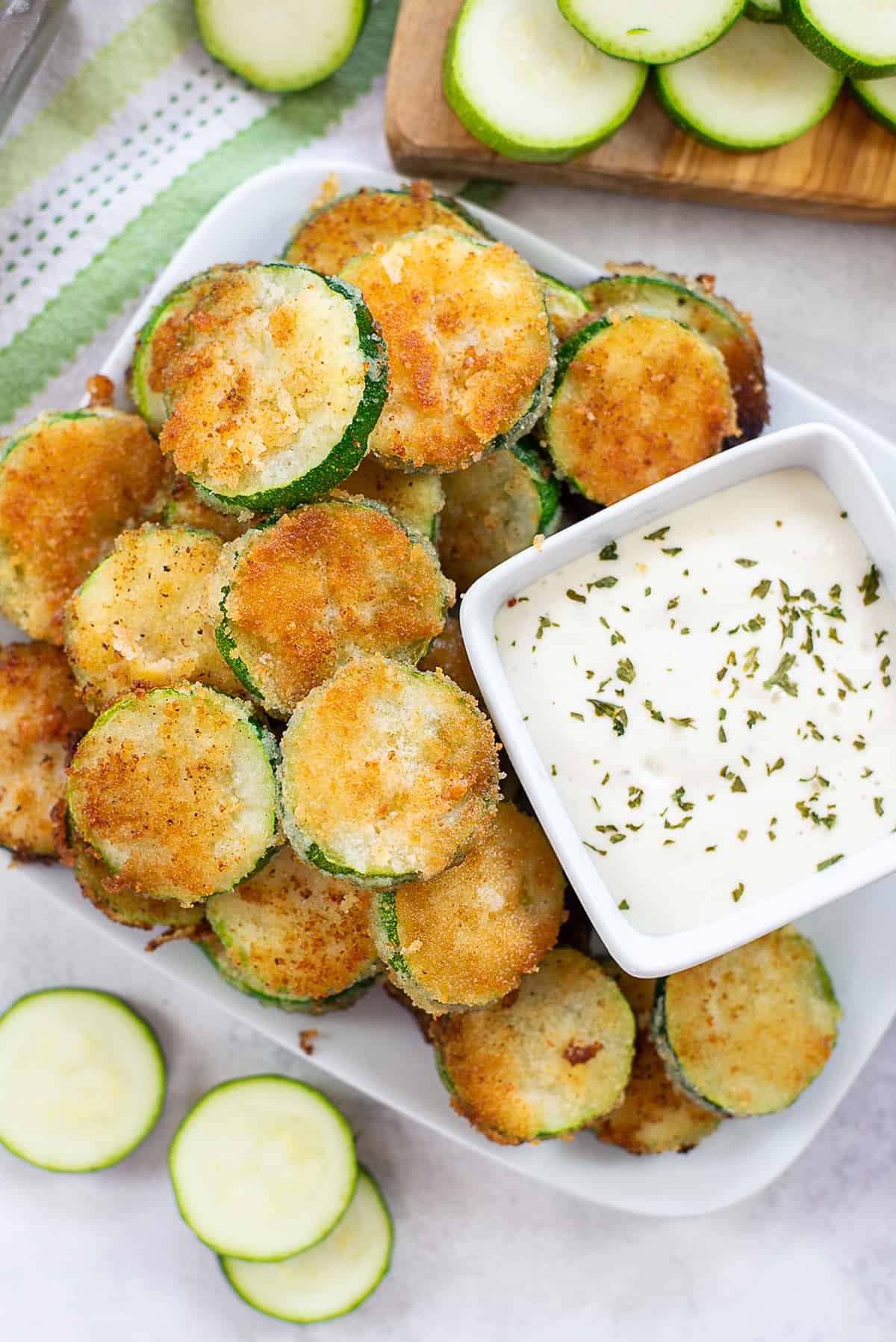 If you've been around here for long, you know that I've eaten low carb off and on for years now. I love the way it makes me feel and I've lost quite a bit of weight doing it as well!
When I'm focusing on carbs, I try to eat healthy – lots of protein, plenty of veggies, and some healthy fats. Egg roll in a bowl is one of our go to meals!
But I inevitably end up craving fried food, because let's be honest – fried food is delicious. 😉
These crispy fried zucchini chips are the ultimate low carb treat! So easy to make, the whole family loves them, and they make a great snack or side dish!
We like to dip our fried zucchini in this keto ranch dressing. Seriously the best ranch ever!
Ingredient Notes:
This post contains affiliate links. As an Amazon associate and member of other qualifying programs, I earn from qualifying purchases.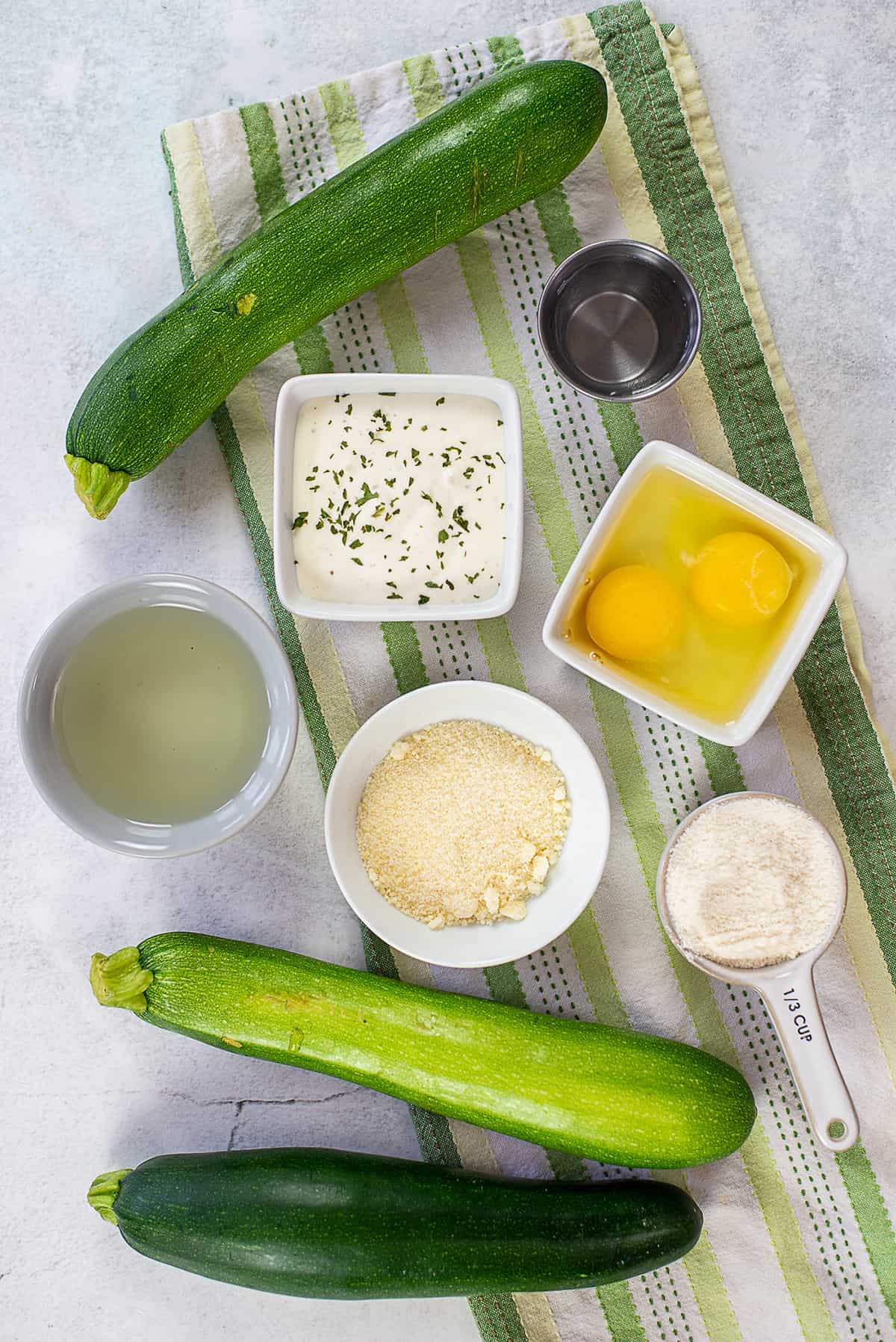 Coconut Flour- We've tested this recipe with both coconut flour and almond flour. Both work well, but coconut flour seems to get a bit crispier.
Parmesan – Use the powdery kind in a green can. It adds flavor to the breading!
Zucchini – You can use zucchini or yellow squash in this recipe! They'll both fry up just about the same.
Oil – We like to use avocado oil for frying. It has a high smoke point and is healthier than most vegetable oils. It is more on the expensive side though, so feel free to use what you have on hand.
What Readers are Saying!
"My husband is the one doing Keto, so I made these for him. They were quick and easy, and he said they were restaurant quality!" – Jodi G.
How to Make Fried Zucchini:
Prepare: Slice the zucchini into 1/4 inch thick rounds and sprinkle with kosher salt. Let them sit on a paper towel lined sheet pan to draw out the moisture for 30 minutes and then wipe off any excess liquid and salt with a paper towel.
Helpful Tip!
Getting Fried Zucchini Crisp:
There is a lot of moisture in zucchini, so salting it and letting that liquid sweat out is a great way to help make for a crispier finished product.
This step is optional, but if you have the time, it's worth it!
Low Carb Breading: Dip the zucchini rounds into an egg wash and then into the breading.
The low carb breading is just a simple mix coconut flour and Parmesan cheese.
Dip the zucchini one by one into the egg mix and then dredge them in the low carb breading until they are all fully coated.
Fry: Add the zucchini in a single layer to a shallow pan with an inch or two of hot oil, being careful not to overcrowd the pan. For best results, your oil should be 375 degrees.
Let these fry for about 1 minute per side, just to get them golden brown.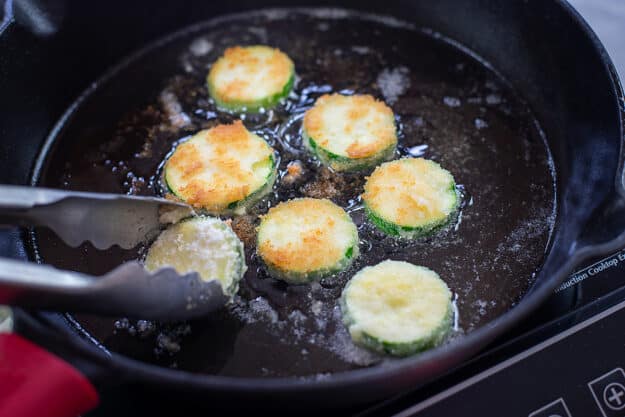 Drain: Remove the zucchini to a paper towel lined plate and sprinkle with salt. Let the grease drain off for a bit while you fry up the rest of the zucchini.
Substitutions:
Zucchini: Can't find zucchini? Use yellow crookneck squash instead! We can't tell a difference!
Breading: Not worried about the carbs and don't want to purchase coconut flour? Use equal parts all purpose flour and panko bread crumbs.
Seasoning: We keep this recipe simple and dip it in ranch dressing for flavor, but if you'd like more flavor on the zucchini, season the breading with garlic and onion powder.
Dip: Ranch is our go to, but honey mustard is another favorite, if you don't mind the carbs.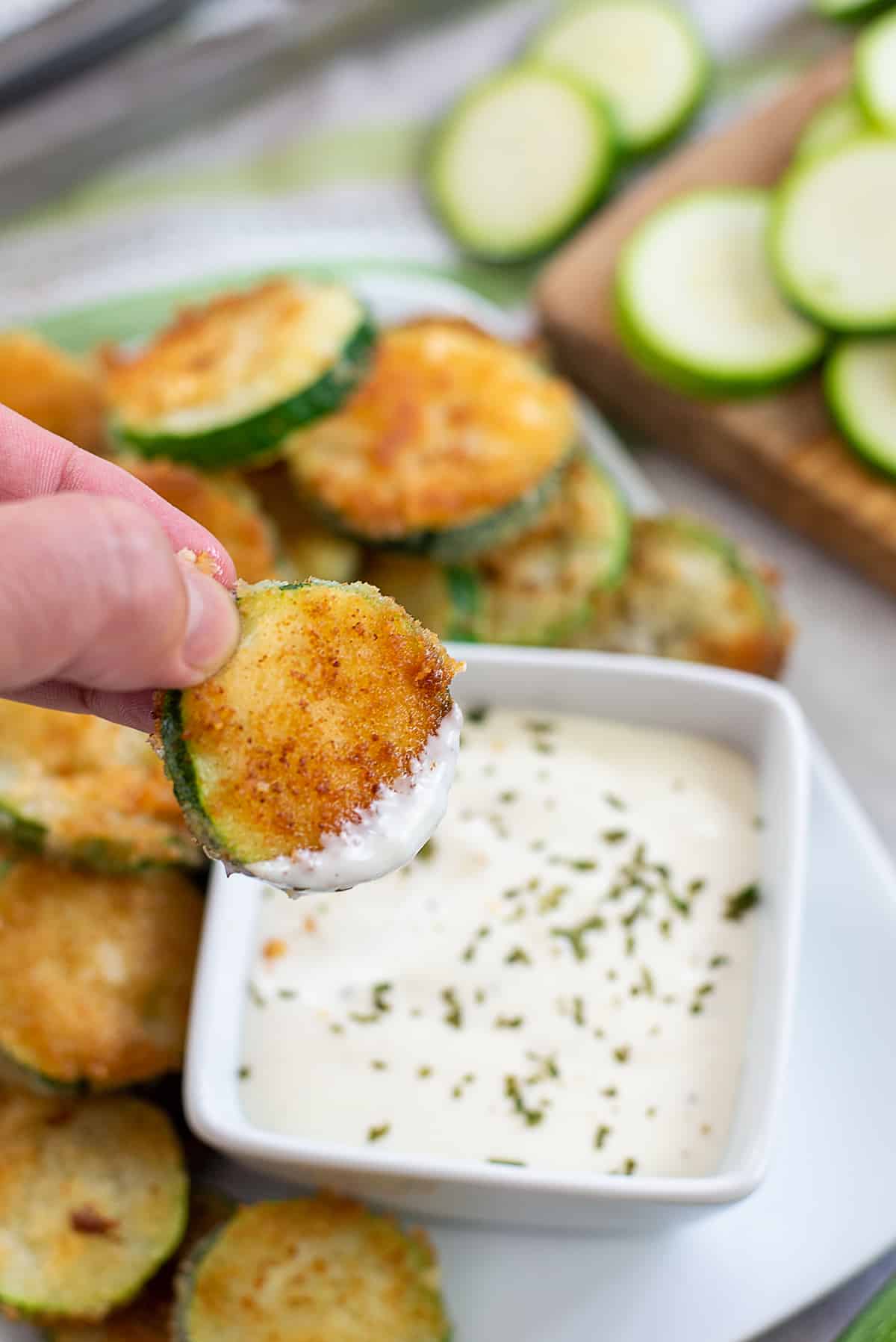 FAQs:
Can you use this low carb "breading" in other recipes?
We've only used this breading for zucchini, but it should work well on other things such as fish or onion rings.
Can I store the fried zucchini?
Like most fried foods, these are best eaten immediately after cooking. If you do have leftovers, store them in the fridge and reheat them in an air fryer for maximum crispiness.
Should you salt zucchini before frying?
Adding salt to the zucchini before frying it allows the zucchini to release some of it's moisture, so that it fries up a bit more crispy. This step is optional, but recommended.
MORE LOW CARB RECIPES!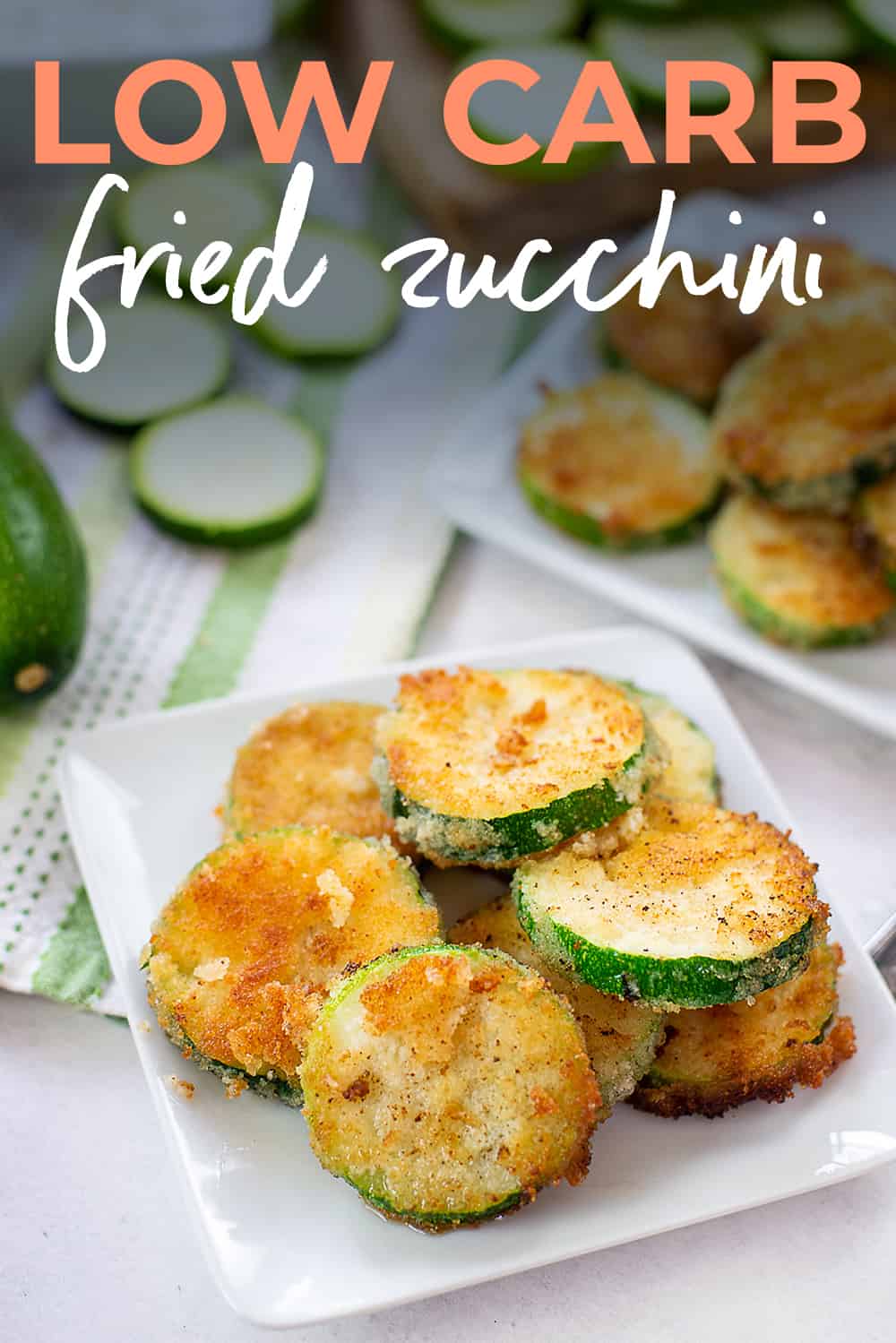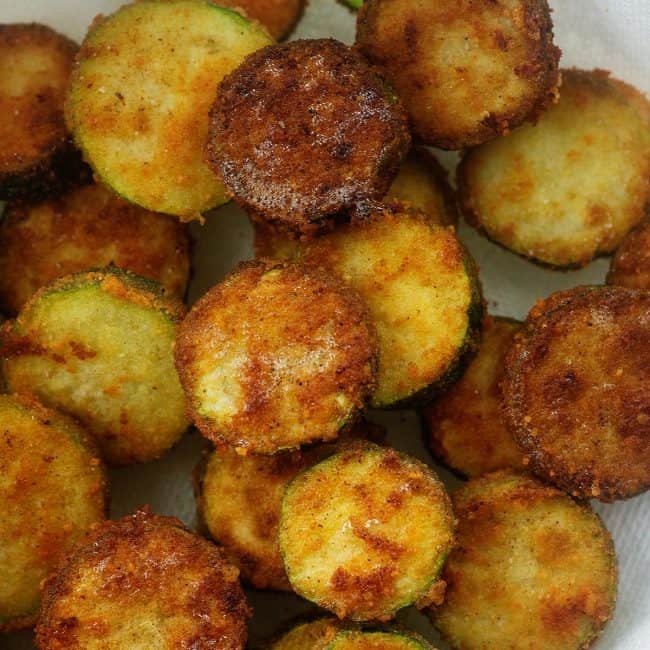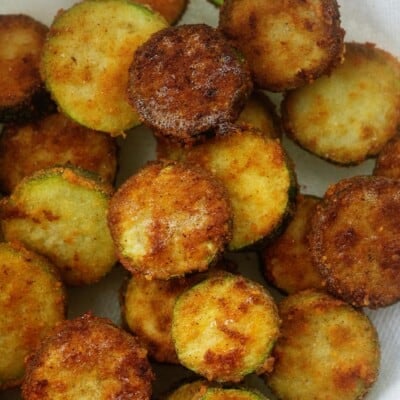 Keto Fried Zucchini
This fried zucchini recipe is such a tasty way to get in those veggies! We love fried zucchini dipped in ranch dressing and it's a great low carb treat.

Prep10 minutes
Cook10 minutes
Total20 minutes
Ingredients
3 medium zucchini or yellow squash
1 tablespoon salt
2 large eggs
1 tablespoon water
1/3 cup coconut flour
1/4 cup powdered Parmesan cheese
avocado oil for frying
Ranch dressing for serving
Instructions
Wash and slice the zucchini into thin rounds, about 1/4 inch thick.

Lay zucchini on a paper towel lined sheet pan and sprinkle with salt. Let set for 30 minutes to draw out the moisture. Pat dry, removing as much liquid and salt as possible.

Heat a 1/4-1/2 inch of oil in the bottom of a large skillet over medium heat to 375 degrees.

Beat together the egg and water in a shallow bowl.

Stir together the coconut flour and Parmesan in a second shallow bowl.

Coat the zucchini in the egg and then dredge in the coconut mixture to coat.

Add a single layer of zucchini to the hot oil, being careful not to crowd the pan. Fry for 1-2 minutes on each side, until golden brown. Repeat with remaining zucchini.

Drain on a paper towel lined plate. Sprinkle with salt, if desired.

Serve with ranch dressing for dipping.
Tips & Notes:
Salting and letting the zucchini sit to draw out moisture is optional if you're in a hurry, but it does make for a crispier crust on the zucchini. You can add seasonings to the breading, such as onion powder and garlic powder, if desired. We dip ours in ranch dressing when eating and find the zucchini doesn't need additional seasoning as the Parmesan also adds flavor. We have not tested this in the air fryer, but if I were testing I would start at 390 degrees for 6-8 minutes and see how it goes.
Nutrition Information:
Calories: 87kcal (4%)| Carbohydrates: 6g (2%)| Protein: 6g (12%)| Fat: 4g (6%)| Saturated Fat: 2g (13%)| Polyunsaturated Fat: 1g| Monounsaturated Fat: 1g| Trans Fat: 1g| Cholesterol: 66mg (22%)| Sodium: 1272mg (55%)| Potassium: 284mg (8%)| Fiber: 3g (13%)| Sugar: 3g (3%)| Vitamin A: 322IU (6%)| Vitamin C: 18mg (22%)| Calcium: 72mg (7%)| Iron: 1mg (6%)
This recipe was originally published in September 2015. It was updated with new photos in January 2022. Original photo below.