August 26, 2018
Sausage Egg Roll In A Bowl
Whether you call this egg roll in a bowl or crack slaw, you're going to love this quick weeknight dinner recipe! It's ready in just 20 minutes and is really packed with flavor. Such a healthy option for a quick dinner.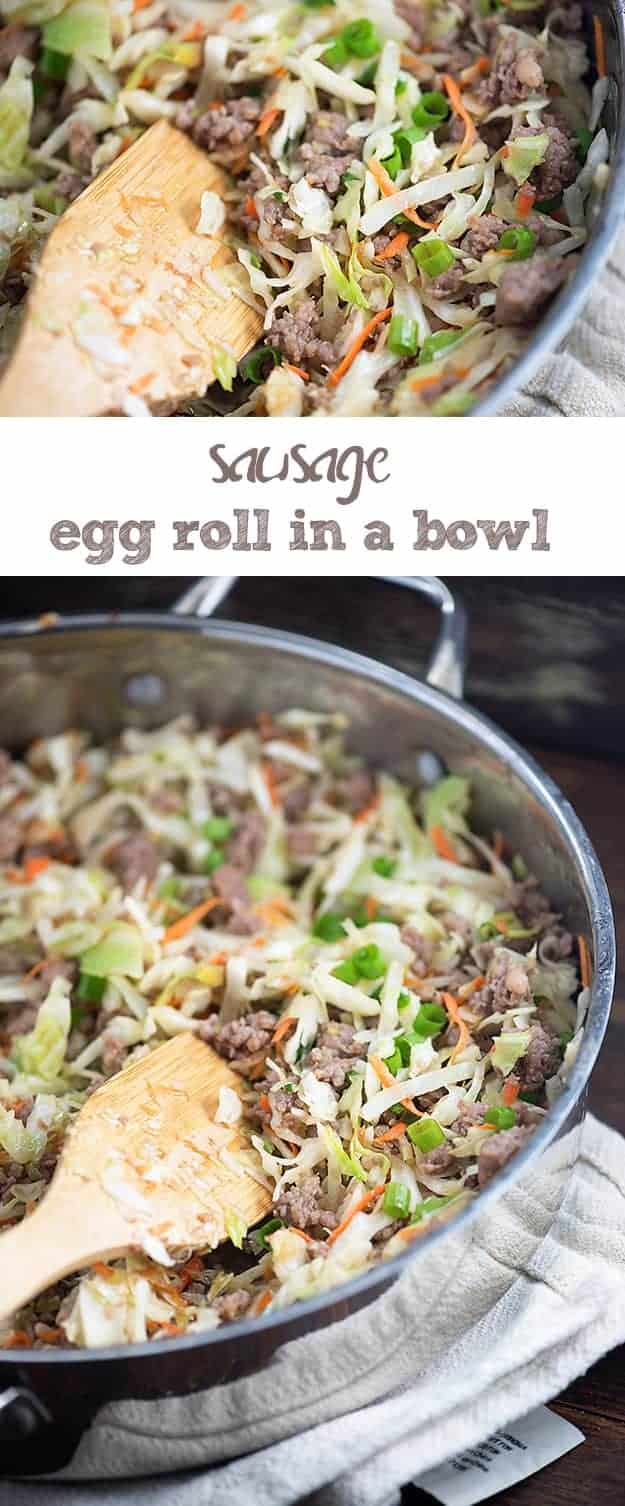 I've mentioned before that I've been doing a low carb keto diet off and on for the past 6 months or so. I lost 30 pounds in just a couple of months doing one earlier this year. Since then I've managed to keep the weight off and just do a week of the low carb diet here and there.
I really love the low carb way of life and have created a lot of low carb recipes for you. Click for all of my low carb recipes!
Well, the husband and I are having a little weight loss competition with each other (again! I won the first one!) and so I'm back to my low carb diet.
It's such an easy way to lose weight.
Keep scrolling down for this egg roll in a bowl recipe!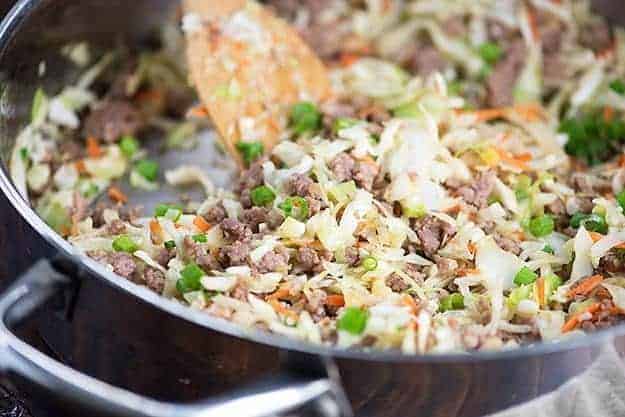 I know, it sounds so hard to give up bread and sugar, but think of what you can replace it with.
Bacon. Cheese. Steak. I rarely feel deprived when I'm on a low carb diet.
I've always said that I wouldn't share any funky low carb recipes here that need a bunch of special ingredients. The blog isn't changing much! But, I do want to share recipes that fit a low carb lifestyle and will be devoured by carb lovers! Which brings me to this crack slaw!
One of the foods that I really crave a lot is Chinese take out.
I love fried rice – especially my bacon fried rice!
Have you ever tried making fried rice with cauliflower in place of the actual rice? It's really good too – try my cauliflower chicken fried rice.
This chicken stir fry recipe is a great take out fake out too!
But, let's be real. Egg rolls are where it's at.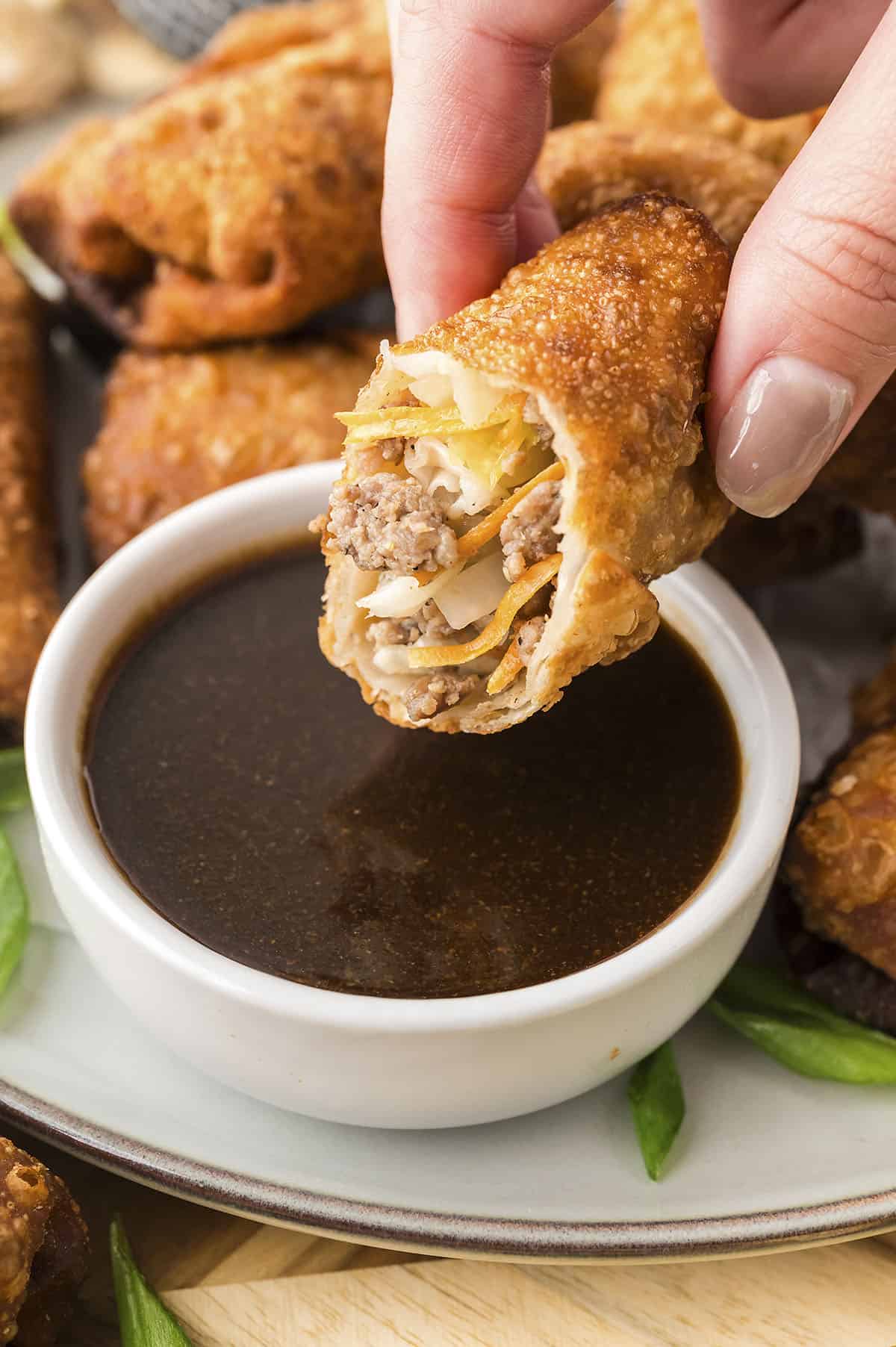 I've shared our favorite homemade egg rolls with you guys before, but the wrappers are loaded with carbs and frying egg rolls is pretty time consuming.
That doesn't stop my husband from begging me to make them all the time though. He's a pretty big egg roll fan, too.
So, to lighten things up and keep our dinner a bit healthier, I basically just made the filling, dumped it in a bowl, and ate it with a fork.
This might seem a little strange, but you guys. So filling and so good.
This recipe really satisfies that Chinese take out craving!
This crack slaw is the perfect low carb Chinese food.
I seriously could not get over how much this tastes like an egg roll. And my word, it's so much easier than actually frying egg rolls!
This dinner clocks in at less than 400 calories, 5 grams total carbs, 3 net carbs, 23 grams of fat, and 23 grams of protein (with the disclaimer that I cannot guarantee this information is accurate. It was calculated on My Fitness Pal's nutrition calculator and your mileage may vary).
It's pretty perfect for a low carb dinner and it's super filling and just packed with flavor.
Best part? It's done in less than 20 minutes.
You could absolutely swap in some ground chicken for the sausage and you'd save some fat.
Low carb diets need fat though, so this is perfect for me!
I also love this recipe made with ground beef. I'm not normally a huge sausage fan, so I often do a mix of both sausage and beef.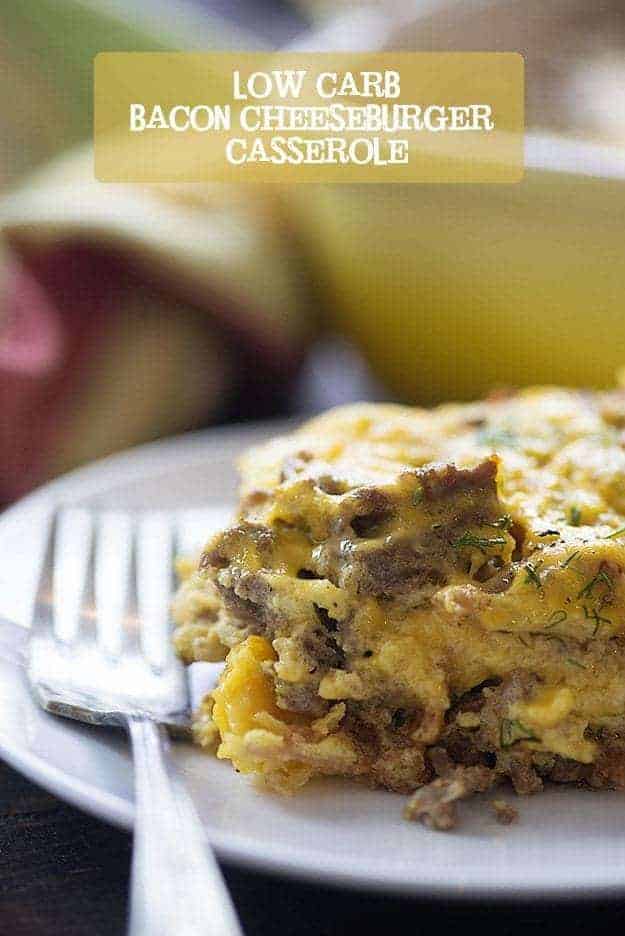 Some of our other favorite low carb recipes include this cheeseburger casserole, low carb stuffed peppers, and my low carb chicken salad.
My low carb meatloaf is pretty rad too and it's wrapped in bacon!
I always get so many comments saying "you forgot the egg" or "when do I add the egg" or "how is it an egg roll without egg?"
There is no egg called for in this recipe, because egg rolls aren't traditionally filled with eggs. The name actually comes from the wrapper – it's traditionally made with egg, flour, and water!
That said, if you wanted to bulk this up or stretch it to feed more people, scrambling in some eggs or topping it with a fried egg would be total perfection!
If you're not super strict on carbs, fried wonton strips add a great crunch too.
One note, when you're drizzling this with sesame oil, you'll want to double check that you're using sesame oil and not sesame chili oil. Sesame chili oil is super spicy, which is fine if you like that, but can be a little shocking otherwise. So, if sesame oil is new to you, read your label carefully before buying. 🙂
Hope you guys love this recipe as much as we do!
Sausage Egg Roll In A Bowl
Servings: 4 servings
Course: Main Course
Cuisine: Chinese
Keyword: light recipes, low carb recipes, weeknight dinner recipes
Calories: 412 kcal
Whether you call this egg roll in a bowl or crack slaw, you're going to love this quick weeknight dinner recipe! It's ready in just 20 minutes and is really packed with flavor. Such a healthy option for a quick dinner.

Ingredients
1 pound ground pork sausage
6 cups coleslaw mix or shredded cabbage
4 cloves garlic minced
1 tablespoon ginger minced
1 tablespoon soy sauce
1/4 cup chopped green onions
1 tablespoon sesame oil
Instructions
Heat a large skillet over medium heat. Add the sausage and cook, stirring often to crumble, until cooked through. Do not drain.

Add the coleslaw mix, garlic, ginger, and soy sauce to the skillet with the sausage. Cook for 3-4 minutes or until cabbage has softened a bit.

Remove from the heat and top with the green onions and drizzle with sesame oil.

Serve immediately.
Nutrition Facts
Sausage Egg Roll In A Bowl
Amount Per Serving
Calories 412 Calories from Fat 297
% Daily Value*
Fat 33g51%
Saturated Fat 10g63%
Cholesterol 81mg27%
Sodium 993mg43%
Potassium 498mg14%
Carbohydrates 8g3%
Fiber 2g8%
Sugar 3g3%
Protein 19g38%
Vitamin A 250IU5%
Vitamin C 41.3mg50%
Calcium 62mg6%
Iron 2mg11%
* Percent Daily Values are based on a 2000 calorie diet.
Nutrition Disclaimer: All information presented on this site is intended for informational purposes only. I am not a certified nutritionist and any nutritional information shared on bunsinmyoven.com should only be used as a general guideline.