Our Egg Roll in a Bowl recipe starts with a bag of coleslaw mix and is ready in just 20 minutes in one skillet. This low carb dish is a family favorite and tastes just like the filling of an egg roll!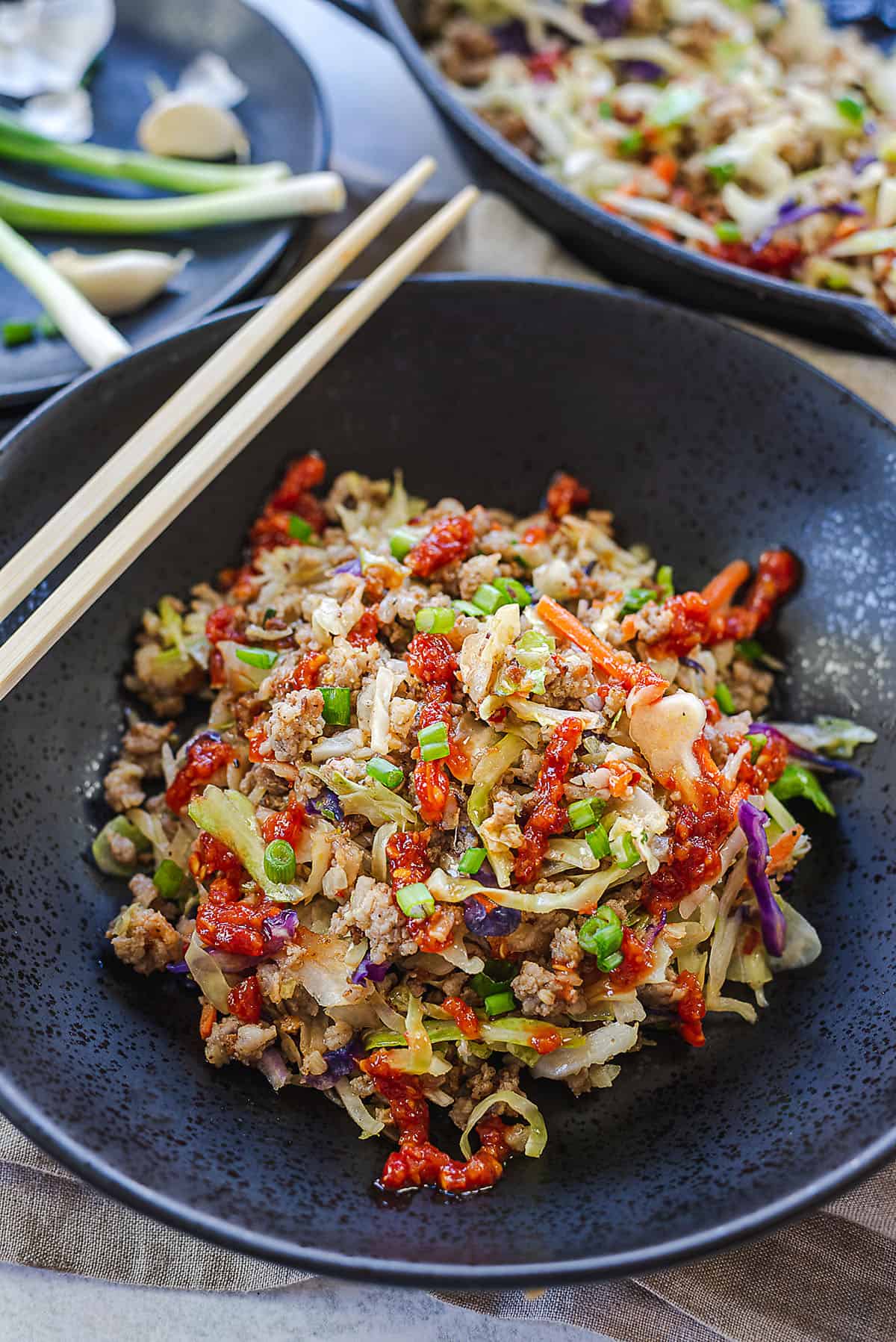 One of the foods that I really crave a lot is Chinese take out, but we're trying to cut carbs and deep fried egg rolls just aren't the best choice for that kinda life.
This easy sausage egg roll in a bowl recipe is one of our favorite Asian inspired meals – it tastes just like the filling in our favorite egg rolls and not only is it healthier, it's also way easier and quicker!
We make this often as a quick lunch. When serving for dinner, we like to serve it alongside our cauliflower chicken fried rice or this chicken stir fry recipe.
There is a lot to love about this recipe and I just know that if you give it a try it'll be a new favorite in your house too!
Best part? It's done in less than 20 minutes and the whole family loves it!
Ingredient Notes:
This post contains affiliate links. As an Amazon associate and member of other qualifying programs, I earn from qualifying purchases.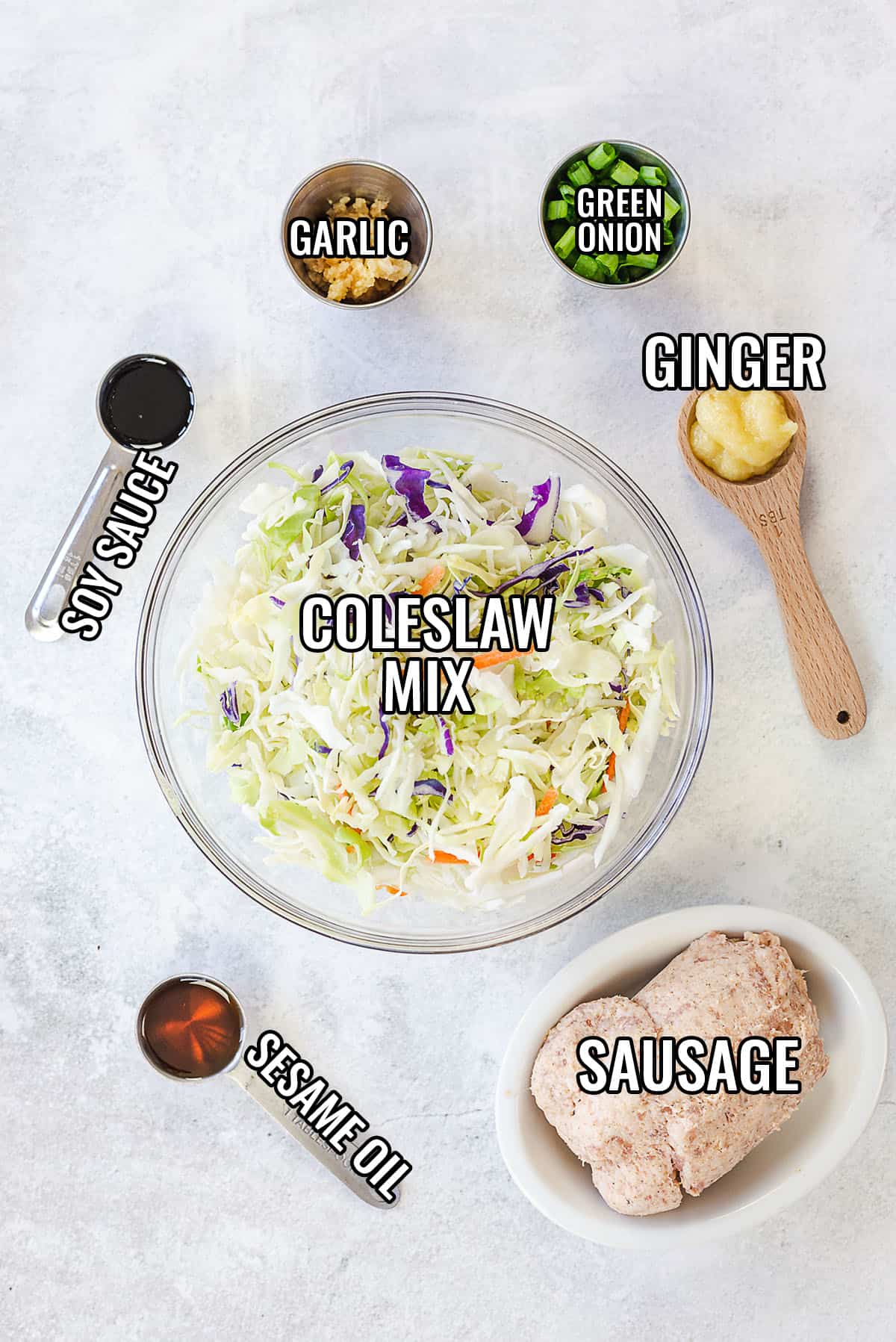 Meat – We love to use breakfast sausage in our egg roll in a bowl, but you can use any type of ground meat you have on hand. Ground beef, chicken, and turkey all work well.
Cabbage – We make our egg roll in a bowl with coleslaw mix to save time and keep dinner simple. Feel free to shred your own cabbage if you prefer.
Asian Flavors – To make sure we get lots of great Asian flavor into this sausage egg roll in a bowl recipe you'll add some minced ginger, garlic, soy sauce, sesame oil, and green onion!
Optional Ingredients – There are lots of other great ingredients that you could mix in with this recipe, though you'll want to keep them low carb if that's what you are going for. Sriracha or red pepper flakes are a good way to add some heat, or try adding in some sesame seeds to go with the sesame oil.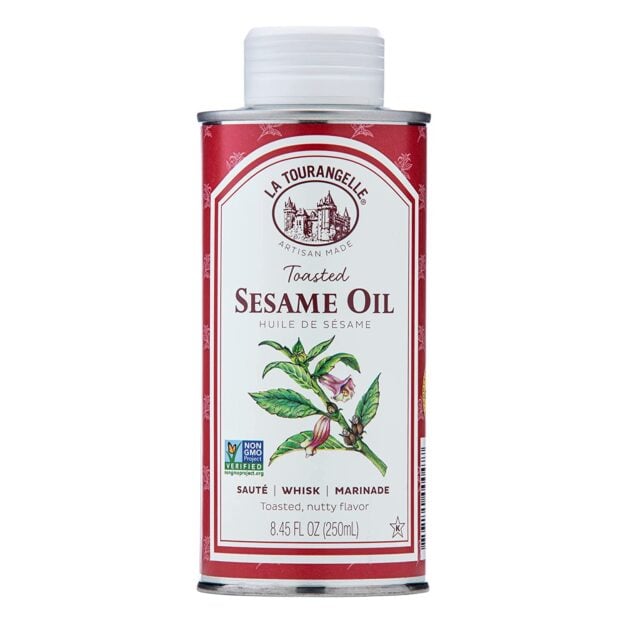 Finishing off a dish with toasted sesame oil is a simple way to add in loads of flavor. A little bit goes a long way and this is perfect for Asian recipes.
What Readers are Saying!
"Easy and delicious. Just the way I like it!!!!!! There are so many ways to serve egg roll in a bowl, as is, egg roll wrap, lettuce wrap, stuffed bell peppers, just to name a few that I have tried." – Ronald G
How To Make Egg Roll In A Bowl:
Sausage: Brown your sausage in a large skillet or work until cooked through. Do not drain the fat…fat is flavor and it's needed for cooking the cabbage.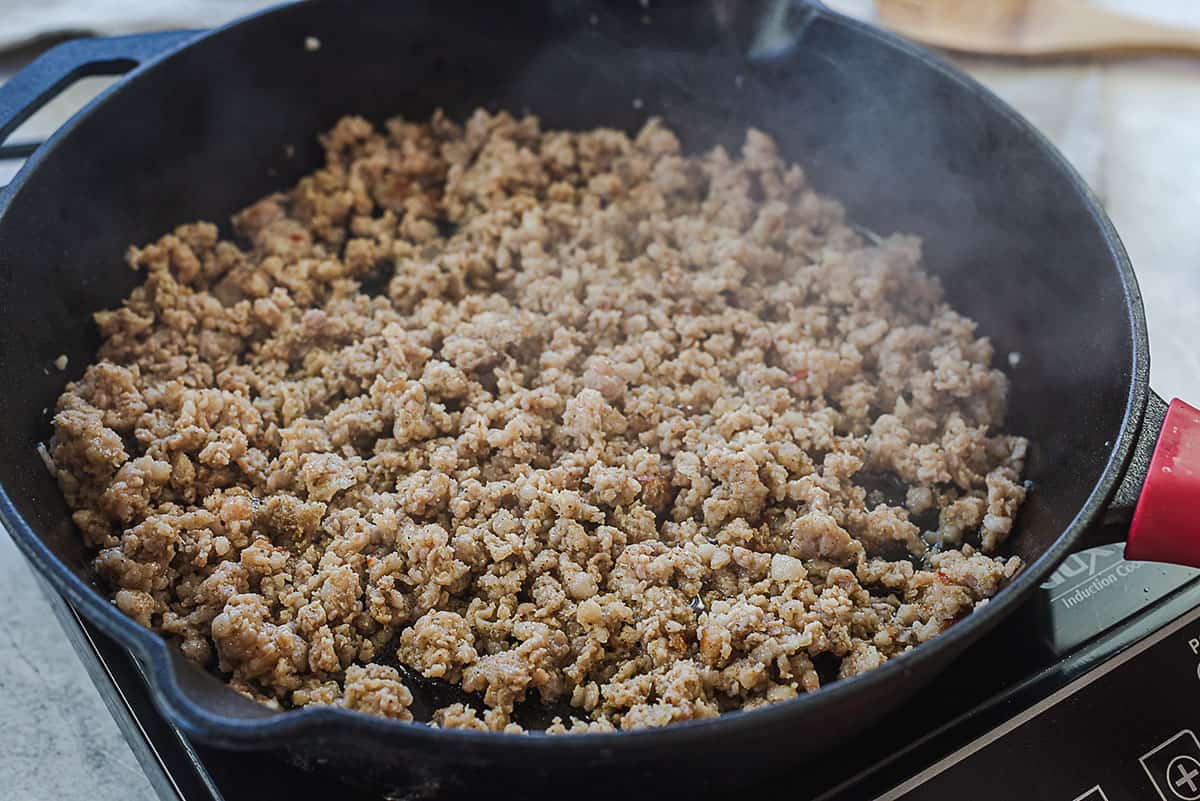 Cabbage: After the sausage is cooked through the rest of the recipe goes super quick. Add the coleslaw mix with the garlic, ginger, and soy sauce to the skillet and stir fry until the cabbage has softened up – about 5 minutes.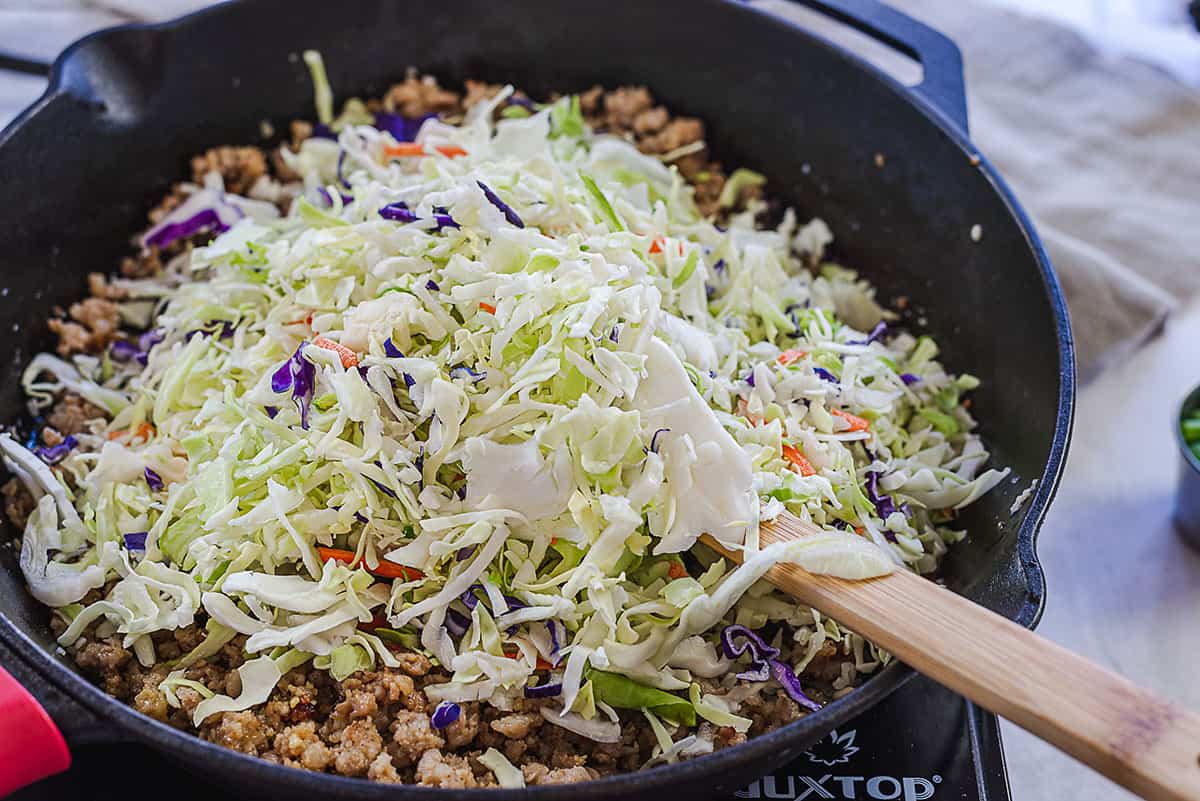 Finish: Finally, to finish this sausage egg roll in a bowl recipe you'll top it with some green onion and drizzle on some sesame oil.
Helpful Tip!
We prefer to use toasted sesame oil to finish this dish off. It adds loads of flavor, but is generally only used to finish a dish. You won't want to cook with toasted sesame oil as it's already toasted and the oil will start to taste bitter/burnt.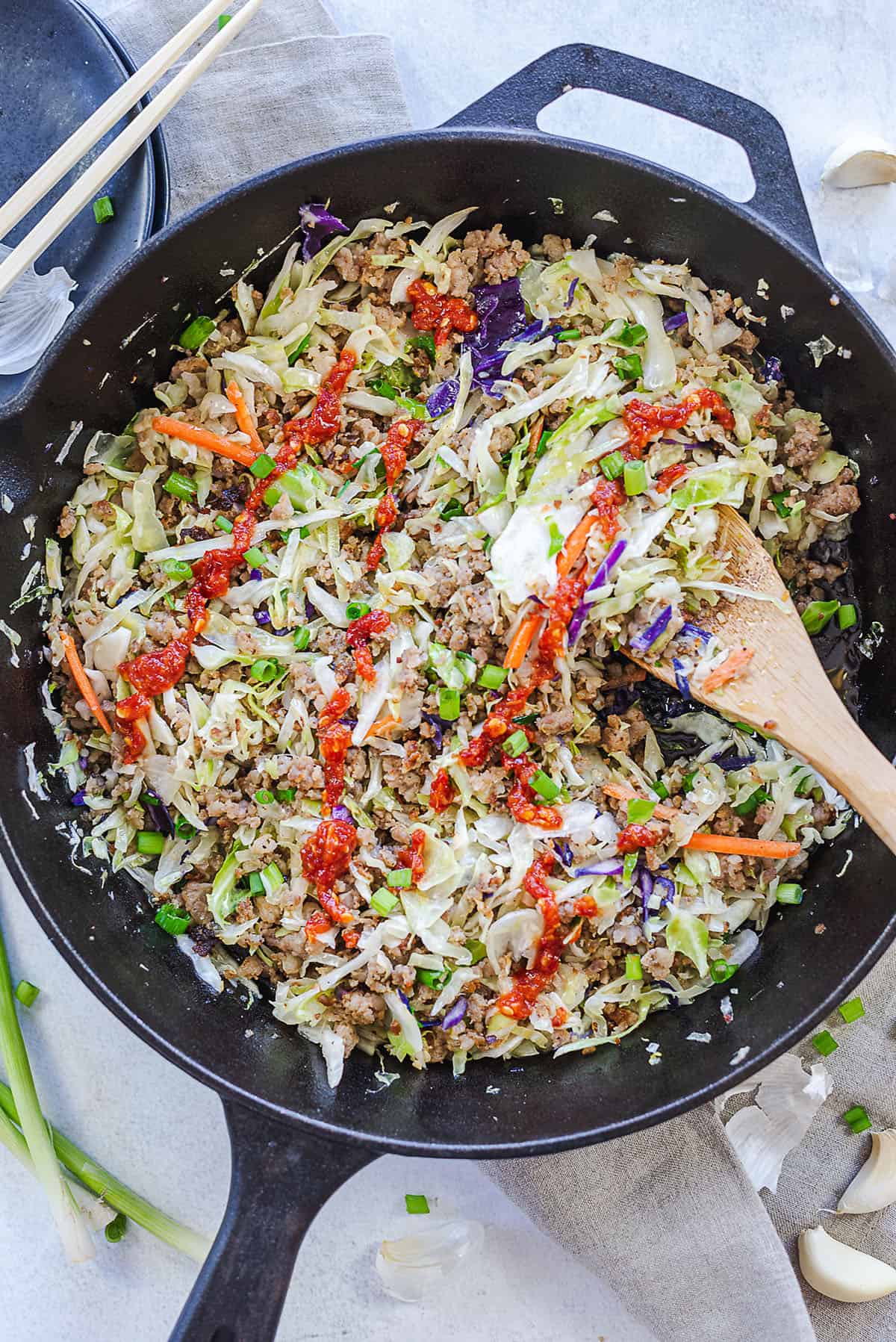 Where is the egg in your egg roll in a bowl?
Did you know that egg rolls don't traditionally have egg in the filling? The egg is actually used in the dough for the wrapper! Since this recipe doesn't contain a wrapper, we don't have any egg in the recipe at all.
If you'd like to bulk up your egg roll in a bowl, feel free to scramble a couple of eggs in with the cabbage, just like you would for fried rice. It adds a little extra protein and tastes delicious!
Is this dish spicy?
Our sausage egg roll in a bowl isn't at all spicy as written, but it's easy to add a little heat by using the "Hot" variety of sausage, stirring in some chili paste, sprinkling on red pepper flakes, and/or serving with a drizzle of sriracha.
Keto Egg Roll in a Bowl:
This dish is perfect for most diets as it's naturally gluten free and low carb, made with a healthy mix of vegetables and protein. This egg roll in a bowl is also keto friendly, with just 4 net carbs per serving.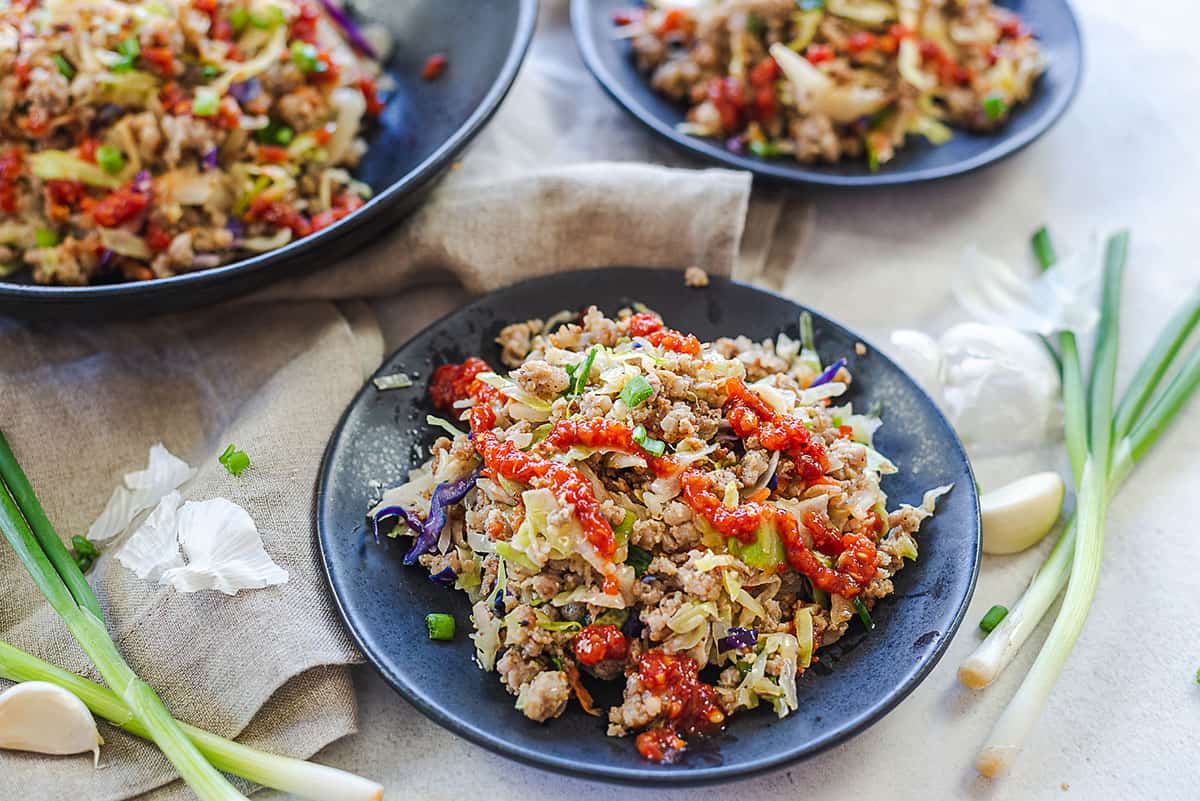 FAQs:
Is there egg in an egg roll?
The egg in an egg roll actually comes in the wrapper! The wrapper is traditionally made with egg, flour, and water.
How should I store egg roll in a bowl?
This recipe should last for 2 to 3 days in the refrigerator if you keep it well covered. You can easily reheat in the microwave.
Are egg rolls low carb?
The filling of an egg roll is generally low carb, but the wrapper will contain carbs as it's made of flour. Our egg roll in a bowl is a great alternative for a low carb diet.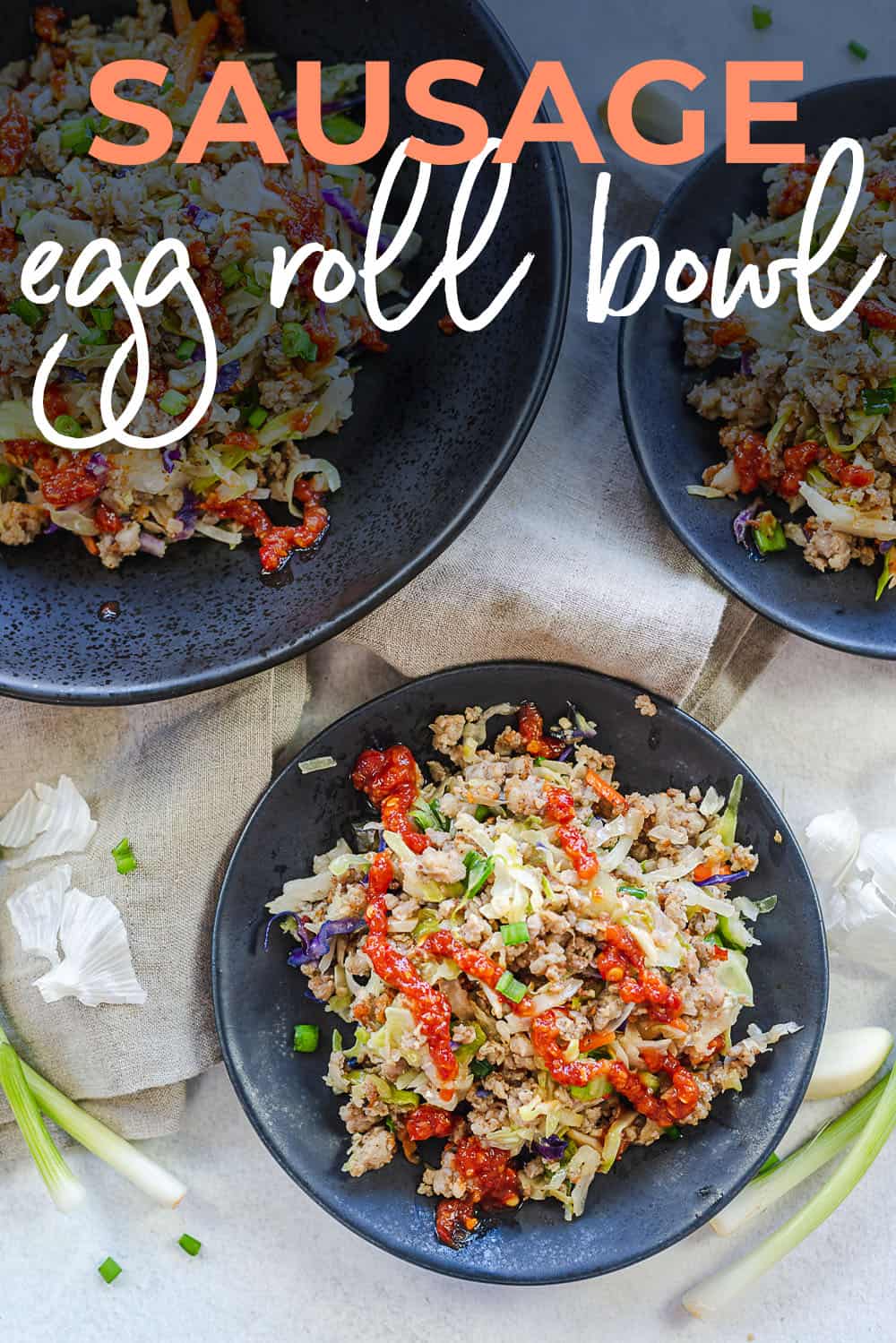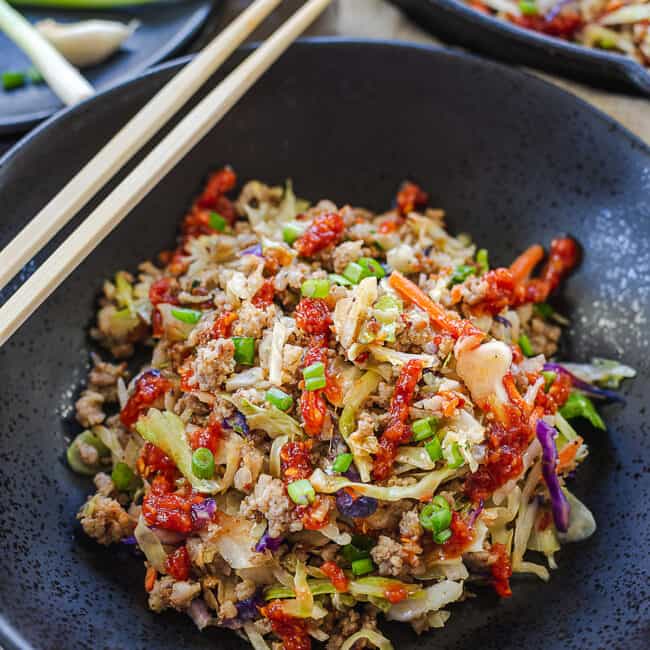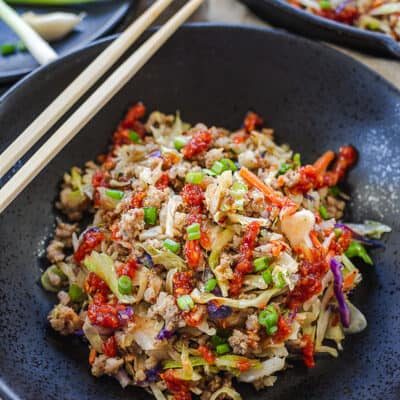 Sausage Egg Roll In A Bowl
One pan and about 20 minutes is all it takes to make this simple, hearty low carb dinner. We use sausage, but this recipe works well with any ground meat you have on hand and it's a real crowd pleaser.
Prep2 minutes
Cook15 minutes
Total17 minutes
Ingredients
1 pound ground pork sausage
6 cups coleslaw mix or shredded cabbage
4 cloves garlic minced
1 tablespoon minced ginger
1 tablespoon soy sauce
1/4 cup chopped green onions
1 tablespoon toasted sesame oil
sriracha for serving
Instructions
Heat a large skillet over medium heat. Add the sausage and cook, stirring often to crumble, until cooked through. Do not drain.

Add the coleslaw mix, garlic, ginger, and soy sauce to the skillet with the sausage. Cook for 3-4 minutes or until cabbage has softened a bit.

Remove from the heat and top with the green onions and drizzle with sesame oil.

Drizzle individual servings with sriracha, if desired.
Tips & Notes:
While traditional egg rolls only contain egg in the egg roll wrapper, you can bulk this dish up by scrambling in a few eggs with the cabbage. Be sure to use toasted sesame oil for the best flavor.
Nutrition Information:
Calories: 398kcal (20%)| Carbohydrates: 6g (2%)| Protein: 23g (46%)| Fat: 23g (35%)| Saturated Fat: 10g (63%)| Cholesterol: 81mg (27%)| Sodium: 993mg (43%)| Potassium: 498mg (14%)| Fiber: 2g (8%)| Sugar: 3g (3%)| Vitamin A: 250IU (5%)| Vitamin C: 41.3mg (50%)| Calcium: 62mg (6%)| Iron: 2mg (11%)
This post was originally published August 2015. It was updated with new photos January 2022.