I'm a total sucker for a good meatloaf recipe, but sometimes I just don't have the time to spend staring at an oven, willing it to hurry up already.
Weeknights are busy, man.
Those nights are the nights that I go for the mini meatloaf. I mean, yes, you could totally call these meatballs, but I think they're a bit different. I mean, first of all, don't roll them into balls. Shape them like miniature meatloaf! Second, these get topped with a tangy meatloaf sauce which everyone knows is the best part of meatloaf anyway. And third, I'm the boss and what I say goes.
Got it?
So, I love love love meatloaf with a tangy sauce on top. I don't like Italian meatloaf with a boring tomato sauce up top. I want something slightly sweet, slightly sour, all the way delicious. The easiest ever sauce is also one of the best and just so happens to be low carb!
All you'll need for the sauce is ketchup (reduced sugar is best if you're doing the low carb thang) and some bottled Italian dressing. My dad used to mix those two things together for a little homemade bbq sauce action when we were kids and I still love the combination. It's delightful.
I used crushed pork rinds as the binder in this recipe. I was a little skeptical, but I'd heard a lot of good things about pork rinds in meatloaf, so I went for it. My friends, I do not think I'll go back to my old way of using almond flour for low carb meatloaf. I hate to say it, but this is just BETTER. The result is more moist and there is nothing about this meatloaf that tastes low carb. It's one that everyone in the family will eat without a second thought.
This recipe works perfectly with my low carb cauliflower potato salad and mad dog salad! Not related to this meatloaf recipe, but another current low carb favorite of my is this egg salad. It's full of cheddar and bacon. 🙂
So, go forth and make some mini meatloaves. They're quick, healthy, and seriously tasty. Did I mention their is only 1 carb per little meatloaf? I estimate you'll eat two or three of these little guys, but that's still a happy number of carbs for a keto diet!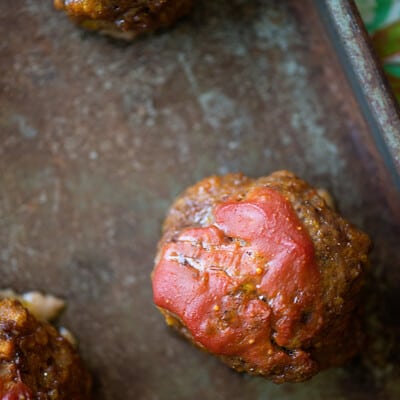 Low Carb Mini Meatloaf
I'm a total sucker for a good meatloaf recipe, but sometimes I just don't have the time to spend staring at an oven, willing it to hurry up already.

Prep5 minutes
Cook20 minutes
Total25 minutes
Ingredients
1 pound ground beef
1 cup crushed pork rinds
1 large egg
1/2 cup grated cheddar
1/4 cup whole milk
1/2 teaspoon salt
1/2 teaspoon ground pepper
1/2 teaspoon garlic powder
2 tablespoons sugar free ketchup
1 tablespoon bottled Italian salad dressing
Instructions
Preheat oven to 350 degrees. Spray a 9x13 baking dish with non-stick spray.

Add the beef, pork rinds, egg, cheddar, milk, salt, pepper, and garlic powder to a large mixing bowl and stir together until well combined.

Use your hands to form 9 small meatloaves and place in the prepared baking dish.

Whisk together the ketchup and Italian dressing in a small bowl. Spoon evenly over the meatloaves.

Bake for 20 minutes or until cooked through.
Tips & Notes:
I know that whole milk is not traditionally used in low carb foods, but in this case it's such a small amount that it doesn't add much to the carb count. You can swap it for 2 tablespoons of heavy cream mixed with 2 tablespoons of water, if you prefer. Heinz makes a delicious sugar free ketchup!
Nutrition Information:
Calories: 190kcal (10%)| Carbohydrates: 1g| Protein: 13g (26%)| Fat: 14g (22%)| Saturated Fat: 5g (31%)| Cholesterol: 66mg (22%)| Sodium: 315mg (14%)| Potassium: 169mg (5%)| Sugar: 1g (1%)| Vitamin A: 120IU (2%)| Vitamin C: 0.2mg| Calcium: 65mg (7%)| Iron: 1.2mg (7%)
Please note that I am not a registered dietitian and can not guarantee that these nutrition facts are accurate. They were calculated using a nutrition database and your mileage may vary.