My husband comes from a big ol' family, you guys.
When we all get together there are thirteen of us. That just seems like a lot of dang people to me.
We've been married for 15 years and I'm just now to the point where I'm comfortable cooking for all of them. I mean, my husband is already pretty dang picky. He doesn't like onions or vegetables.
He looks like some gourmet food lover compared to his middle brother though. That man won't eat onions, vegetables, tacos (TACOS, Y'ALL), most pasta dishes, anything with the tiniest little flecks of green stuff in it, tomatoes, sauces…basically, he goes to a Chinese restaurant with us and orders white rice. It's weird. And difficult.
But, his mama makes this Mad Dog Salad that everyone eats. Of course, she makes two bowls of it…one with the green onions and one without and let's everyone fend for themselves in the tomato department. They're easy enough to pick out, right?
We have this salad at just about every get together. It's definitely my favorite way to enjoy a green salad. I think it has something to do with the POUND OF MAPLE BACON hiding in all the lettuce leaves. Don't be scared.
Now, my mother-in-law got this recipe from her sister who made it with hot peppers. My mother-in-law leaves those out, because picky eaters to the max. When I make it for just the four of us, I add some diced pickled jalapenos. It adds the perfect little tangy heat without being at all overwhelming.
When the people at La Terra Fina emailed me and asked me to create a salad recipe to pair with their quiche, I knew that this was what I had to share.
I invited the in-laws over for Saturday morning brunch and baked up a Spinach Artichoke Florentine Quiche from La Terra Fina. What an easy way to entertain guests! I served it with my favorite Mad Dog Salad and a tray full of mimosas. It was such a nice start to a hot summer day after a long week and everyone devoured the quiche. Well, except for my brother-in-law who saw all the green and ran screaming from the house. 😉 All the normal people gobbled it right up, though.
The filling was spot on and perfectly flavored and the crust was flaky and divine. I could have ate the whole quiche myself, but I had guests at my little summer brunch, so I tried to share.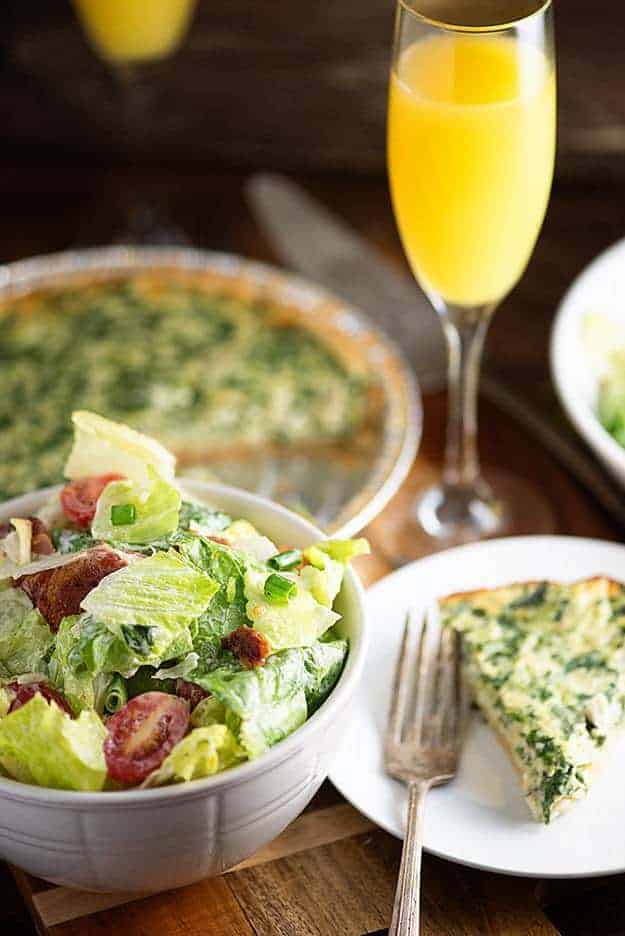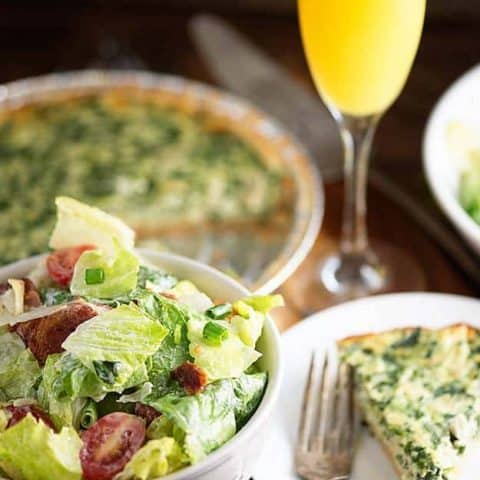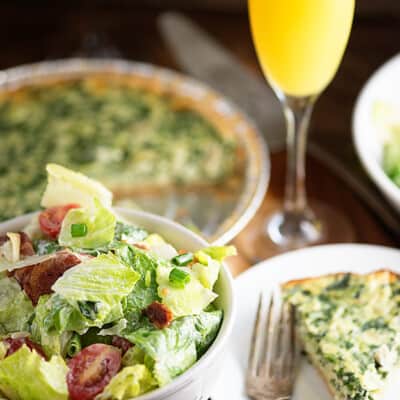 Mad Dog Salad
I like to add a touch of pickled peppers for mild heat to this salad.
Prep2 minutes
Cook3 minutes
Total5 minutes
Ingredients
6 cups chopped romaine lettuce
1 pound maple bacon fried and diced
1 cup chopped grape tomatoes
1/4 cup chopped green onions
2 tablespoons diced pickled jalapenos
1/4 to 1/2 cup bottled ranch salad dressing
Instructions
Add the lettuce, bacon, tomatoes, green onions, and jalapenos to a large bowl.

Top with 1/4 cup of dressing and toss to coat. Add more dressing as needed to dress to your liking.

Serve immediately.
Nutrition Information:
Calories: 330kcal (17%)| Carbohydrates: 4g (1%)| Protein: 10g (20%)| Fat: 30g (46%)| Saturated Fat: 10g (63%)| Cholesterol: 49mg (16%)| Sodium: 588mg (26%)| Potassium: 345mg (10%)| Fiber: 1g (4%)| Sugar: 1g (1%)| Vitamin A: 4455IU (89%)| Vitamin C: 6.5mg (8%)| Calcium: 25mg (3%)| Iron: 1mg (6%)