This low carb meatloaf is the perfect comfort food for this time of year. It's hard to go wrong with bacon wrapped meatloaf in my family!
So, I think I mentioned that I went on a cruise last week?
Hmm? Maybe? Just once or twice?
I mean, look:
How could I not talk about that view until I'm blue in the face?
I was invited by Princess Cruises to attend a culinary cruise along the California coast. A culinary cruise. Do you know what that means? It means that I more or less did nothing but eat.
Oh, did I mention that Cat Cora was there? Because she was. She took us on a little tour of Fess Parker Winery and Vineyard in Santa Barbara. So, in addition to all of the eating, I also did all of the drinking. With Cat Cora. Like, woah. It was awesome. My job blows my mind sometimes.
I took my high school BFF, Courtney, with me on the cruise and we hung out with some fabulous bloggers and the lovely lady behind Princess' social media accounts. Follow Princess Cruises on Instagram. I promise you'll be imagining yourself lying on the lido deck, drink in hand, listening to the sounds of the ocean in no time.
This was my first time sailing with Princess and I was really impressed.
The Ruby Princess is a beautiful ship with some amazing restaurants. Between the Crown Grill (seriously amazing steak!) and the Italian restaurant on board, we were in heaven. That pasta, that steak, the salads, the appetizers – all of it was simply amazing.
I even got to experience the Chef's Table dinner, which you can read all about here. Spoiler alert: It was amazing. Appetizers galore. The creamiest risotto I've ever eaten. Veal shank. Beef tenderloin. And so much dessert that I nearly burst. Like, literally, I was almost offended when they offered me a second dessert course. But I wasn't. Because dessert.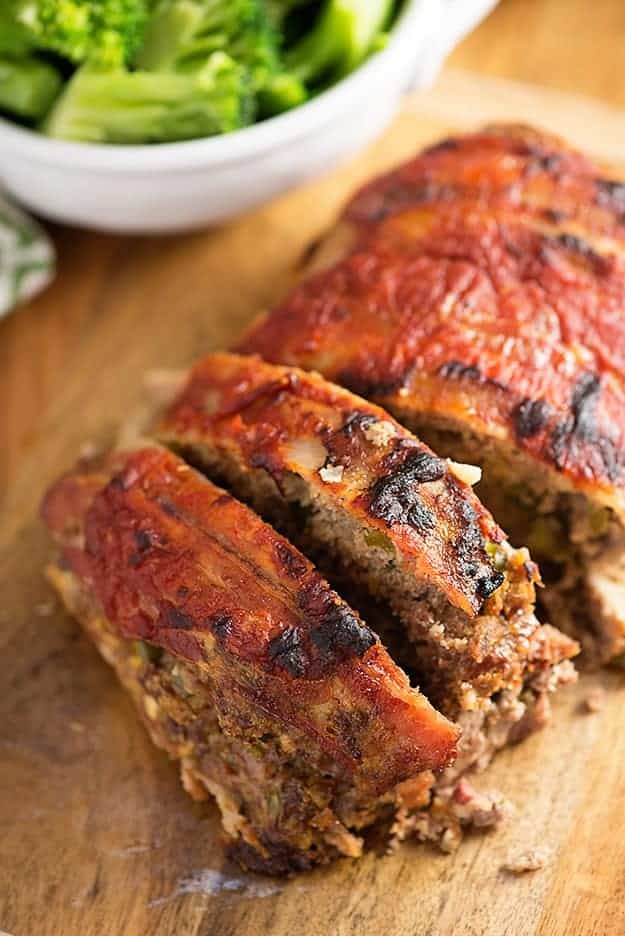 So, now that I'm no longer living in the land of oh-so-fancy dining, I am back to my comfort foods. I sure do miss the olive tapenade onion tart I enjoyed for lunch at Fess Parker (would you like me to recreate that for you?!), but this low carb meatloaf will do.
My whole family enjoys this low carb meatloaf!
Obviously, I didn't even attempt to eat low carb while traveling. That would have been torture. But, I'm home now and I need to get my butt back on the wagon. Anyone else feel extra motivated to eat a healthy diet after a nice trip?
This keto meatloaf is perfect for a low carb diet, coming in at 3 net carbs per serving, and it's covered in bacon, because bacon. The sweet and tangy sauce on top is my favorite part, as it is with all meatloaf. Serve this bacon wrapped meatloaf with a side of my low carb cauliflower potato salad or cauliflower bake, and my bacon green beans!
This bacon wrapped meatloaf is a teensy bit drier than a traditional meatloaf and you can try reducing the amount of almond flour in here until the loaf is just holding together, if you'd like it a bit more moist. 1/2 cup of almond flour seems to be the magic number for me, but a little less will still hold together.
Enjoy, guys!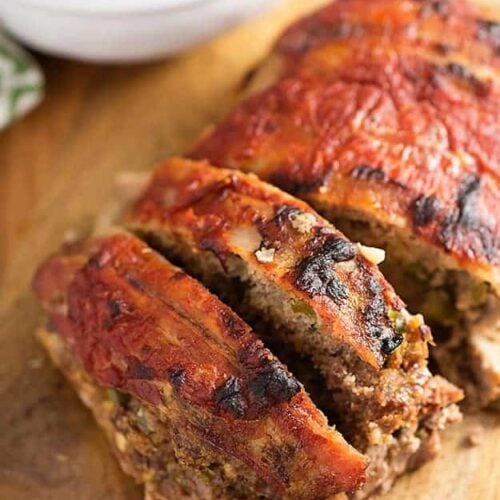 Low Carb Bacon Wrapped Meatloaf
This low carb meatloaf is the perfect comfort food for this time of year. It's hard to go wrong with bacon wrapped meatloaf in my family!

Prep10 minutes
Cook45 minutes
Total55 minutes
Ingredients
1 pound ground beef 80/20
1 green bell pepper
1/2 onion
1 clove garlic
2 large eggs
1/2 cup almond flour
1/2 cup grated mozzarella or cheddar
1/4 cup powdered Parmesan cheese
1 tablespoon Worcestershire sauce
1 teaspoon salt
1 teaspoon ground black pepper
3 slices bacon
3 tablespoons reduced sugar ketchup
1 tablespoon bottled Italian salad dressing
Instructions
Preheat oven to 375 degrees.

Dice the green pepper, onion, and garlic.

Add to a large bowl with the ground beef, eggs, almond flour, mozzarella, Parmesan cheese, Worcestershire sauce, salt, and pepper. Use your hands to combine.

Shape mixture into a loaf and place in a 9x13 baking dish.

Cut the bacon slices in half and drape over the meatloaf.

Whisk together the ketchup and Italian dressing until combined. Spoon mixture over the bacon and spread to coat.

Bake for 25 minutes. Increase heat to 425 and bake an additional 20 minutes or until temperature reaches 160 degrees.

Let stand 10 minutes before slicing and serving.
Nutrition Information:
Calories: 373kcal (19%)| Carbohydrates: 5g (2%)| Protein: 22g (44%)| Fat: 28g (43%)| Saturated Fat: 9g (56%)| Cholesterol: 132mg (44%)| Sodium: 708mg (31%)| Potassium: 327mg (9%)| Fiber: 1g (4%)| Sugar: 1g (1%)| Vitamin A: 245IU (5%)| Vitamin C: 17.2mg (21%)| Calcium: 169mg (17%)| Iron: 2.4mg (13%)