This loaded cauliflower bake is full of cheese, bacon, and cauliflower for a low carb side dish that the whole family enjoys. It's creamy cheesy perfection and I can never get enough!
Oh, January.
I kind of hate you.
First of all, the temperature is just ridiculous. I don't know who authorized below zero temperatures, but I insist that we rethink all that. I mean, nose hairs should not freeze. That should not be a thing that happens to human beings.
Then there is the snow. Like, calm down, buddy. It was pretty the first time, but can we just take a step back and maybe chill out with the frozen stuff all over the place?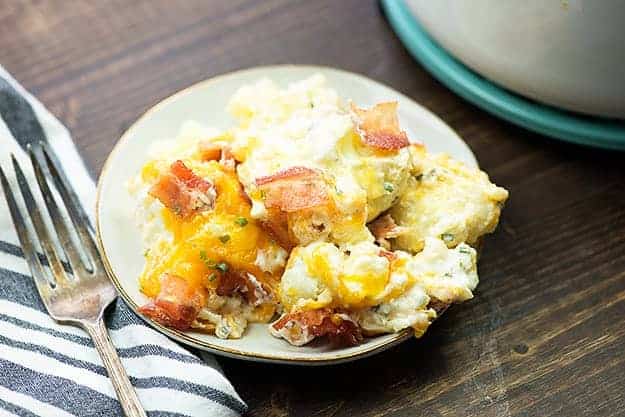 But worst of all? Diets.
Ugh.
Who decided to make December the month of Eat.All.The.Things. and January the month of Eat.A.Little.Salad?
I'm sorry, but that's a tough transition. I don't handle change easily and this is probably the worst change ever.
Cookie, cookie, cookie, lettuce leaf. <—- Who thought that was a good idea? And where are the tacos in this equation? I can't live life without tacos.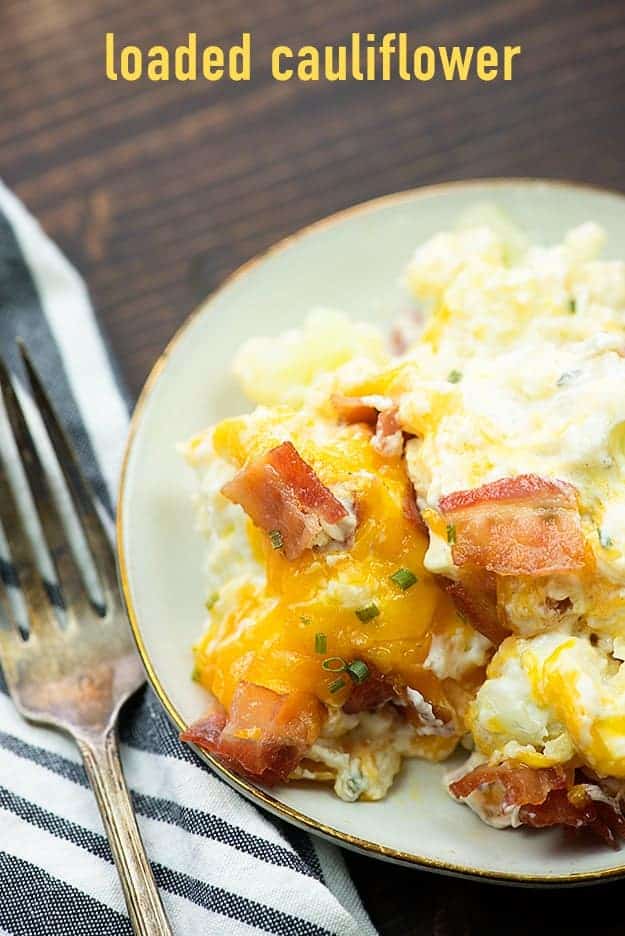 Anyway, it's diet season. I'm not happy about it, but I'm doing my best to make it not miserable.
Low carb is the way to go for me. I mean, you still get to eat cheese. Sure, you miss the french fries and the sugar, but there is cheese. And bacon! Totally doable, if you ask me.
My kids love loaded mashed potatoes, so I decided to make a loaded cauliflower bake with dinner the other night. They're generally pretty okay with cauliflower, so long as I do a little bit of doctoring. They even like my cauliflower risotto and cauliflower potato salad.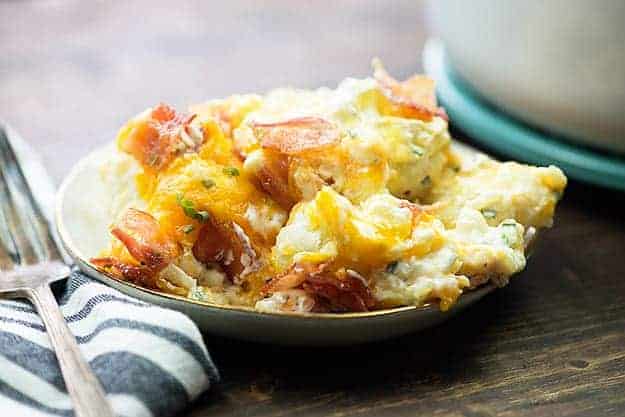 Neither one will eat it raw, one will eat it steamed, and both will eat it covered in cheese and bacon. So, this loaded cauliflower bake is a total win for everyone in the house. I mean, who would look at that pile of goodness up there and say no?
You can serve this loaded cauliflower casserole with my low carb meatloaf and you'll be having a serious comfort food dinner.
Anyway, if you're on a low carb diet or just trying to cut some potatoes, this is an excellent side dish. And if you're not on a diet, I bet it will still be a total hit on your table.
Let me know if you try this one!
Want more low carb recipes? Find me over on ThatLowCarbLife.com, my new blog dedicated solely to low carb living!
Loaded Cauliflower Bake
This loaded cauliflower bake is full of cheese, bacon, and cauliflower for a low carb side dish that the whole family enjoys.
Prep10 minutes
Cook20 minutes
Total30 minutes
Ingredients
1 pound cauliflower florets
1 cup grated cheddar divided
4 ounces cream cheese softened
1/4 cup sour cream
2 tablespoons butter soft
1/4 cup green onions chopped
10 slices bacon cooked and diced, divided
Instructions
Preheat oven to 350 degrees. Spray an 8x8 baking dish with non-stick spray.

Add the cauliflower to a microwave safe bowl, add 2 tablespoons of water to the bowl, cover with plastic wrap, and microwave for 3 minutes or until tender crisp.

In a large bowl, stir together 1/2 cup of the cheddar, cream cheese, sour cream, butter, and green onions until well combined.

Stir in the cauliflower to coat. Stir in half of the bacon.

Pour cauliflower mixture into prepared baking dish and sprinkle with the remaining cheddar and bacon.

Bake, uncovered, for 15 minutes or until cheese has melted and cauliflower is as soft as you'd like.

Serve immediately.
Nutrition Information:
Calories: 365kcal (18%)| Carbohydrates: 5g (2%)| Protein: 12g (24%)| Fat: 33g (51%)| Saturated Fat: 16g (100%)| Cholesterol: 79mg (26%)| Sodium: 484mg (21%)| Potassium: 368mg (11%)| Fiber: 1g (4%)| Sugar: 2g (2%)| Vitamin A: 675IU (14%)| Vitamin C: 37.2mg (45%)| Calcium: 186mg (19%)| Iron: 0.7mg (4%)