This loaded cauliflower bake is full of cheese, bacon, and cauliflower for a low carb side dish that the whole family enjoys. It's creamy cheesy perfection and I can never get enough!
Oh, January. I kind of hate you.
You know the temperature is just ridiculous. I don't know who authorized below zero temperatures, but I insist that we rethink all that. I mean, nose hairs should not freeze. That should not be a thing that happens to human beings.
But worst of all? Diets.
Who decided to put January right after December??
Cookie, cookie, cookie, lettuce leaf. <—- Who thought that was a good idea?
Anyway, after eating like an unsupervised 5 year old for the past couple of months, I'm trying to cut out carbs as much as possible…and that includes potatoes.
This loaded cauliflower bake is the perfect swap!
Cheddar, bacon, cream cheese…all the good stuff is there, we've just swapped out taters for cauliflower!
Ingredient Notes:
Cauliflower – We always prefer fresh cauliflower, but frozen will work in this recipe.
Dairy – This loaded cauliflower bake is packed with lots of creamy flavor from the sour cream, grated cheddar cheese, and cream cheese! And the butter doesn't hurt either.
Bacon – It's true that bacon is the best part of a low carb diet and we didn't skimp in this dish.
What Readers are Saying!
"This sounds absolutely delicious! And you could pair it with so many things! It just screams comfort food to me! Perfect for winter!" -Cassie
How to make loaded cauliflower casserole:
Bacon: Dice 10 slices of raw bacon and fry it to your liking, then set it aside.
Cauliflower: Cut the cauliflower into small florets and place in a microwave-safe bowl with a couple tablespoons of water and microwave for 3 minutes. This just gets the cooking process started.
Combine: Stir together your cream cheese, sour cream, butter, green onions, and half of your shredded cheddar. Stir in the cauliflower and half of the cooked bacon and spread it in your baking dish. Top with the rest of the cheese and bacon.
Bake: Bake for 15 minutes at 350 degrees F, or until the cheese has melted.
Helpful Tips!
Use the pre-chopped cauliflower from the produce section at the grocery store to save a bit of time.
No microwave? Boil or steam the cauliflower for 2-3 minutes, just to heat it through and start softening it.
Want to make this lower in fat and calories? Reduce the sour cream by half and omit the butter. Use low fat cheese, if desired.
Make it a full meal by adding cooked and chopped chicken to the mixture.
Leftovers?
This loaded cauliflower casserole reheats beautifully in the microwave or the oven.
Microwave, covered, for 2-3 minutes or until heated through.
Pop in a baking dish and bake, covered, at 350 for 10-15 minutes to heat through.
FAQs:
Is cauliflower casserole low carb?
This loaded cauliflower casserole is a low carb recipe, with just 5g total carbs and 4g net carbs per serving.
Why does cauliflower smell?
Cauliflower does have a bad rap for being stinky! The vegetable contains sulfur compounds which can cause it to have a less than pleasant odor. This is perfectly normal, though if it smells overwhelmingly bad it may be a sign to toss that cauliflower and get a fresh one.
Want more low carb recipes? Find me over on ThatLowCarbLife.com, my new blog dedicated solely to low carb living!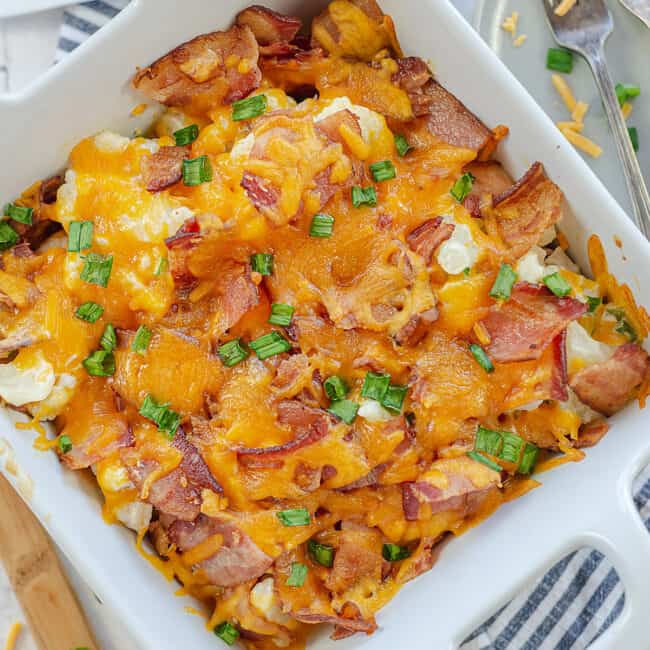 Loaded Cauliflower Bake
This loaded cauliflower bake is full of cheese, bacon, and cauliflower for a low carb side dish that the whole family enjoys.
Prep10 minutes
Cook20 minutes
Total30 minutes
Ingredients
1 pound cauliflower florets
1 cup grated cheddar divided
4 ounces cream cheese softened
1/4 cup sour cream
2 tablespoons butter soft
1/4 cup green onions chopped
10 slices bacon cooked and diced, divided
Instructions
Preheat oven to 350 degrees. Spray an 8×8 baking dish with non-stick spray.

Add the cauliflower to a microwave safe bowl, add 2 tablespoons of water to the bowl, cover with plastic wrap, and microwave for 3 minutes or until tender crisp.

In a large bowl, stir together 1/2 cup of the cheddar, cream cheese, sour cream, butter, and green onions until well combined.

Stir in the cauliflower to coat. Stir in half of the bacon.

Pour cauliflower mixture into prepared baking dish and sprinkle with the remaining cheddar and bacon.

Bake, uncovered, for 15 minutes or until cheese has melted and cauliflower is as soft as you'd like.

Serve immediately.
Tips & Notes:
We prefer the taste and texture of fresh cauliflower, but frozen works as well. To reduce fat, use less sour cream and omit the butter. The end result will still be cheesy and delicious. Store leftovers in the fridge, tightly covered, for 3-4 days. Reheat in the microwave or oven.
Nutrition Information:
Calories: 365kcal (18%)| Carbohydrates: 5g (2%)| Protein: 12g (24%)| Fat: 33g (51%)| Saturated Fat: 16g (100%)| Cholesterol: 79mg (26%)| Sodium: 484mg (21%)| Potassium: 368mg (11%)| Fiber: 1g (4%)| Sugar: 2g (2%)| Vitamin A: 675IU (14%)| Vitamin C: 37.2mg (45%)| Calcium: 186mg (19%)| Iron: 0.7mg (4%)
Photos updated in January 2022. Original photo below.