August 20, 2018
Low Carb Breakfast Casserole
If you need a new low carb breakfast to try, this low carb breakfast casserole is seriously good! So filling and super simple to prepare!
My husband is an absolute nut for breakfast foods.
I mean, I eat a little breakfast each day. Sometimes an avocado drizzled with Cholula. Sometimes a scrambled egg. Sometimes I just drink my coffee and call it good.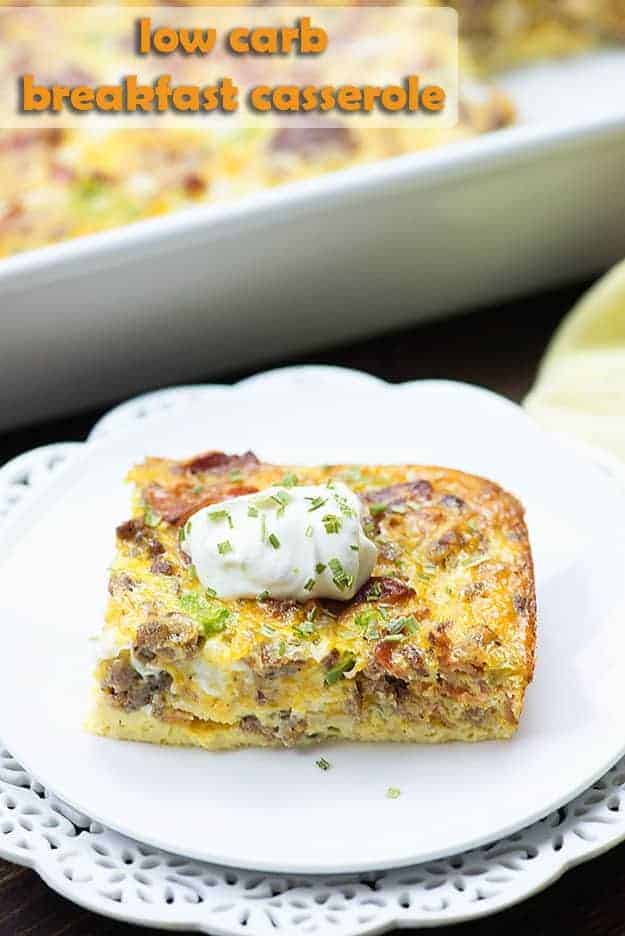 I think the avocado with Cholula is my favorite easy breakfast of all time, though. It's so good!
Anyway, I'm getting off track!
I eat a super simple breakfast through the week, but on the weekends the husband is home and he wants a MEAL.

He's happy to cook it himself, but I like to play the loving wife and make him bacon and eggs and all the other good breakfast food most days.
But, I also like to sleep in and be super lazy, sooooo that's where this easy breakfast casserole comes into play.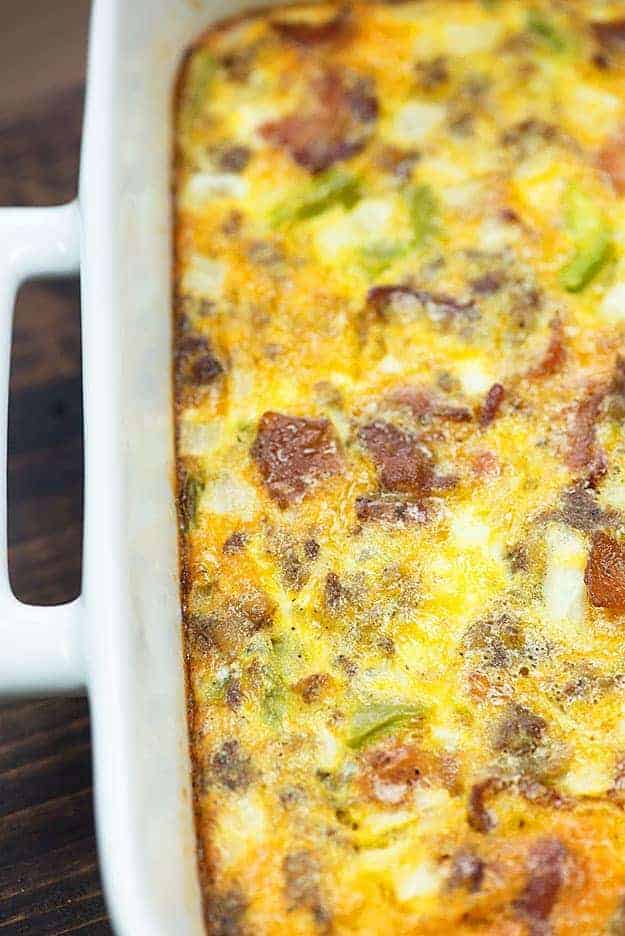 This overnight breakfast casserole can be made in advance. Just pop individual servings in the microwave to reheat. It's even good cold, if you ask me.
Obviously, this means that it makes a fabulous holiday recipe. You know when you have a million people staying at your house over the holidays and you're just like…ugh. You want me to cook for you AGAIN?
This is perfect for that feeling.
And it's low carb, so if you're wanting to cut carbs and still feed the carb lovers, this one is perfect.
For more low carb favorites, try my stuffed peppers or this chicken casserole. My egg roll in a bowl is a reader favorite, too.
If you were on the lookout for new low carb breakfast ideas, you really have to try this one.
It's packed with eggs, sausage, and bacon, so it's full of flavor from the pork and it's just really super simple to throw together.
You'll just fry up some bacon and give it a good dice. Or, be like me, and dice the bacon before you fry it. I don't know why, but I think that's so much easier.
I haven't tried this one with the pre-cooked bacon, but I imagine it would work just fine. I prefer the freshly fried bacon, because it tends to be a bit thicker.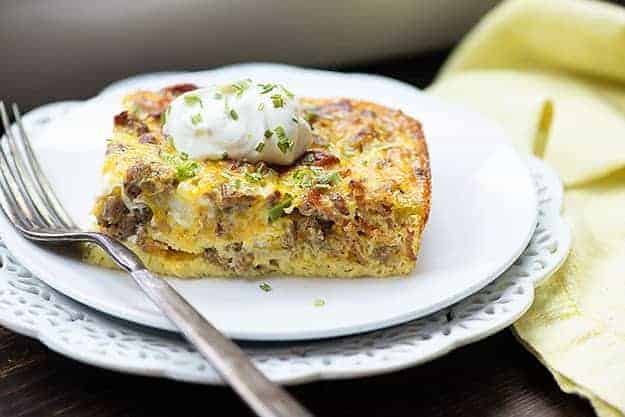 Then, brown some sausage. I like spicy breakfast sausage best, but any variety will do.
My husband is a bit of a wimp so we often do a mix of regular breakfast sausage and spicy breakfast sausage. It gives it a bit of heat without being overpowering.
Next up – eggs. Lots of them. Start cracking and whisking, my friends.
You'll want to add some dairy to the eggs. You can either add in a half cup of milk or a quarter cup of heavy cream plus a quarter cup of water. Either works, depending on your nutritional needs and what you have in your fridge.
This breakfast casserole with bacon is a total hit with my family.
Dice an onion and bell pepper for some crunch. You can also leave these out, if they're not your thing.
My husband hates onions, but I love them, so I've tried this both ways. They're equally as good.
You could definitely get creative here and stir in other veggies. Even jalapeno would be really good here, but as I mentioned earlier – my husband is a wimp. 😉
Everything just gets stirred together with a bunch of grated cheese. I use cheddar, but you can use whatever variety you like. Pepper Jack would be really good!
If you're not watching carbs, this is another of my favorite breakfast casserole recipes.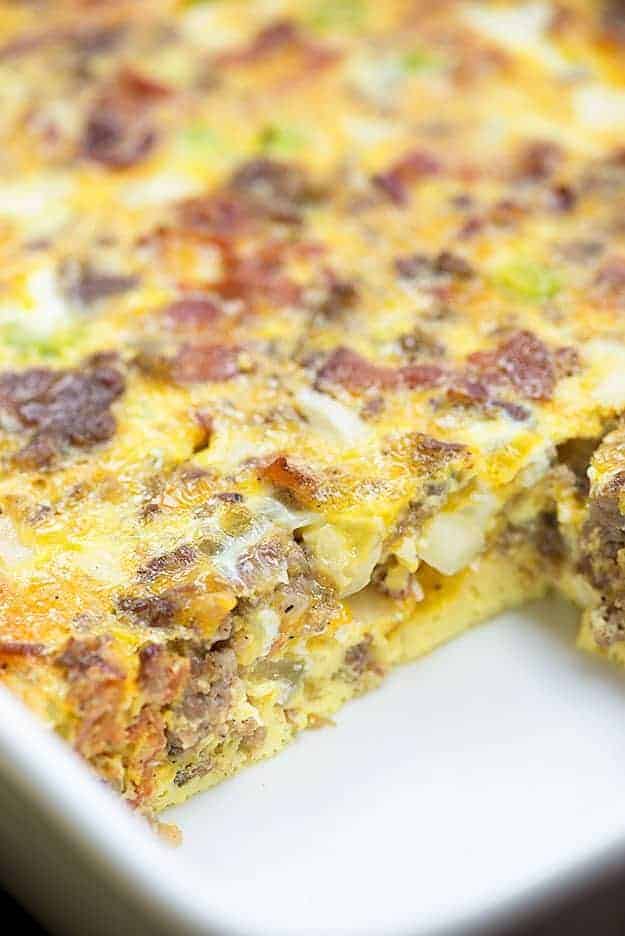 Then it gets poured into a 9×13 baking dish. Be sure to liberally spray the dish with non-stick spray.
I use this baking dish (affiliate link). It's my favorite!
This bakes in about 35-40 minutes. You just want the center to be set and the edges to be golden.
We serve this with a dollop of sour cream and a sprinkling of chives.
And, back to my theme of liking things hot, I usually drizzle on a bit of hot sauce too. 😉
You've got to give this breakfast casserole with sausage and bacon a try! It's so filling and tasty!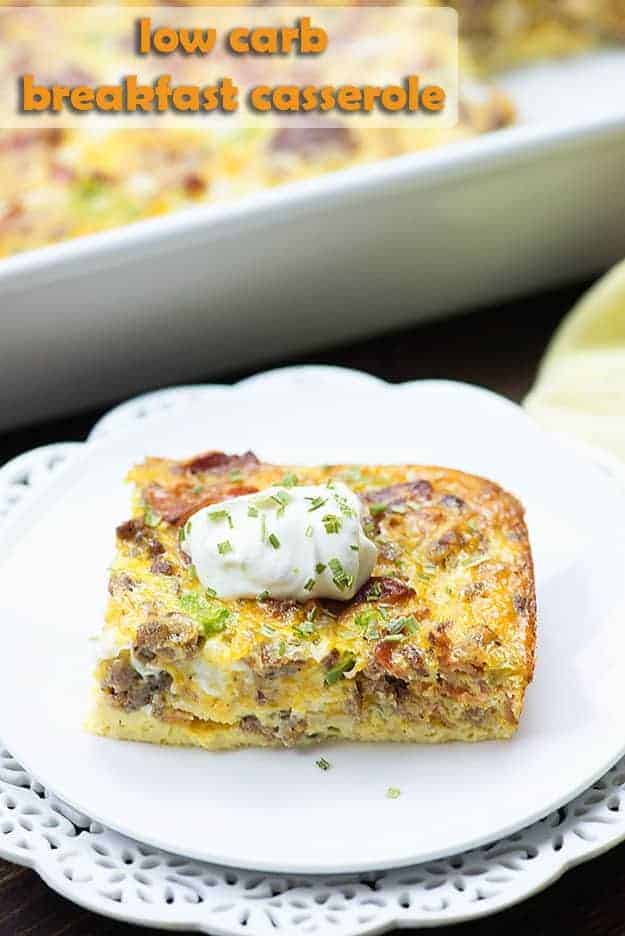 Low Carb Breakfast Casserole
Servings: 12
Course: Breakfast
Cuisine: American
Keyword: casserole, low carb
Calories: 425 kcal
This low carb breakfast casserole is hearty and filling, because it's packed full of protein from the sausage, bacon, and eggs. Add in any vegetables or meat you like!
Ingredients
1 pound sausage
1 pound bacon
1 dozen eggs
1/2 cup milk
2 cups grated cheddar
1/2 sweet onion diced
1 bell pepper diced
1 tablespoon Frank's red hot
1/2 teaspoon salt
1/2 teaspoon pepper
Instructions
Brown the sausage in a large skillet, crumbling as it cooks. Drain grease and set aside.

Dice the bacon into bite-sized chunks and cook in a large skillet, stirring often, until crisp. Drain the grease and set aside.

Pre-heat the oven to 350 degrees. Spray a 9x13 baking dish with non-stick spray.

Crack the eggs into a large mixing bowl and add the milk. Whisk together until well combined.

Stir in the sausage, bacon, cheddar, onion, pepper, hot sauce, salt, and pepper. Stir until well combined.

Pour the mixture into the prepared baking dish and bake for 35-40 minutes or until eggs are set and edges are golden brown.

Let cool 5 minutes before slicing and serving.
Recipe Notes
To keep this a bit lower in carbs, swap in 1/4 cup of heavy cream + 1/4 cup of water for the milk. Serve with a dollop of sour cream and sprinkle with chives, as desired.
Nutrition Facts
Low Carb Breakfast Casserole
Amount Per Serving
Calories 425 Calories from Fat 315
% Daily Value*
Total Fat 35g 54%
Saturated Fat 13g 65%
Cholesterol 236mg 79%
Sodium 811mg 34%
Potassium 298mg 9%
Total Carbohydrates 3g 1%
Sugars 1g
Protein 21g 42%
Vitamin A 15.9%
Vitamin C 16.5%
Calcium 18%
Iron 8.6%
* Percent Daily Values are based on a 2000 calorie diet.
Nutrition Disclaimer: All information presented on this site is intended for informational purposes only. I am not a certified nutritionist and any nutritional information shared on bunsinmyoven.com should only be used as a general guideline.