If you need a new low carb breakfast to try, this easy breakfast casserole is seriously good! So filling and super simple to prepare!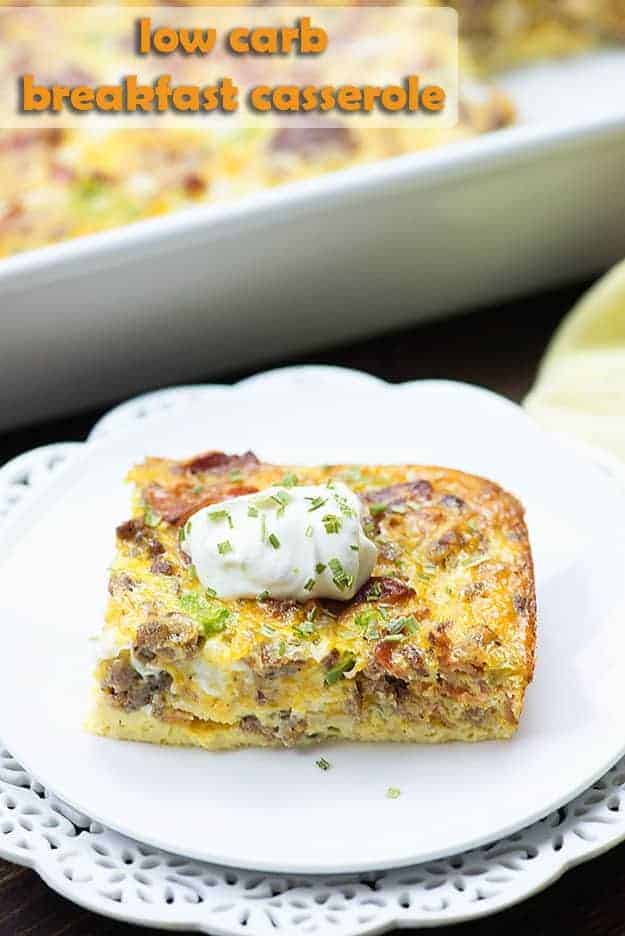 My husband is an absolute nut for breakfast foods.
I mean, I eat a little breakfast each day. Sometimes an avocado drizzled with Cholula. Sometimes a scrambled egg. Sometimes I just drink my coffee and call it good.
I think the avocado with Cholula is my favorite low carb breakfast of all time, though. It's so good!
Anyway, I'm getting off track!
I eat a super simple breakfast through the week, but on the weekends the husband is home and he wants a MEAL.
He's happy to cook it himself, but I like to play the loving wife and make him bacon and eggs and all the other good breakfast food most days.
But, I also like to sleep in and be super lazy, sooooo that's where this easy breakfast casserole comes into play.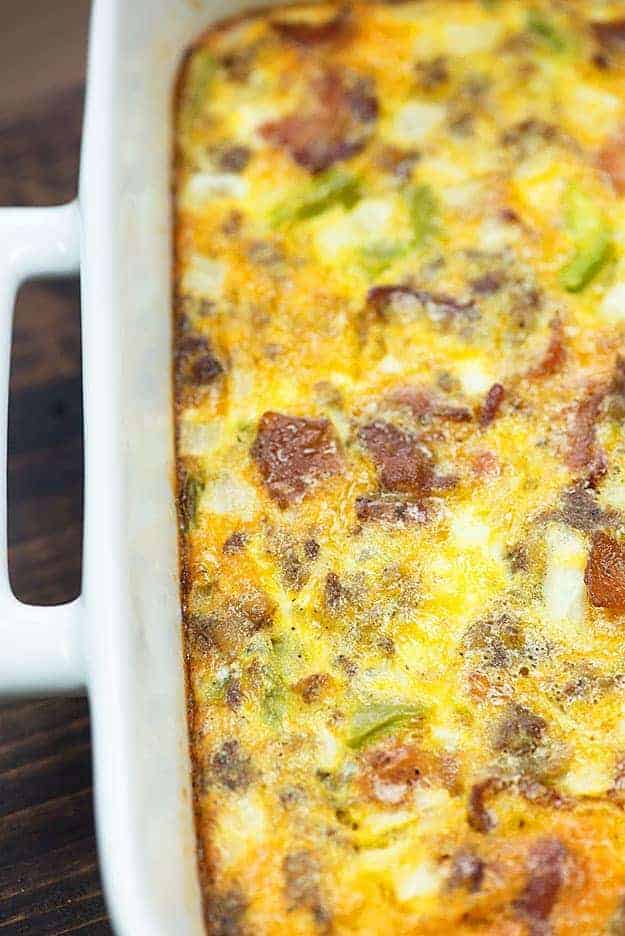 How to make a keto breakfast casserole:
I keep it low carb by cutting any sort of starchy veggies or bread and just sticking to the good stuff: eggs, meat, and cheese!
I've used sausage and bacon today, but ham is tasty too! Who doesn't love pork in the morning?
Start by browning your sausage in a large skillet. Break up the chunks as you go and drain the grease when it is done.
Dice your bacon into bite sized chunks, and cook them fully in a large skillet until they are a little crispy. Drain this grease when it is done.
Crack a dozen eggs into a large mixing bowl and add the milk. You will whisk this together until it is combined well.
Stir in your cooked sausage and bacon. Then add the cheese, onion, pepper, hot sauce, salt, and pepper. Still this all together.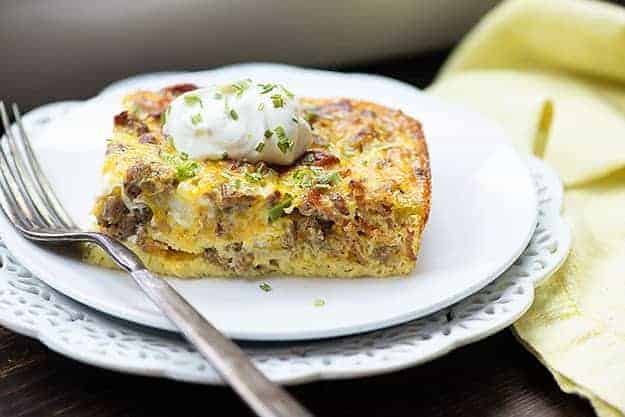 Spray your favorite 9×13 baking dish with a non stick spray and pour the egg mixture into it.
Bake this at 350 degrees F for 35-40 minutes. The eggs will be set and the edges golden brown when it is done.
Let it cool for a few minutes, then slice and serve!
Make Ahead Breakfast Casserole:
This easy breakfast casserole can be made in advance.
Prepare, bake, and refrigerate until ready to serve.
Just pop individual servings in the microwave to reheat. It's even good cold, if you ask me.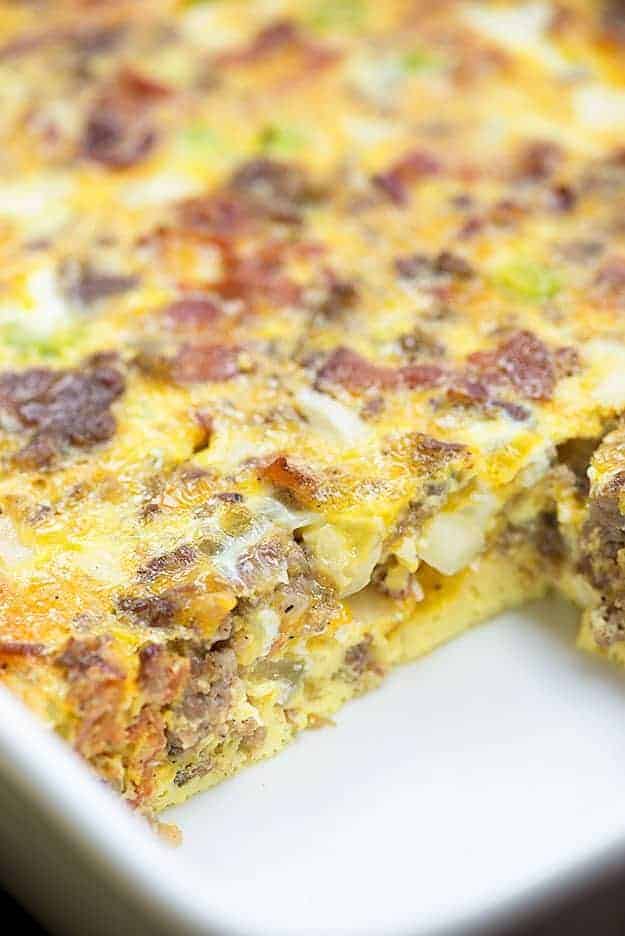 Obviously, this means that it makes a fabulous holiday recipe. You know when you have a million people staying at your house over the holidays and you're just like…ugh. You want me to cook for you AGAIN?
This is perfect for that feeling.
If you're not watching carbs, this is another of my favorite breakfast casserole recipes.
More low carb recipes:
For more low carb favorites, try my stuffed peppers or this chicken casserole. My egg roll in a bowl is a reader favorite, too.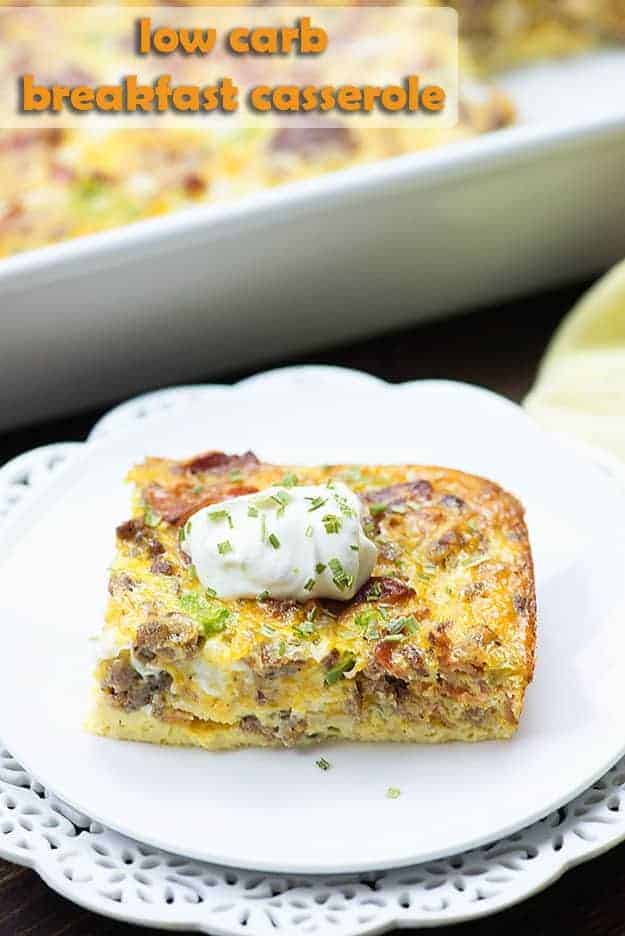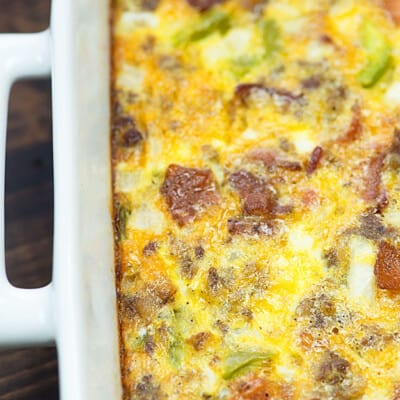 Low Carb Breakfast Casserole
This low carb breakfast casserole is hearty and filling, because it's packed full of protein from the sausage, bacon, and eggs. Add in any vegetables or meat you like!
Prep20 minutes
Cook35 minutes
Total55 minutes
Ingredients
1 pound sausage
1 pound bacon
1 dozen eggs
1/2 cup milk
2 cups grated cheddar
1/2 sweet onion diced
1 bell pepper diced
1 tablespoon Frank's red hot
1/2 teaspoon salt
1/2 teaspoon pepper
Instructions
Brown the sausage in a large skillet, crumbling as it cooks. Drain grease and set aside.

Dice the bacon into bite-sized chunks and cook in a large skillet, stirring often, until crisp. Drain the grease and set aside.

Pre-heat the oven to 350 degrees. Spray a 9×13 baking dish with non-stick spray.

Crack the eggs into a large mixing bowl and add the milk. Whisk together until well combined.

Stir in the sausage, bacon, cheddar, onion, pepper, hot sauce, salt, and pepper. Stir until well combined.

Pour the mixture into the prepared baking dish and bake for 35-40 minutes or until eggs are set and edges are golden brown.

Let cool 5 minutes before slicing and serving.
Tips & Notes:
To keep this a bit lower in carbs, swap in 1/4 cup of heavy cream + 1/4 cup of water for the milk. Serve with a dollop of sour cream and sprinkle with chives, as desired.
Nutrition Information:
Calories: 425kcal (21%)| Carbohydrates: 3g (1%)| Protein: 21g (42%)| Fat: 35g (54%)| Saturated Fat: 13g (81%)| Cholesterol: 236mg (79%)| Sodium: 811mg (35%)| Potassium: 298mg (9%)| Sugar: 1g (1%)| Vitamin A: 795IU (16%)| Vitamin C: 13.6mg (16%)| Calcium: 180mg (18%)| Iron: 1.5mg (8%)