August 25, 2018
Perfect Honey Mustard Dressing
This honey mustard dressing recipe is so easy to prepare and tastes better than anything you'll buy at the store! Prepare to start dipping everything in sight!
So, you know how I live in Illinois? AKA the frozen tundra. AKA the place where warmth goes to die. AKA where it physically hurts to be outside.
Yeah, there.
Well, it's been all wintery and whatnot the past few months. Not my favorite thing, that's for sure.
But what's been extra bad about it is that my garage has gotten overwhelmingly disgusting. I mean, I don't, like, sweep the garage on the regular or really care about anything other than that I be able to walk from my door to my car without tripping over old Amazon boxes and broken furniture that really needs to go to the dump. Also, it'd be great if it could not smell like old garbage.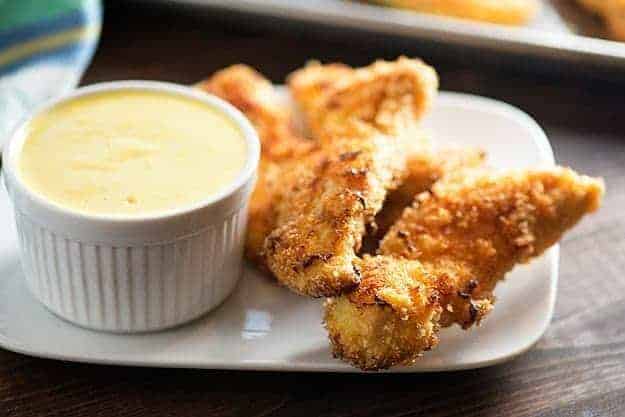 It's just gotten out of hand because it's been way too cold to even think about doing anything other than opening the door and throwing stuff in a corner out there. The corner become one entire half of the garage and my poor husband has been parking in the driveway all winter.
Well, it was finally 50 degrees last weekend and the husband and I decided we'd go take care of some bidness. He was finishing up a project in the basement (we're putting in a theater room! Follow along on Snapchat – my username is bunsinmyoven1!) and while he was doing that, I went to get ready for the garage cleaning.
Old sweatpants. Ratty t-shirt under an even rattier sweatshirt that was 3 sizes too big. Snow boots, because they're fuzzy and warm and I didn't want to deal with socks. No bra, because it was Sunday, guys. Nobody needs a bra on the weekends, right?
My husband walked upstairs, looked at me, and said, "You know we're going to be cleaning with the garage door open, right? And there might be neighbors outside since it's a nice day."
I let him live.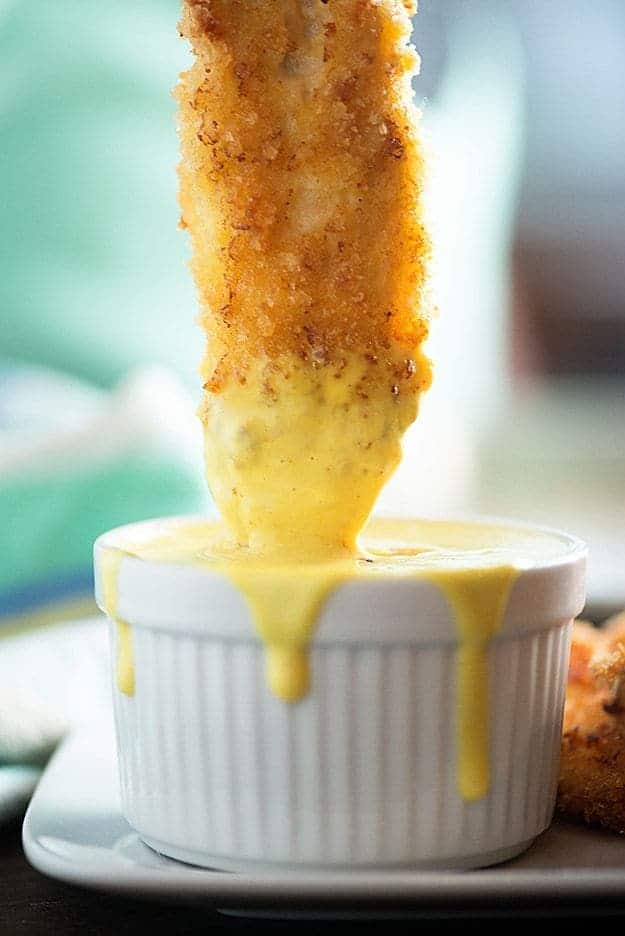 But, I did make him start cleaning while I went to get ready. I took my time choosing a pretty outfit, trying on different shoes, and of course, re-applying my makeup and straightening my hair. After all, the neighbors might be out there. He was 90% done by the time I made it out the door.
Silly man.
This homemade honey mustard dressing recipe is perfect for dipping!
Anyway, I still love him, so I baked up our favorite oven baked chicken tenders for dinner. These chicken strips DO NOT taste like they were baked in an oven. They are crispy, crunchy, and perfectly buttery. I shared the recipe with you a long time ago, but I'm still asked about the sauce in the pictures on that recipe.
Well, I'll be honest. It was just store bought honey mustard. I've upped my game in the sauce department these days, though. Homemade all the way, baby.
This homemade honey mustard dressing is super smooth and creamy, with just the right touch of sweetness. You'll be drizzling it over salads and dunking everything from french fries to chicken strips all day long! I think you're going to love it as much as we do!
If you love this honey mustard dressing recipe, try my fry sauce recipe too!
Honey Mustard Dressing
Servings: 6 servings
Course: Appetizer
Cuisine: American
Keyword: game day recipes, kid-friendly recipes, weeknight dinner recipes
Calories: 153 kcal
This honey mustard dressing recipe is so easy to prepare and tastes better than anything you'll buy at the store! Prepare to start dipping everything in sight!

Ingredients
1/2 cup mayonnaise
3 tablespoons yellow mustard
2 tablespoons honey plus more, as desired
1 tablespoon vinegar
1/4 teaspoon ground black pepper
Instructions
Add all of the ingredients to a small bowl and stir well to combine.

Taste and add more honey, if you prefer a sweeter dressing.

Store in the fridge in a covered container for up to 1 week.
Nutrition Facts
Honey Mustard Dressing
Amount Per Serving
Calories 153 Calories from Fat 126
% Daily Value*
Fat 14g22%
Saturated Fat 2g13%
Cholesterol 7mg2%
Sodium 204mg9%
Potassium 10mg0%
Carbohydrates 6g2%
Sugar 6g7%
Vitamin A 10IU0%
Calcium 4mg0%
Iron 0.1mg1%
* Percent Daily Values are based on a 2000 calorie diet.
Nutrition Disclaimer: All information presented on this site is intended for informational purposes only. I am not a certified nutritionist and any nutritional information shared on bunsinmyoven.com should only be used as a general guideline.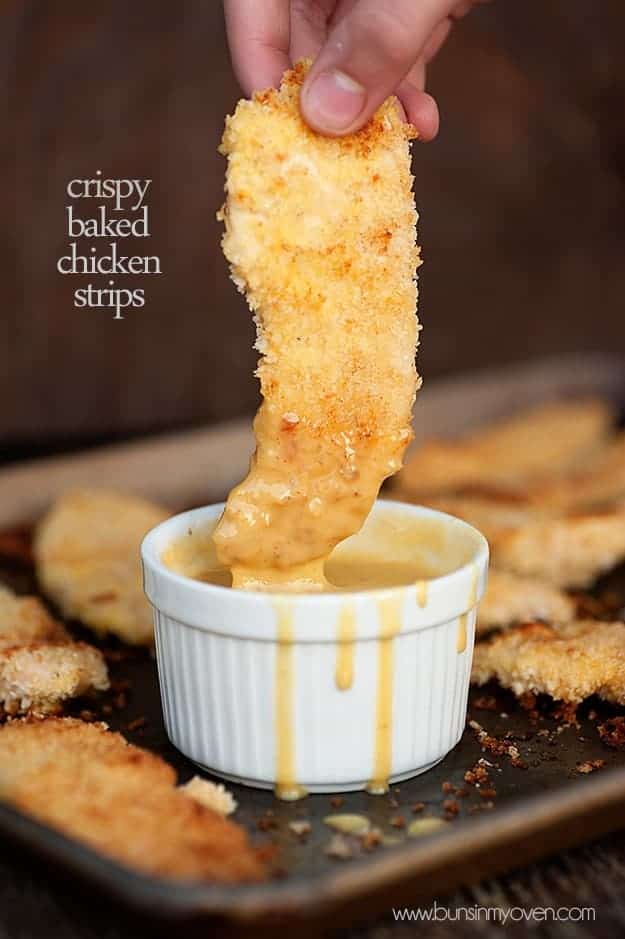 Be sure to snag the recipe for my Oven Fried Chicken Strips, too!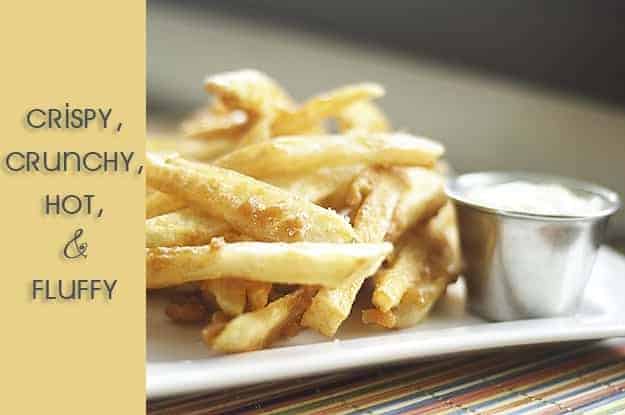 Serve these with some battered french fries!
And for dessert, try my homemade brownies!