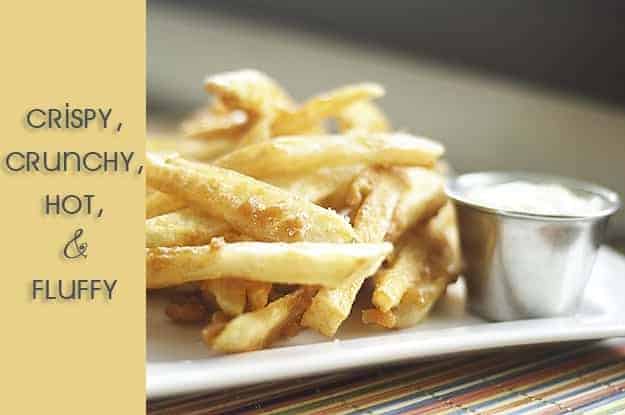 I don't do a lot of frying at home. It's messy and, if we're honest, I'm not very good about emptying out the old grease. I mean, what do you do with it? Fill up a bunch of old bottles with used grease and…then what? The whole process just confuses me. Once, a long time ago, I let a pan of grease sit on my stove for, well, longer than I'm willing to admit to the internet. It got fuzzy and that's all I'll say about that.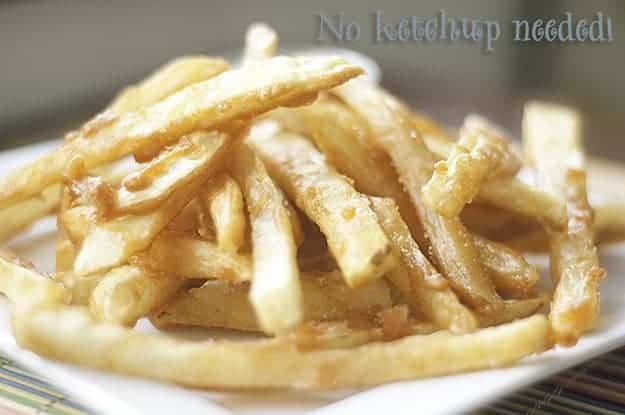 Every now and then I get brave and I make me some fried deliciousness. My husband's favorite fried goodies are these french fries. They're dipped in a super flavorful batter and then fried to perfection. The outsides are crispy and crunchy and the insides are pure fluffy goodness.
These fries are so flavorful on their own, no ketchup needed. I'm a naughty girl, though, so I went ahead and dipped mine in mayo. The creaminess of the mayo just works so nicely with the salty crunch of the fries.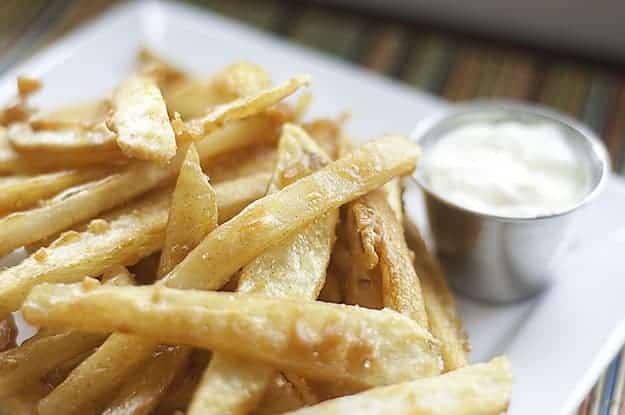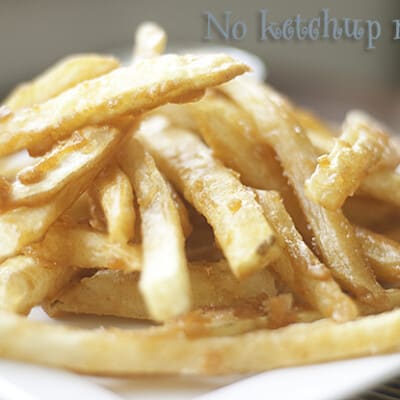 Crispy Battered French Fries
These french fries are extra crispy thanks to the batter!
Prep10 minutes
Cook20 minutes
Total30 minutes
Ingredients
2 lbs potatoes peeled and sliced into fries
1 cup all-purpose flour
1 teaspoon garlic salt
1 teaspoon onion powder
1 teaspoon salt
1 teaspoon paprika
pinch of cayenne pepper
1/4 - 1/2 cup water as needed
oil for frying
Instructions
Add 3 inches of oil to a large sauce pan and heat over medium heat until 375 degrees.

Sift together the flour and seasonings in a large bowl. Add 1/4 cup of water and mix well. Add additional water as needed until the batter is thin enough to drizzle off of your spoon.

Add a handful of fries to the batter and toss to coat.

Place the fries into the hot oil one at a time. Do not add the fries all at once as they will clump together.

Fry until the outsides are crisp and browned and the insides are soft and fluffy, about 10 minutes.

Drain on a paper towel lined plate and serve hot.
Nutrition Information:
Calories: 248kcal (12%)| Carbohydrates: 52g (17%)| Protein: 9g (18%)| Sodium: 1186mg (52%)| Potassium: 981mg (28%)| Fiber: 6g (25%)| Vitamin A: 245IU (5%)| Vitamin C: 25.8mg (31%)| Calcium: 73mg (7%)| Iron: 8.9mg (49%)