These AVOCADO FRIES are crispy on the outside and creamy on the inside. Totally addictive and ready in about 10 minutes! Whether you serve them up with some dip or stuff them in a taco, you're going to be obsessed!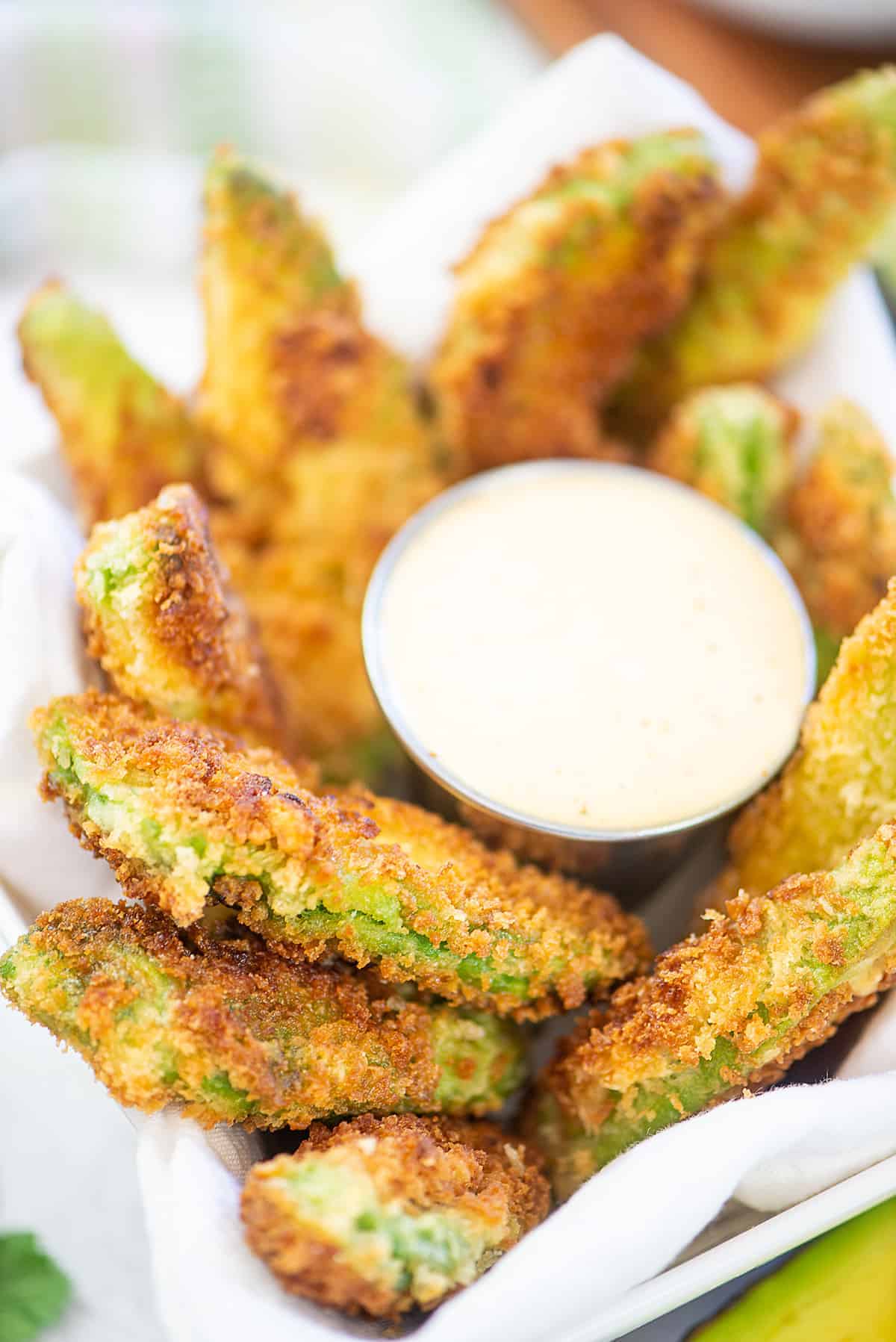 Avocados are definitely a love it or hate it food, and I am firmly in Camp Give Me All The Avocado.
If you don't like avocados, that just means there is more for me! 😉
I'll eat plain avocados with just a bit of salt sprinkled on top, but of course we like to turn them into homemade guacamole.
And fried avocado? You seriously can't beat that.
Crispy on the outside, creamy on the inside, absolutely BEGGING to be eaten. These are downright irresistible.
We often serve these with a side of ranch for dipping, but our restaurant style salsa makes a tasty dip too!
Avocado Fries Ingredients: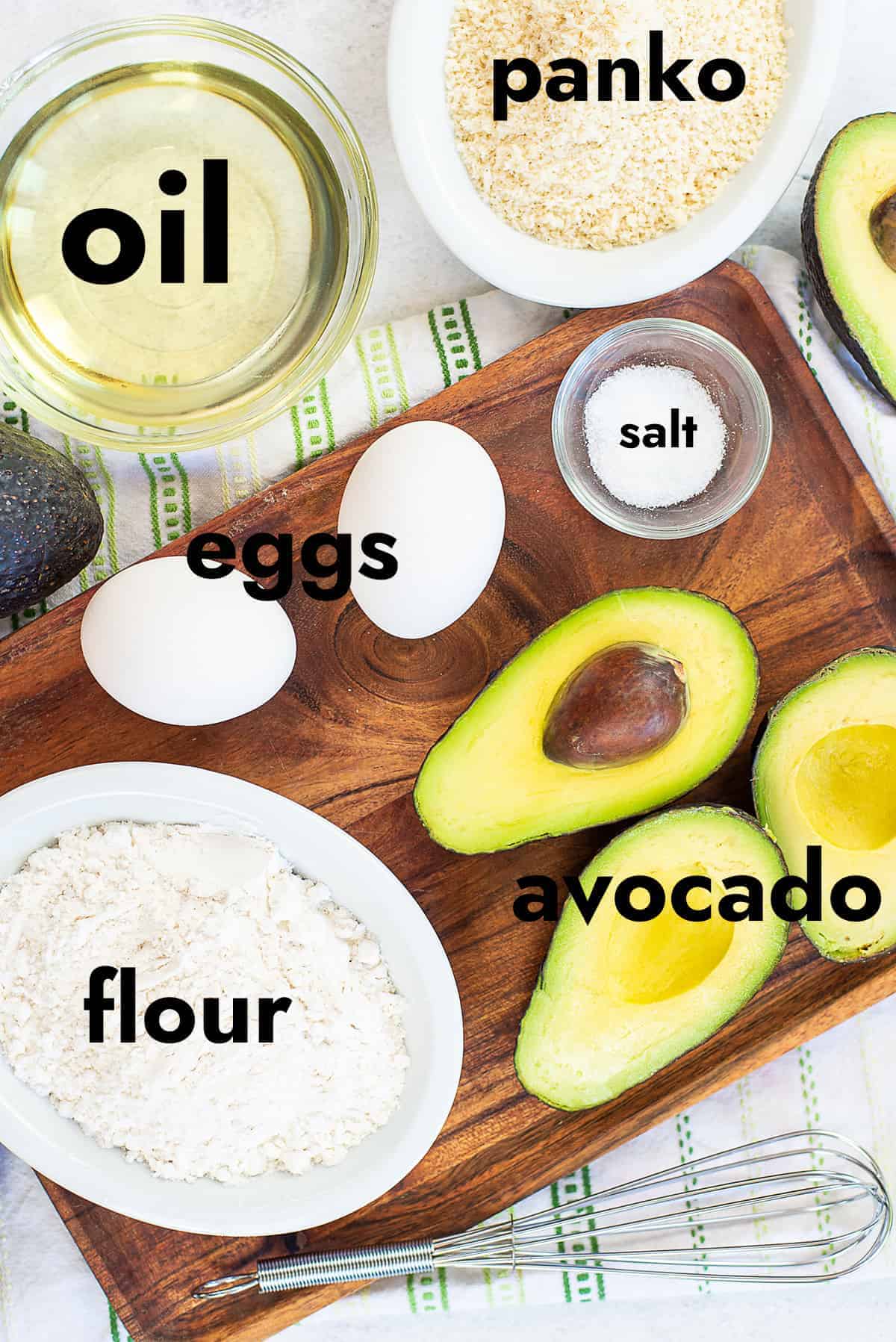 Avocados – Make sure to choose slightly firm avocados to make it a little easier to cut and bread them. They'll soften up perfectly while frying.
Panko – While you could use normal bread crumbs here, panko makes for an ultra crispy coating. Highly recommend!
Oil – Any oil that can handle high heat works well here. We choose either canola oil, vegetable oil, or peanut oil when frying.
What We Love About This Recipe!
We love Avocados. And we love Panko. And we love fried foods. I think you see where I'm going with this. It's the perfect combination! They are nice and crispy on the outside and still perfectly creamy on the outside.
How To Make Avocado Fries Recipe:
Slice: The first step to making these amazing avocado fries is to get them sliced up into half inch wedges. Using not quite soft avocados makes them so much easier to work with.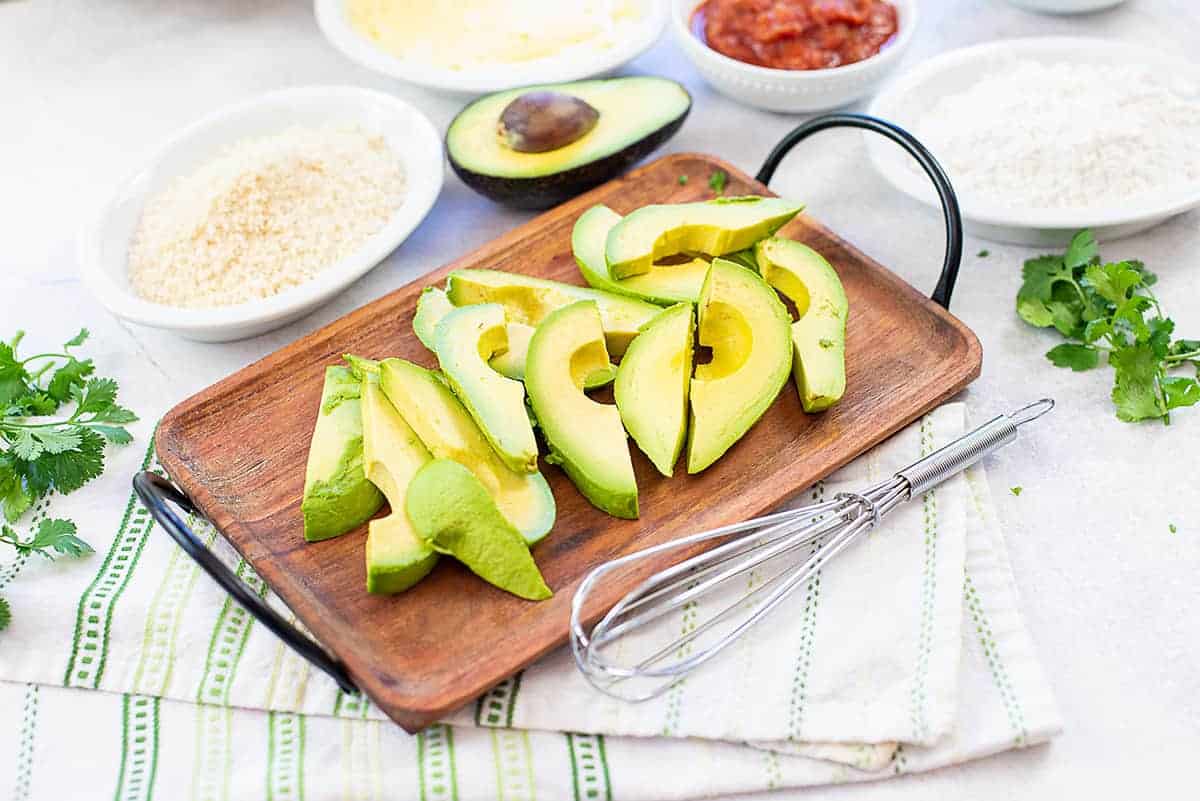 Dredge: Next up you'll want to combine the salt and the flour together in one bowl, the beaten eggs in another, and finally the Panko in a 3rd bowl.
Start dredging the avocado wedges with the flour, then the eggs, and finally give them a good roll in the Panko and make sure they are well coated!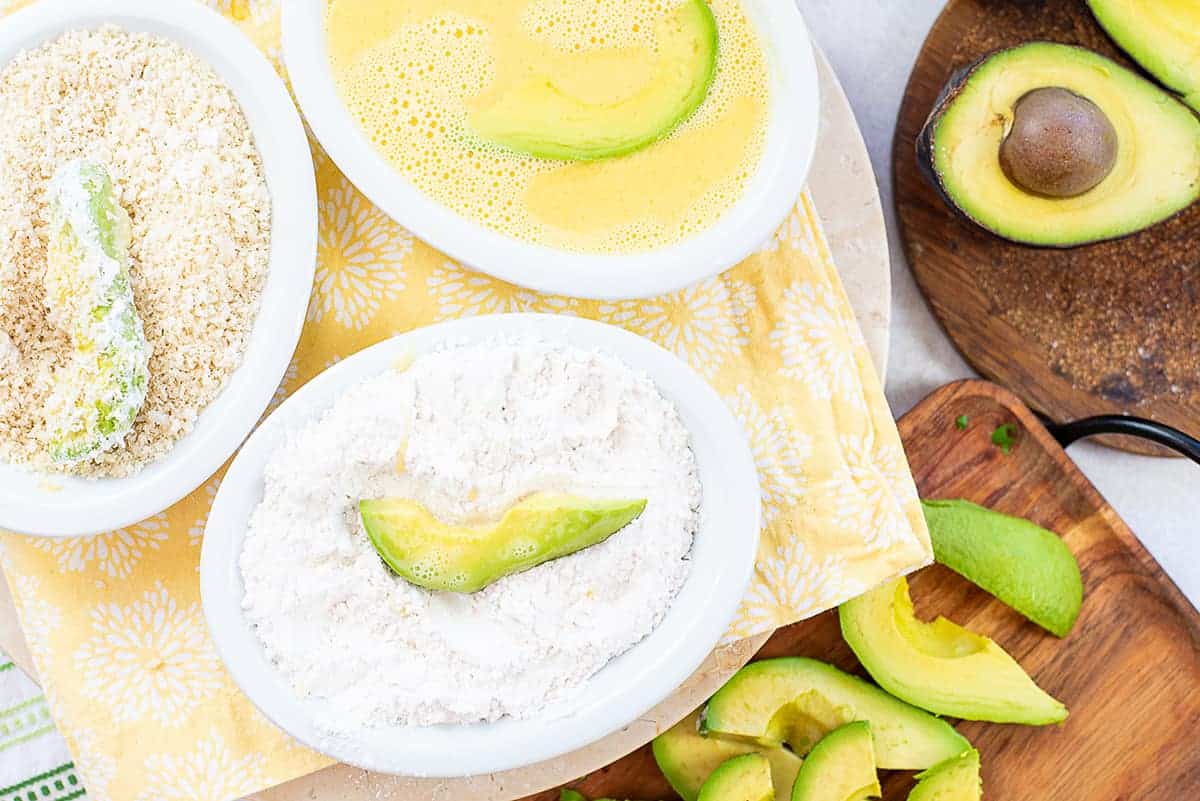 Fry: We used a large, deep skillet to fry these. Be sure to get your oil to 350 degrees before adding the fries or they'll end up greasy.
Fry the avocado fries in batches and be sure not to overload the skillet so that they can cook evenly. You'll want to flip them about halfway through!
If you want to keep them warm while cooking other batches try placing the fried avocados on a baking sheet in the oven at a low temp until you finish.
Helpful Tip!
Looking for a healthier option?
You could just bake some avocado fries in the oven, but they won't be quite as crispy and delicious. Still, it is possible to get a little healthier by using the air fryer. Check out these Air Fryer Avocado Fries!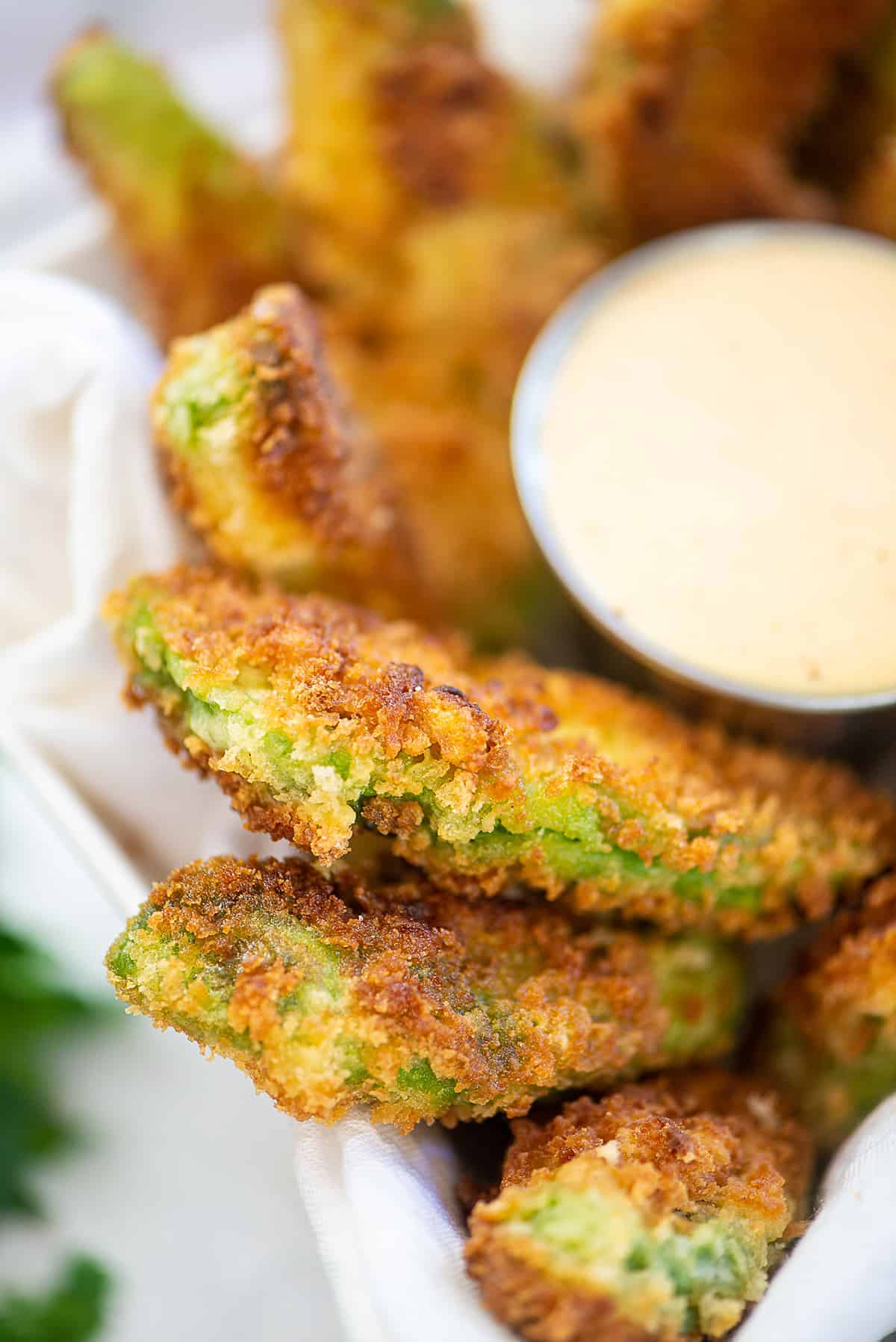 What does fried avocado taste like?
These avocado fries are crispy on the outside and creamy on the inside! They're a bit buttery and totally delicious!
How should I serve these avocado fries?
We like to serve these as a snack or appetizer alongside some ranch dressing for dipping. However, they also make an EXCELLENT taco. Just place a couple of avocado fries in a tortilla, top with your favorite toppings, and dig in!
We love avocados and get enough of them! That's probably we have so many recipes that use them. Here are some more of our favorites: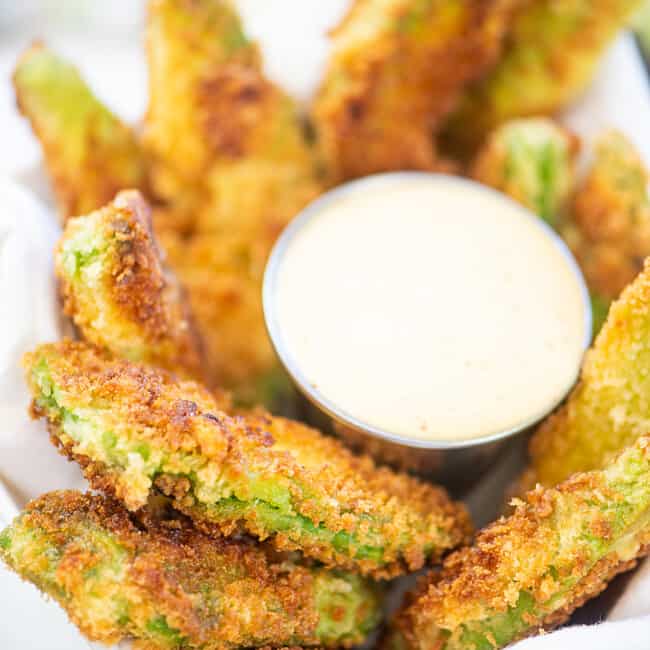 Avocado Fries
Once you try deep fried avocado, your life will never be the same. So creamy on the inside and crunchy on the outside!
Prep10 minutes
Cook2 minutes
Total12 minutes
Ingredients
2 large firm avocados
1/4 cup flour
1 teaspoon kosher salt divided
2 large eggs beaten
1 1/4 cups panko
canola oil for frying
Instructions
Pour oil to a depth of 1 1/2 inches in a medium skillet. Heat oil to 375 degrees.

Slice avocado into 1/2 inch thick wedges.

Pour the flour and 1/2 teaspoon salt into a shallow dish. and stir to combine. Add the eggs to another shallow dish, and the panko and remaining 1/2 teaspoon salt to a third dish.

Dredge the avocado wedges in the flour, then the eggs, and finally the panko.

Fry in batches for 1 minute or until golden brown, turning over halfway through.

Drain on a paper towel lined plate. Place on a baking sheet in a 200 degree oven to keep warm while frying the rest of the avocados. Season with more salt to taste.

Tips & Notes:
When choosing avocados to fry, you'll want to pick avocados that are still fairly firm but not completely unripe. Perfectly ripe avocados will be too soft to handle easily and they'll soften even more as they cook.
Nutrition Information:
Calories: 294kcal (15%)| Carbohydrates: 28g (9%)| Protein: 8g (16%)| Fat: 17g (26%)| Saturated Fat: 3g (19%)| Cholesterol: 81mg (27%)| Sodium: 321mg (14%)| Potassium: 554mg (16%)| Fiber: 7g (29%)| Sugar: 1g (1%)| Vitamin A: 265IU (5%)| Vitamin C: 10.1mg (12%)| Calcium: 59mg (6%)| Iron: 2.2mg (12%)