Oh, hello.
It's summer.
I mean, no. It's not OFFICIALLY summer, according to the calender.
Except for the millions of kids running around half-clothed, covered in mud, shrieking that they're bored. To them, it's summer.
And the mamas, running around making snack after snack after snack, picking up after the heathens, and finally locking themselves in the pantry with an entire box of wine. To them, it's summer.
So, you know. It's summer. Officially. Because I said so.
To be honest, summer hasn't really started in my house. We homeschool and, since I'm in charge of the schedule, things are weird. We have six more weeks of school and then we'll have six weeks of summer. Then it's back to the grind, man.
But, we aren't talking about me and my weird homeschooling ways. We're talking about how fresh corn on the cob is a staple of summer and how the things you can do with that corn on the cob is nothing short of amazing. Like these corn cakes for example.
They're like corn-y pancakes (not the type of corny that you used to say in high school, but corn-y, like full of corn) and totally taste like summer.
The avocado relish is slightly addictive, so be careful with that. I wouldn't want anyone to end up in avocado rehab for the remainder of the summer vacation. Or maybe that'd be best? There are no screaming children in rehab, from what I hear.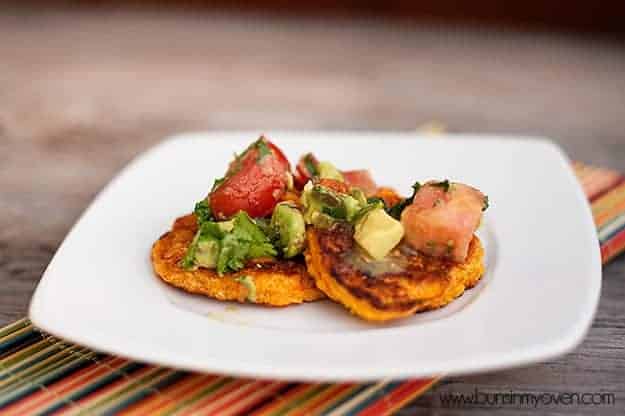 Corn Cakes with Avocado Tomato Relish
Pancakes from summer fresh corn? SIgn me up!
Prep10 minutes
Cook5 minutes
Total15 minutes
Ingredients
For the corn cakes:
3 eara corn shucked
1 cup all-purpose flour
½ cup cornmeal
¼ cup red onion finely diced, optional
¼ cup chopped cilantro
1 teaspoon baking powder
½ teaspoon baking soda
Salt and pepper to taste
2 large eggs lightly beaten
2 tablespoons buttermilk
2 tablespoons butter melted
Canola or vegetable oil for frying
For the relish:
6-10 cherry tomatoes halved
1 scallion minced
2 tablespoons minced cilantro
1 clove garlic minced
Juice of half a lime
1½ teaspoons olive oil
1½ teaspoons white wine vinegar
Salt and pepper to taste
1 ripe avocado pitted and diced
Instructions
Cut the corn from the cob into a large bowl. Place 2 cups of the corn into the food processor and pulse until slightly pureed, but still somewhat chunky. Return to the bowl with the remaining corn.

Add the flour, corn meal, onion, cilantro, baking powder, baking soda, and salt and pepper. Stir to combine.

Add the eggs, buttermilk, and butter and stir until just combined.

To make the relish, combine all of the ingredients into a small bowl, except for the avocado. Stir to combine everything. Store in the refrigerator for up to 2 days. Add the avocado just before serving, to prevent browning.

Heat a large skillet over medium heat. Add enough oil to cover the bottom of the pan and heat until it's sizzling hot.

Scoop tablespoons of batter into the hot pan, about 4 or 5 per batch. Do not over crowd the pan. Fry 1-2 minutes per side, until golden brown. Transfer to a paper towel lined dish.

Serve immediately with the relish. Ranch dressing is also yummy on these guys.
Nutrition Information:
Calories: 64kcal (3%)| Carbohydrates: 7g (2%)| Protein: 1g (2%)| Fat: 3g (5%)| Saturated Fat: 1g (6%)| Cholesterol: 18mg (6%)| Sodium: 40mg (2%)| Potassium: 92mg (3%)| Fiber: 1g (4%)| Vitamin A: 105IU (2%)| Vitamin C: 2.1mg (3%)| Calcium: 13mg (1%)| Iron: 0.5mg (3%)
slightly adapted from Annie's Eats