This sauteed zucchini and corn recipe is perfect for a quick side dish on a weeknight!
I'm living a lie, you guys.
I hop on here and I say things like, "oh my goodness, it's zucchini season! Are you as overwhelmed with it as I am?"
But, the reality is, the only zucchini that enters my house comes from the grocery store or farmers' market. I'm not growing my own zucchini. Who do you think I am? A pioneer woman living off the land, for goodness sake? No. It's 2015 and I have Netflix to watch, air conditioning to enjoy, and toilets to clean. Because, yep. Cleaning toilets is better than gardening if you ask me.
I did actually plant a teensy weensy little tomato garden this year, though. Six plants! They're all alive and well still, which is more than I could have hoped for. I have about fifteen green tomatoes between the six plants, which seems like kind of a rip off. I don't weed and water every few days for fifteen little tomatoes.
Anyway, back to zucchini!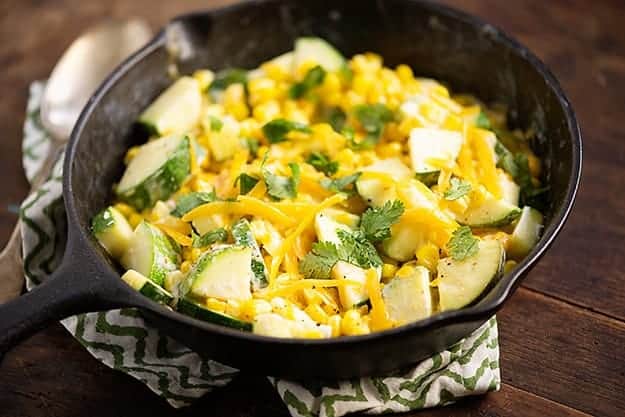 Oh my gosh! It's zucchini season! We're drowning in it! Let's make zucchini bread and zucchini muffins and zucchini cake and zucchini brownies to use it all up.
Eh. No. That's not my game. Let's just eat it as a vegetable at dinner time, because I don't have thirty-three pounds of zucchini coming out of my ears like you gardeners do.
First, you should make one of the most popular recipes on my site – Cheesy Zucchini Rice. Even my kids eat it, despite all the green flecks in there.
Next, let's make this creamy corn and zucchini side dish! You can use frozen corn, but it is summer and fresh corn is so perfectly sweet and so perfectly cheap right now, that you should probably suck it up and just cut the kernels off a couple cobs of corn for this. It'll make the dish infinitely better.
This side dish was a winner in my house. One of my kids was hesitant about it, not because of the zucchini, but because of the cheese. Yeah. I think he was probably switched at birth or something, but what can I do? I've grown fond of him after all these years.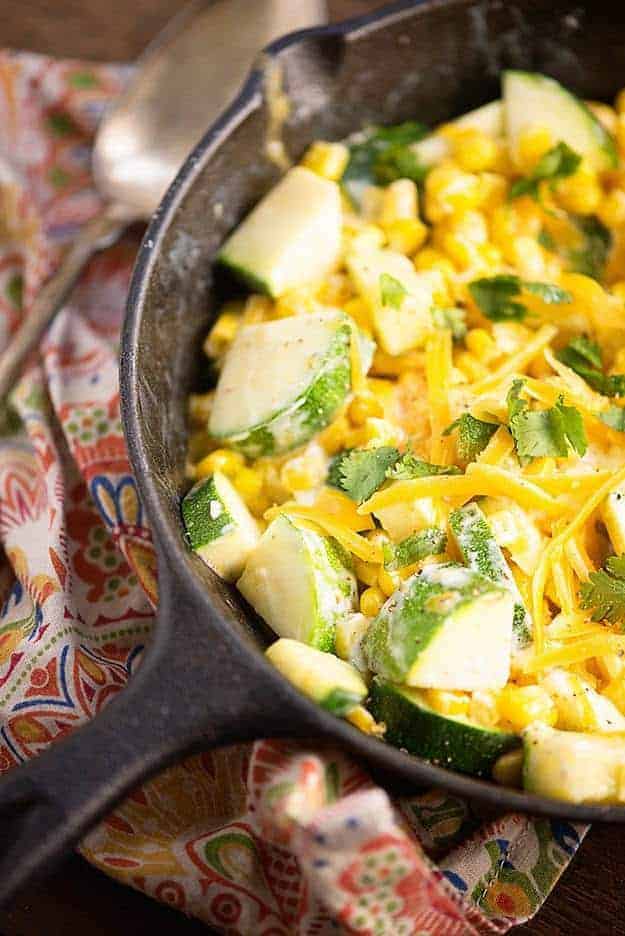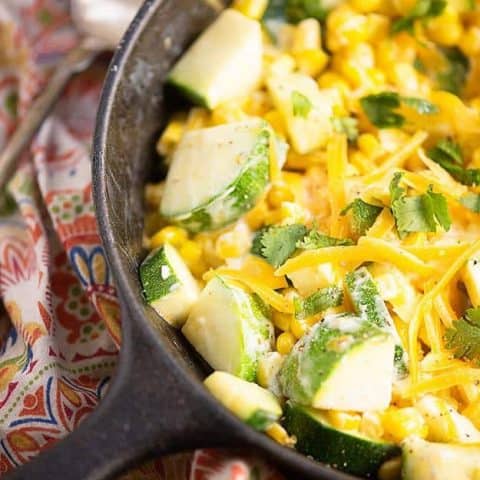 Creamy Corn and Zucchini
This sauteed zucchini and corn recipe is perfect for a quick side dish on a weeknight!

Prep5 minutes
Cook15 minutes
Total20 minutes
Ingredients
2 tablespoons olive oil
2 cups corn kernels fresh or frozen
2 medium zucchini chopped
1/2 cup shredded cheddar cheese
1/4 cup sour cream
2 tablespoons chopped cilantro
1 tablespoon vinegar
1 teaspoon garlic powder
1 teaspoon salt
1/2 teaspoon black pepper
Instructions
Heat the oil in a medium sized skillet over medium heat.

Once hot, add the corn and zucchini to the skillet and cook, stirring frequently, under vegetables are tender, about 8 minutes.

Stir in the cheese, sour cream, cilantro, vinegar, garlic powder, salt, and pepper. Stir well to combine and continue cooking for 5 minutes or until heated through.

Serve immediately.
Nutrition Information:
Calories: 231kcal (12%)| Carbohydrates: 18g (6%)| Protein: 7g (14%)| Fat: 15g (23%)| Saturated Fat: 5g (31%)| Cholesterol: 22mg (7%)| Sodium: 841mg (37%)| Potassium: 411mg (12%)| Fiber: 2g (8%)| Sugar: 5g (6%)| Vitamin A: 475IU (10%)| Vitamin C: 18.9mg (23%)| Calcium: 137mg (14%)| Iron: 0.9mg (5%)