This TOMATO TART RECIPE features fresh zucchini, tomatoes, and Parmesan cheese. This makes a great summer lunch or a impressive brunch recipe. Serve with a simple side salad and enjoy!
Like many kids, my youngest has always been a bit…hesitant…when it comes to veggies.
Which is a nice way of saying that she doesn't like them. 😉
We have a three bite rule in our house and I think it's finally paying off though! The three bite rule goes like this: one bite to try, one bite to get used to the taste/texture, and the third bite to be sure how we feel about it.
My daughter now eats a broader range of veggies and my son eats everything in sight. Soooo, I feel like that rule worked well for us.
Anyway, zucchini is definitely on my daughter's approved list and this zucchini and tomato tart is a total winner in our house!
I love grabbing zucchini and fresh tomatoes from the farmer's market to whip this up for a quick summer lunch. It's so simple and delicious with the flavors of the fresh veggies paired with the Parmesan cheese. Who wants to dig in??
How to make this zucchini and tomato tart:
To start, slice up your zucchini and summer squash into thin rounds and saute them in a bit of olive oil. Add in some garlic, salt, and pepper, and then we'll start assembling our tart.
We're keeping it simple with a store-bought pie crust. If you'd prefer to make your own, that would work just fine too!
Lay the pie crust out on a parchment lined baking sheet so it's ready to go.
Stir together some bread crumbs, Parmesan cheese (the powdery kind works perfectly here!), and some Italian seasoning. This mixture is going to soak up most of the juice from the veggies so that we still get all that tasty flavor without having a soggy tart!
Sprinkle half of the bread crumb mixture over the tart, leaving about an inch around the edges.
Layer the zucchini, squash, and tomatoes on the tart, leaving the edges free for crimping. Fold up the edges and brush with melted butter. Drizzle a bit of cream over the veggies.
Bake the tart for about 30 minutes and then sprinkle on the rest of that bread crumb mixture. Drizzle with a bit of oil and return to the oven until the tart is golden brown.
That's it, friends! It's time to dig in.
I like to serve this alongside a salad topped off with some homemade ranch dressing or thousand island dressing.
More zucchini recipes to try:
Chocolate Zucchini Bread: The sneakiest way to get zucchini in your kiddos!
Zucchini Pizza Boats: Cheesy + easy!
Keto Spaghetti – It starts with zoodles and gets finished off with a cream cheese + marinara mix!
Zucchini Bread with Pineapple – We love baking with zucchini!
Fried Zucchini: Probably my favorite way to eat this veggie! 😉
Plus check out these 10 zucchini desserts, all in one place!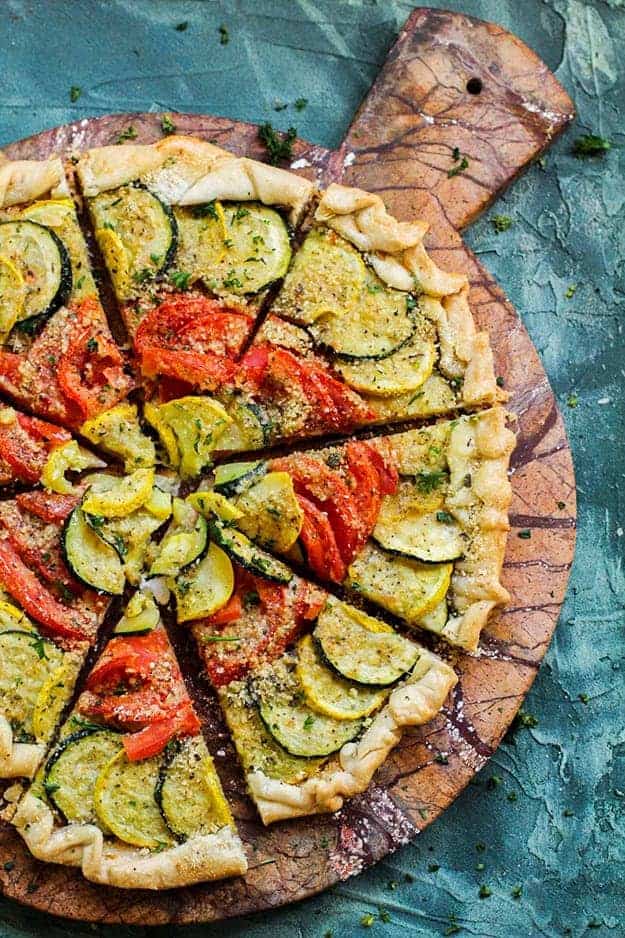 Zucchini and Tomato Tart
Simple and savory - perfect for a summer brunch or easy lunch.
Prep10 minutes
Cook48 minutes
Total58 minutes
Ingredients
1 9-inch pie crust
1 tablespoon olive oil plus more for drizzling
1 medium zucchini cut into ¼ inch slices
1 medium yellow squash cut into ¼ inch slices
1/2 teaspoon salt
1/2 teaspoon cracked pepper
3 cloves garlic minced
½ cup grated Parmesan cheese
1/3 cup breadcrumbs
½ teaspoon Italian seasoning
1 medium ripe tomato thinly sliced
1 tablespoon melted butter
2 tablespoons heavy cream
Instructions
Preheat oven to 375 degrees.

Heat 1 tablespoon of oil in a large pan over medium high heat. Add zucchini and squash to the skillet. Season with salt and pepper. Cook, stirring occasionally, until zucchini is softened and warmed through.while occasionally stirring for 3-4 minutes.

Add in garlic and cook one more minute. Remove from heat.

In a medium bowl, combine Parmesan cheese and breadcrumbs.

Place pie crust on a parchment lined baking sheet.

Sprinkle 3-4 tablespoons of the cheese mixture over the center of the pie dough, leaving a 1 to 1 ½ inch rim on the outside.

Layer the zucchini, squash, and tomatoes in a pattern, slightly over laying the edges, to ensure it all fits.

Fold the uncovered edges slightly over the vegetable mixture. Butter the edges of the crust.

Drizzle the cream over the vegetables.

Bake for 30 minutes. After 30 minutes add the remaining Parmesan mixture and drizzle lightly with olive oil.

Bake an additional 10-15 minutes, or until the Parmesan mixture has turned golden brown.

Cool for 5 minutes before slicing and serving.
Nutrition Information:
Serving: 1slice| Calories: 213kcal (11%)| Carbohydrates: 18g (6%)| Protein: 5g (10%)| Fat: 13g (20%)| Saturated Fat: 5g (31%)| Cholesterol: 14mg (5%)| Sodium: 394mg (17%)| Potassium: 210mg (6%)| Fiber: 2g (8%)| Sugar: 2g (2%)| Vitamin A: 380IU (8%)| Vitamin C: 11mg (13%)| Calcium: 98mg (10%)| Iron: 1.2mg (7%)