April 4, 2018
(Low Carb) Cream Cheese Zucchini Spaghetti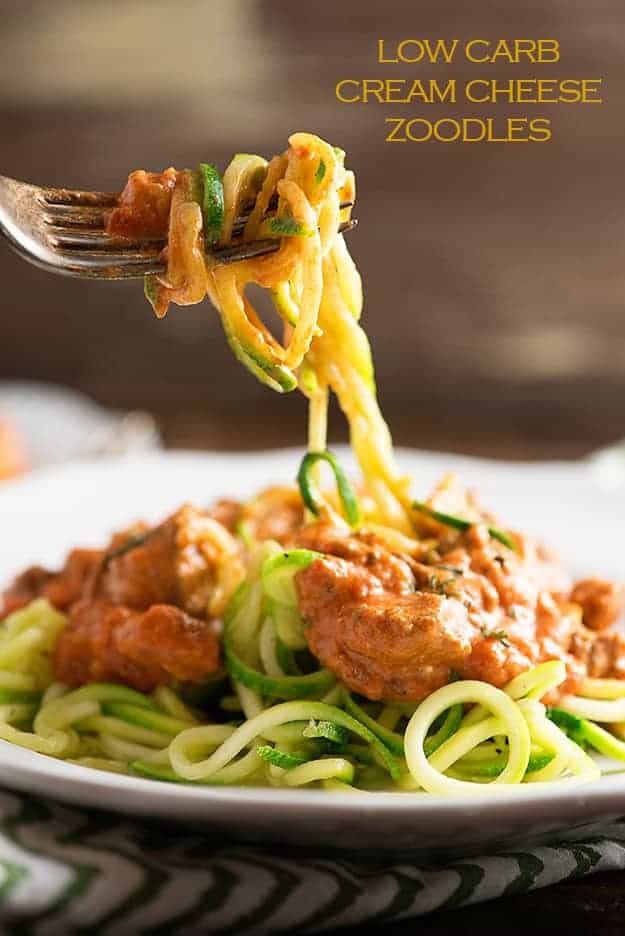 I'm about to show you something weird with a vegetable you guys. Zoodles. Have you heard of them? Better yet, have you TRIED them? Because holy heck, my kids beg me to make them zoodles for dinner and it's the weirdest thing to ever happen in mah life.
I've been on a low carb, ketogenic diet for a bit now and this low carb spaghetti was exactly what I needed a few weeks ago in the midst of a serious pasta craving.
You can buy low carb pasta with zero net carbs, but I've been scared. I mean, what are those noodles made out of? I don't even want to know. But, I do know that a lot of people swear by them. You can find 'em here or you can just make low carb pasta out of the zucchini you grabbed at the grocery store (or picked from your own garden, you show off).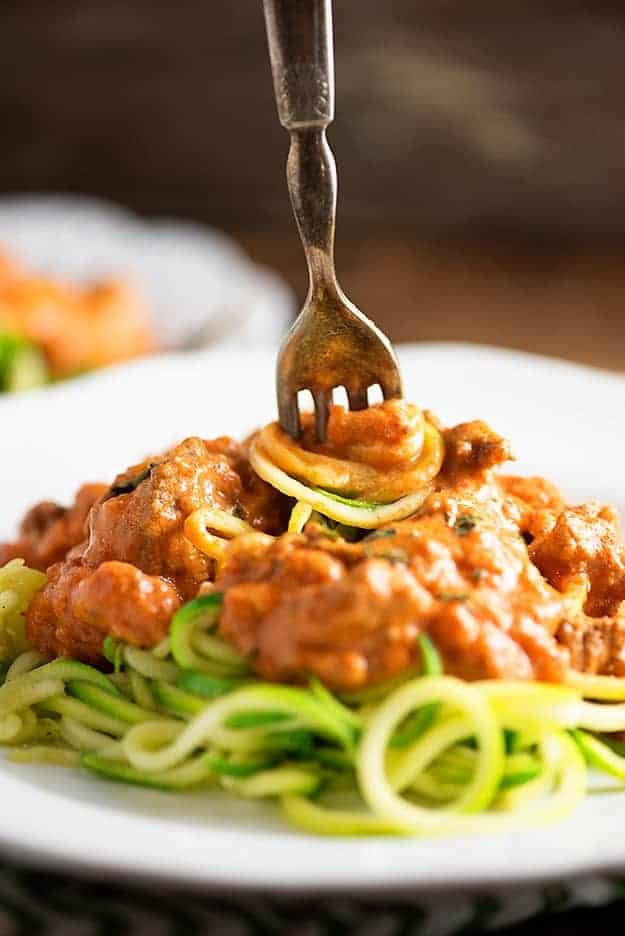 As for a good low carb marinara to accompany this pasta, I totally cheated and used a jar of sauce. I've been wanting a good spaghetti sauce, but tomatoes are just naturally high in carbs and when you start adding onions and garlic, things get a little too carby for my keto diet. So, I found Rao's Homemade Marinara sauce at my local store. It's only 3 net carbs per half-cup and it's seriously some amazing jarred sauce. I'm addicted. It's a bit pricey and I've started ordering it on Amazon to save a little money.
If you're not interested in a jarred sauce and want to get all homemade on me, give I Breathe, I'm Hungry's recipe a try. I haven't tried it myself, but it looks amazing!
So, now you're wondering just how exactly you go about making a zucchini into noodles, right? Well, probably not. By this time, most people have seen spiralized veggies, but just in case, I thought I'd better explain. I use a Paderno Spiralizer and I'm super happy with it. It's fairly cheap, super easy to clean, and simple to work. It gets 4.5 stars on Amazon from nearly 7,000 people. It's a good choice. 😉  If you're on a budget, this handheld spiralizer might be a better option. I haven't tried it myself, but it also has good ratings on Amazon and is less than $15.
Anyway, these Zoodles are super simple recipe that works perfectly for a keto diet. They're a riff on my creamy baked spaghetti that the whole family begs for every other week. I was super nervous to serve this recipe with zoodles instead of spaghetti, but everyone got seconds and asked for it again a few nights later. That's a total win, right?
Notes: Nutrition facts displayed below the recipe. The label shown is based off a marinara sauce with 3 net carbs per half cup. Adjust accordingly if you use something different.
Low Carb Cream Cheese Spaghetti Zoodles
Ingredients
1 pound ground beef
1 jar (15ish) ounces marinara sauce (see notes above)
4 ounces cream cheese
4 ounces sour cream
8 zucchini
Instructions
Brown the beef over medium heat, breaking it up as it cooks. Once cooked, drain the fat.
Add the marinara sauce to the skillet with the beef and warm over medium heat.
Stir in the cream cheese and sour cream until melted and creamy. Turn heat to low and cover pan.
Wash the zucchini and cut the ends off. Using a spiralizer, cut the zucchini into noodles.
Place a large skillet over high heat. Spray with non-stick cooking spray.
Add the zoodles to the skillet (you may need to do this in batches) and cook, tossing often, until the zoodles reach the texture you prefer. The longer you cook them, the softer they get - but they also release more water as they cook. I find that 3 minutes is just enough to take off a bit of the crunch, but keep them from releasing too much water.
Serve sauce over the zoodles and enjoy!
Disclaimer: The nutrition information presented below is not guaranteed to be accurate.

Affiliate Links: This blog contains affiliate links.
Nutrition Facts
Serving Size 1
Servings Per Container 4
---
Amount Per Serving
Calories 405 Calories from Fat 243
% Daily Value*
Total Fat 27g 42%
Saturated Fat 10g 50%
Trans Fat g
Cholesterol 92mg 31%
Sodium 652mg 27%
Total Carbohydrate 13g 4%
Dietary Fiber 4g 16%
Sugars 10g
Protein 28g 56%
---
*Percent Daily Values are based on a 2,000 calorie diet. Your daily values may be higher or lower depending on your calorie needs.