Chocolate zucchini bread is the perfect way to use up any extra zucchini bread you have laying around. And I bet you'll make it a priority to have extra zucchini after tasting this recipe! 😉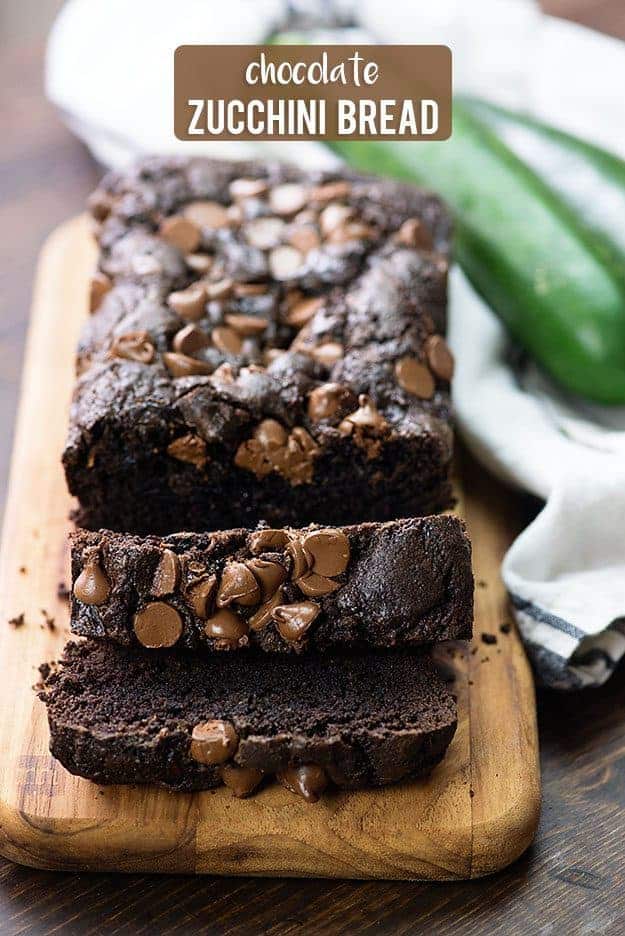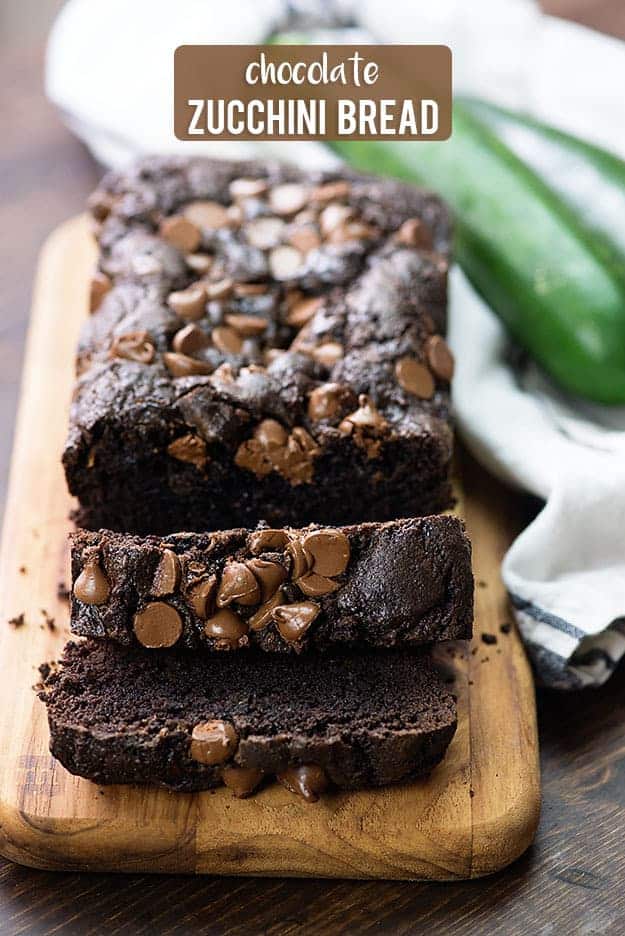 The other day I met my parents for dinner at a local Mexican restaurant for some chips, salsa, and margaritas. Also chicken fajitas, because duh.
That morning I had baked a couple loaves of this chocolate zucchini bread recipe and I knew that if I kept both loaves in my house, I would eat both loaves. By myself. In one day.
So, I stuck a loaf of bread in my purse and smuggled it into the restaurant like a weirdo and passed it off to my mom.

This zucchini bread is so heavy, I thought my purse straps were going to break. But that's just because it's packed full of good stuff – loads of freshly grated zucchini, cocoa powder, eggs, flour, and obviously some sugar. This stuff is GOOD.
How to make zucchini bread:
To make the best zucchini bread, I think it's important to start by peeling your zucchini and then shredding it. You can use your food processor or a box grater (affiliate links) for shredding. Either work!
We're going to use a neutral oil in this recipe (vegetable or canola both work well) in place of butter. This will make for a nice moist bread.
You'll beat together your oil, sugar, eggs, and vanilla and then add in the dry ingredients.
The batter is THICK. Don't be scared and don't add more liquid. Keep in mind that zucchini is a pretty watery vegetable and it's going to release a lot of liquid as it bakes.
Stir your grated zucchini into the batter. You'll notice the batter thinning out a bit as you stir.
Spoon the batter evenly between two loaf pans. I use these ceramic loaf pans (affiliate link), mostly just because I think they're pretty. Metal or glass work as well, though you may need to adjust the baking time a bit.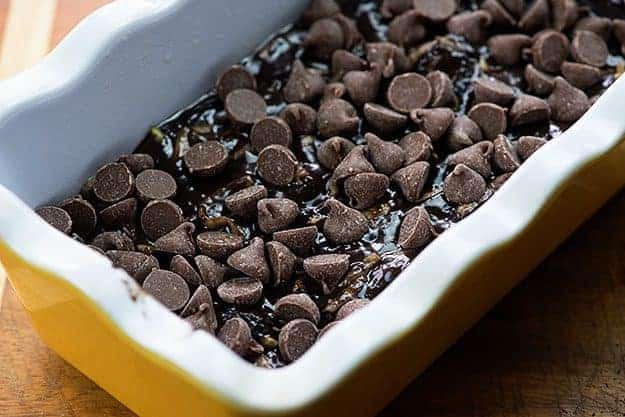 This zucchini bread recipe gets topped with a sprinkling of chocolate chips and then goes in the oven for about 50 minutes.
Cool completely before slicing.
How to tell when zucchini bread is done:
This can be tricky because you certainly don't want to over-bake your bread, but if you under-bake, it will fall in the center and not taste or look so great.
I use the time in the recipe as a guide and start checking my bread with a toothpick 5 minutes before the recipe calls for.
Because this recipe has chocolate chips on top, just be sure to poke your toothpick down in a place that isn't covered by chocolate chips.
Your toothpick should have a a few moist crumbs attached, but should not have any raw/wet batter on it.
How to store zucchini bread:
Tightly wrapped zucchini bread will last on the counter for 1-2 days.
If you'd like to store the zucchini bread for longer than that, I'd recommend freezing it. Slice your bread into nicely sized portions and wrap tightly. Freeze individually wrapped sliced in a freezer bag for up to 6 months.
To thaw your frozen zucchini bread, let the slices sit on the counter to come to room temperature and enjoy.
Recipe for zucchini bread below!
I hope you'll give this recipe a try and let me know you like it. Y'all just LOVED my chocolate banana bread recipe, so I have a feeling this one will be a hit too. Be sure to give this sweet bread recipe a try too – it makes cute little gifts!
If you like this recipe, please leave a comment and be sure to rate the recipe below! 🙂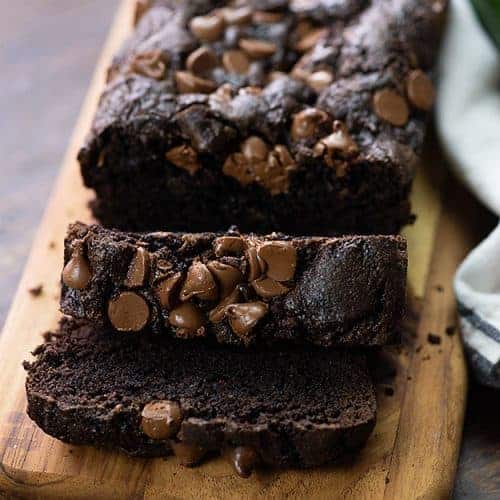 Double Chocolate Zucchini Bread
This moist chocolate zucchini bread gets a double dose of chocolate from the chocolate chips sprinkled on top. Such a decadent treat!
Prep15 minutes
Cook1 hour
Total1 hour 15 minutes
Ingredients
2 cups sugar
1 cup canola oil
3 large eggs
1 tablespoon vanilla
2 1/2 cups flour
1/2 cup cocoa powder
1 teaspoon salt
1 teaspoon baking soda
1 teaspoon ground cinnamon
1/4 teaspoon baking powder
2 cups peeled and shredded zucchini
1 cup chocolate chips
Instructions
Preheat oven to 350 degrees and spray 2 9x5 inch loaf pans with non-stick spray.

Add the sugar, oil, eggs, and vanilla to a large mixing bowl and beat until well combined.

Stir together the flour, cocoa powder, salt, baking soda, cinnamon and baking powder. Gradually beat into the sugar mixture until just combined. Batter will be very thick.


Add the zucchini to the batter and stir to combine.

Spoon the batter evenly between the two prepared baking loaves and sprinkle with chocolate chips.

Bake for 50-60 minutes or until a tester comes out with just a few moist crumbs.


Cool for 10 minutes before removing bread from the pan. Cool completely before cutting and serving.
Tips & Notes:
Store, tightly wrapped, on the counter for 1-2 days. To freeze, portion into individual slices, wrap each slice tightly, and freeze for up to 6 months. To serve, remove from freezer and let bread come to room temperature. Recipe lightly adapted from Taste of Home
Nutrition Information:
Calories: 205kcal (10%)| Carbohydrates: 42g (14%)| Protein: 3g (6%)| Fat: 2g (3%)| Cholesterol: 30mg (10%)| Sodium: 229mg (10%)| Potassium: 156mg (4%)| Fiber: 1g (4%)| Sugar: 25g (28%)| Vitamin A: 105IU (2%)| Vitamin C: 5.3mg (6%)| Calcium: 20mg (2%)| Iron: 1.5mg (8%)