This Chocolate Zucchini Cake is so moist and decadent – but it's loaded with veggies! It's topped off with my mama's famous fudgy frosting, an easy recipe that you boil for 1 minute and then pour over the cake while warm. This cake is the perfect way to use up that zucchini!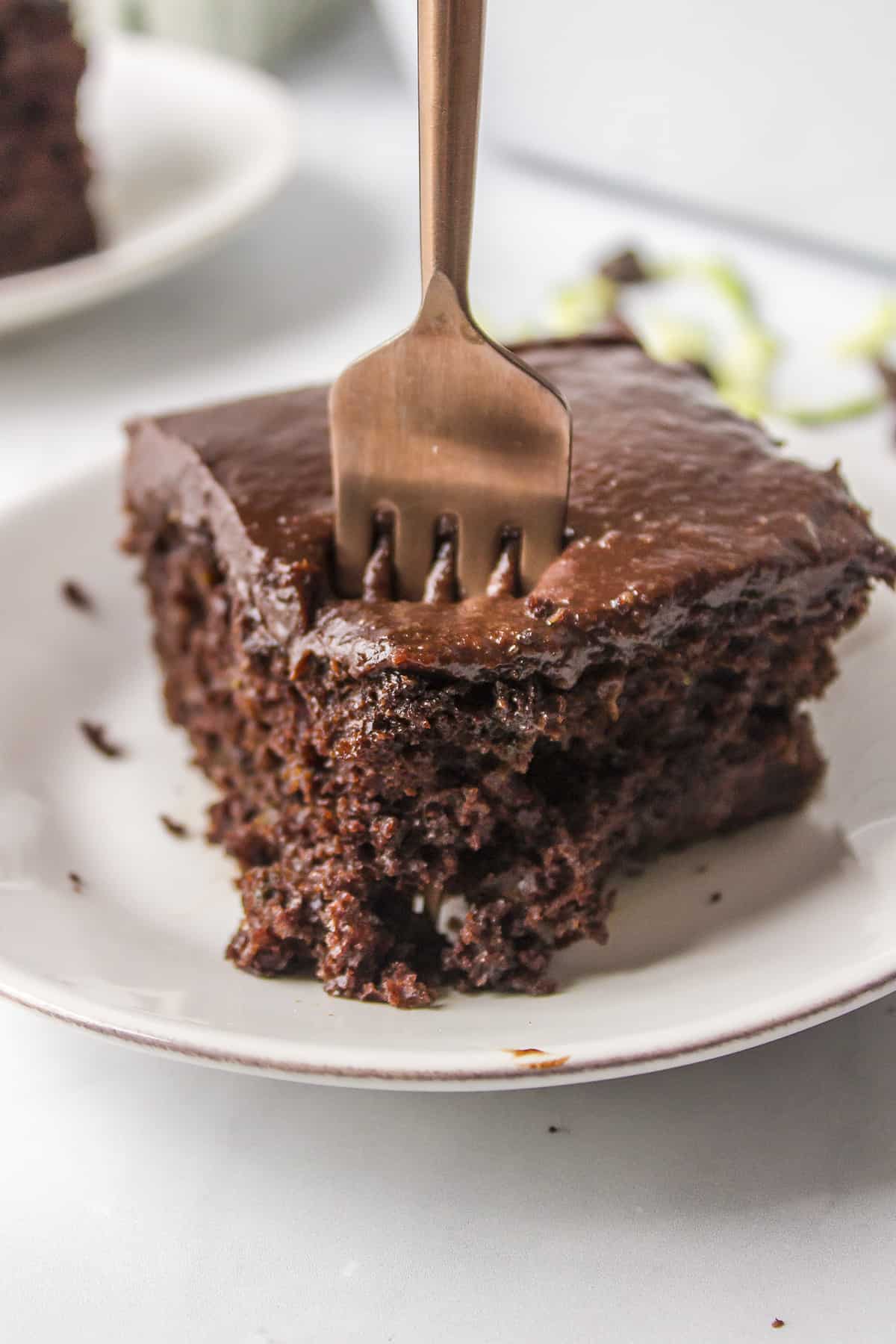 I absolutely love zucchini! It's so versatile and can be used as a swap for pasta, sauteed for an easy side dish, grilled right alongside some chicken or pork chops, and can even be made into bread with my chocolate zucchini bread!
One of my favorite ways to enjoy zucchini is this fried zucchini. It's outrageously good!
Of course, this chocolate zucchini cake recipe is another favorite in our house.
My kids don't always want to eat their veggies at dinner, but this cake ensures they'll eat them at dessert. 😉
It's hard to go wrong with chocolate zucchini cake and this one turns out so moist, plus it's topped off with my mama's famous fudgy frosting.
You're going to love this recipe! And no, it doesn't taste like zucchini AT ALL. Just tastes like a perfectly baked chocolate cake!
Chocolate Zucchini Cake Ingredients:
Dry Ingredients – Flour, sugar, cocoa powder, baking soda, baking powder, salt, and just a little pinch of cinnamon!
Wet Ingredients – Eggs, applesauce, oil and vanilla! The applesauce is a great way to help keep the cake moist without adding extra fat. It also adds a natural sweetness so we don't have to use quite as much sugar.
Zucchini – Freshly shredded zucchini works perfect here. Use a box grater or your food processor to shred it up. No need to peel first, though you can if you want to be sure no one spots any green flecks in the cake.
Chocolate Frosting – Try my mama's chocolate frosting recipe! So rich, fudgy, and totally easy!
What Readers are Saying!
"The fudgy frosting on top looks so inviting! Such a delicious treat!" – Iryna
How To Make Chocolate Zucchini Cake Recipe:
Dry Ingredients: To start, you'll whisk together your dry ingredients: flour, sugar, cocoa powder, baking soda, baking powder, salt, and cinnamon.
Wet Ingredients: Next, you'll whisk together some eggs, applesauce, oil, and vanilla. Pour the wet ingredients over the dry and stir to combine.
Zucchini: Shred some zucchini and add that to the batter. This makes the cake so moist and no one will even realize they're getting some veggies in with their dessert!
Bake: Spread the zucchini cake batter into a greased 9×13 baking dish and bake through.
Frosting: Once baked and cooled, pour my mama's chocolate chip frosting over the cake and let that set for about 15 minutes before cutting and serving.
We LOVE this frosting because it comes together in about 2 minutes and it gets poured over the cake instead of spread (so easy!!). Plus, after it's sat for a bit it firms up into this crackly, fudgy texture that is just to die for.
Helpful Tip!
Tips for the Best Chocolate Zucchini Cake:
Picky Eaters: If you have picky eaters in the house, peel your zucchini before you shred it. This will eliminate any specks of green that might peek through in the cake. No one will even know the cake has zucchini hiding inside!
Frosting: My mama's fudge frosting is our all time favorite, but you can use any frosting you like here, including canned!
Storage: This cake bakes up nice and moist, which means that it won't last long at room temperature. Store in the fridge, covered, for up to 5 days.
FAQ:
Is chocolate zucchini cake healthy?
This chocolate zucchini cake is a bit healthier than most cakes thanks to the addition of applesauce and zucchini. Zucchini adds loads of moisture to the cake without adding fat. It also sneaks in vitamins and anti-oxidants.
I've also swapped in applesauce for some of the oil to keep this cake lower in fat without sacrificing flavor or texture.
At the end of the day, this is still cake and it's still dessert.
Does chocolate zucchini cake need to be refrigerated?
Because this zucchini cake is so moist, I think it's best to store it in the refrigerator. Super moist cakes tend to go bad quicker at room temperature.
I store the cake tightly covered in the fridge for up to 5 days.
If you'll be eating this within 2 days, it should be fine on the counter.
What can I use in place of the applesauce?
Increase the amount of oil in the recipe to 1 1/2 cups and leave the applesauce out altogether.
Does chocolate zucchini cake taste like zucchini?
No, cake with zucchini in it doesn't taste at all like zucchini! In fact, if you shred the zucchini before peeling you'll eliminate any green flecks that might scare people away. No one will even know there are veggies lurking in their cake.
MORE CAKE RECIPES TO TRY:
Eclair Cake: I made this as a kid and still make it today!
7 Up Cake: Loads of citrus flavor thanks to 7 Up!
Strawberry Cream Cake: You'd never believe it was low carb!
Pumpkin Cheesecake Bars: Cheesecake is the best cake!
Buttermilk Pound Cake: The browned butter glaze drizzled over the top is divine!
Pumpkin Coffee Cake: Heaven.
MORE ZUCCHINI RECIPES TO TRY:
Zucchini Carrot Bread: If you like zucchini cake, you'll love this zucchini carrot bread!
Cheesy Zucchini Rice: A perfect cheesy and healthy side dish!
Zucchini Tomato Tart: This tart is very colorful and another great way to use up those veggies.
Chocolate Zucchini Cake
This chocolate zucchini cake is so moist and tender thanks to the zucchini. My kids don't even realize I've snuck veggies in their dessert with this recipe.
Prep10 minutes
Cook1 hour
Total1 hour 10 minutes
Ingredients
2 cups flour
1 3/4 cups granulated sugar
3/4 cup unsweetened cocoa powder
2 teaspoons baking soda
1 teaspoon baking powder
1/2 teaspoon salt
1 teaspoon ground cinnamon
4 large eggs
¾ cup unsweetened applesauce
¾ cup vegetable oil
1 teaspoon vanilla
3 cups shredded zucchini
1 recipe mama's chocolate frosting
Instructions
Preheat oven to 350 degrees. Spray a 9×13 inch baking dish with non-stick spray.

In a medium bowl, whisk together the flour, sugar, cocoa, baking soda, baking powder, salt and cinnamon.

Add the eggs, applesauce, oil, and vanilla to a small mixing bowl and whisk well to combine.

Pour the egg mixture over the dry ingredients and stir until just combined. Fold in the grated zucchini.

Spread mixture into the prepared baking dish. and bake for 50-60 minutes or until a tester comes out clean.

Cool completely before frosting. Let frosting set 15 minutes before cutting and serving.
Tips & Notes:
Store cake in the refrigerator for up to 5 days or at room temperature for 2 days. You may use any type of chocolate frosting you like, but we love my mom's fudgy frosting. It pours over the top of the cake like a dream and sets nice and smooth, but when you cut into the cake the frosting gets this gorgeous crackly top and tastes a bit like fudge.
Nutrition Information:
Serving: 1slice| Calories: 513kcal (26%)| Carbohydrates: 76g (25%)| Protein: 7g (14%)| Fat: 23g (35%)| Saturated Fat: 14g (88%)| Cholesterol: 70mg (23%)| Sodium: 382mg (17%)| Potassium: 403mg (12%)| Fiber: 4g (17%)| Sugar: 54g (60%)| Vitamin A: 225IU (5%)| Vitamin C: 10.7mg (13%)| Calcium: 49mg (5%)| Iron: 2.9mg (16%)