This CHEESY ZUCCHINI RICE is a universal favorite in our house! It's a great side dish to use up some of your garden zucchini, but the best part is, with all that cheese your kids will love it!
I'm not sure if this is, like, standard family business or what, but it is nearly impossible to find a vegetable that all four of us like.
If I get it past my kids, the husband doesn't like it.
If I get it past the husband, my kids don't like.
And, if I get it past all three of them, I probably don't like. 😉
Is everyone else's life like that too?
Two veggies that we all agree on: broccoli and zucchini!
This cheesy zucchini rice was one of the ways I taught my youngest to love zucchini. I just shredded the zucchini up and snuck into cheesy rice and she didn't find it at all offensive. Win!
(My chocolate zucchini bread and chocolate zucchini cake are also obvious favorites.)
The zucchini just blends in perfectly, and while you can see the green specks, it doesn't add a whole ton of flavor or texture, which makes it great for picky kids!
Preparing this side dish
The first thing to do is to get your rice cooked. Toast the rice in a bit of oil and then boil in some chicken broth.
The broth adds a great flavor!
Once the rice is done cooking in the broth you'll add your butter, garlic, cheese, and fresh zucchini.
Cover this and let it sit for a few minutes then it is ready to serve.
The cheese melts, the zucchini softens, the rice is perfect.
This dish is the perfect side for picky kids and hungry parents!
How to handle your leftovers
Cover tightly and store in the fridge for 3-4 days.
The zucchini will soften up even more as you recook it, but it also may make the dish a bit more watery than it initially was.
Helpful Tip!
Picky Kids?
Those green flecks can scare off even the toughest kid. Peel the zucchini to help it blend into the rice even more!
How to make with instant rice
Prefer to work with Minute rice? No problem!
Start by cooking the rice according to the package directions.
When adding the rice to the boiling water, add the zucchini as well.
After the rice is fully cooked fluff it with a fork and stir in the cheese, garlic, and butter. Cover this for a minute or two to melt the cheese and then give it a stir.
Cheesy zucchini rice in about 10 minutes!
More recipes with garden fresh ingredients
The Best Creamiest Mashed Potatoes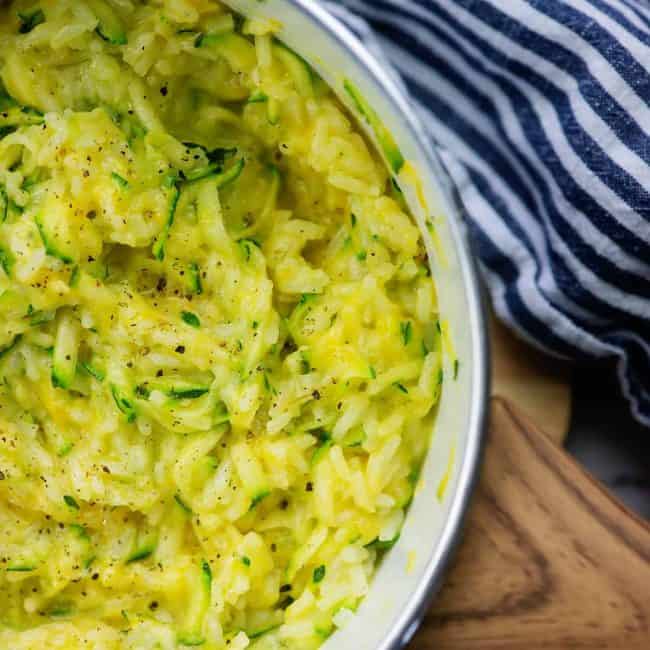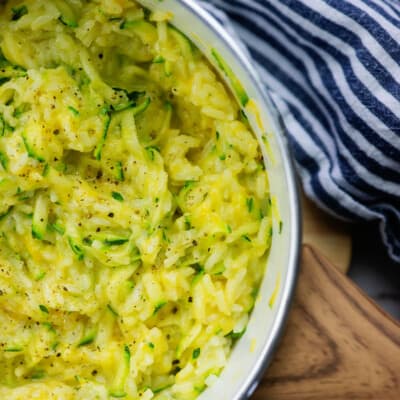 Cheesy Zucchini Rice
The easiest way to sneak zucchini into my kids is with this little side dish! Cheesy rice is universally loved around here and adding shreds of zucchini is barely even noticeable to the kiddos. This one is quick and easy, too!
Prep10 minutes
Cook15 minutes
Total25 minutes
Ingredients
1 tablespoon olive oil
1 cup long-grain white rice
2 cups chicken broth
2 tablespoons butter
1 medium zucchini shredded
1 cup shredded sharp cheddar
1/2 teaspoon garlic powder
Salt and pepper to taste
Splash of milk as needed
Instructions
Heat the olive oil in a medium sauce pan over medium heat.

Add the rice and stir to coat. Toast the rice, stirring often, just until it starts to turn golden.

Pour in the chicken broth, bring to a boil, turn heat to low, and cover.

Cook, covered, for 15 minutes.

Remove from the heat and quickly add the butter, grated zucchini, cheddar, and garlic powder.

Cover and let set for 10 minutes. It's important to cover the rice again quickly to retain some of the steam from cooking.

Uncover the rice, stir well to combine, and add salt and pepper to taste. If you'd like the rice to have a thinner texture, add a splash of milk.
Tips & Notes:
If I've taken more than a couple of seconds to dump the zucchini, butter, and cheese into the pot of rice, I'll cover the pan and turn the heat back on for just 30 seconds or so to make sure the pan will be steamy enough to soften up the zucchini while it sets for the remaining 10 minutes.
Nutrition Information:
Calories: 379kcal (19%)| Carbohydrates: 39g (13%)| Protein: 11g (22%)| Fat: 19g (29%)| Saturated Fat: 10g (63%)| Cholesterol: 44mg (15%)| Sodium: 661mg (29%)| Potassium: 302mg (9%)| Fiber: 1g (4%)| Sugar: 1g (1%)| Vitamin A: 555IU (11%)| Vitamin C: 17mg (21%)| Calcium: 232mg (23%)| Iron: 1mg (6%)
This recipe was originally published in June 2012. It was updated with new photos in May 2020.