August 8, 2018
Summer Squash Gratin
With only a handful of ingredients, this squash casserole recipe come together quickly for a weeknight meal.
My children and husband are trying to kill me.
I'm sure of it.
It's the only explanation for why they wrinkle their noses and roll their eyes at my attempts to feed them vegetables.
They are just waiting for me to die of frustration.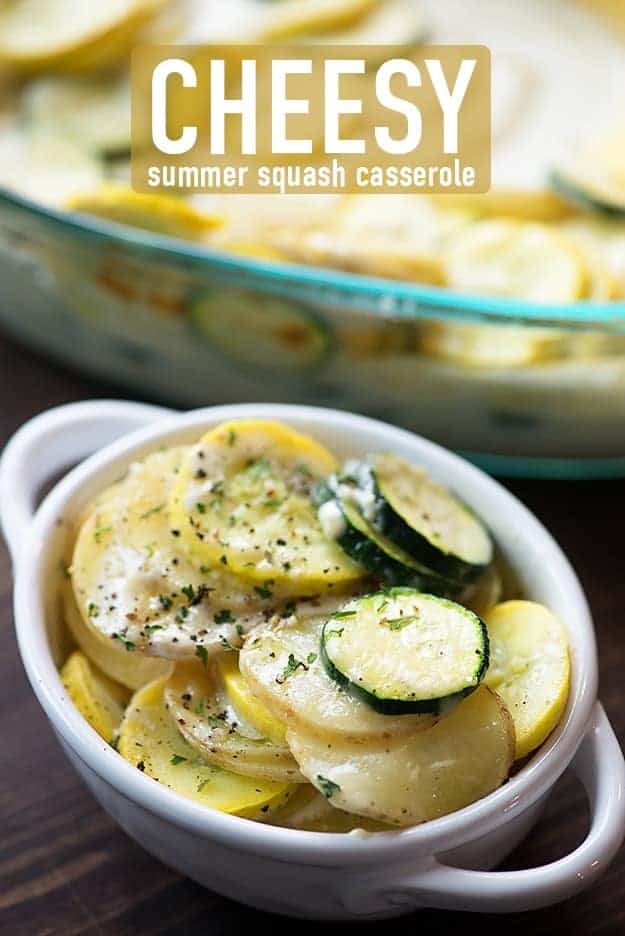 I won't give them the satisfaction, though. I'm in it to win it. They will eat their mother-lovin' veggies and they will like them.
Especially if I cover them in heavy cream and cheese. I actually kept the cheese and cream to a minimum in this recipe – 4 ounces of cheese and a 1/2 cup of cream – totally respectable amounts, right? Just nod and play along.
I love the slight tang of zucchini, so I paired this with an extra sharp white cheddar. Swiss or Gruyere would be fabulous, too. I also threw in a yellow squash and a potato, just to keep things interesting. And also because that way I could honestly say, hey guys, I made cheesy potatoes! Ain't no shame in my game.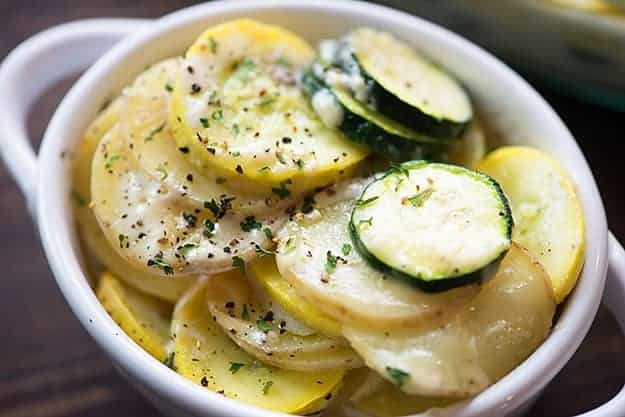 This recipe easily doubles, though you'll want to keep the amount of heavy cream the same. Just double everything else and you'll have a delectable squash casserole recipe that feeds a crowd. I like to make this for family get-togethers. Then, even if my kids notice the green edges of the zucchini, someone else will still be around to eat this.
Honestly, though, my kids really enjoyed this one. So did my husband, which is honestly just as big of a miracle. The man approaches food like a suspicious toddler.
Okay, guys, make this one and report back! Curious to hear what y'all think!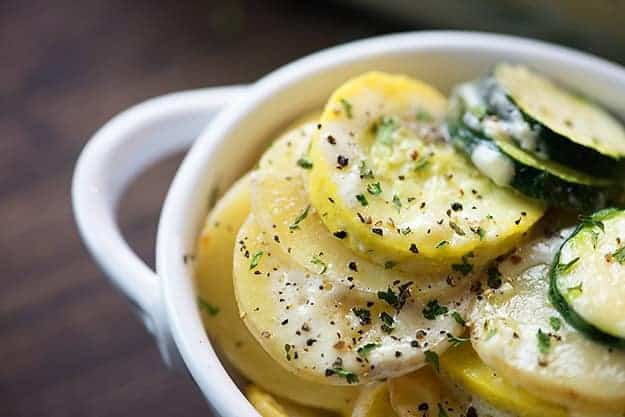 Summer Squash Gratin
Servings: 4
Course: Side Dish
Cuisine: American
Keyword: summer, vegetables
Calories: 310 kcal
My favorite way to eat those summer veggies!
Ingredients
2 medium zucchini
2 medium yellow squash
2 medium potato
1/2 cup heavy cream
4 ounces extra sharp white cheddar grated
salt and pepper to taste
Instructions
Preheat the oven to 425 degrees.

Slice the zucchini and yellow squash to between 1/4 and 1/8 inch thick. Slice the potato into paper thin slices. Place all the sliced vegetables into a bowl and toss to mix them up.

Place a single layer of mixed vegetables in the bottom of a 2 quart baking dish. Sprinkle with salt and pepper. Sprinkle on 1/3 of the cheese.

Repeat the layers twice more and pour the heavy cream over the top.

Cover the dish in foil and bake for 25 minutes.

Remove the foil and bake for another 15 minutes.
Nutrition Facts
Summer Squash Gratin
Amount Per Serving
Calories 310 Calories from Fat 189
% Daily Value*
Fat 21g32%
Saturated Fat 12g75%
Cholesterol 70mg23%
Sodium 207mg9%
Potassium 1002mg29%
Carbohydrates 20g7%
Fiber 4g17%
Sugar 4g4%
Protein 12g24%
Vitamin A 1115IU22%
Vitamin C 46.4mg56%
Calcium 286mg29%
Iron 4.4mg24%
* Percent Daily Values are based on a 2000 calorie diet.
Nutrition Disclaimer: All information presented on this site is intended for informational purposes only. I am not a certified nutritionist and any nutritional information shared on bunsinmyoven.com should only be used as a general guideline.
This post was originally published in July 2012. Images have been updated. Original image below.