This CHOCOLATE CHIP ZUCCHINI BREAD is the perfect way to use up your zucchini – so moist and really easy to whip up. Enjoy in the morning with your coffee or as an afternoon snack. Plus, the little pockets of chocolate chips are so delicious!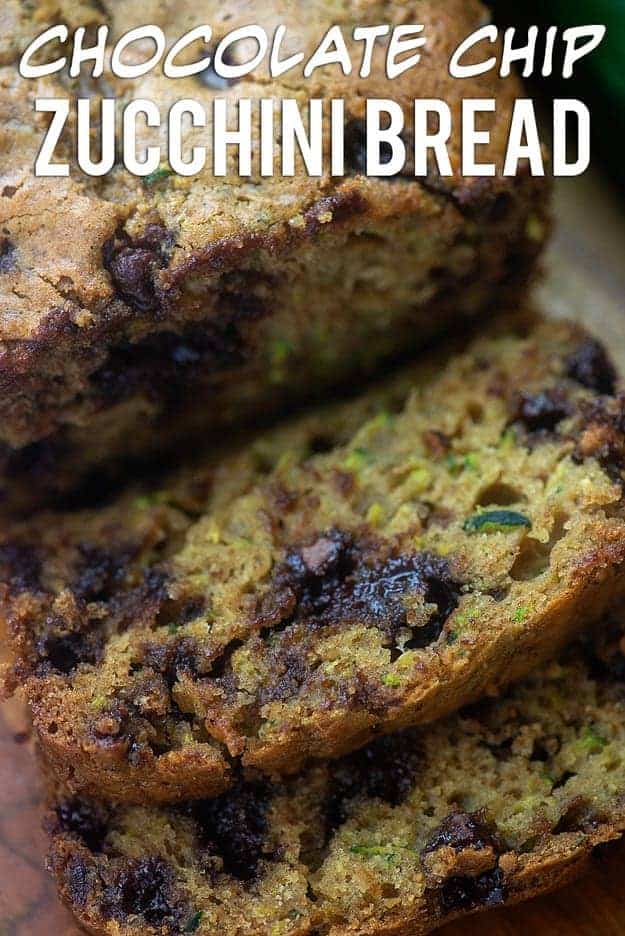 Every year I dream of being the type of person that has a garden full of zucchini so that I can walk around telling everyone that I just have so much zucchini and I don't know what to do with it.
Alas, I am not a gardener.
I mean, I can plant the garden…I'll even water the garden…I just won't weed the garden.
It starts to look like a jungle and my husband starts to do this heavy sighing thing he does when I've annoyed him and you know what? They sell zucchini at the grocery store anyway.
I sometimes buy 10 things of zucchini with no real plan just so I still have the 'overflowing garden' feeling and then have to stress about how to use up the zucchini.
Chocolate chip zucchini bread is obviously the answer to that dilemma!
This zucchini bread is super moist, just the right amount of sweet, and has chocolate chips scattered throughout to make each bite extra tasty.
How to make zucchini bread:
Zucchini bread starts out like most other quick bread recipes. Wet ingredients then dry ingredients – super easy!
I'm using a mixture of vegetable oil and applesauce along with an egg and an egg yolk. The applesauce cuts the fat while keeping the bread really moist and the extra yolk will make the bread nice and tender.
Whisk together those ingredients with the sugar and vanilla.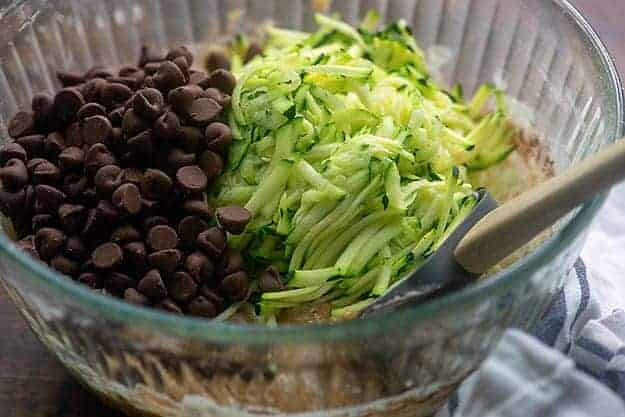 Add your dry ingredients to the wet: flour, cinnamon, baking soda, baking powder, and salt.
Stir the batter until the flour just disappears. Don't overmix or your bread will be tough.
Add your grated zucchini and chocolate chips to the batter and stir to combine.
Spread the batter into a loaf pan and pop it in a hot oven.
I use this loaf pan (affiliate link). It's gorgeous, retains heat beautifully heat, and has lasted for years. I always get questions when I share recipes with this loaf pan in the photos, so I wanted to share the link. 🙂
This chocolate chip zucchini bread recipe bakes in about an hour.
How to store zucchini bread:
Wrap your zucchini bread tightly and store at room temperature for 2-3 days.
If you plan on keeping your bread for longer than 3 days, I recommend refrigerating it for up to 5 days.
You may also wrap tightly with foil and place in a freezer safe bag to store the bread in the freezer for 2-3 months.
How to make zucchini bread moist:
This recipe uses both oil and applesauce, which contributes to how moist the bread is.
It's also completely packed with zucchini, which contributes plenty of moisture.
Do not overbake the bread and this recipe should come out perfectly moist!
Bake until the top center of the loaf springs back lightly when pressed or a butter knife inserted in the center comes out clean. If you under bake your bread, the center will fall. If you over bake, it will be a bit dry.
More zucchini recipes:
Fried Zucchini: One of my favorites and it's low carb too!
Chocolate Zucchini Bread: Extra chocolate-y!
Zucchini Pizza: So good!
Zucchini Bread with Pineapple: The pineapple adds the best little pop!
Cheesy Zucchini Rice: My kids love this one!
Baked Zucchini Fries: These look amazing!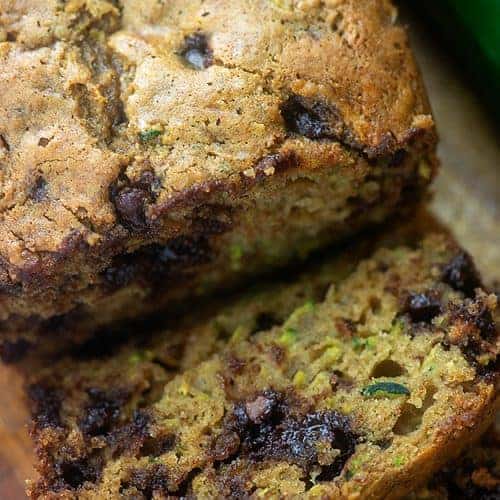 Chocolate Chip Zucchini Bread
This moist zucchini bread is studded with chocolate chips. Comes out perfect every time and it's the best way to use up any excess zucchini you might have!
Prep10 minutes
Cook1 hour
Total1 hour 10 minutes
Ingredients
1 ½ cups flour
2 teaspoons ground cinnamon
½ teaspoon salt
½ teaspoon baking soda
½ teaspoon baking powder
¼ cup vegetable oil
¼ cup unsweetened applesauce
1 egg
1 egg yolk
½ cup brown sugar
¼ cup sugar
2 teaspoons vanilla
1 ½ cups grated zucchini
1 cup chocolate chips
Instructions
Preheat oven to 325 degrees. Spray a loaf pan with non-stick spray.

Add the flour, cinnamon, baking soda, baking powder, and salt to a small bowl and whisk to combine. Set aside.

Add the oil, applesauce, egg, and egg yolk to a mixing bowl and whisk to combine. Whisk in the brown sugar, sugar, and vanilla until well combined.

Add the dry ingredients to the wet and stir just until the flour has disappeared. Do not over mix.

Add the zucchini and chocolate chips to the bowl and stir to combine.

Spread the batter into the prepared baking dish and bake for 50-60 minutes or until a tester inserted in the center comes out clean.

Cool for 15 minutes before removing from the loaf pan and cooling on a wire rack.
Tips & Notes:
Store tightly covered at room temperature for 2-3 days or refrigerated for up to 5 days.
Nutrition Information:
Serving: 1slice| Calories: 291kcal (15%)| Carbohydrates: 45g (15%)| Protein: 4g (8%)| Fat: 11g (17%)| Saturated Fat: 7g (44%)| Cholesterol: 39mg (13%)| Sodium: 197mg (9%)| Potassium: 158mg (5%)| Fiber: 2g (8%)| Sugar: 29g (32%)| Vitamin A: 160IU (3%)| Vitamin C: 6.4mg (8%)| Calcium: 56mg (6%)| Iron: 1.5mg (8%)