PUMPKIN COFFEE CAKE with the biggest, thickest streusel you've ever seen!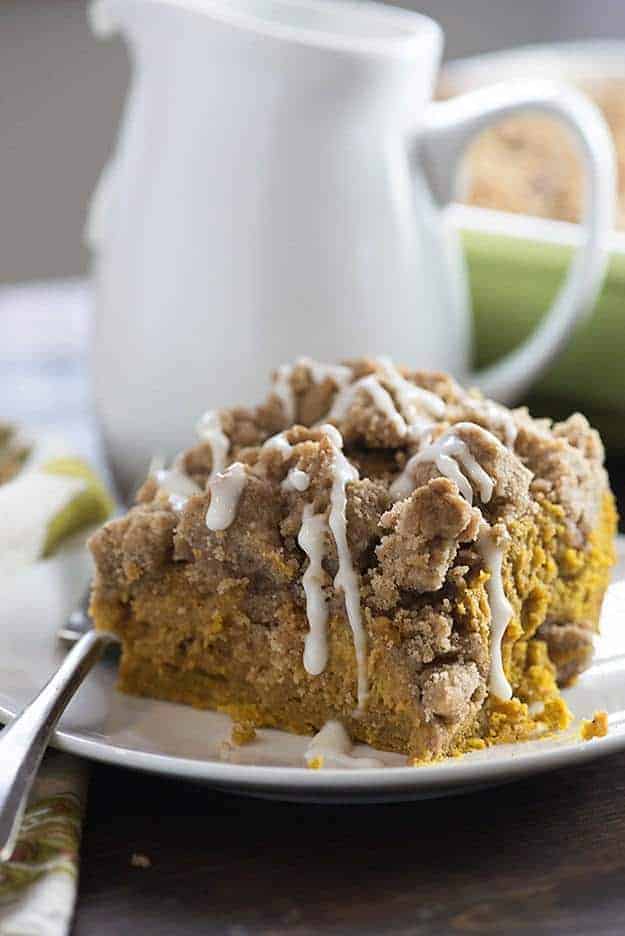 I feel like this pumpkin coffee cake recipe needs a disclaimer.
Warning: What you are about to see is disturbing in the best way possible. This coffee cake is so moist and dense, much like a pumpkin pie, that you'll wonder how life can be so magical. Your eyes will struggle to take in the gloriousness that is the humongous gobs of streusel topping. Ordinary coffee cake will never taste as good to you after eating this one.
There. Now that all the legal disclaimers are out of the way, let's talk about this recipe.
LET'S TALK ABOUT THIS RECIPE RIGHT NOW.
It is, in a word, phenomenal.
I took my very favorite pumpkin coffee cake that I make year after year and I doctored it up into this glorious piece of heaven topped with magical streusel. The streusel. I can't stop talking about it.
I used the streusel recipe from one of my favorite cookbooks – Baked Explorations. It's not a traditional streusel with oats or softened butter that requires a pastry cutter and a bunch of elbow grease. It's melted butter, lots of sugar, cinnamon, and flour that gets stirred together. Much easier than cutting things in, in my opinion. It needs to set for a few minutes, so I always make the streusel first, then the cake, then it's perfect for crumbling big huge crumbs over your batter.
The cake itself is not like your normal cake. It's a cross between a pumpkin pie filling and a cake, which sounds weird but is actually quite delightful. The cake, thanks to the two full cans of pumpkin, is super moist and dense, like a custard, but not quite so heavy. It's just really, really good.
Give this one a try and let me know what you think! And don't be scared off by the long ingredient list or directions – this is really straight forward and uses ingredients you likely have on hand.
Pumpkin Coffee Cake with Streusel
The BEST pumpkin cake recipe I've ever had. That thick streusel on top just makes it even better.
Prep20 minutes
Cook50 minutes
Total1 hour 10 minutes
Ingredients
For the streusel
1 cup brown sugar
1/2 cup granulated sugar
1/2 teaspoon salt
1 1/2 tablespoons cinnamon
1 cup butter melted
2 1/2 cups flour
For the cake
3 cups all purpose flour
1 1/2 teaspoons baking soda
1 1/2 teaspoons baking powder
1 tablespoon cinnamon
1/2 teaspoon salt
1 cup brown cup sugar
1/2 cup granulated sugar
1 cup butter, room temperature
2 eggs
2 15 ounce cans pumpkin puree
For the icing
1/2 cup powdered sugar
1 tablespoon milk
Instructions
Preheat oven to 350 degrees. Spray a 9x13 baking dish with non-stick spray.

To prepare the streusel, stir together the sugars, cinnamon, salt, and melted butter in a medium mixing bowl until well combined.

Stir in the flour. Set aside while you prepare the cake batter.

To make the cake, add the flour, baking soda, baking powder, cinnamon, and salt to a large mixing bowl and whisk to combine.

Add the sugars and butter to a medium mixing bowl and beat with a mixer until light and fluffy.

Beat in the eggs and pumpkin until just combined.

Add the pumpkin mixture to the flour mixture and stir until just combined.

Spread cake batter into prepared pan.

Take the streusel topping in your hands and press together to form large crumbs. Top the cake with the streusel. It will seem like too much, but use it all for the best streusel experience.

Bake for 50 minutes or until a tester inserted in the middle comes out mostly clean.

Cool completely.

Whisk together the powdered sugar and milk to make the glaze. Drizzle over the top before serving.
Tips & Notes:
This recipe produces a very dense cake, much like a cross between cake and a pumpkin pie. If you'd prefer a traditional cake crumb, reduce the pumpkin to 1 can.
Nutrition Information:
Serving: 1piece| Calories: 714kcal (36%)| Carbohydrates: 101g (34%)| Protein: 8g (16%)| Fat: 32g (49%)| Saturated Fat: 20g (125%)| Cholesterol: 108mg (36%)| Sodium: 420mg (18%)| Fiber: 4g (17%)| Sugar: 53g (59%)