September 6, 2018
Cinnamon Swirled Glazed Pumpkin Coffee Cake
This pumpkin coffee cake is loaded with as much pumpkin as possible making it dense and creamy, almost like a pie!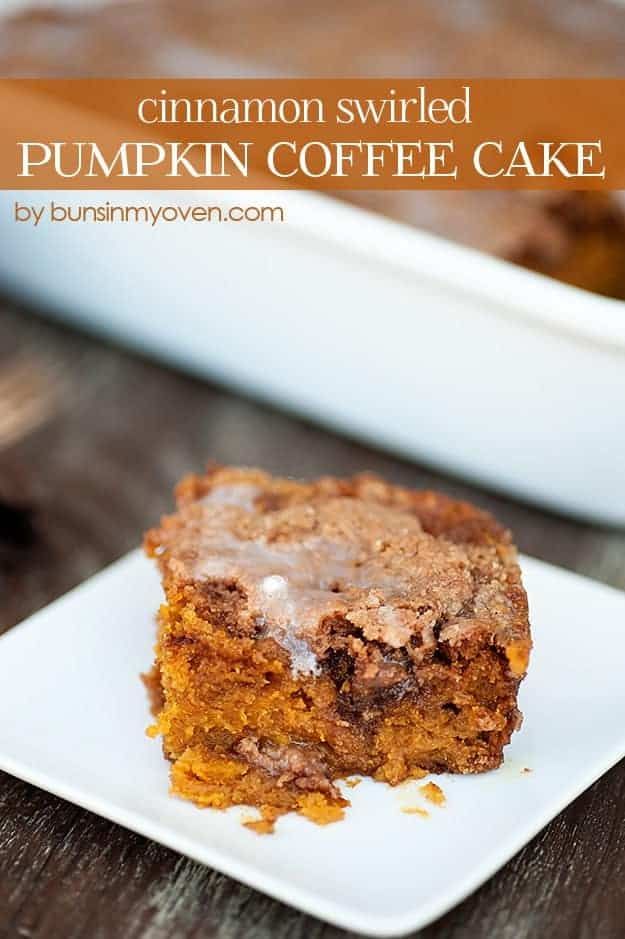 Oh, you guys.
I've really gone and done it now.
I went and married coffee cake with pumpkin pie and the result was, well, it was phenomenal. I like cake just fine, but I absolutely adore the texture of pumpkin pie. The dense, creamy filling is my happy place. So, I got a little crazy and added a ridiculous amount of pumpkin
to this cake in the hopes that I could recreate a bit of that custard like texture while still being able to call it a cake. Things were very science-experimenty up in here for a while.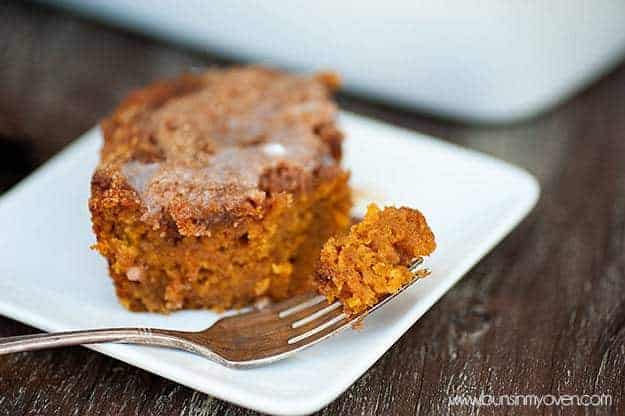 I don't want to brag or anything, but I would totally rock at being a scientist. I mean, seriously. I just completely owned this recipe.
This cake is outrageously good. Dense, creamy, and slightly underdone, pure pumpkin perfection. Don't even bother counting the sticks of butter and cups of sugar in here, because it will make you hate me. Just close your eyes, open your mouth, and enjoy this coffee cake nirvana.
Oh, and just for fun? I went and added a swirl of cinnamon, a crumb topping that gets all crackly and crunchy in the oven to add the perfect contrast to the creamy cake, and a big ol' drizzle of powdered sugar glaze. I mean, I had to, guys. The coffee cake gods told me and when they speak, you listen.
I used this Saigon cinnamon
, because it kicks regular cinnamon's trash. Give it a try and see what I mean!
Try this one and let me know what you think!
Give my banana coffee cake a try, too!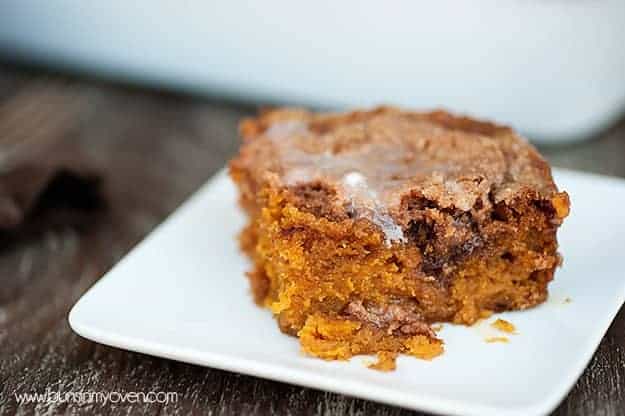 Never miss out on a single recipe! Follow me below: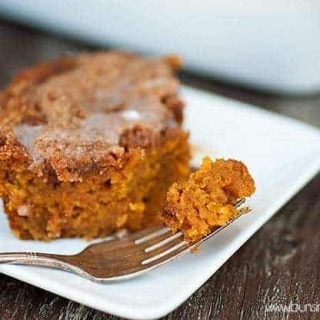 Cinnamon Swirled Glazed Pumpkin Coffee Cake
Servings: 16 servings
Course: Breakfast
Cuisine: American
Keyword: autumn recipes, easy breakfast recipes, easy pumpkin recipes
Calories: 440 kcal
This pumpkin coffee cake is loaded with as much pumpkin as possible making it dense and creamy, almost like a pie!
Ingredients
For the cake:
3 cups all-purpose flour
1 1/2 teaspoons baking soda
1 1/2 teaspoons baking powder
1/2 teaspoon salt
1 cup brown cup sugar
1/2 cup granulated sugar
1 cup butter, room temperature 2 sticks
2 large eggs
30 ounces pumpkin puree 2 cans
For the cinnamon swirl:
1/2 cup brown sugar
1/4 cup butter
1 tablespoon cinnamon
For the crumb topping:
1/2 cup all-purpose flour
1/4 cup butter cold and cut into small squares
1/2 cup brown sugar
2 teaspoons cinnamon
For the glaze:
1 cup powdered sugar
2 tablespoons milk or cream
Instructions
Preheat oven to 350°F. Butter a 9x13 baking dish.

In a large bowl, stir together the flour, baking soda, baking powder, and salt.

In the bowl of a stand mixer, beat the butter and sugars together until light and fluffy. Beat in the eggs. Stir in the pumpkin puree. Add flour mixture and stir until just combined.

To make the cinnamon swirl, add the brown sugar, butter, and cinnamon to a small saucepan over medium heat and stir constantly until melted.

Spread half of batter in prepared baking pan. Pour half of the cinnamon swirl over the batter and drag a knife through the batter to swirl it around. Top with the remaining batter and repeat with the remaining cinnamon swirl mixture.

To make the crumb topping, add flour, butter, brown sugar, and cinnamon to a medium bowl and cut together with a pastry cutter or two butter knives until you have coarse crumbs.

Sprinkle with the crumb topping.

Bake coffee cake until toothpick inserted in center comes out clean, about 45 minutes. Cool 30 minutes before glazing and serving.

To make the glaze, whisk together the powdered sugar and milk or cream until smooth.

Store leftovers in the refrigerator.
Nutrition Facts
Cinnamon Swirled Glazed Pumpkin Coffee Cake
Amount Per Serving
Calories 440 Calories from Fat 162
% Daily Value*
Fat 18g28%
Saturated Fat 11g69%
Cholesterol 69mg23%
Sodium 348mg15%
Potassium 227mg6%
Carbohydrates 66g22%
Fiber 2g8%
Sugar 42g47%
Protein 4g8%
Vitamin A 8840IU177%
Vitamin C 2.2mg3%
Calcium 75mg8%
Iron 2.4mg13%
* Percent Daily Values are based on a 2000 calorie diet.
Nutrition Disclaimer: All information presented on this site is intended for informational purposes only. I am not a certified nutritionist and any nutritional information shared on bunsinmyoven.com should only be used as a general guideline.
Want more fall treats? I have lots!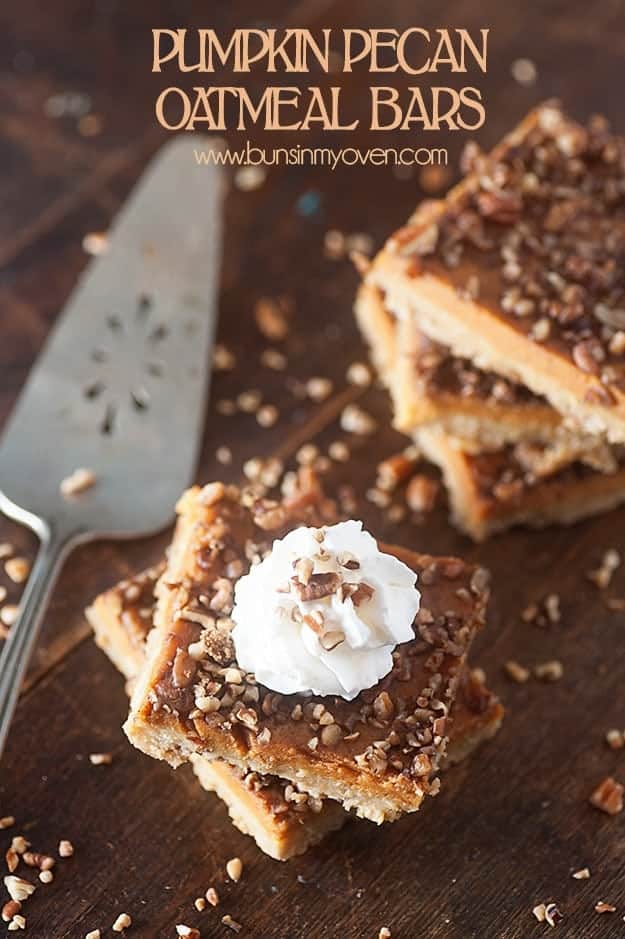 Apple Cider Cake with Apple Cider Glaze!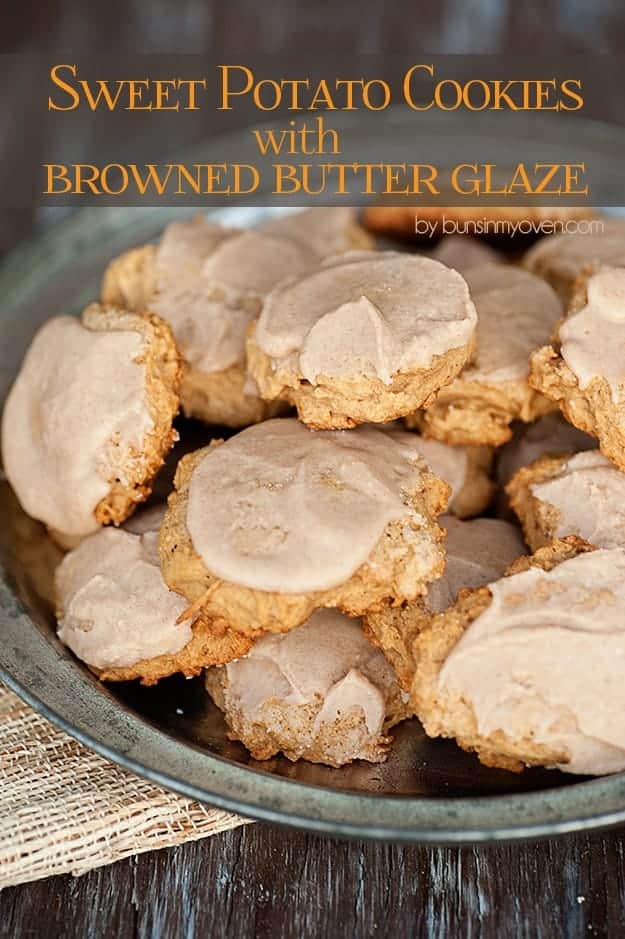 Sweet Potato Cookies with Browned Butter Glaze!