August 28, 2018
Pumpkin Pecan Oatmeal Bars
These pumpkin pie bars are topped with a crunchy pecan topping! The base is made from oatmeal and the filling is like a perfectly creamy pumpkin pie!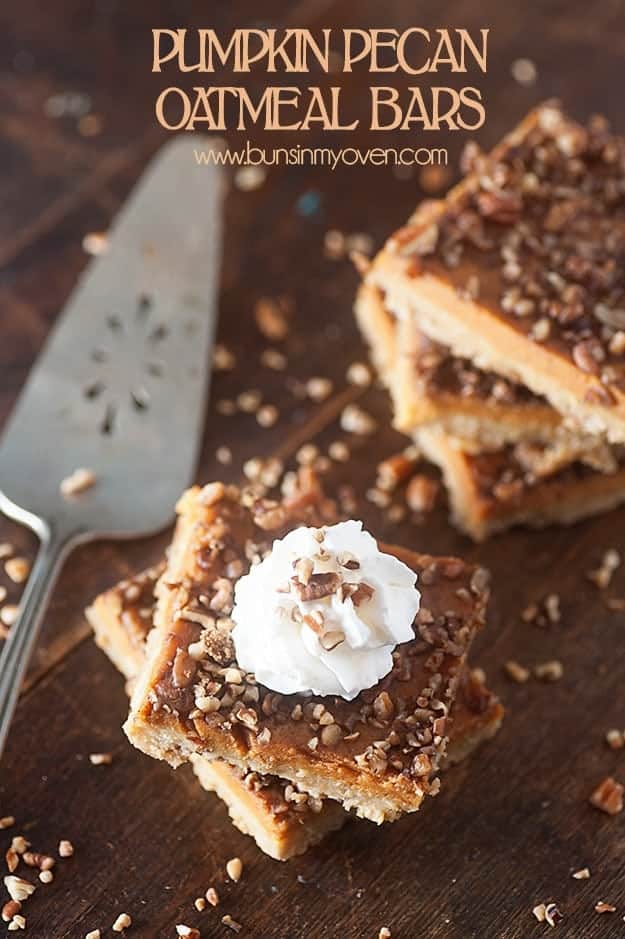 Hi, friends!
So, let's just jump right in today, shall we? 
Sometimes I struggle with how real and personal to get here and usually stick to the embarrassing stories of my life. Because I pretty much can't do anything without embarrassing myself. Ever.

Anyway, I mentioned last week that we were going to Disney. We should be there right, riding spinny things until I puke and begging the kids to please, just once, ride the Tower of Terror with me. Instead, we're back in Illinois with family, which isn't such a terrible place to be, except the reason we are here is that my husband's grandma just passed away.
She was diagnosed with cancer last month and things progressed so quickly. We're lucky that we get to be here with her for a bit before she passed away. She was a huge part of our lives and we'll all miss her so much.
It's a sad time for my family, but we're all so happy that we get to be together. Disney can wait.
Anyway, I just wanted to pop in and update you guys, because I know I talked up our Disney trip a bit and didn't want you all wondering what the heck happened.
Of course, I couldn't leave you without something tasty and since it's approximately OHMYWORDSOCOLD out there right now (which I'm loving for now, but will be complaining about shortly), I had to go with pumpkin.
These pumpkin pie bars are a riff on a pumpkin pie and topped with sweet, crunchy pecans. Tasty, man. And these are perfect for sharing since bars are a lot more portable and easier to eat with your hands. Love these bars and I think you will, too!
If you're looking for more pumpkin recipes, check out my all time favorite pumpkin coffee cake (it's absolutely loaded with pumpkin!) or my favorite pumpkin cake with a browned butter glaze!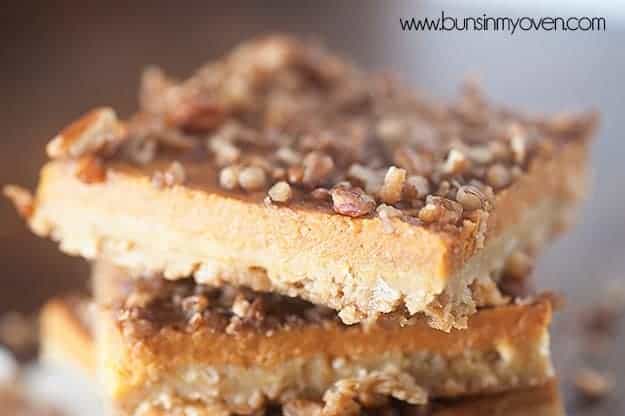 Pumpkin Pecan Pie Bars
Servings: 16 bars
Course: Dessert
Cuisine: American
Keyword: easy bar recipes, easy dessert recipes, easy pumpkin recipes
Calories: 233 kcal
These pumpkin pie bars are topped with a crunchy pecan topping! The base is made from oatmeal and the filling is like a perfectly creamy pumpkin pie!

Ingredients
1 cup flour
1/2 cup old-fashioned oats
1/2 cup packed brown sugar
1/2 cup butter softened
3/4 cup sugar
15 ounce can pumpkin puree
12 ounces evaporated milk
2 large eggs
2 1/4 teaspoons pumpkin pie spice
1/2 cup pecans chopped
1/4 cup packed brown sugar
Whipped cream for serving
Instructions
Preheat oven to 350 degrees.

Combine flour, oats, brown sugar, and butter in a medium bowl. Beat on low for 2 minutes or until crumbly.

Press the mixture into an ungreased 9x13 baking dish. Bake for 15 minutes.

Combine sugar, pumpkin, evaporated milk, eggs, and pumpkin pie spice in a large bow and beat on medium speed for 1-2 minutes.

Pour over crust. Bake for 20 minutes.

Combine pecans and brown sugar and sprinkle over the pumpkin.

Continue baking for 15-20 minutes or until a knife inserted in the center comes out clean.

Cool completely and cut into bars.
Nutrition Facts
Pumpkin Pecan Pie Bars
Amount Per Serving
Calories 233 Calories from Fat 90
% Daily Value*
Fat 10g15%
Saturated Fat 5g31%
Cholesterol 44mg15%
Sodium 86mg4%
Potassium 171mg5%
Carbohydrates 32g11%
Fiber 1g4%
Sugar 22g24%
Protein 4g8%
Vitamin A 4400IU88%
Vitamin C 1.6mg2%
Calcium 83mg8%
Iron 1.2mg7%
* Percent Daily Values are based on a 2000 calorie diet.
Nutrition Disclaimer: All information presented on this site is intended for informational purposes only. I am not a certified nutritionist and any nutritional information shared on bunsinmyoven.com should only be used as a general guideline.