July 10, 2019
Pumpkin Cake with Browned Butter Glaze
You guys are going to love this pumpkin bundt cake! It's topped with a simple glaze made of browned butter and powdered sugar – so good you'll want to drink it!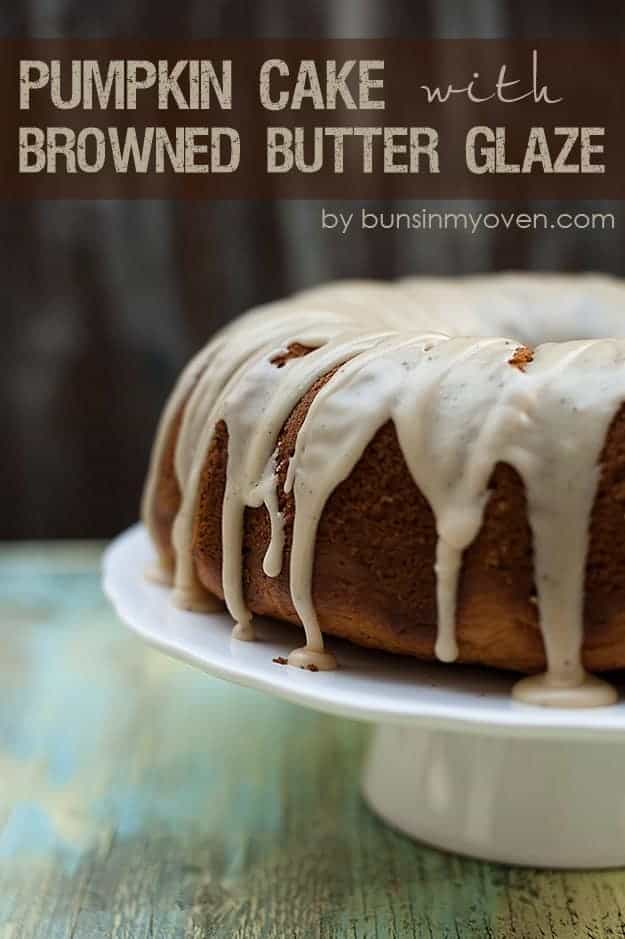 I have a major problem, you guys.
I married this guy. He's cute and all, but he doesn't like cake. Specifically, he doesn't like cake because of the frosting.
Personally, I believe that cake only exists to serve a purpose for frosting, but whatever. He thinks that the frosting ruins a cake and he won't eat it.
Like, ever.
He even makes judge-y faces at me when I scrape his frosting off a piece of cake for him and proceed to eat the frosting with a spoon. He thinks that's "weird." Or "gross." Or "a problem that needs medical help." Doesn't he understand that I'm only doing that to help him out?
He just doesn't get me.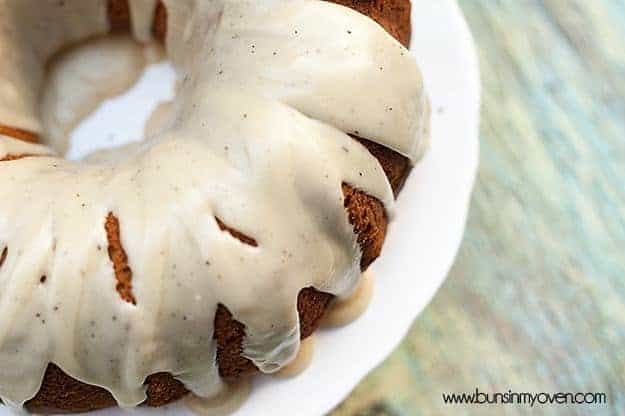 But, then! I made this pumpkin bundt cake.
And I topped it with this glaze. He looked at me with his sad eyes, all "oh, you had to ruin it with the frosting, didn't you?"
So, I did what any loving wife would do and I begged him to just try a tiny bite of the frosting. Off a spoon. The way God intended. Making him try foods that he's already declared he hates is a hobby of mine.
This time, though, he liked it. In fact, he ate a SECOND spoonful of frosting. Then he ate a piece of cake and the heavens rejoiced.
What I'm saying is, this browned butter glaze/frosting saves marriages. We nearly had to divorce over our difference of opinion, but now I can continue having someone around to take out the trash. Thank goodness.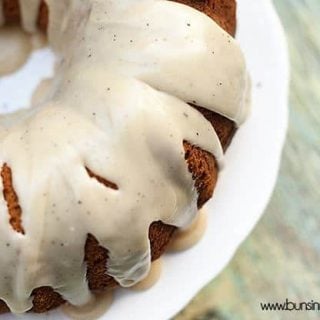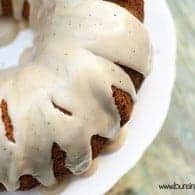 Pumpkin Cake with Browned Butter Glaze
Servings: 16 servings
Course: Dessert
Cuisine: American
Keyword: easy cake recipes, easy dessert recipes, easy pumpkin recipes
Calories: 282 kcal
This is basically Fall on a cake stand. The pumpkin flavor shines through in the cake and it's deliciously moist. Using a cake mix makes things simple, too. The glaze is simply out of this world. Browned butter truly is magical.
Ingredients
1 box yellow cake mix
1/2 cup white sugar
1/2 cup vegetable oil
15 ounces pumpkin 1 can
1/4 cup water
1 teaspoon ground cinnamon
4 large eggs
4 tablespoons butter
1 cup powdered sugar
2 tablespoons milk
Instructions
To make the cake, preheat oven to 350 degrees and butter a bundt pan.

Beat together all ingredients in the bowl of a stand mixer for 2 minutes or until well combined, light, and somewhat fluffy.

Add batter to bundt pan and bake for 40-50 minutes or until a tester comes out clean.

Cool for 15 minutes in the bundt pan before turning onto a cake platter to finish cooling.

For the glaze, melt the butter in a small saucepan over low heat until browned, about 8 minutes.

Pour the butter into a small bowl and whisk in the powdered sugar and milk until smooth.

Drizzle over the top of the cooled cake.
Nutrition Facts
Pumpkin Cake with Browned Butter Glaze
Amount Per Serving
Calories 282 Calories from Fat 99
% Daily Value*
Fat 11g17%
Saturated Fat 8g50%
Cholesterol 54mg18%
Sodium 279mg12%
Potassium 125mg4%
Carbohydrates 42g14%
Sugar 28g31%
Protein 3g6%
Vitamin A 2420IU48%
Vitamin C 2.4mg3%
Calcium 85mg9%
Iron 1.1mg6%
* Percent Daily Values are based on a 2000 calorie diet.
Nutrition Disclaimer: All information presented on this site is intended for informational purposes only. I am not a certified nutritionist and any nutritional information shared on bunsinmyoven.com should only be used as a general guideline.