Our Pumpkin Streusel Muffins bake up into the perfect Fall breakfast! We've combined two of our favorite things: perfectly spiced pumpkin goodies with buttery, crumbly streusel topping!
Hiiiiiii.
Don't yell at me.
I know it's a wee bit early for pumpkin recipes, but…I just couldn't help myself.
Besides, these are pumpkin streusel muffins and I'm going to make an educated guess here and say that you love muffins. I mean, come on.
Everyone loves muffins! (Especially when there is pumpkin involved, like in our pumpkin cream cheese muffins!)
They are easy to make, delicious to eat, portable, freezable, and delectable. Delectable. I don't think I've ever used that word before. I just really needed another "-able" word to round out that sentence. Forgive me.
Now, these muffins. I came across this pumpkin muffins recipe in an old Taste Of Home magazine and I ripped the recipe out and stuck it in my To Bake Soon pile. Didn't take long before I headed to the kitchen.
Tender, pumpkin-y, perfectly rounded on top, and that streusel…so good!
Ingredient Notes:
This post contains affiliate links. As an Amazon associate and member of other qualifying programs, I earn from qualifying purchases.
For the muffins:
Pumpkin Puree – Look for canned 100% pure pumpkin puree. You do not want to use canned pumpkin pie filling which already has spices and dairy mixed in.
Dry Muffin Mix Ingredients – You will need flour, baking soda, baking powder, salt, granulated white sugar, and dark brown sugar.
Wet Muffin Mix Ingredients – Eggs, softened butter, and buttermilk. And of course, the canned pumpkin puree.
Pumpkin Pie Spice – Try my homemade pumpkin pie spice! It's so much better when you make it yourself. That way you can control the amount of each spice to make it perfectly fit your tastes.
For the streusel topping:
Dark Brown Sugar – This streusel topping is sweet!
Flour – Just some regular all purpose flour.
Rolled Oats – The oats are going to help add that crumbly texture to the streusel!
Cold Butter – Using cold butter will also help to form crumbles.
What Readers are Saying!
"It's never too early for pumpkin! Especially if there's streusel involved…" – Blair
How To Make Pumpkin Muffins:
Wet Ingredients: Start by beating together your butter and sugars until nice and creamy. Next, beat in the pumpkin puree, buttermilk, and eggs.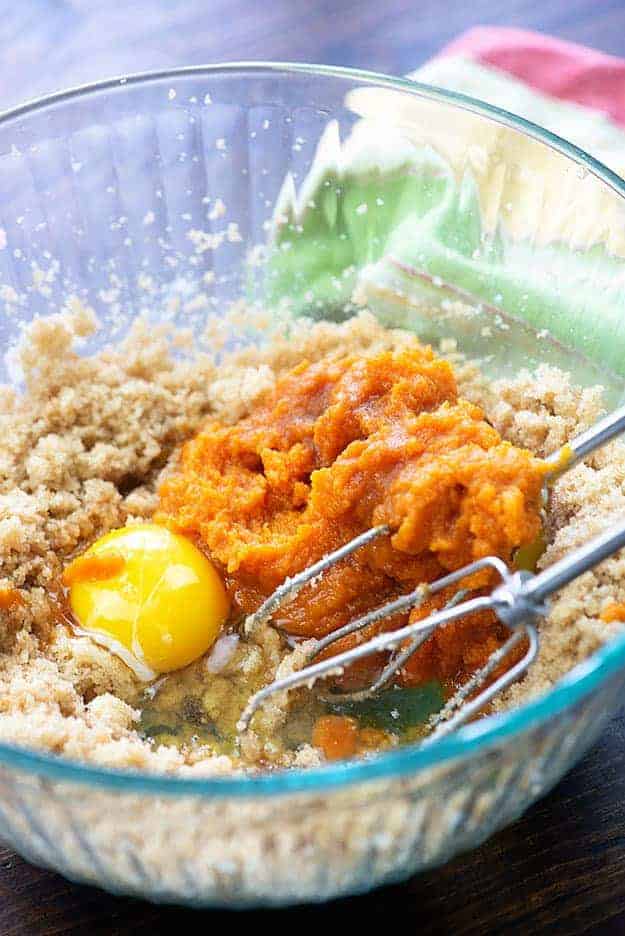 It's so easy to whip up dessert with this cute hand mixer. It doesn't take up much space and is a must for any kitchen!
Dry Ingredients: Next up, you'll add your dry ingredients including the flour, baking soda, baking powder, salt, and pumpkin pie spice!
Easy enough, right? Stir all that together until just combined. Finally, scoop the pumpkin muffin batter into a prepared muffin tin. Now for the streusel!
How To Make Streusel Topping:
Mix: To make the streusel, add flour, brown sugar, oats, and cold butter to a small bowl and work it together with a pastry cutter. This should resemble coarse crumbs when you're finished.
Top: We're almost ready to start baking these pumpkin muffins! Sprinkle the crumbly streusel topping over the pumpkin muffins to finish preparing them.
Bake: You can now pop the muffin tin into the oven and start baking. They'll take about 25 minutes.
I love these pumpkin muffins because they're really simple to throw together and they bake up perfect every time.
They're easy to customize too – skip the streusel and sprinkle on some chocolate chips if you like that sort of thing.
FAQs:
How to store pumpkin muffins?
Line an airtight container with a paper towel and store the pumpkin muffins in a single layer. Top them with another layer of paper towel before sealing the container. This keeps them from getting soggy! They'll last about 3 to 4 days.
Can I use fresh pumpkin instead of canned?
Yes, you can. Be sure to get as much moisture out of it as possible though so that it has a similar texture to canned pumpkin.
MORE PUMPKIN RECIPES YOU'll LOVE!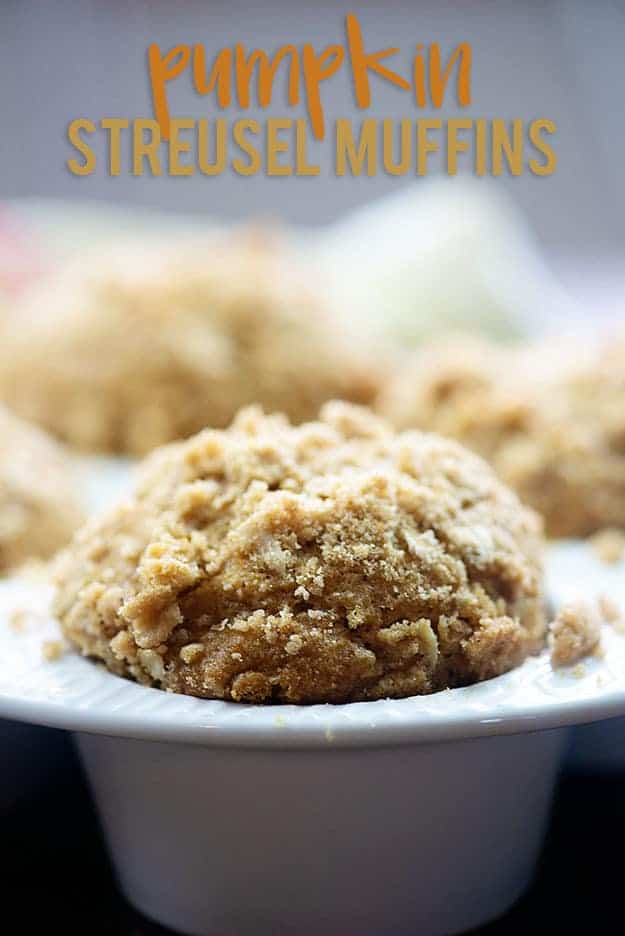 Pumpkin Streusel Muffins
These pumpkin muffins are topped with a simple streusel. Perfect for chilly mornings!
Prep10 minutes
Cook25 minutes
Total35 minutes
Ingredients
For the muffins
1/4 cup butter softened
1/2 cup sugar
1/4 cup packed brown sugar
2/3 cup canned pumpkin
1/2 cup buttermilk
2 eggs
2 cups flour
1 teaspoon baking soda
1/2 teaspoon baking powder
2 teaspoons pumpkin pie spice
1/4 teaspoon salt
For the streusel topping
1/3 cup flour
3 tablespoons brown sugar
2 tablespoons cold butter
2 tablespoons rolled oats
Instructions
Pre-heat oven to 375 degrees.

Cream together butter and sugars.

Beat in pumpkin, buttermilk, and eggs.

Combine the dry ingredients in a small bowl and mix into the batter. Stir just until combined.

Fill greased or paper-lined muffin tins 2/3 full of batter.

For topping, combine the flour, brown sugar, and oats in a small bowl. Add the butter.

Cut in butter with a pastry cutter until the mixture is crumbly.

Spoon streusel topping over the muffins and bake for 20 to 25 minutes or until a tester inserted in the center comes out clean.

Cool in pan for 5 minutes before removing to a wire rack.
Nutrition Information:
Serving: 1muffin| Calories: 226kcal (11%)| Carbohydrates: 36g (12%)| Protein: 4g (8%)| Fat: 7g (11%)| Saturated Fat: 4g (25%)| Cholesterol: 43mg (14%)| Sodium: 214mg (9%)| Potassium: 108mg (3%)| Fiber: 1g (4%)| Sugar: 16g (18%)| Vitamin A: 2350IU (47%)| Vitamin C: 0.7mg (1%)| Calcium: 39mg (4%)| Iron: 1.6mg (9%)
This post was originally published on Buns In My Oven in 2009. It's been updated with new photos and a video.