Our Pumpkin Cream Cheese Muffins are the perfect Fall breakfast – sweetly spiced tender pumpkin muffins with a surprise filling of cream cheese. Who wouldn't love biting into one (or two!) of these little pumpkin muffins?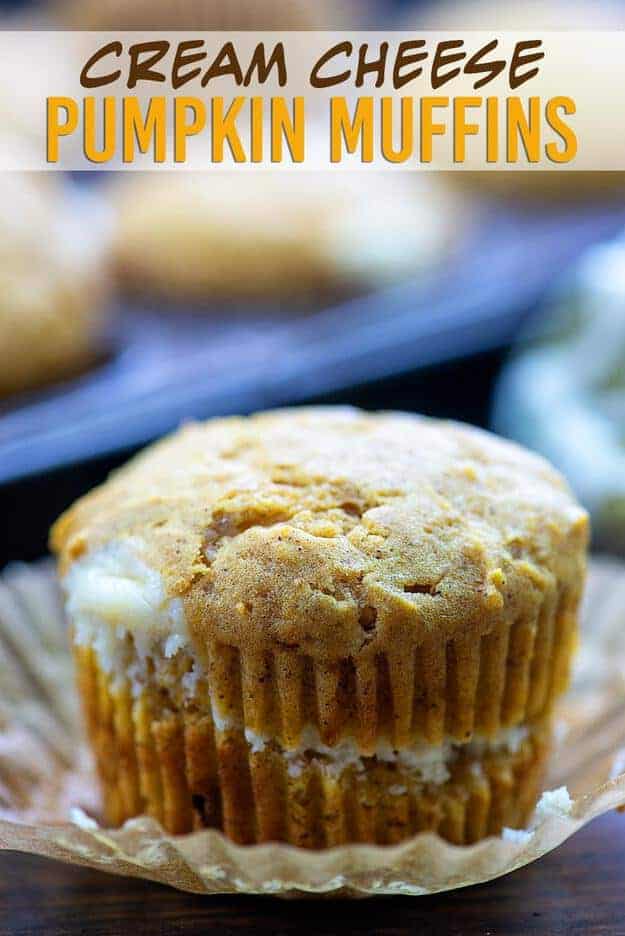 I've gotten a few emails from readers over the last week or so after they see one of my pumpkin recipes asking why I don't share pumpkin all year.
After all, pumpkin is a healthy food that's low in calories and it tastes good regardless of the season.
I mean, I couldn't agree more. I actually bake pumpkin pies throughout the year when the craving hits.

I just don't tell people about it because PEOPLE HAVE FEELINGS.
If you've never been a food blogger, you've never experienced the anger that gets sent your way when you share an "out of season" recipe and people firmly believe that pumpkin season is September through November.
I sneak them in in August to a lot of "it's too early" replies, but I'm sorry, I can't wait any longer.
So, don't yell at me, I might be early, but LOOK! Pumpkin Cream Cheese Muffins!
Ingredient Notes:
This post contains affiliate links. As an Amazon associate and member of other qualifying programs, I earn from qualifying purchases.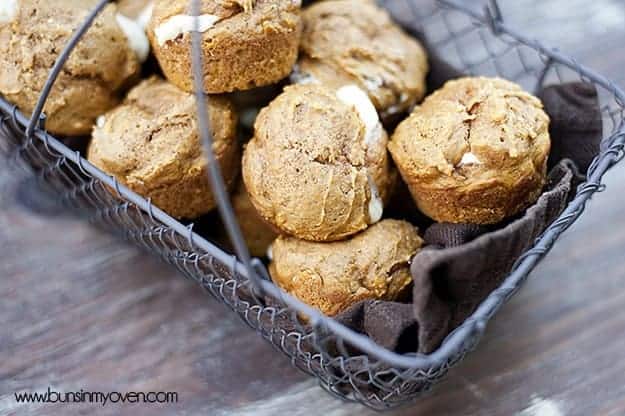 For the muffins:
Wet Ingredients – You'll need a few standard muffin mix ingredients including softened butter, buttermilk, and a couple large eggs.
Canned Pumpkin – Use 100% pure pumpkin puree! Make sure to not use canned pumpkin pie filling which has included spices and other ingredients.
Dry Ingredients – You're also going to need white sugar, packed brown sugar, flour, baking soda, baking powder, and salt.
Pumpkin Pie Spice – Follow the link to try my homemade pumpkin pie spice! It's a great way to get exactly the right flavor that you want, but you can keep it simple and use any bottled spices too!
For the cream cheese filling:
Cream Cheese – Start with softened cream cheese otherwise it'll be too difficult to work with when mixing.
Sugar – For sweetening up the filling.
Vanilla Extract – Just a bit of vanilla for flavor with some sugar and cream cheese is all you need for this simple sweet cream cheese filling!
What We Love About This Recipe:
It's hard to resist the rich and creamy sweet filling in these pumpkin muffins! They have us coming back for more and more.
You can serve the pumpkin muffins for breakfast or as a dessert or snack!
These are simple to make, but look so fancy with that cream cheese center!
How To Make Muffin Mix:
Wet Ingredients: We're going to start by creaming together our butter and sugar until it's light and creamy. This helps incorporate air into the muffin so it's light and fluffy instead of dry and dense.
Beat in your buttermilk, eggs, and pumpkin.
Helpful Tip!
If you don't have buttermilk on hand, use a 1/2 cup of milk + a couple teaspoons of vinegar. Let it set in the measuring cup for 5 minutes to sour. Boom – instant buttermilk!
It's so easy to whip up dessert with this cute hand mixer. It doesn't take up much space and is a must for any kitchen!
Dry Ingredients: Next comes the dry ingredients: flour, baking soda, baking powder, and pumpkin pie spice!
Stir that in by hand. Don't overmix or your muffins will be tough.
Combine: Stir together some softened cream cheese, sugar, and vanilla extract in a mixing bowl. That's pretty much all there is to preparing the sweet and creamy filling for the pumpkin muffins!
Assemble: To prepare the pumpkin muffins for baking start by dropping a tablespoon or two of the muffin batter into the wells of a lined muffin tin.
Filling: Next drop a teaspoon of the cream cheese filling over the muffin batter in each of the wells of the muffin tin.
Cover: Cover the cream cheese with the remaining batter and pop these guys into the oven.
These pumpkin muffins bake in about 25 minutes.
Let cool a bit before digging in!
FAQ's:
How to store leftover muffins?
These pumpkin muffins with cream cheese filling can be stored safely in the fridge for about 4 days.
Let them cool completely before placing in a paper towel lined container, and then topping with another layer of paper towels. This will help to keep them from getting all soggy in the fridge!
Can I freeze these muffins?
I haven't tested freezing these pumpkin cream cheese muffins, but they should freeze well.
MORE PUMPKIN DESSERT RECIPES!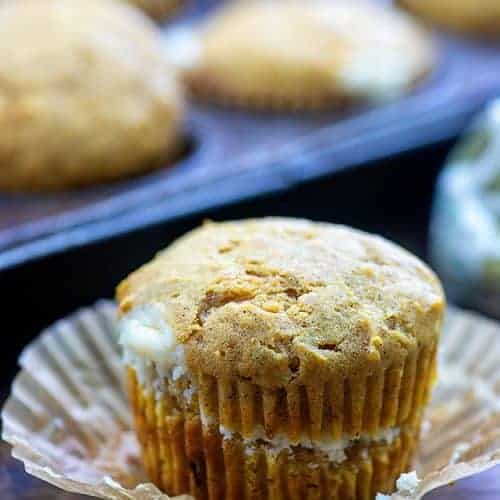 Pumpkin Muffins with Cream Cheese Filling
These pumpkin muffins are so moist and full of pumpkin flavor. The cream cheese center is the perfect sweet surprise.
Prep10 minutes
Cook25 minutes
Total35 minutes
Ingredients
For the muffins:
1/3 cup butter softened
1/2 cup sugar
1/4 cup packed brown sugar
2/3 cup canned pumpkin
1/2 cup buttermilk
2 large eggs
2 cups all-purpose flour
1 teaspoon baking soda
1/2 teaspoon baking powder
1 tablespoon pumpkin pie spice
1/4 teaspoon salt
For the cream cheese filling:
4 ounces softened cream cheese
2 tablespoons granulated sugar
1 teaspoon vanilla extract
Instructions
Pre-heat oven to 350 degrees.

Cream together butter and sugars until creamy.

Beat in pumpkin, buttermilk, and eggs.

Combine the dry ingredients in a small bowl and mix into the batter. Stir just until combined. Set aside.

Combine the cream cheese, sugar, and vanilla and mix until smooth and creamy.

Grease or line a muffin tin with papers and drop one to two tablespoons of the batter into each muffin cup.

Drop one teaspoon of the filling in each muffin cup.

Add one more tablespoon of batter to each muffin cup to cover the filling.

Bake for 24-27 minutes or until baked through. Cool for 5 minutes before removing to a cooling rack.
Tips & Notes:
Be sure to use 100% pumpkin and not a can of pumpkin pie filling.
You can use store bought pumpkin pie spice or our homemade pumpkin pie spice.
Nutrition Information:
Serving: 1muffin| Calories: 223kcal (11%)| Carbohydrates: 33g (11%)| Protein: 4g (8%)| Fat: 8g (12%)| Saturated Fat: 4g (25%)| Cholesterol: 52mg (17%)| Sodium: 228mg (10%)| Potassium: 111mg (3%)| Fiber: 1g (4%)| Sugar: 16g (18%)| Vitamin A: 2425IU (49%)| Vitamin C: 0.6mg (1%)| Calcium: 46mg (5%)| Iron: 1.4mg (8%)
This post was originally published in September 2012.