I have a deep and abiding love for baked donuts and I think you will too after trying these pumpkin donuts!
Imagine for a moment that I'm singing…It's the moooooost wonderful time of the yeeeeeeaaaaaaar!
Don't worry. I wouldn't actually sing that out loud to you. I'm a terrible singer. Also, I'm totally not singing about Christmas.
It's pumpkin everything season and I, for one, am happy about that.
I know it's pretty popular to hate on pumpkin lately and that's cool. You be you. I'm gonna be me – wearing pumpkin orange clothing, drinking pumpkin spice lattes, eating pumpkin coffee cake, enjoying pumpkin pie muffins, and devouring these baked pumpkin donuts.
Because, pumpkin pumpkin pumpkin.
Oh, and did I mention the browned butter glaze? I know. I'm so basic. It's just that pumpkin and browned butter belong together. They're soul mates. They were married back in 1942 and they've been going strong ever since.
So, let's get off the pumpkin train for 3 seconds while I tell you about my dishwasher. <— I'm the master of jumping from one topic to the next, right? Heh.
If you'll recall, I've recently-ish moved into a new home with a dream kitchen. The dream kitchen was full of outdated appliances. That made me sad, so I shopped and shopped and fell in love with the GE Profile appliance line. They're sleek and sexy and they get great reviews. What's not to love?
So, I asked GE if they'd like to work together and they shipped me a truck full of shiny kitchen appliances and I created some new recipes to share with you and here we are. A match made in heaven, if you ask me.
Read my review of the GE Profile fridge here and the slide-in range here.
So, lemme tell you about my dishwasher. It gets things clean. That's the most important part, because I'm sure most of us have had bad luck with dishwashers before. It is also unbelievably quiet. The first few times we used it, I would press my head up against it to be sure it was running. <— Not weird at all.
I love that the buttons are on the top of the door, so they're all hidden away from view. It gives the dishwasher a nice modern, streamlined look.
Aaaaand did I mention the third rack? Because there is a third rack. And it's glorious. I toss my tongs and big spoons and spatulas up there and they get nice and clean without getting in the way of everything else. Brilliant.
Anyway, after you whip up these little donuts, toss your donut pan right in the dishwasher and be done with it all. Easy breezy chicken squeezy.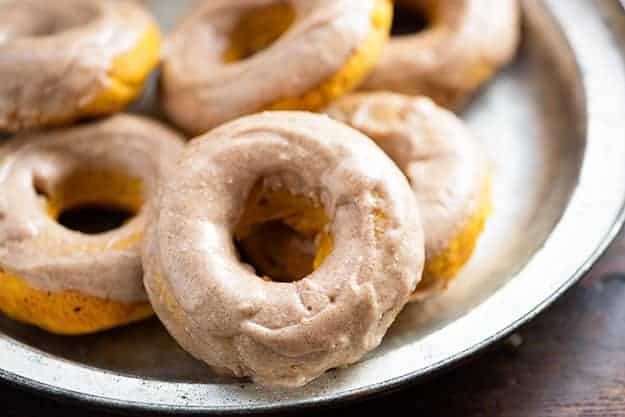 Browned Butter Pumpkin Donuts
I have a deep and abiding love for baked donuts and I think you will too after trying these pumpkin donuts!
Prep10 minutes
Cook10 minutes
Total20 minutes
Ingredients
For the donuts:
1 cup flour
1/4 cup brown sugar
1 teaspoon cinnamon
3/4 teaspoon baking powder
1/4 teaspoon salt
1/8 teaspoon baking soda
1/8 teaspoon ginger
1/8 teaspoon nutmeg
1/4 cup pumpkin
1 large egg
2 tablespoons milk
2 tablespoons vegetable oil
For the glaze:
4 tablespoons unsalted butter
1 cup powdered sugar
2 tablespoons milk or cream
1/2 teaspoon vanilla
Instructions
Preheat oven to 375 degrees. Spray a donut pan with non-stick spray.

Add the dry ingredients to the bowl of a stand mixer fitted with the whisk. Mix to combine.

Add the pumpkin, egg, milk, and oil to the bowl and beat until well combined.

Spoon mixture into the donut pan and bake for 8-10 minutes or until a tester comes out clean.

While the donuts are cooling in the pan, melt the butter in a small saucepan over low heat. Whisk constantly and continue cooking until golden, about 8 minutes.

Pour the butter into a small bowl and whisk in the powdered sugar, milk, and vanilla until smooth.

Dip the donut tops (slightly warm or cool) in the glaze and enjoy.
Nutrition Information:
Calories: 317kcal (16%)| Carbohydrates: 46g (15%)| Protein: 3g (6%)| Fat: 13g (20%)| Saturated Fat: 9g (56%)| Cholesterol: 52mg (17%)| Sodium: 140mg (6%)| Potassium: 126mg (4%)| Sugar: 29g (32%)| Vitamin A: 690IU (14%)| Vitamin C: 0.4mg| Calcium: 54mg (5%)| Iron: 1.3mg (7%)