August 8, 2018
Browned Butter Glazed Cinnamon Donuts
So, my son, the one who is away at camp, finally deigned to call me last night. No big deal, I don't need to talk to him every day or anything. I'm just his mother.
You know, the lady who grew him? The lady who chewed Tums like they were candy because of the heartburn he caused? The lady whose body he sprung forth from. The lady whose mouth he vomited in when he was a baby.
Yeah, that lady. Me. His mother.
He called me. Finally. And he totally broke one of the many rules that I left him with when I dropped him off at camp. He went swimming in Lake Michigan without me. Oh, I'm not worried about him drowning or concerned he'll get sun burnt. No, I just didn't want him to enjoy the sand and the waves while I was at home scrubbing toilets and cooking my daughter seventeen meals a day. She's going through a growth spurt, man.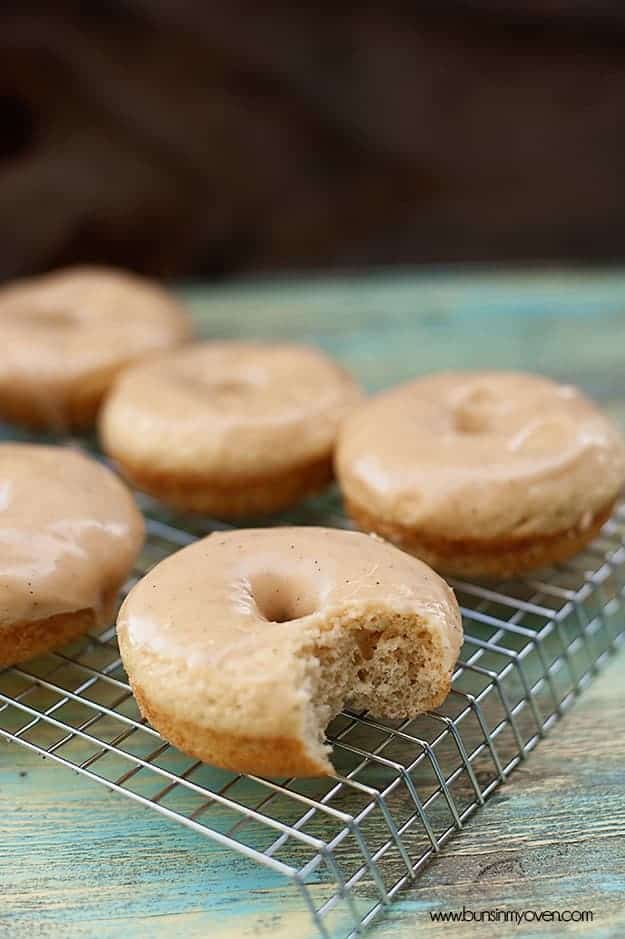 So, to console myself, I made donuts. The donuts themselves are really, really good. They are by far the best baked donuts I've made to date. (I generally prefer the fried version, myself.) The kicker, though? The browned butter glaze. Ho. Lee. Hay-ull. You guys wouldn't believe me if I told you that I ate the leftover glaze with a spoon and licked the glaze off the top of the two remaining donuts this afternoon, but it happened. <–Truth.
Please go make this happen in your kitchen.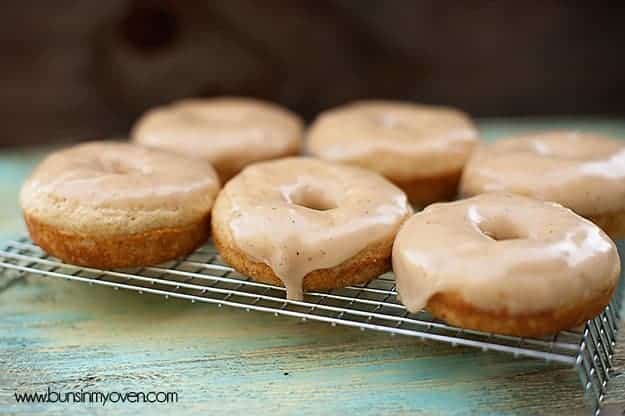 Browned Butter Glazed Cinnamon Donuts
Servings: 6 donuts
Course: Breakfast
Cuisine: American
Keyword: donuts
Calories: 286 kcal
Baked donuts topped off with a browned butter glaze - so good!
Ingredients
For the donuts:
1 cup flour
1/4 cup plus 2 tablespoons white sugar
1 teaspoon baking powder
1/8 teaspoon ground nutmeg
1/8 teaspoon ground cinnamon
1/2 teaspoon salt
1/3 cup buttermilk
1 egg beaten
1/2 teaspoon vanilla
1 1/2 teaspoons butter melted
For the Browned Butter glaze:
4 tablespoons unsalted butter
1 cup powdered sugar
2 tablespoons milk or cream
1/2 teaspoon vanilla
Instructions
To make the donuts:
Preheat the oven to 325 degrees. Lightly grease a donut pan.

In a large bowl, whisk together the flour, sugar, baking powder, nutmeg, cinnamon, and salt.

In a small bowl, stir together the butter milk, egg, and butter.

Add the wet ingredients to the dry and stir with a wooden spoon until fully incorporated.

Fill the donut pan and bake for 8 minutes or until lightly browned and cooked through.

Remove from the oven and cool in the pan for a few minutes before transferring to a wire rack.
To make the glaze:
While the donuts are cooling in the pan, melt the butter in a small saucepan over low heat until it browned, about 8 minutes.

Pour the butter into a small bowl, leaving behind most of the blackened sediment on the bottom of the pan, and whisk in the powdered sugar, milk, and vanilla until smooth.

Dip the donut tops (slightly warm or cool) in the glaze and enjoy.
Nutrition Facts
Browned Butter Glazed Cinnamon Donuts
Amount Per Serving (1 donut)
Calories 286 Calories from Fat 90
% Daily Value*
Fat 10g15%
Saturated Fat 6g38%
Cholesterol 52mg17%
Sodium 231mg10%
Potassium 124mg4%
Carbohydrates 45g15%
Sugar 28g31%
Protein 3g6%
Vitamin A 325IU7%
Calcium 59mg6%
Iron 1.2mg7%
* Percent Daily Values are based on a 2000 calorie diet.
Nutrition Disclaimer: All information presented on this site is intended for informational purposes only. I am not a certified nutritionist and any nutritional information shared on bunsinmyoven.com should only be used as a general guideline.
donut recipe from Allrecipes.com