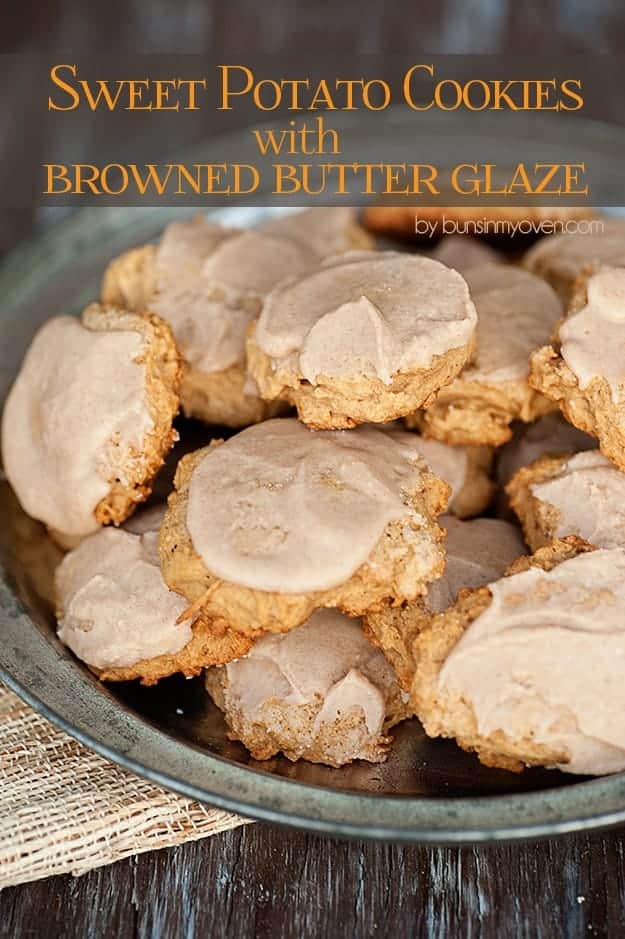 So, I would like to make a new rule about TV.
That rule is that the TV people ban the commercials for The Conjuring.
Look, I saw the movie. It wasn't even that scary. I didn't scream or pee my pants once, which is saying something.
But this week my husband has been out of town. He's home now, so don't bother coming to kill me. He is very manly.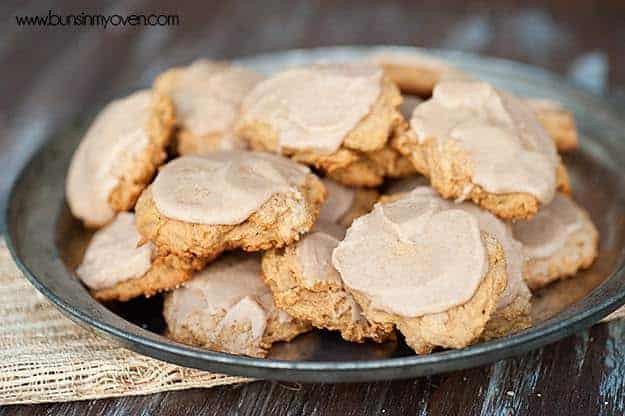 Anyway. He's been out of town and I am telling you, that stupid commercial with the clapping coming from the closet almost did me in.
It's very hard to sleep when you have to open your eyeballs to stare at your closet in an accusatory manner every 30 seconds.
Our dog is usually kenneled at night, but she cuddled with me all week. She's tiny and fluffy and not very smart, so I'm not sure how much protection she would really be, but at least she kept my toes warm?
Anyway, I made some amazing cookies.
These Sweet Potato Cookies with Browned Butter Glaze taste like Fall.
The cookies are soft and full of cinnamon and sweet potato flavors. You can swap out the sweet potato with pumpkin if you're scared of putting potatoes in your cookies.
Also, hello. Browned Butter Glaze.
You'll want to just eat it with a spoon, so I recommend doubling the batch so you'll have enough for the cookies and enough for you, a spoon, a dark room, and a bucketful of shame.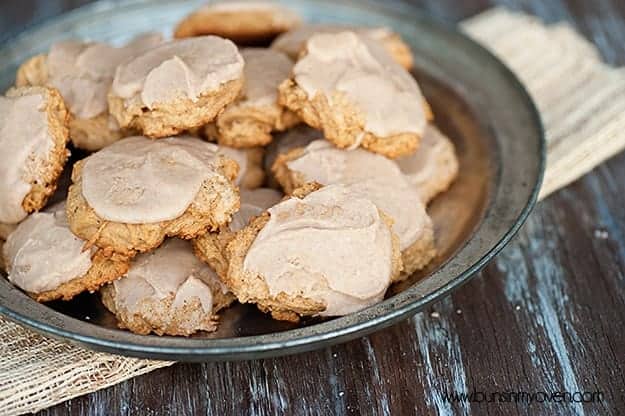 Sweet Potato Cookies
These sweet potato cookies are topped with most delicious browned butter glaze! I could eat a dozen in a matter of minutes.
Prep20 minutes
Cook12 minutes
Ingredients
For the cookies
15 ounces canned sweet potatoes, in syrup
1/2 cup butter, room temperature
1/2 cup white sugar, plus 1 tablespoon
1/2 cup brown sugar
1 large egg
1 3/4 cups flour
1 teaspoon baking soda
1 teaspoon baking powder
2 teaspoon cinnamon
1/2 teaspoon salt
1/4 teaspoon nutmeg
For the glaze
1/2 cup butter
1 1/2 cups powdered sugar
Instructions
Preheat the oven to 350°F. Line cookie sheets with parchment paper.

Drain the syrup from the sweet potatoes and place the sweet potatoes in a blender or food processor and process until smooth.

In a large bowl, beat together the butter and 1/2 cup of white and brown sugar until light and fluffy. Beat in the egg and pureed sweet potatoes until well combined.

In a small bowl, combine the flour, baking soda, baking powder, cinnamon, salt, and nutmeg.

Add the dry ingredients to the batter and mmix until well combined.

Drop spoonfuls of dough onto prepared cookie sheet. Dip the bottom of a drinking glass in the remaining 1 tablespoon of sugar and gently press it to the top of the cookies to slightly flatten.

Bake for 12 minutes. Remove from the oven and cool completely before glazing.

Add the butter to a small saucepan set over medium heat. Melt the butter and continue cooking over medium heat, whisking constantly. Butter will foam as it cooks. Cook until the butter turns a golden brown.

Remove from the heat. Stir in the powdered sugar and whisk until you have a smooth glaze.

Spread a small spoonful of glaze on each cookie.
Tips & Notes:
Canned yams may also be used.
Nutrition Information:
Serving: 1cookie| Calories: 151kcal (8%)| Carbohydrates: 23g (8%)| Protein: 1g (2%)| Fat: 6g (9%)| Saturated Fat: 4g (25%)| Cholesterol: 23mg (8%)| Sodium: 135mg (6%)| Potassium: 144mg (4%)| Fiber: 1g (4%)| Sugar: 13g (14%)| Vitamin A: 219IU (4%)| Vitamin C: 2mg (2%)| Calcium: 17mg (2%)| Iron: 1mg (6%)