August 26, 2018
Browned Butter Glazed Pecan Cookies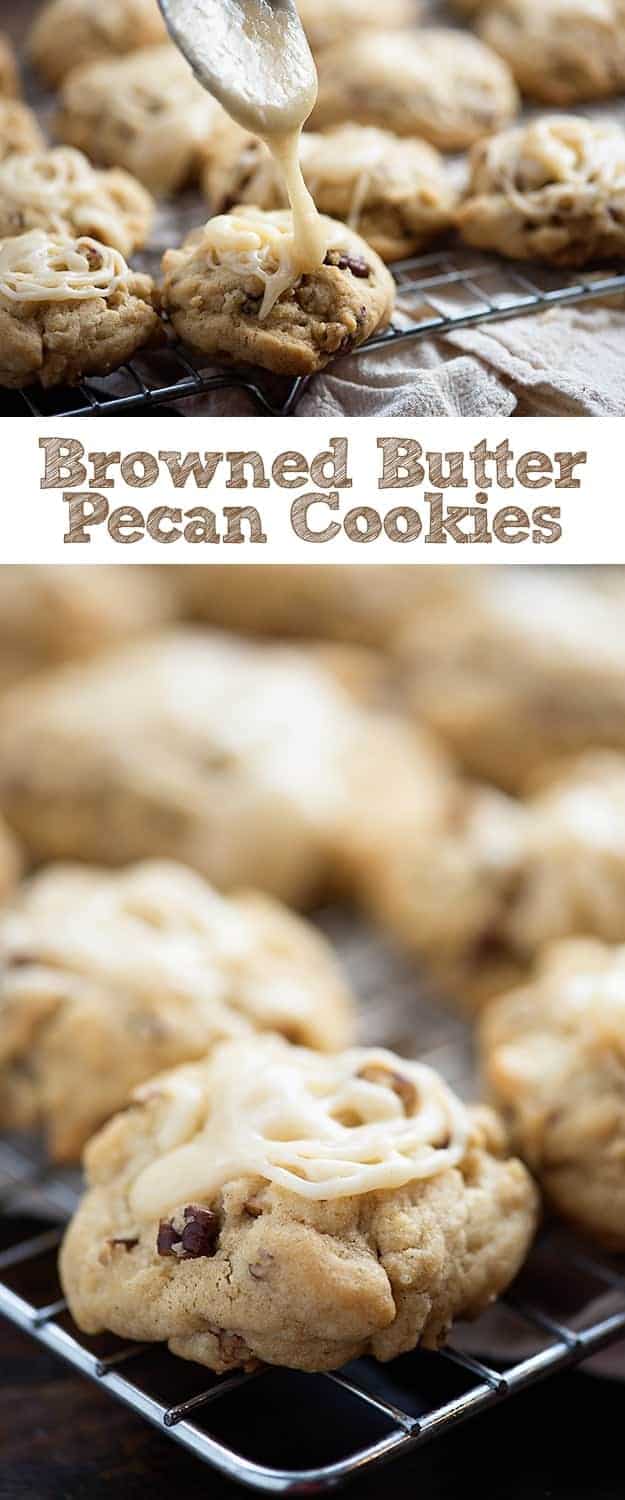 So, did I tell y'all about my son? My fifteen year old son? My fifteen year old son who happened to get his driver's permit and is now driving my car around like it ain't no thang.
I don't want to weird anyone out or anything, but he was a tiny little peanut that lived inside my body not all that long ago.
And now I'm hanging on to the dashboard in my car and screaming at him to please, for the love of all that is holy, use the brake when you make a turn, Son!
How did this happen? How did we go from itty bitty baby to hairy man? And more importantly, how do we make it stop? 
Just for fun, here's a picture of the kid when I started this blog in 2008.
Aaaaaand, here's a picture of him now. Ridiculous.
Anyway, because I'm obviously in the midst of a midlife crisis, I thought I'd make some cookies. Some freakin' amazing cookies, in fact.
I took my classic pecan sandies cookie recipe and I skipped the part where you roll the dough in sugar before baking. I know. That doesn't sound like something I would do…skip sugar? Weird.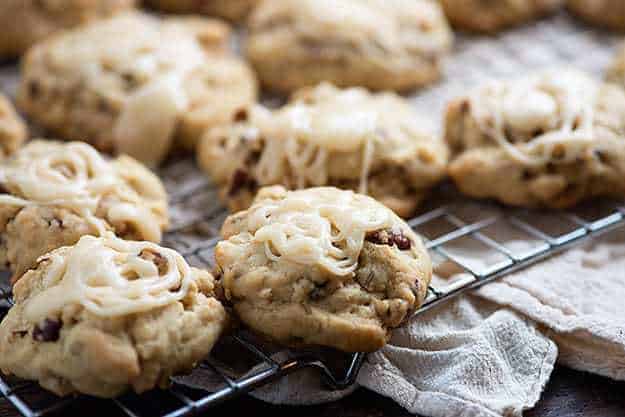 But, I had grander plans than boring old sugar.
I whipped up my most favorite of glazes – browned butter glaze. It's so simple to make, only takes 3 ingredients, and is legit done in about 5 minutes. I know browned butter is, like, a thing now and every and their mom is doing it to be cool and trendy, but I am here to tell you that it is so not about that. It's about the taste! It's rich and deep and just has so much flavor.
I drizzled the glaze right over these pecan cookies and then I got in the car with my son. Every time I got the urge to grab hold of the steering wheel, I just shoved a cookie in my mouth instead.
(Alright, so actually, my kid is doing really well at driving! He's super cautious and careful and sometimes I even have to tell him to speed up. I really do have to remind him about using the brake when turning though. One day he's going to flip us right over, I'm sure of it.)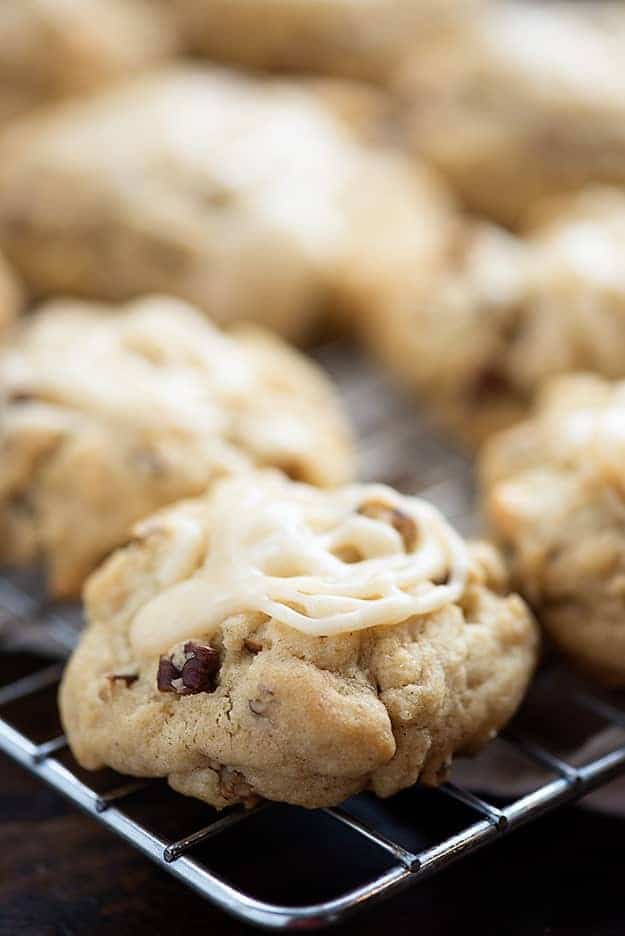 Browned Butter Glazed Pecan Cookies
Servings: 24 cookies
Course: Dessert
Cuisine: American
Keyword: easy cookie recipes, holiday recipes, kid-friendly recipes
Calories: 204 kcal
I took my classic pecan sandies cookie recipe and I skipped the part where you roll the dough in sugar before baking. I know. That doesn't sound like something I would do...skip sugar? Weird.
Ingredients
For the cookies:
1 cup butter softened
1/2 cup packed brown sugar
1/2 cup powdered sugar
1 large egg
1 teaspoon vanilla extract
2 cups flour
1/2 teaspoon baking soda
1/2 teaspoon cream of tartar
1/2 teaspoon salt
1 cup chopped pecans
For the glaze:
1/4 cup butter
1 cup powdered sugar
1 1/2 tablespoons milk
Instructions
To make the cookies, preheat oven to 375 degrees.

In the bowl of a stand mixer, cream together the butter and sugars until light and fluffy. Beat in the egg and vanilla until well combined.

In a medium bowl, whisk together the flour, baking soda, cream of tartar, and salt.

Slowly add to the butter mixture and mix on low until just combined. Stir in the pecans.

Drop balls of cookie dough on a parchment lined cookie sheet 1 inch apart (they don't spread much at all) and bake for 10 - 12 minutes or until the edges are golden.

Cool on wire racks.

To make the glaze, melt the butter in a small saucepan over low heat until browned, whisking constantly, about 5 minutes.

Remove from the heat. Whisk in the powdered sugar and milk until smooth.

Use a spoon to drizzle the glaze over the cookies.
Nutrition Facts
Browned Butter Glazed Pecan Cookies
Amount Per Serving
Calories 204 Calories from Fat 117
% Daily Value*
Fat 13g20%
Saturated Fat 6g38%
Cholesterol 33mg11%
Sodium 160mg7%
Potassium 51mg1%
Carbohydrates 20g7%
Sugar 12g13%
Protein 1g2%
Vitamin A 310IU6%
Vitamin C 0.1mg0%
Calcium 14mg1%
Iron 0.7mg4%
* Percent Daily Values are based on a 2000 calorie diet.
Nutrition Disclaimer: All information presented on this site is intended for informational purposes only. I am not a certified nutritionist and any nutritional information shared on bunsinmyoven.com should only be used as a general guideline.