This chocolate bundt cake is rich, velvety, dense, and basically what every chocolate pound cake dreams of being!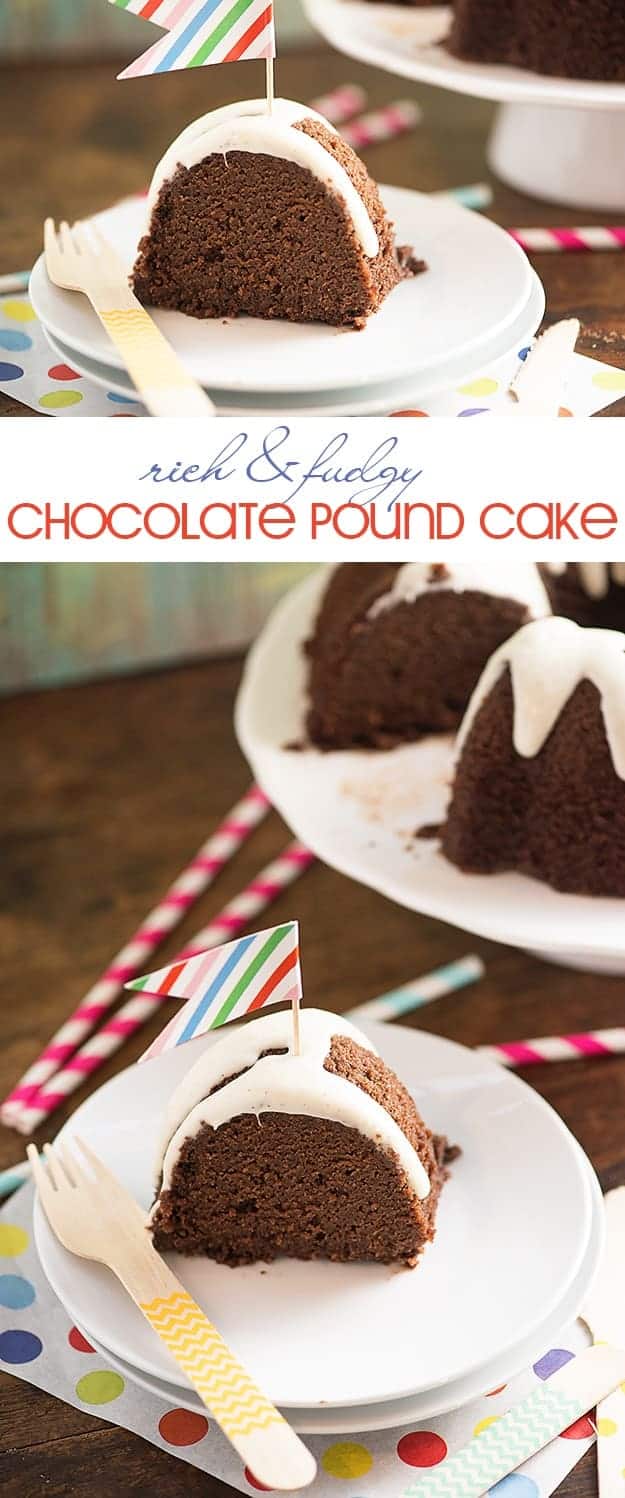 It's Monday, y'all. Which means that I'm crying into a cup of coffee and wondering why the weekend isn't just a day or two longer each week.
That's a lie, actually. I'm one of those weirdos who doesn't drink coffee. It makes me all jittery and insane. I do eat pumpkin coffee cake though, so there's that.
We had a good weekend. My husband's cousin was married and the wedding was beautiful.
My husband asked our daughter to dance and they slow danced for a song while I sat and melted from the cuteness of it all.
My son drank 33 glasses of Dr. Pepper while I gave him the evil eye. We have a rule at home – if there is soda in the house, he can have one per day. That rule goes right out the window when we're out and about, which is usually fine at a restaurant because how many refills can you get over the course of a meal? It' a little different when you're at a wedding reception for hours. Do you have similar rules or am I crazy? My son is 15. Sometimes I feel like I should lay off, other times I feel like he'd drink nothing but Dr. Pepper.
Anyway, all of that has nothing to do with this chocolate bundt cake. It is divine, you guys. Rich, dense, almost a little fudgy in texture. It's everything I dream about a chocolate pound cake being.
I'm usually pretty scared of making bundt cakes, because sometimes they stick. I've been having good luck with this bundt pan. I love that it can fit 10 to 15 cups of batter in it, so you pretty much never need another bundt pan. It also has over 1,000 5 star reviews and ZERO reviews less than 4 stars. It's a good pan.
I spray the heck out of it with some baking spray. Make sure you really get it alllllll over the pan. Here's a link to what I use, but I recommend just purchasing this one at Walmart.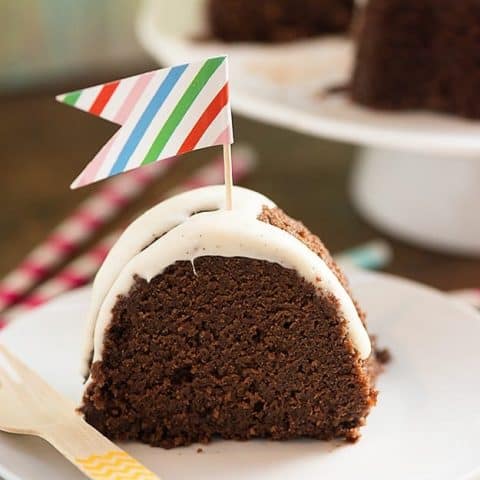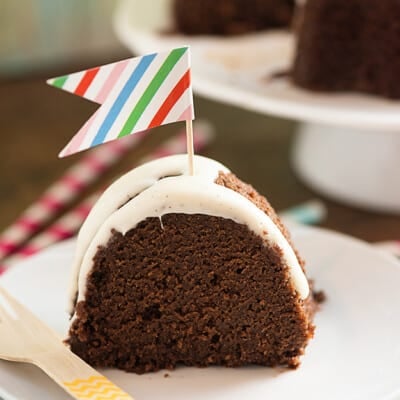 Chocolate Pound Cake
This chocolate bundt cake is rich, velvety, dense, and basically what every chocolate pound cake dreams of being!
Prep20 minutes
Cook1 hour 10 minutes
Total1 hour 30 minutes
Ingredients
1 1/2 cups butter room temperature
3 cups sugar
5 large eggs
1 tablespoon vanilla
1 1/4 cups buttermilk
2 cups flour
3/4 cup cocoa powder
1 teaspoon salt
1 teaspoon espresso powder
1/2 teaspoon baking powder
2 cups powdered sugar
1/4 cup heavy cream
1 teaspoon vanilla
Instructions
Preheat oven to 300 degrees. Liberally grease and flour a 12 cup bundt pan.

Cream together the butter and sugar in a stand mixer until light and fluffy.

Beat in the eggs, one at a time, until well combined. Stir in the vanilla.

In a small bowl, stir together the flour, cocoa powder, salt, espresso powder, and baking powder.

Gradually beat in the flour mixture, alternately with the buttermilk, until combined.

Bake for 70 minutes or until a tester comes out clean. Let cool in the pan for 20 minutes before turning out onto a cake plate to cool completely.

To prepare the glaze, whisk together the powdered sugar, cream, and vanilla. When smooth, drizzle over the cake.
Nutrition Information:
Calories: 472kcal (24%)| Carbohydrates: 68g (23%)| Protein: 5g (10%)| Fat: 21g (32%)| Saturated Fat: 12g (75%)| Cholesterol: 111mg (37%)| Sodium: 342mg (15%)| Potassium: 147mg (4%)| Fiber: 1g (4%)| Sugar: 53g (59%)| Vitamin A: 700IU (14%)| Calcium: 51mg (5%)| Iron: 1.6mg (9%)