Our Pumpkin Coffee Cake is made with the biggest, fattest streusel you'll ever see. Plus, we packed in as much pumpkin as possible, giving this cake a texture that's a cross between pie and cake – so rich and dense, perfect for fall, and totally irresistible!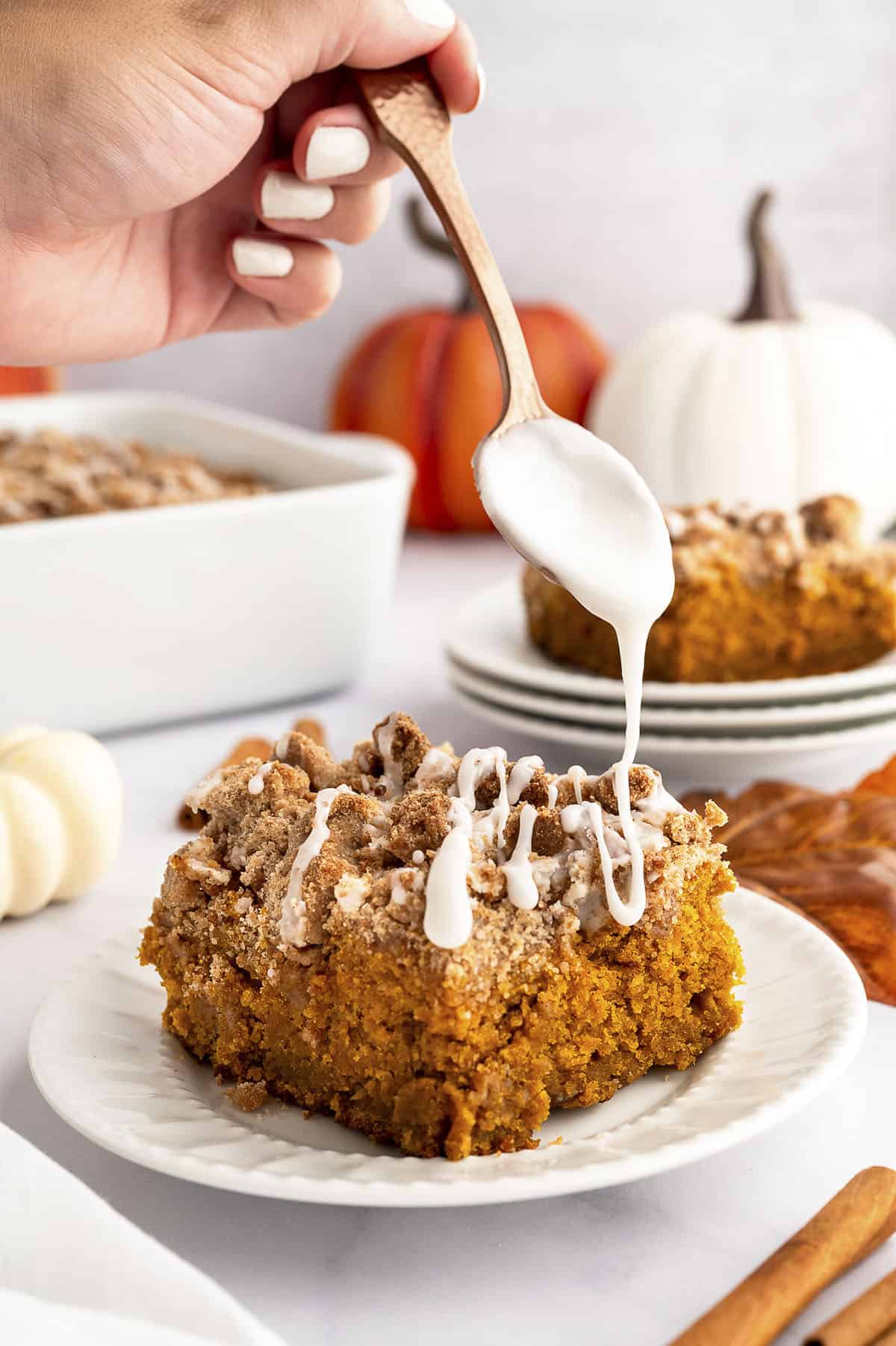 I feel like this pumpkin coffee cake recipe needs a disclaimer. Let's just get that over with right off the bat –
Warning: What you are about to see is disturbing in the best way possible. This pumpkin coffee cake is so moist and dense, much like a pumpkin pie, that you'll wonder how life can be so magical. Your eyes will struggle to take in the gloriousness that is the humongous gobs of streusel topping. Ordinary coffee cake will never taste as good to you after eating this one.
There. Now that all the legal disclaimers are out of the way, let's talk about this recipe.
It is, in a word, phenomenal. In fact, it's one of my favorite recipes that I've developed over the years and let's be real…I've created a lot of dang recipes.
I took my very favorite cinnamon swirl pumpkin coffee cake that I make year after year and I doctored it up into this glorious piece of heaven topped with magical streusel. The streusel. I can't stop talking about it.
I used the streusel recipe from one of my favorite cookbooks – (affiliate link) Baked Explorations. The streusel comes out in thick chunks and the recipe makes a lot.
The cake itself is not like your normal cake. It's a cross between a pumpkin pie filling and a cake, which sounds weird but is actually quite delightful. The cake, thanks to the two full cans of pumpkin, is super moist and dense, like a custard, but not quite so heavy. It's just really, really good.
Let's do this!
Ingredient Notes:
This post contains affiliate links. As an Amazon associate and member of other qualifying programs, I earn from qualifying purchases.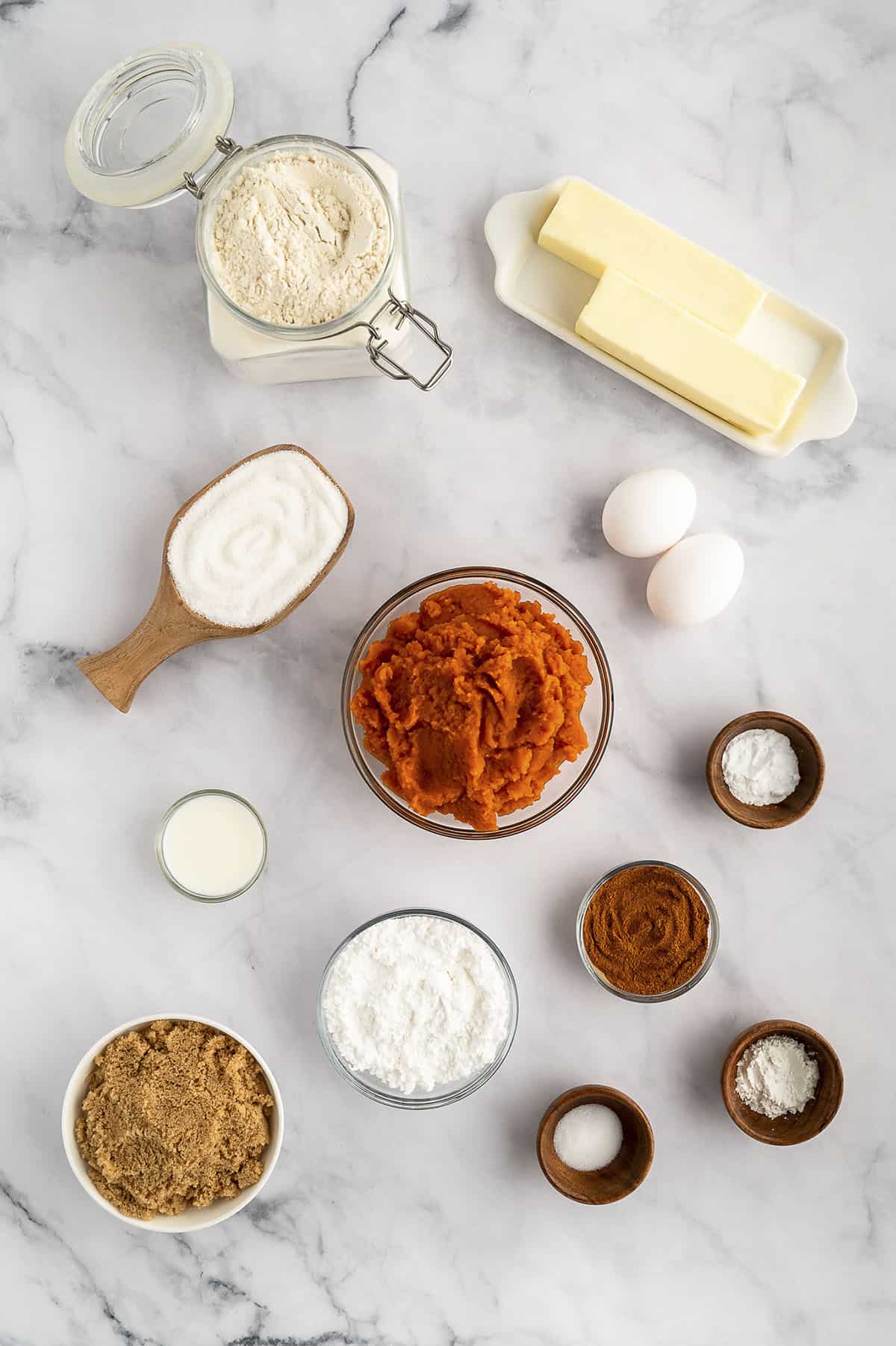 Pumpkin – Be sure to use 100% pure canned pumpkin. You won't want the can of pumpkin pie filling that has the spices and extra liquids added to it.
Cinnamon – Did you know that pumpkin itself doesn't have a whole lot of flavor? That familiar flavor we all know and love is from the spices added. We call for plain cinnamon in this recipe, but you could also use our homemade pumpkin pie spice for even more warm, fall flavor.
Butter – We love the rich flavor of real butter in this pumpkin coffee cake and between the streusel and the cake itself, you'll use a full pound of it. We only live once, so let's do it right.
Streusel – The streusel ingredients are brown sugar, granulated sugar, butter, flour, and cinnamon. Easy peasy.
Glaze – We'll whisk together powdered sugar and milk to make a simple glaze that you'll spoon over the top of the cake.
What We Love About This Recipe:
Streusel: I can not stress enough how good this streusel is. The pieces are huge and the layer of streusel is thick. We don't skimp here.
Moist & Dense: This is NOT your traditional cake! We were going for a cross between a pumpkin pie and a coffee cake and that's what we achieved. If you're looking for a light and airy crumb, you'll want to find another recipe.
Fall Favorite: This is one of those recipes that you'll make year after year. Everyone raves about it and looks forward to enjoying it every year.
Simple: While the ingredient list does look a bit long, the recipe comes together quite easily. There is nothing fussy about this recipe, so long as you have a bit of time to put it all together.
Tips & Tricks: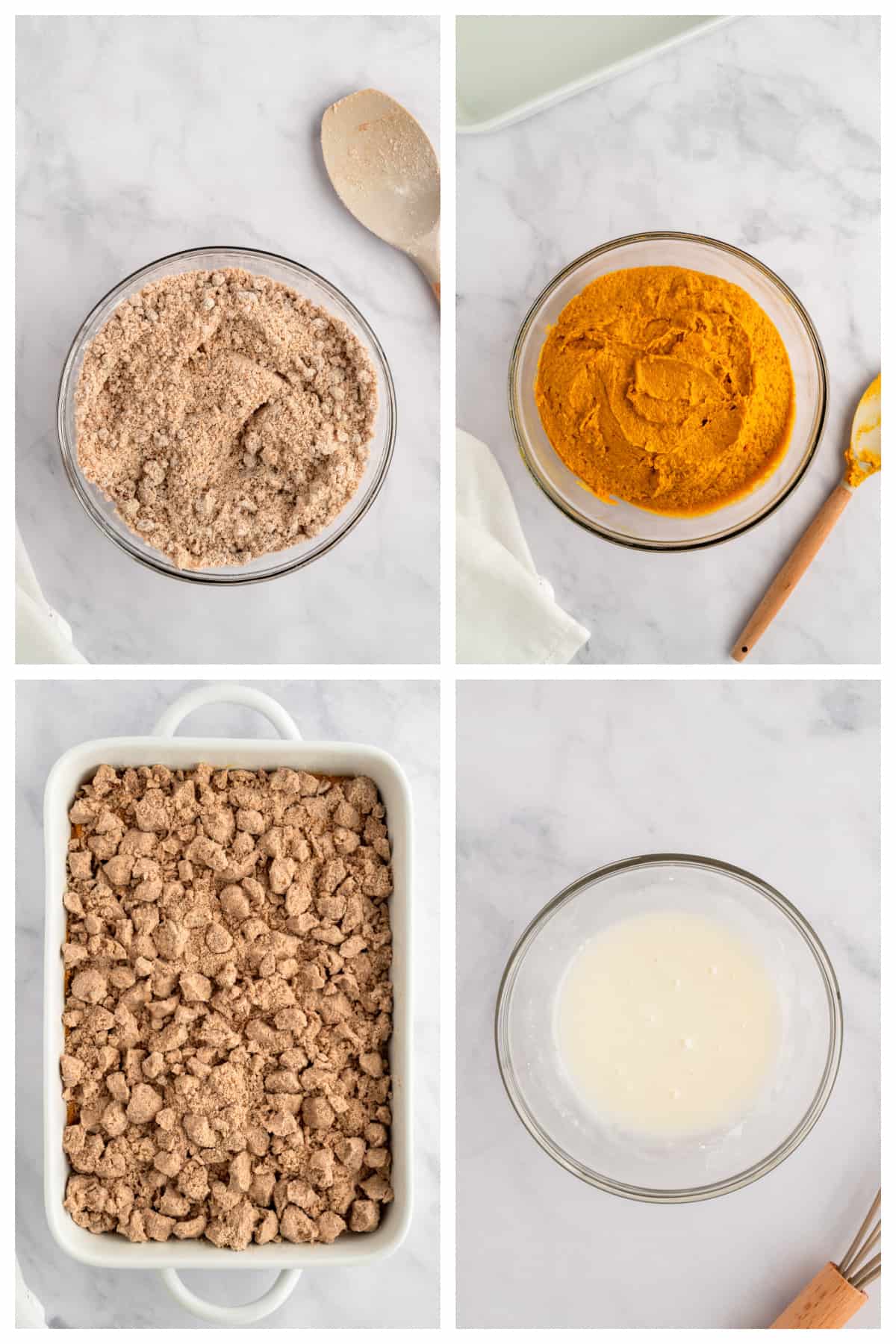 Streusel – Unlike most streusel recipes, this starts with melted butter! Makes it so easy. Because we're using melted butter though, you'll want to make the streusel first and then let it sit to dry a bit as you work on the cake batter.
Cake Batter – You'll want an electric mixer for this one as we're creaming together butter and sugar to start the cake batter. We'll stir in the pumpkin, eggs, and flour until just combined to help keep the cake from becoming tough.
Bake – This recipe is meant to be super moist and dense, which makes the toothpick test a little tricky. A toothpick should come out mostly clean, but not fully dry. If it's fully dry with no crumbs on it, you've probably overbaked your cake.
Glaze – This is totally optional, but we love a simple powdered sugar glaze. Feel free to doctor it up by adding a dash of vanilla extract or maple extract. You can't go wrong with either.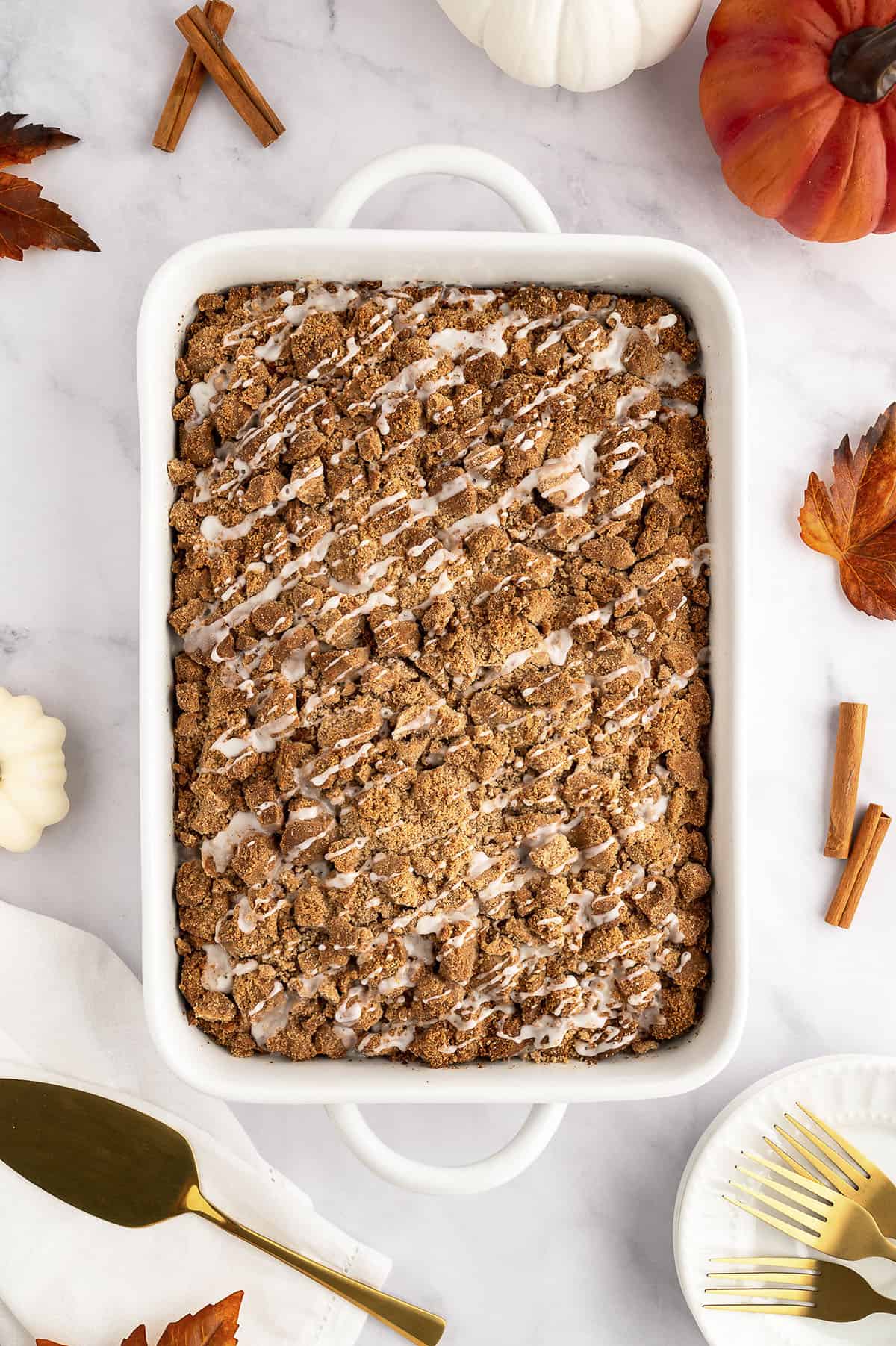 What Readers are Saying!
"I've made this recipe over ten times and have it bookmarked because it is SO good. Crowd pleaser for sure. Everywhere I bring it, the people RAVE. It is moist and delicious. If you don't like this, go get yourself checked…" – Rachel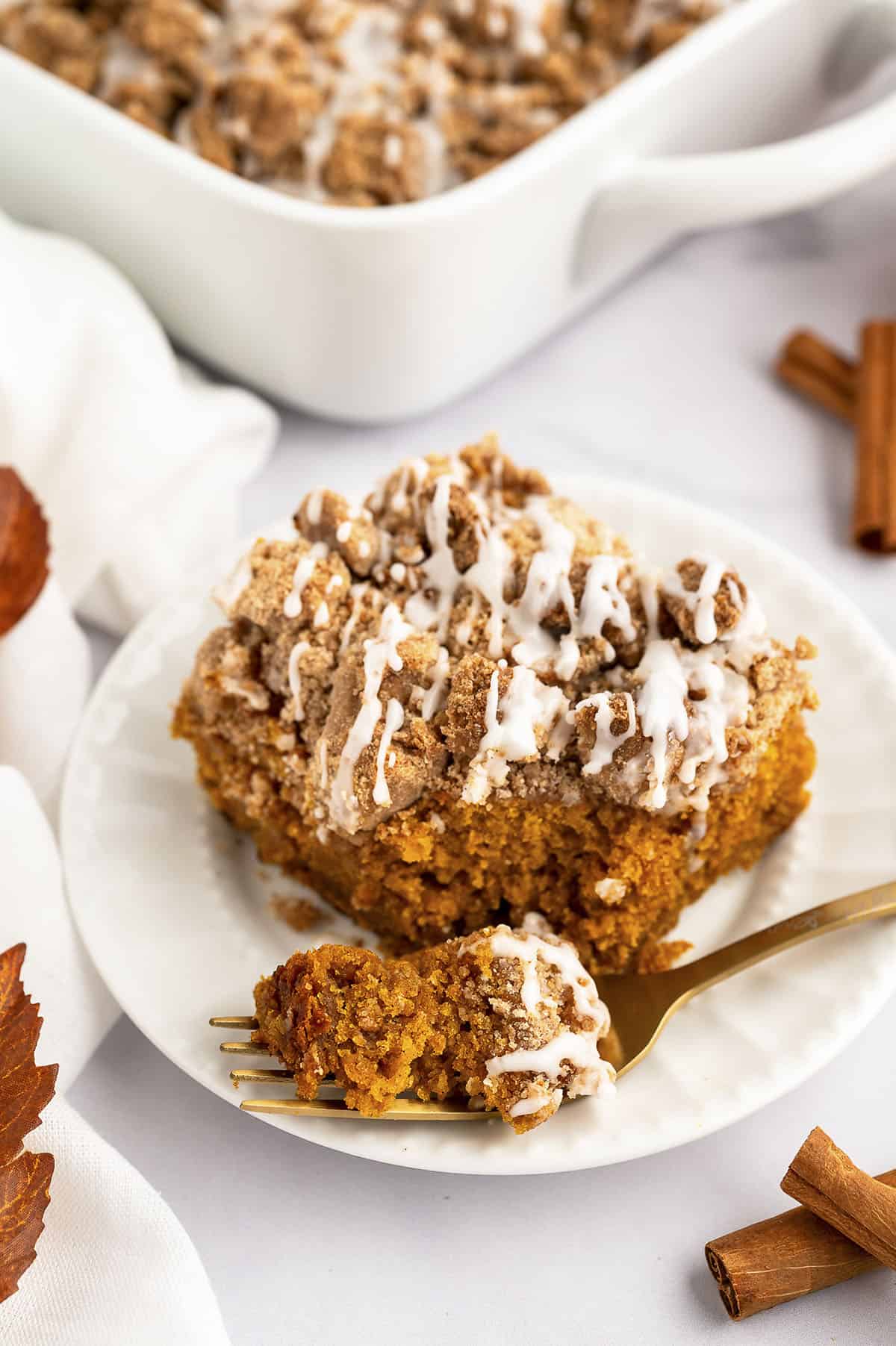 FAQ:
Is coffee cake dessert?
Coffee cake is traditionally served with a cup of coffee, as a sweet afternoon or evening treat. We consider this pumpkin coffee cake to be dessert, thanks to the copious amounts of cinnamon streusel and the sweet vanilla glaze.
Does coffee cake taste like coffee?
No, there is no actual coffee in most coffee cakes. These cakes are named coffee cake because they're meant to be served with a cup of coffee.
Should I refrigerate my coffee cake?
While some coffee cakes will do fine on the counter for a few days, our pumpkin coffee cake packs in so much pumpkin that you'll really want to store it in the fridge for maximum freshness.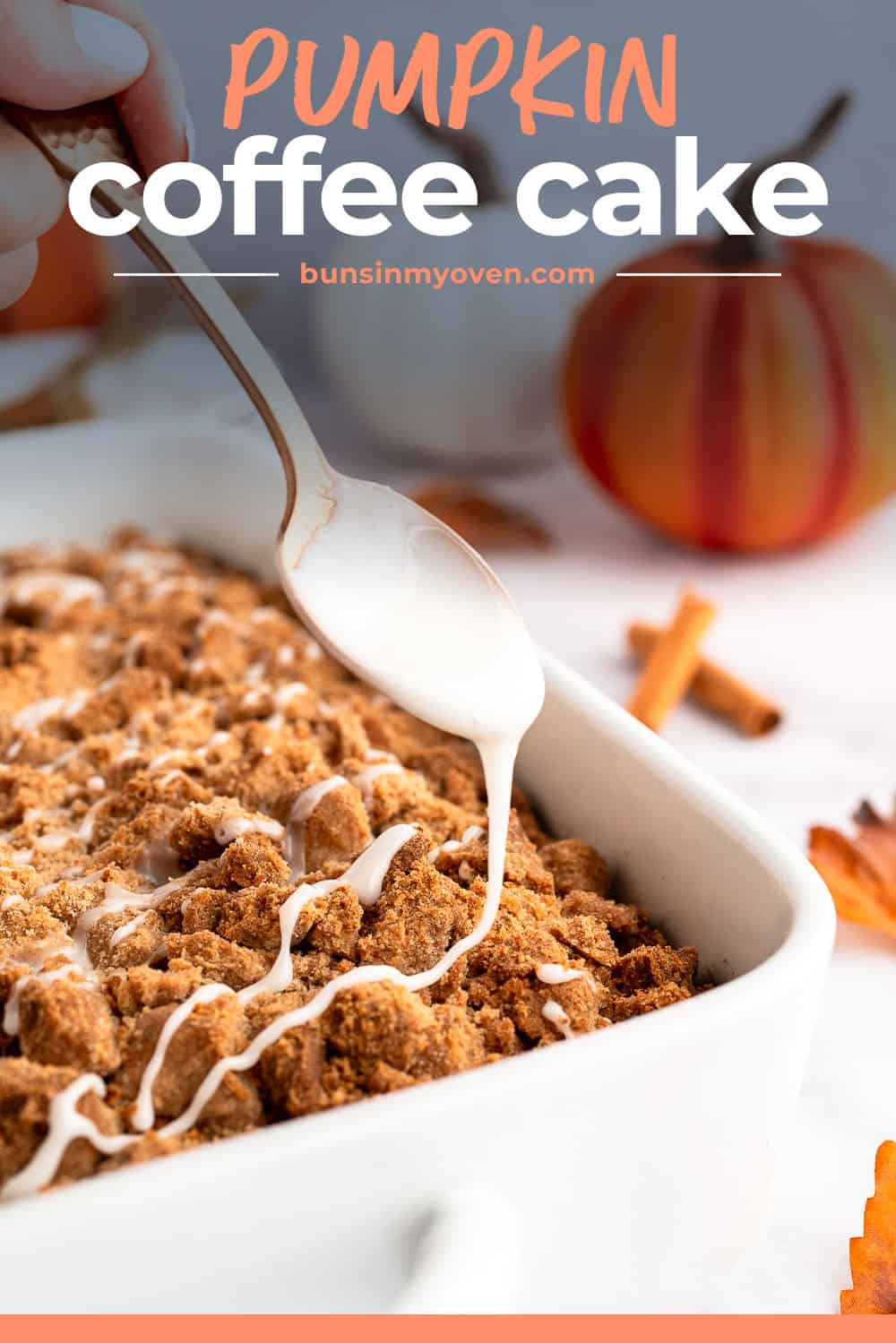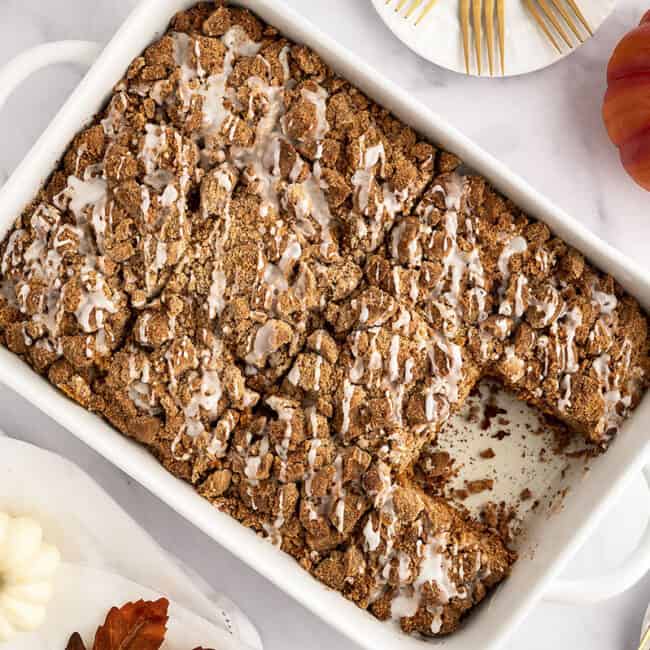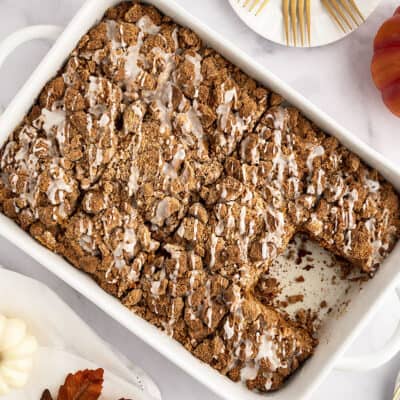 Pumpkin Coffee Cake with Streusel
This Pumpkin Coffee Cake isn't quite like your standard cake, because we packed in as much pumpkin as possible to make it more of a cross between our favorite pumpkin pie and a delicious cake. The result is a very moist, dense cake that's absolutely loaded with a thick layer of huge chunks of streusel.
Prep20 minutes
Cook50 minutes
Total1 hour 10 minutes
Ingredients
For the streusel
1 cup brown sugar
1/2 cup granulated sugar
1 1/2 tablespoons cinnamon
1/2 teaspoon salt
1 cup butter melted
2 1/2 cups flour
For the cake
3 cups all purpose flour
1 1/2 teaspoons baking soda
1 1/2 teaspoons baking powder
1 tablespoon cinnamon
1/2 teaspoon salt
1 cup brown cup sugar
1/2 cup granulated sugar
1 cup butter, room temperature
2 large eggs
2 15 ounce cans pumpkin puree
For the icing
1/2 cup powdered sugar
1 tablespoon milk
Instructions
To make the streusel:
Preheat oven to 350 degrees. Spray a 9×13 baking dish with non-stick spray.

Stir together the sugars, cinnamon, salt, and melted butter in a medium mixing bowl until well combined.

Stir in the flour. Set aside while you prepare the cake batter.
To make cake:
Add the flour, baking soda, baking powder, cinnamon, and salt to a large mixing bowl and whisk to combine.

Add the sugars and butter to a medium mixing bowl and beat with a mixer until light and fluffy.

Beat in the eggs and pumpkin until just combined.

Add the pumpkin mixture to the flour mixture and stir until just combined.

Spread cake batter into prepared pan.

Take the streusel topping in your hands and press together to form large crumbs. Top the cake with the streusel. It will seem like too much, but use it all for the best streusel experience.

Bake for 50 minutes or until a tester inserted in the middle comes out mostly clean.

Cool completely.
To make the glaze:
Whisk together the powdered sugar and milk to make the glaze. Drizzle over the top before serving.
Tips & Notes:
This recipe produces a very dense cake, much like a cross between cake and a pumpkin pie. If you'd prefer a traditional cake crumb, reduce the pumpkin to 1 can. If you'd like more pumpkin spice, swap the cinnamon in the cake for pumpkin pie spice. Because this cake is so moist, you'll want to store it in the fridge if you're keeping it for longer than a day. It should last in the fridge for 5-6 days.
Nutrition Information:
Serving: 1piece| Calories: 714kcal (36%)| Carbohydrates: 101g (34%)| Protein: 8g (16%)| Fat: 32g (49%)| Saturated Fat: 20g (125%)| Cholesterol: 108mg (36%)| Sodium: 420mg (18%)| Fiber: 4g (17%)| Sugar: 53g (59%)