These fudgy, baked chocolate donuts are made a bit healthier by swapping butter for avocado! These taste just like a standard chocolate donut, but they're much healthier!
You guys.
You will not even believe what my husband said to me the other day.
He made some comment about being able to read me like a book and I started quizzing him. What do I do when I'm mad, what do I do when I'm lying, what do I do when I want the last donut, but don't want to look like a piggy? You know. That kind of thing.
He pretty much wouldn't tell me anything. He didn't want to give away his secret ways of reading me, because then I might change and he'd be back at square one, which considering we've been married for 13 years as of 2 days ago (Happy Anniversary to us!), would be a really long step backwards for him.
So, I figured that if he wouldn't tell me the bad things, he might tell me some good things.
"Can you tell when I'm feeling all happy and extra in love with you?" I asked him.
"You glow."
I glow? You guys. I glow! That's so romantic and sweet! I probably started glowing right that second.
"You get very shiny," he went on to say, searching for the right word.
Wait. Where is he going with this? Shiny? I really think I liked the word glow better. Maybe he's searching for the term "radiant?"
"Reflective!" He shouted triumphantly. "You get reflective! I can see myself in you. You're shiny and reflective." He sounded very satisfied with this assessment.
So, basically my husband just told me that he can tell I'm feeling extra in love with him because I am greasy. I've been using extra powder for days now, especially when he does something nice for me. That'll show him. The jerk.
Anyway, that has nothing at all to do with these donuts. I just wanted to share my shame with you.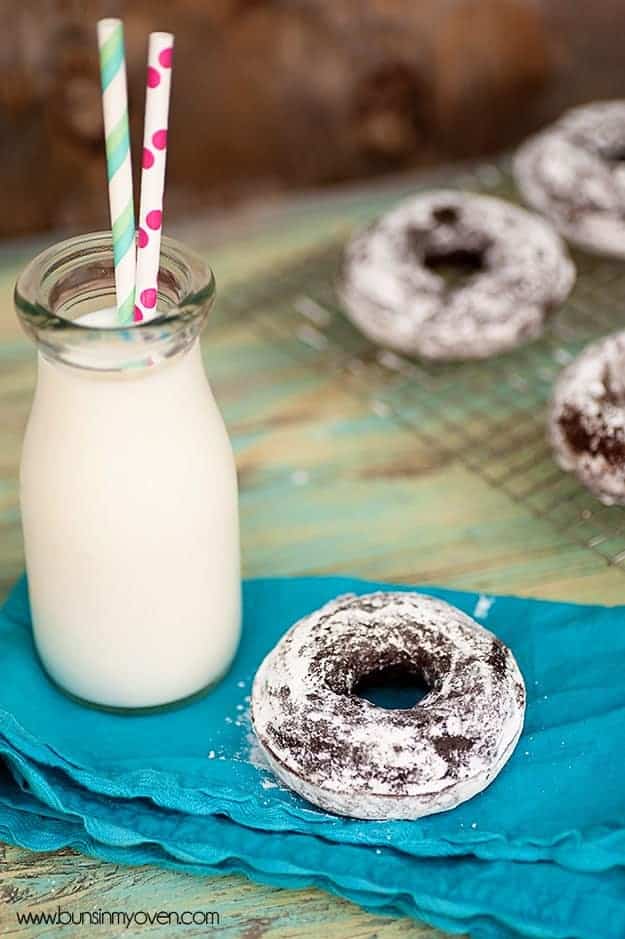 These donuts are a fudgy chocolate lovers dream, and you guys? There isn't a single speck of butter in them! I know. I like butter, too. Sometimes, though, you just can't eat anymore butter or your buttons will pop right off your pants. Or, I dunno, maybe your face will start to reflect things like mine does? Either way, it's not a good look!
I'm totally in love with avocados and when Avocados From Mexico asked me to whip up a baked treat with their avocados, I was all too happy to comply! Their avocados are so creamy and tasty that I usually just eat them with a fork and a bit of salt. Experimenting with some sugar and flour sounded like a fun time to me!
Of course, dumping sugar in my avocado felt a little wrong. I'm so used to lime juice and cilantro, not sugar! Have no fear, though. I pinky promise that you will have no idea that there is avocado in these donuts. You can't taste it at all! The avocado just replaces the butter that I would normally use. Sure, there is fat in an avocado, but it's the good kind and it's also full of all kinds of vitamins and nutrients. I mean, it's fruit, y'all. You're basically required to eat all of these donuts. The food pyramid demands it.
I can't wait to experiment with avocado in baked desserts! Such a brilliant way to make things a bit healthier!
Chocolate Avocado Donuts
These fudgy, baked chocolate donuts are made a bit healthier by swapping butter for avocado! These taste just like a standard chocolate donut, but they're much healthier!

Prep10 minutes
Cook12 minutes
Total22 minutes
Ingredients
1/2 ripe avocado
1 cup granulated sugar
2 large eggs
1 teaspoon vanilla extract
1/2 cup all-purpose flour
1/2 cup whole wheat flour
1/8 teaspoon baking soda
1 1/2 teaspoons baking powder
1/2 cup cocoa powder
1/8 teaspoon salt
3/4 cup milk
1 cup powdered sugar
Instructions
Preheat oven to 350 degrees. Spray donut pan with nonstick spray.

In the bowl of a stand mixer, beat together the avocado and sugar until well combined. Beat in the eggs, one at a time, until fully combined. Stir in the vanilla.

In a small bowl, combine the white and wheat flour, baking soda, baking powder, cocoa powder, and salt.

Slowly add the dry mixture to the avocado alternately with the milk, until all is incorporated.

Spoon the mixture into the donut wells and bake for 12-15 minutes or until the donuts spring back when you touch them. Cool completely before removing from the pan.

Toss in powdered sugar to coat.
Nutrition Information:
Calories: 183kcal (9%)| Carbohydrates: 38g (13%)| Protein: 3g (6%)| Fat: 3g (5%)| Saturated Fat: 1g (6%)| Cholesterol: 32mg (11%)| Sodium: 56mg (2%)| Potassium: 201mg (6%)| Fiber: 2g (8%)| Sugar: 27g (30%)| Vitamin A: 80IU (2%)| Vitamin C: 0.8mg (1%)| Calcium: 51mg (5%)| Iron: 1.2mg (7%)
This post was sponsored by Avocados from Mexico. All opinions are 100% my own.