This baked rice recipe is perfectly creamy with the addition of cheese! It's super hands off and perfect for an easy side dish. Big thanks to Roth for sponsoring this post.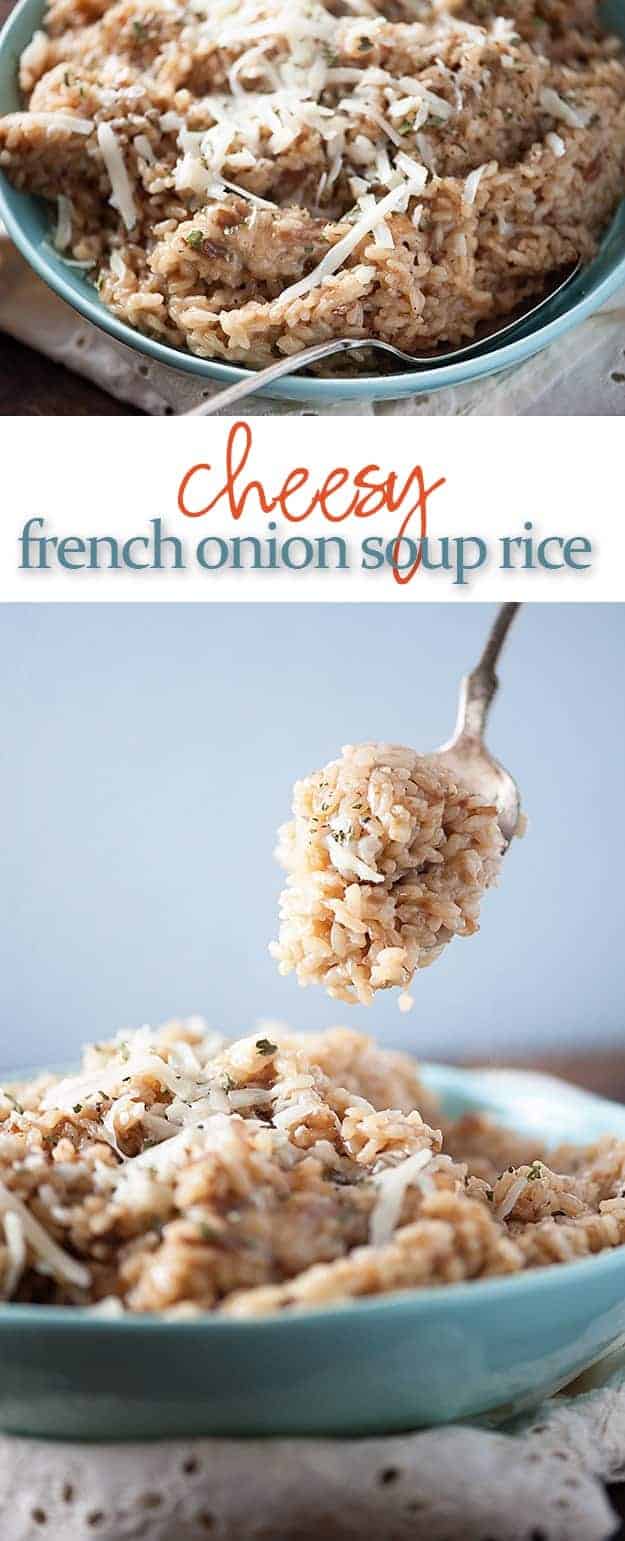 So, let's talk about what I'm doing. Again. For the fourth time in 15 months.
Any guesses?
Yeah. I'm moving. Someone hold me. If I have to touch another cardboard box I'm going to lose my mind.
We're really not nomads or anything. We lived in our first house for 10 years! We lived in our second house for 3 years! And then my husband accepted a new position out of state and we weren't sure how long term it would be, so we thought we'd rent. And then our landlords decided to sell the house we were living in and so we had to move after just 6 months. And then my husband's possibly short term job turned out to be actually short term and we moved again after 4 months.
And then! Do you know what happened? Because this is insane.
We were home. Back in our second house that never sold while we were renting, even though it was on the market forever. We were all unpacked, just sitting around, enjoying not moving houses.
And someone came along and said hey, I know your house isn't for sale, but here's a big old wad of cash, you take the money and we'll take the house, k? I mean, it wasn't even for sale.
How could we say no to that when the plan was to move into something nicer in a year or two anyway? Selling a house without having to do a bunch of showings and open houses is kind of the way to go.
So, we're moving. Again. But, this time it's to our dream house and we have no plans of packing another box ever again after this. CROSS YOUR FINGERS.
Anyway, the point of all this story is to say that things have been nuts over here. We house hunted like crazy people for one week (40 houses in 5 days!), then I left for a 7 day international trip, then I came home, and now I have to pack.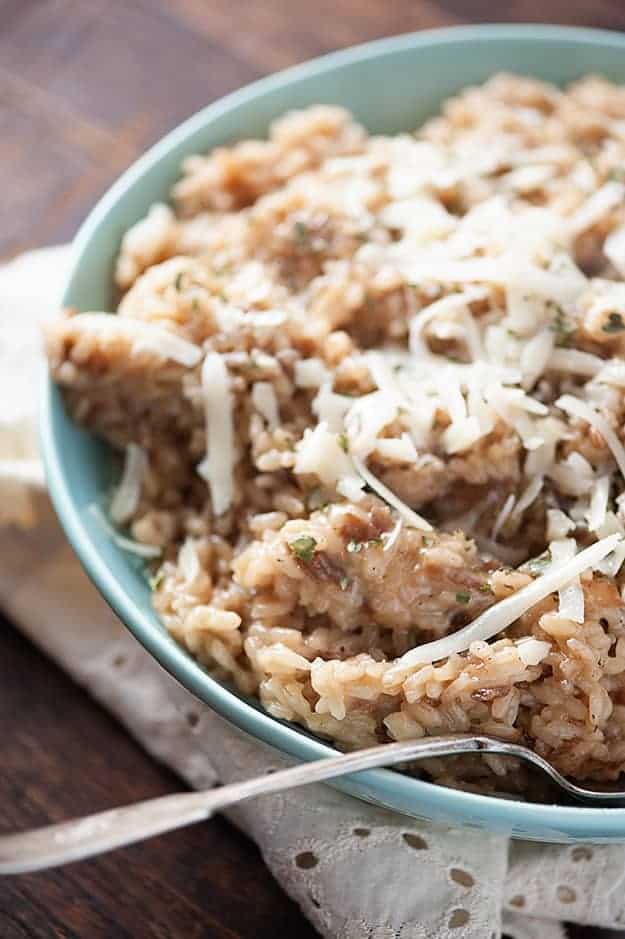 So, obviously, dinner time has been very low maintenance and in this house, that means I'm busting out the French onion soup rice! When I have time I serve it alongside some grilled chicken or steak. When I'm desperate, I shred up some rotisserie chicken and stir it right in with the cheese.
Speaking of cheese, I used Roth's Grand Cru cheese for this. It's an alpine-style cheese and it's absolutely perfect for French onion soup recipes. As you probably already know, since I used it in my French Onion Soup Sliders that I shared a while back. (Those burgers were so amazing. Have you made them yet?)
You can swap in Grand Cru for any recipe that calls for Gruyere. It's made right here in Wisconsin, too!
This dish is not like most rice dishes. It's all tossed together and thrown in a hot oven. It's super hands off and terribly easy. We eat this rice more than I should admit.
There are versions of this rice all over the internet, but my version uses less beef broth so that it doesn't get overly salty and it's made extra creamy with the addition of cheese. I also stir in some chopped parsley, because it's green and it makes me feel better about the canned soup in this recipe. Green = healthy. Fact.

French Onion Soup Rice
This baked rice recipe is perfectly creamy with the addition of cheese! It's super hands off and perfect for an easy side dish.

Prep5 minutes
Cook1 hour
Total1 hour 5 minutes
Ingredients
1 cup uncooked long grain white rice
10.5 ounce can condensed French Onion Soup
1/2 cup water
1/2 cup beef broth
4 tablespoons butter cut into cubes
3 ounces Grand Cru cheese grated
2 tablespoons chopped parsley
Instructions
Preheat oven to 425 degrees.

Pour the rice into a 9x9 baking dish.

Pour the onion soup, water, and beef broth over the rice.

Slice the butter into small cubes and add to the rice mixture.

Cover with foil and bake for 30 minutes. Remove the foil and continue baking for 30 minutes.

Top with the grated cheese and parsley, let sit for 5 minutes, and stir. Serve hot.
Nutrition Information:
Calories: 255kcal (13%)| Carbohydrates: 27g (9%)| Protein: 6g (12%)| Fat: 13g (20%)| Saturated Fat: 8g (50%)| Cholesterol: 36mg (12%)| Sodium: 476mg (21%)| Potassium: 277mg (8%)| Sugar: 1g (1%)| Vitamin A: 490IU (10%)| Vitamin C: 1.7mg (2%)| Calcium: 122mg (12%)| Iron: 0.5mg (3%)