This chicken and rice casserole is serious comfort food! My whole family loves how flavorful it is, and I love that it's super simple to throw together for busy nights!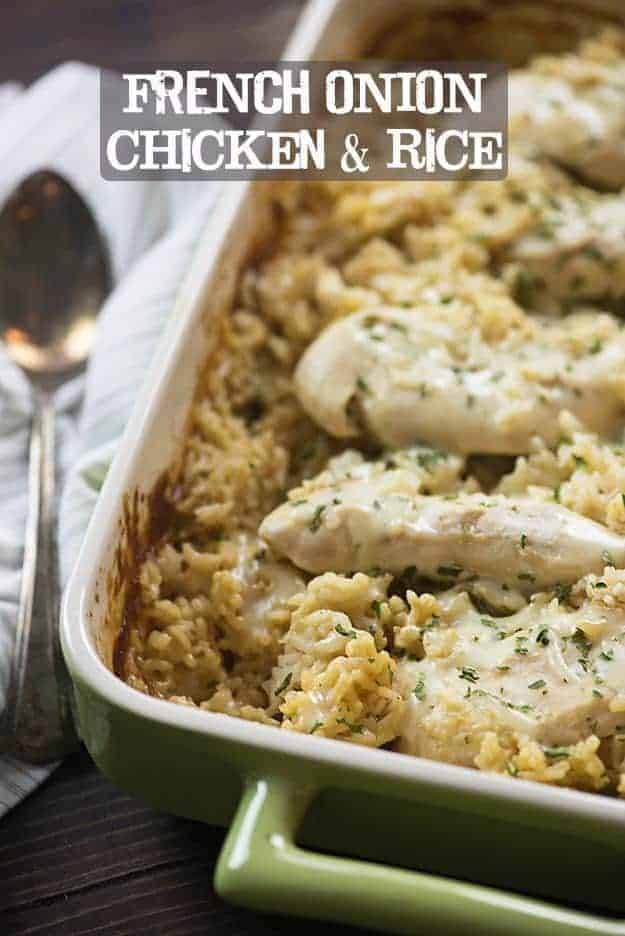 I have this weird new food obsession.
Rice.
Seriously. Rice.
It seems so random. I mean, I've always liked rice just fine, it's just not something that I ever really craved or cooked, unless it was my Bacon Fried Rice. <— Can never get enough of that one!
Lately, though, I'm obsessed.
I think it has something to do with white rice made in my Instant Pot. It's the most perfect rice I've ever had. Shall I share my recipe sometime?
Anyway, my family is getting sick of plain white rice, so I thought I'd continue my obsession and create something with a little more excitement and flavor.
Enter the casserole – my favorite way to serve dinner. 😉
I'm from the Midwest after all. Casseroles are a requirement around here.
We kept this chicken rice casserole super simple with just 5 ingredients and loads of flavor thanks to the packet of onion soup mix.
Chicken Rice Casserole Ingredient Notes: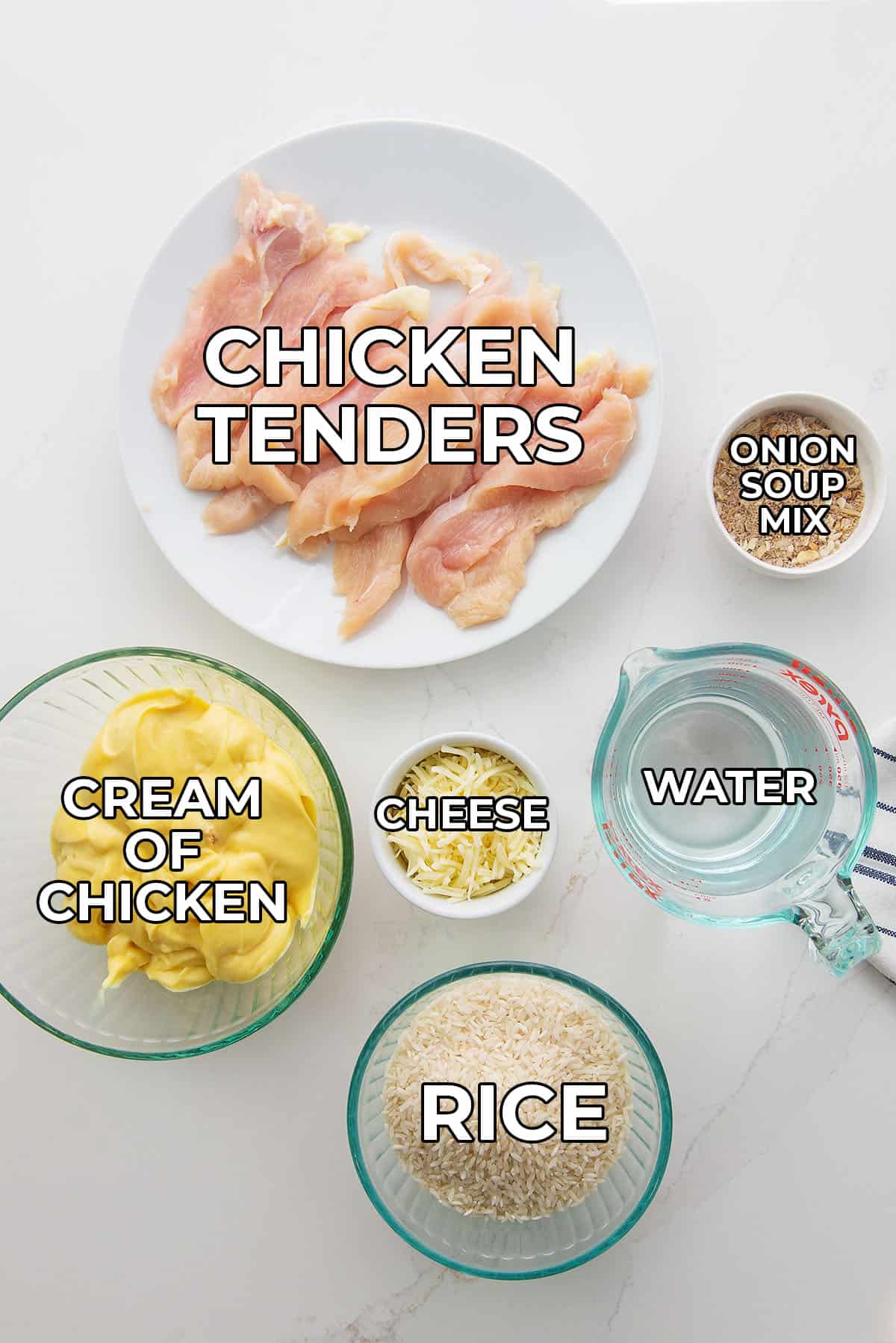 Chicken Tenderloins – We use strips of chicken tenderloins in this recipe, but you can also use chicken breasts that you've cut into strips yourself.
Rice – You'll need long grain white rice. Do not use instant rice. We haven't tested this recipe with brown rice.
Cream of Chicken Soup – This is going to add lots of creamy chicken flavor to the casserole. If you don't like the canned stuff, try out my homemade cream of chicken substitute recipe!
Onion Soup Mix – A packet of onion soup mix is just what we need to add that French onion soup flavor to this chicken and rice casserole!
Cheese – I love a cheesy chicken and rice casserole so I top it with plenty of shredded Gruyere cheese! And of course you can add or use any other shredded cheeses you prefer to this recipe.
Seasonings – The onion soup mix adds loads of flavor to this dish, but you can top your chicken with some paprika and garlic powder, if you feel the urge.
What Readers are Saying!
"Just made this recipe, exactly to directions, turned out great, rice is nicely done and sauce is delicious. I did brown for about 5 minutes under the broiler for a little color. Chicken was nice, not dry. Very easy for a weeknight meal…" – Denise
How to Make Chicken & Rice Casserole:
Mix: First up you'll need to prepare the rice and soup mixture. While your oven pre-heats go ahead and add the uncooked white rice to a mixing bowl and then pour in the water, dry soup mix, and cream of chicken soup. Stir to combine.
Assemble: When the creamy rice mixture is ready you can pour it into a prepared 9×13 baking dish. Smooth it out evenly in the dish and then you can start adding in the chicken tenderloins. Just place them over the top of the rice mixture and try to keep them from overlapping.
Sometimes we sprinkle the chicken with extra seasoning and sometimes we just let the onion soup mix do the work. You can feel free to get creative or keep it simple.
Bake: Now you can go ahead and cover the dish with foil and let it bake for an hour.
We're going to turn this into a cheesy chicken casserole by topping it off with a bunch of shredded Gruyere cheese. Once you've topped the casserole with the cheese cover it with foil again and return to the oven for another 15 minutes or until the rice is tender and the cheese has melted.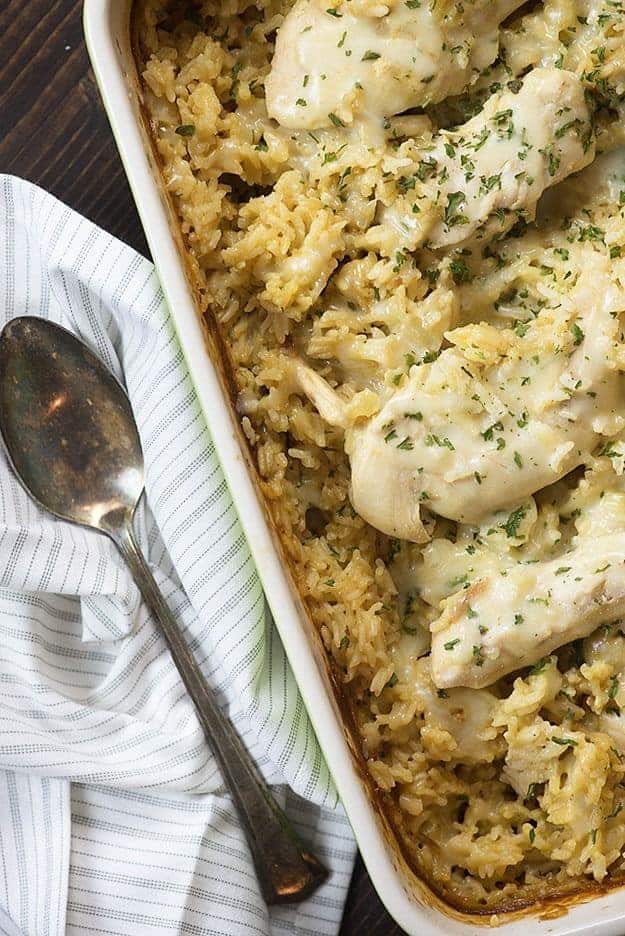 Helpful TipS!
My biggest tip to ensure that the recipe is cooked properly is to be sure that the foil is on TIGHT. You need the steam to stay inside the pan to cook that rice properly.
Don't be afraid to let it cook a bit longer if it's not quite done. The chicken is cooking with the rice, so I know a lot of people are worried it's going to dry out after being in the oven for so long. But, it's cooking in that steam and liquid and it really doesn't dry out. It comes out nice and tender, just the way we like it.
This recipe used to call for milk in place of water. It worked well for me and for many other readers, but plenty of people were having a hard time getting the rice to cook through. We've swapped the milk for water and think that is a bit more fool proof.
FAQs:
Can I use another type of cheese?
Absolutely! Mozzarella, provolone, Havarti, or Monterey jack would all work well in this chicken and rice casserole.
Can I use frozen chicken?
You'll want to use thawed or fresh chicken in this recipe.
Can I store this recipe?
Yes, this casserole stores well in both the refrigerator and the freezer. It should last up to 4 days in the fridge and you can re-heat it in the oven or microwave. It should last a few months in the freezer if sealed tightly.
MORE CASSEROLE RECIPES!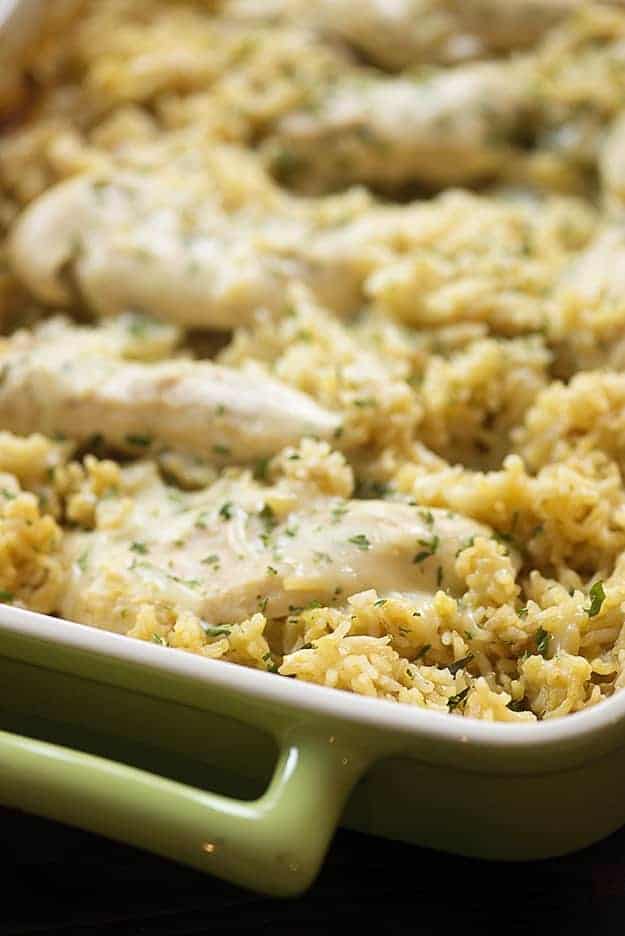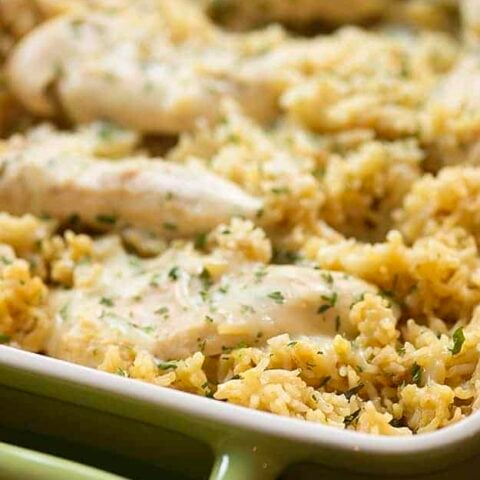 French Onion Chicken and Rice
This chicken and rice casserole turns out with fluffy rice in a creamy sauce that pairs perfectly with the chicken. We love how quick this is to throw together with just 5 ingredients and everyone loves the dish.
Prep5 minutes
Cook1 hour 15 minutes
Total1 hour 20 minutes
Ingredients
2 cups uncooked long grain white rice
2 cups water
20 ounces cream of chicken soup
1 packet Onion Soup mix
1 pound chicken tenderloins
1/2 cup grated Gruyere cheese
1 teaspoon parsley
Instructions
Preheat oven to 350 degrees. Spray a 9×13 baking dish with non-stick spray.

Add the rice, water, cream of chicken soup, and soup mix to a bowl and stir well to combine.

Pour rice mixture into the baking dish and place chicken tenderloins over the top.

Cover tightly with foil and bake for 60 minutes, stirring once halfway through cooking.

Remove the foil and top with the grated cheese. Cover and return to oven for 15 minutes or until rice is tender.

Sprinkle with parsley just before serving.
Tips & Notes:
This recipe originally called for 2 cups of milk in place of the water, but many readers were having issues with the rice softening and cooking properly. Switching to water seems to be more fool proof, but do make sure the foil is on the dish tightly to trap in all the steam and ensure the rice cooks properly. We sometimes season the chicken tenderloins with garlic powder and paprika, but the chicken is really flavorful just from the onion soup so additional seasonings are optional. Make sure to cover the dish tightly with foil to trap the steam inside or the rice will not cook properly. This recipe calls for long grain white rice – do not use instant rice.
Nutrition Information:
Serving: 6servings| Calories: 461kcal (23%)| Carbohydrates: 60g (20%)| Protein: 26g (52%)| Fat: 11g (17%)| Saturated Fat: 4g (25%)| Polyunsaturated Fat: 2g| Monounsaturated Fat: 4g| Trans Fat: 1g| Cholesterol: 68mg (23%)| Sodium: 1330mg (58%)| Potassium: 454mg (13%)| Fiber: 1g (4%)| Sugar: 1g (1%)| Vitamin A: 301IU (6%)| Vitamin C: 1mg (1%)| Calcium: 157mg (16%)| Iron: 2mg (11%)