This AMISH BREAKFAST CASSEROLE will quickly become a family favorite. Made with bacon, eggs, hashbrowns, and a surprise ingredient that really makes this breakfast casserole special!
One of my favorite meals to host is brunch.
We so often have family and friends over for dinner (or we did, back before 2020 existed, haha), but I always love mixing it up and doing a big brunch.
And what, my friends, is brunch without a tasty breakfast casserole?
This Amish breakfast casserole is made with bacon, eggs, hashbrowns, and…wait for it…cottage cheese.
I know, I know…it sounds crazy. But oh man! The cottage cheese melts into this casserole and makes it so moist and creamy and just downright delicious.
Of course, we're also tossing in some cheddar and swiss, because more cheese is always a win in my book!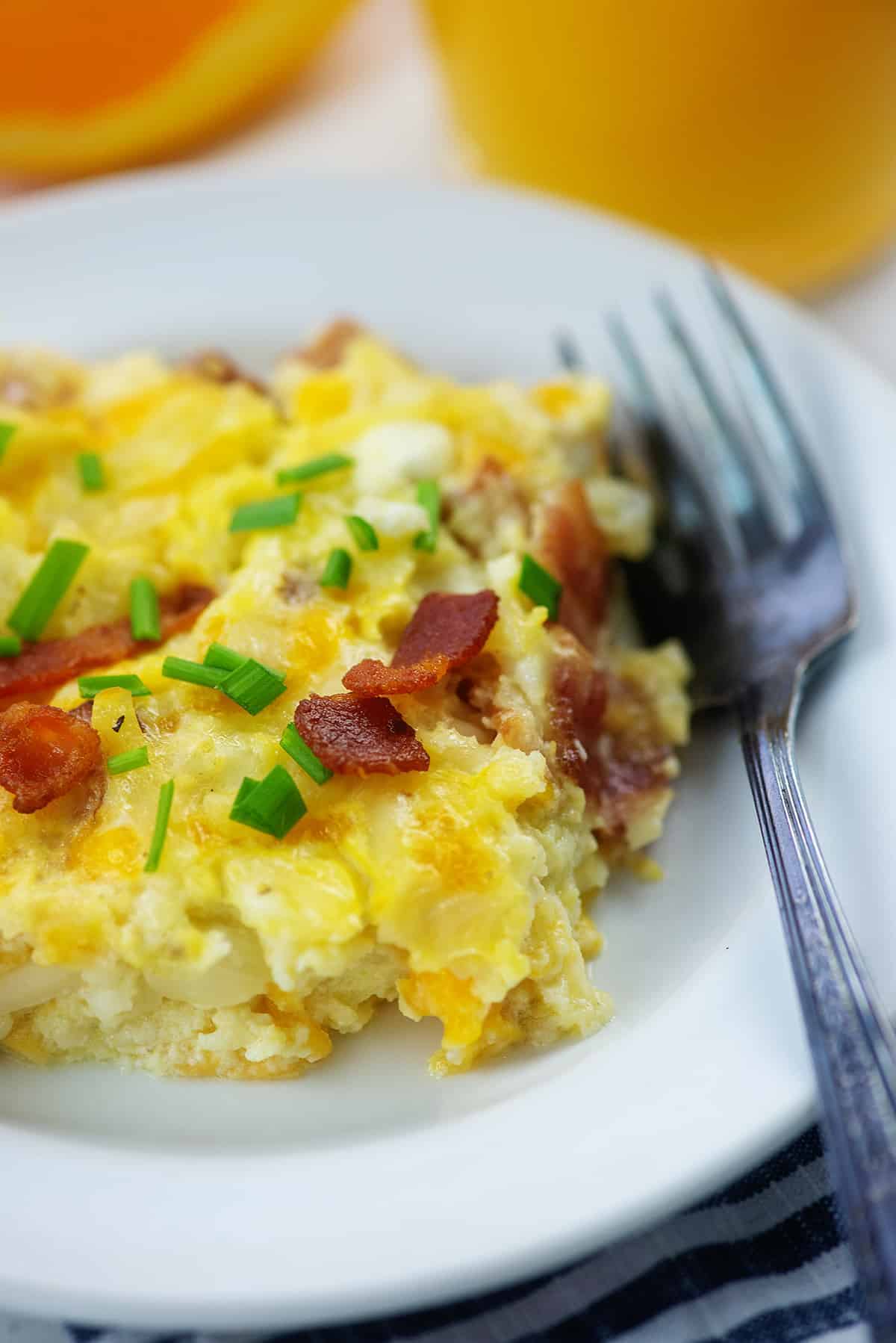 Ingredients:
Bacon – Sausage may be swapped in, if preferred.
Eggs – A must in any breakfast casserole.
Seasonings – Onions, garlic, and green chiles add loads of flavor.
Cheese – We're using a combination of cheddar, swiss, and cottage cheese. Don't let the cottage cheese scare you – it melts in and makes the dish so creamy!
Potatoes – Frozen shredded hashbrowns work best here and form the base of the casserole.
What Readers are Saying!
"This is the best egg casserole I have ever made! Delicious!
I was looking for something to make on Christmas Eve that we could heat up easily on Christmas morning. My whole family enjoyed this! I love the blend of flavors but it is the mix of cheeses that make this all come together! Sometimes egg casseroles can be one dimensional or dry, but this is the opposite! Of course, having bacon doesn't hurt either! My kids were hooked right away! This is one I will definitely make again, and will make for others when they need a meal.
Thank you!" – Erika
How to Make:
Prepare the Bacon & Onion: Usually when I think of breakfast, the first thing I think of is BACON! So that's what we'll be using in this breakfast casserole recipe. Chop the bacon into pieces and cook over medium high heat until nearly crisp before adding the onions and cooking through.
Preheat your oven to 350 degrees while the bacon cooks.
Mix: The part I enjoy most about making a cheesy Amish breakfast casserole is that it is so simple. Throw everything together, and bake it! The three cheeses add a rich, creamy flavor which goes great with a little spice from the green chiles.
Add the bacon, onion, and remaining ingredients including the cheeses, hashbrowns, and eggs to a mixing bowl and stir well to combine.
Don't like cottage cheese? It is one of those foods people love or hate. But I promise, it will melt right into the casserole and you likely won't even notice it!
Bake: Add the combined ingredients to a greased baking dish, and bake uncovered for around 30-40 minutes. Simple, quick, and so much flavor!

Cast iron skillets are my favorite! They heat so evenly, get piping hot for searing, and nothing is better than bacon fried in a cast iron skillet.
Substitutions:
Swap the cheddar and swiss for another blend of cheese – colby and pepperjack would be delicious!
Turn this into a sausage breakfast casserole by substituting it for the bacon. Or maybe try both together?
Diced bell peppers sautéed with the onion would also complement this dish.
The cottage cheese adds a lot of moisture and richness to this dish. We've never substituted it, but you could try replacing it with 1/2 cup of sour cream if you really hate cottage cheese.
More Amish Recipes:
We tend to expect Amish recipes to be difficult or purely from scratch, but if you've ever looked in an Amish cookbook or been invited to eat with an Amish friend, you may know that a lot of their food is simple, down home, comfort food!
We have recipes for Amish Potato Salad, Amish Macaroni Salad, and Amish Egg Noodles that I think you'll enjoy.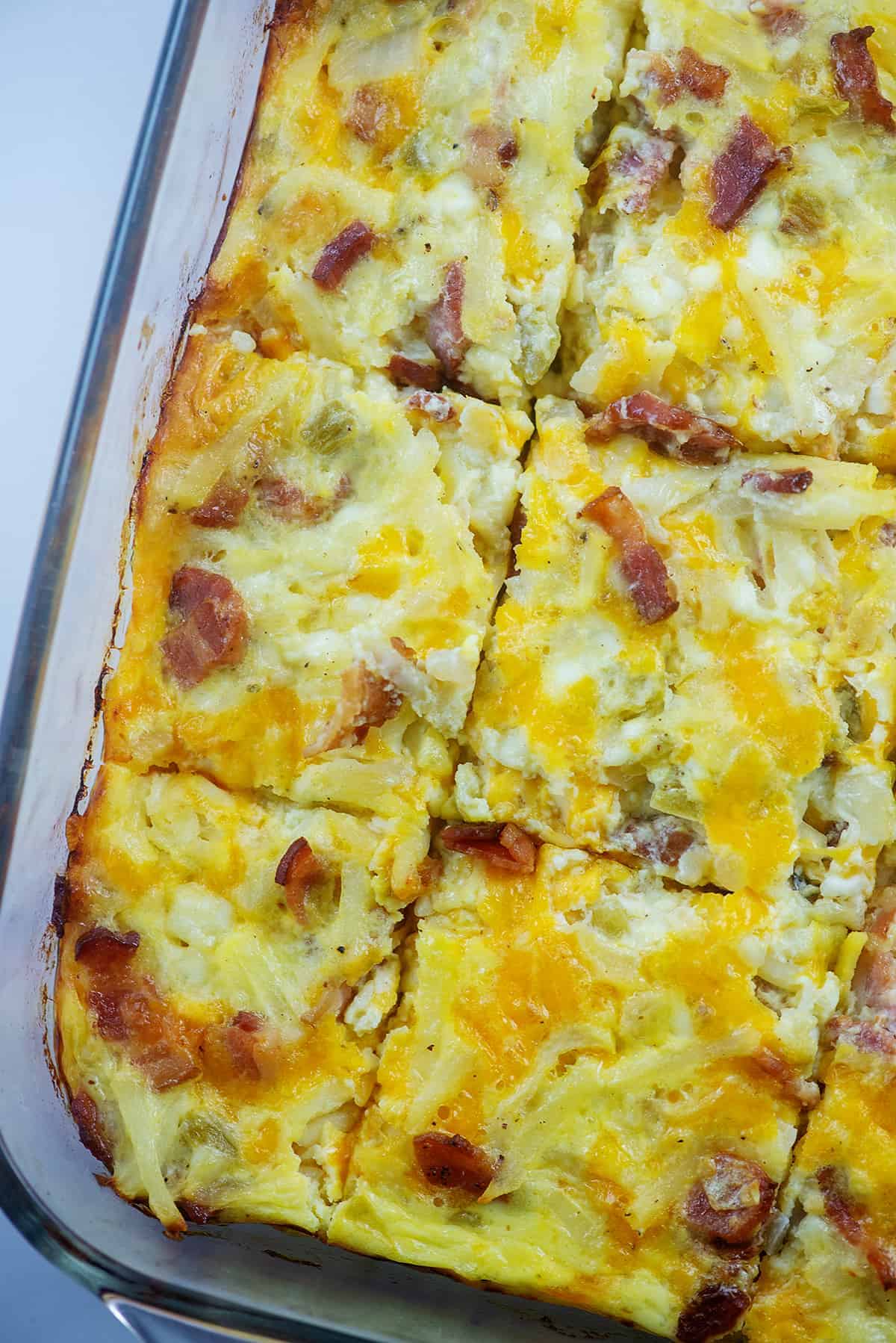 Leftover Hack!
We love to heat up leftover breakfast casserole and toss it in a tortilla with a little salsa. Instant breakfast burrito!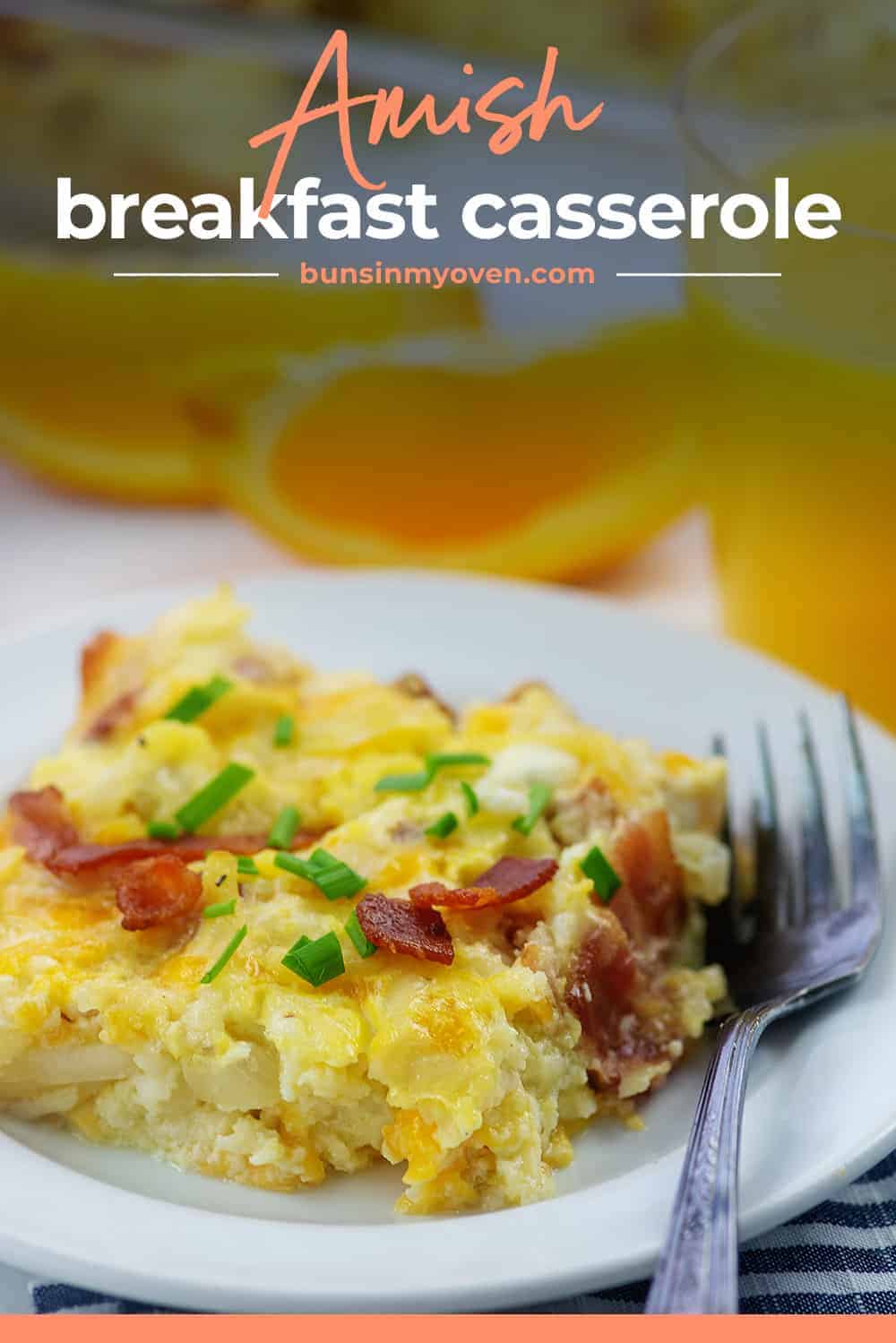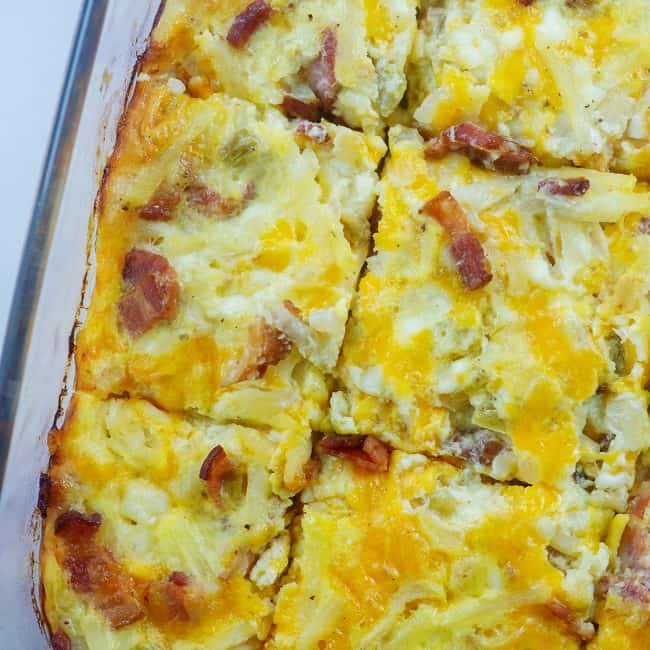 Amish Breakfast Casserole
This Amish breakfast casserole is a bit different than most breakfast casseroles. It has three types of cheese, including cottage cheese. Not to worry, most people won't even notice the cottage cheese is this recipe. It melts into the dish making it so creamy and delicious.
Prep10 minutes
Cook1 hour
Total1 hour 10 minutes
Ingredients
1 pound bacon
1 medium sweet onion diced
2 cloves garlic minced
6 large eggs beaten
4 cups frozen shredded hashbrowns
2 cups shredded cheddar cheese
1 ½ cups cottage cheese
1 cup shredded swiss cheese
4 ounces chopped green chiles
1 teaspoon salt
1 teaspoon cracked pepper
Instructions
Preheat oven to 350 degrees. Spray a 9×13 baking dish with non-stick spray.

Chop the bacon into bite sized pieces and cook in a large, deep skillet over medium heat until nearly crisp.

Add the onion and continue cooking until the bacon is cooked through and the onion has softened, about 5 minutes.

Use a slotted spoon to remove the bacon and onions to a paper towel lined plate to drain.

Add the remaining ingredients to a large mixing bowl. Stir in the bacon and onions and mix until everything is well combined.

Transfer to the prepared baking dish and bake, uncovered, for 35-40 minutes or until a knife inserted in the center comes out clean.

Let set for 10 minutes before slicing and serving.
Tips & Notes:
We cut this casserole into 9 large pieces, but it could also be cut into 12 smaller pieces and still be a decent serving. Feel free to swap the cheddar and swiss for other cheeses. We don't recommend swapping the cottage cheese as it does add a lot of moisture to the dish and it's honestly what makes this casserole so good. The cottage cheese is not very noticeable after baking and most won't realize it's there. Store, tightly covered, in the refrigerator for up to 5 days or freezer for up to 2 months. It reheats well in the microwave.
Nutrition Information:
Serving: 1piece| Calories: 532kcal (27%)| Carbohydrates: 24g (8%)| Protein: 26g (52%)| Fat: 37g (57%)| Saturated Fat: 16g (100%)| Cholesterol: 201mg (67%)| Sodium: 1011mg (44%)| Potassium: 526mg (15%)| Fiber: 2g (8%)| Sugar: 4g (4%)| Vitamin A: 599IU (12%)| Vitamin C: 11mg (13%)| Calcium: 344mg (34%)| Iron: 2mg (11%)