This CINNAMON ROLL CAKE RECIPE does double duty in my house – the kids love it for both breakfast or dessert! The sweet swirls of cinnamon and sugar get crackly on top and add the perfect contrast of texture to this moist cake. We top it off with a simple vanilla glaze.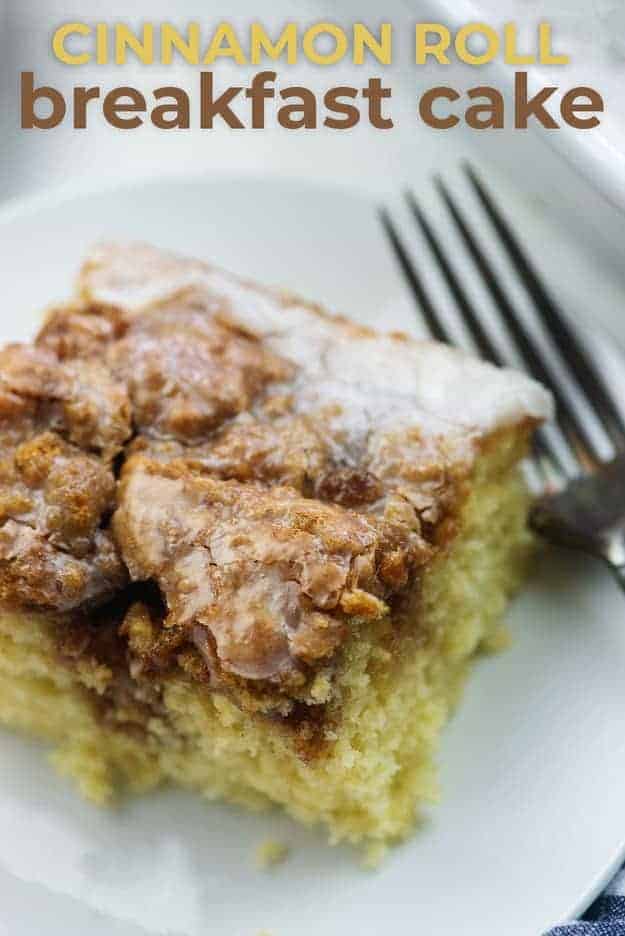 Ah, cake.
It's the main reason I love birthdays, if we're being honest.
I don't make a lot of cake for non-birthday events, but lately we've been on a major cinnamon roll cake kick.
It's pretty perfect, because I let the kids eat it for breakfast (yes, it's cake, but it can not be worse than an actual cinnamon roll, my friends) but they'll happily turn around and eat it for dessert too!
Two birds, one cake. That's how the saying goes, right?
We also make this eclair cake (it's no bake!) and buttermilk chocolate cake when we're craving cake. So good!
I first stumbled across this recipe on the allrecipes website, but I tweaked the cake batter a little to make it even tastier (if I do say so myself) and totally changed up the topping to be a little more simple.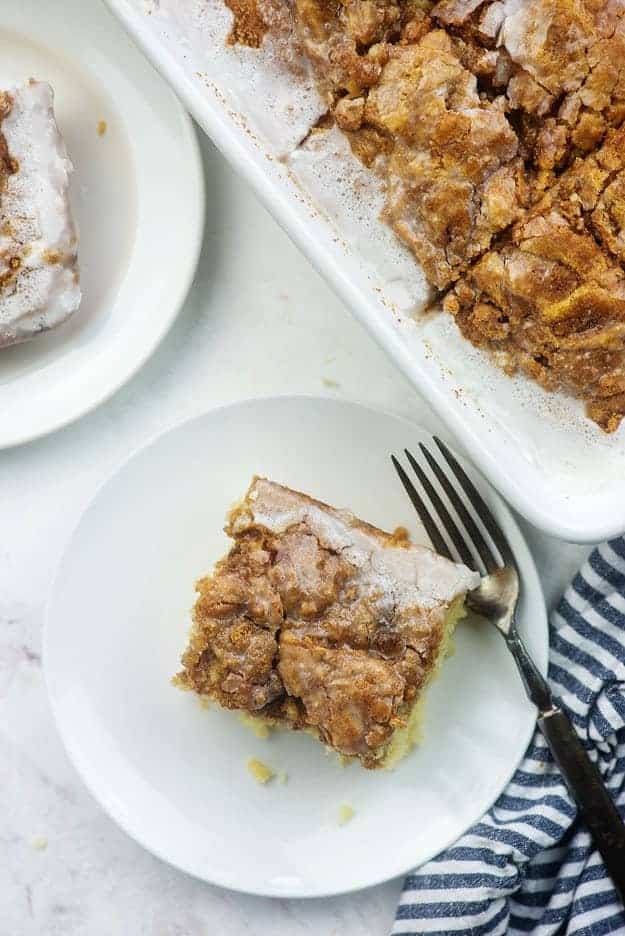 What Readers are Saying!
"I've made this cake 3 times within a month my family loves it."
– Mary Ann
Cinnamon Roll Cake Ingredients:
Flour
Sugars – White, brown, and powdered sugars.
Cinnamon
Baking Powder
Salt
Milk
Eggs
Vanilla
Butter
How To Make Cinnamon Roll Cake Batter:
Make the Cake Batter: This homemade cake batter comes together super easily! You'll add your dry ingredients to a mixing bowl and whisk them well to combine.
Pour some melted butter over the top and stir together until the cake batter is just combined. Don't overmix your cake batter or you'll end up with a tougher cake.
Helpful Tip!
Kitchen Hack
Start with a cake mix and prepare according to the package directions! I think my homemade version is nearly as easy, but if you don't have the ingredients or really want a shortcut, a cake mix will work just fine!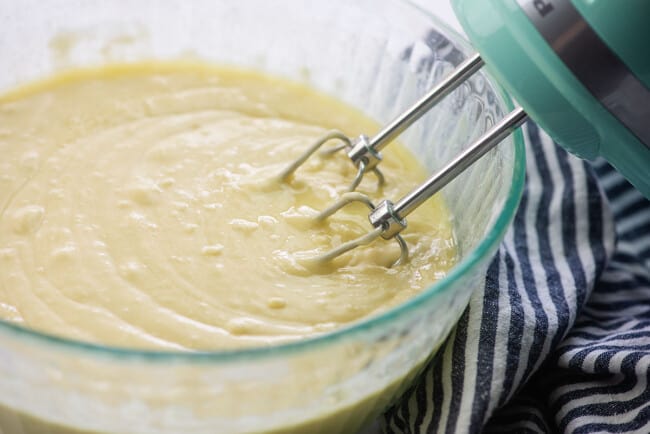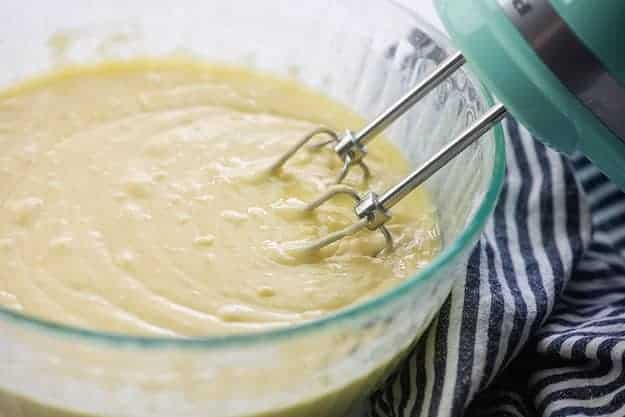 Pour your cake batter into a greased 9×13 baking dish and get ready for the good part.
Make the Cinnamon Swirls: Whisk together brown sugar and cinnamon to combine and then just sprinkle it over the cake. It'll look like a lot, but that's a good thing because we love cinnamon sugar, right?
Use a butter knife to swirl the sugar through the cake. Be sure to leave plenty of that brown sugar mixture on the top of the cake batter, because it's going to add the perfect texture to the top of the cake as it bakes. But, also don't be shy about swirling it all in to the cake.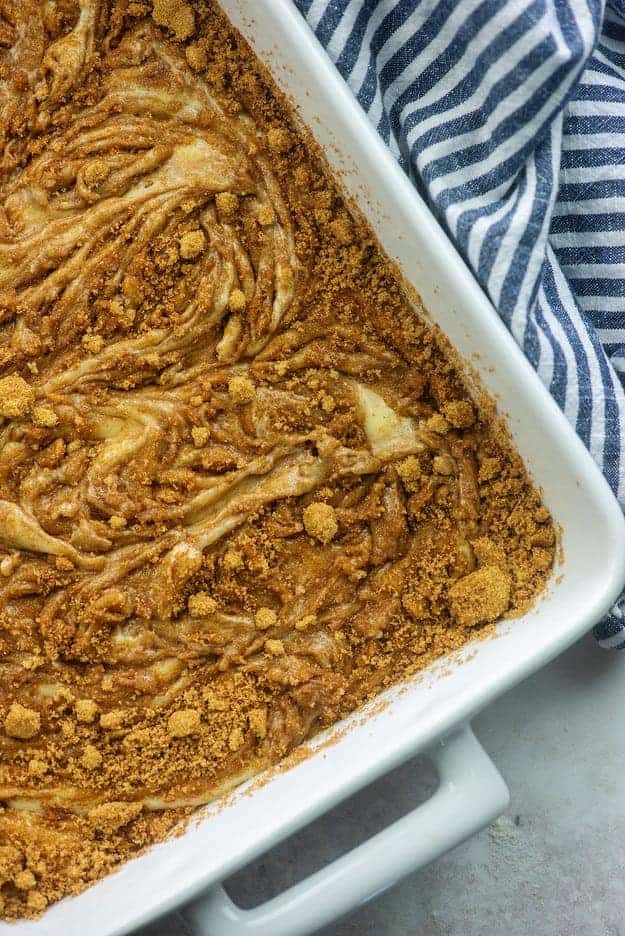 Your batter should look like the above photo when you're done swirling.
Don't you just want to dive face first into that pan?!
Bake: Pop the pan in the oven and bake for about 40 minutes.
You'll want to let it cool just a bit before we pour on the glaze.
Glaze the Cake: Just whisk together powdered sugar and milk to make a simple, sweet glaze. You could add in vanilla, almond, or maple extract here if you wanted to get fancy, but we keep things simple in our house.
Pour the glaze over the cake and get ready to dig in!
This cake + a cup of coffee = heaven. I seriously can't stop with this one!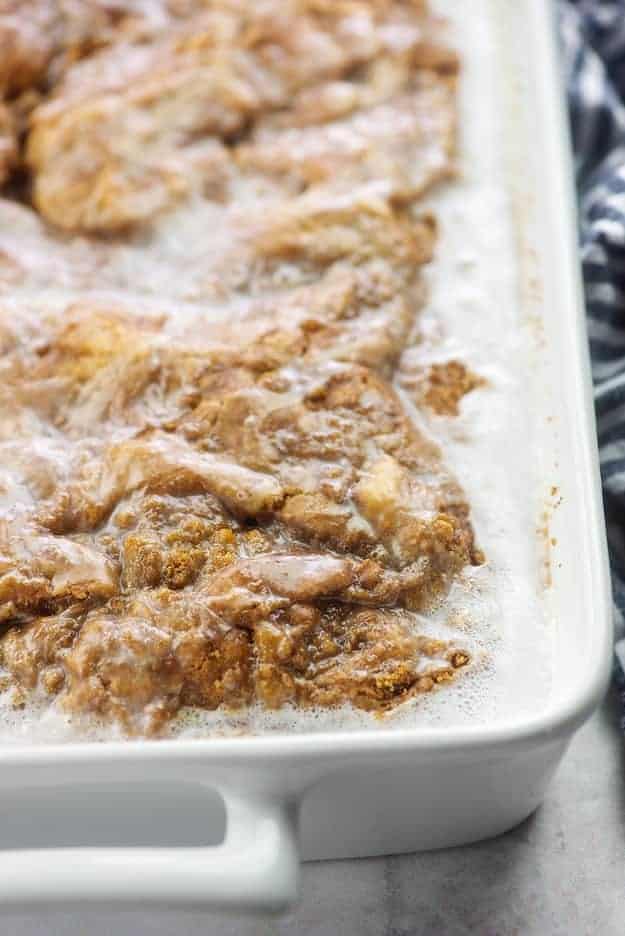 Variations:
We love playing around with this cinnamon roll cake and even made a blueberry cinnamon roll cake. Same thing, but with blueberries in the mix!
Chocolate chip cinnamon roll cake has a nice ring to it as well!
Swap out the glaze for a cream cheese version instead! I recommend the cream cheese glaze in this recipe for pumpkin bundt cake!
If you make any other variations to this cinnamon roll cake recipe, let me know! Leave a comment below – I love hearing from you!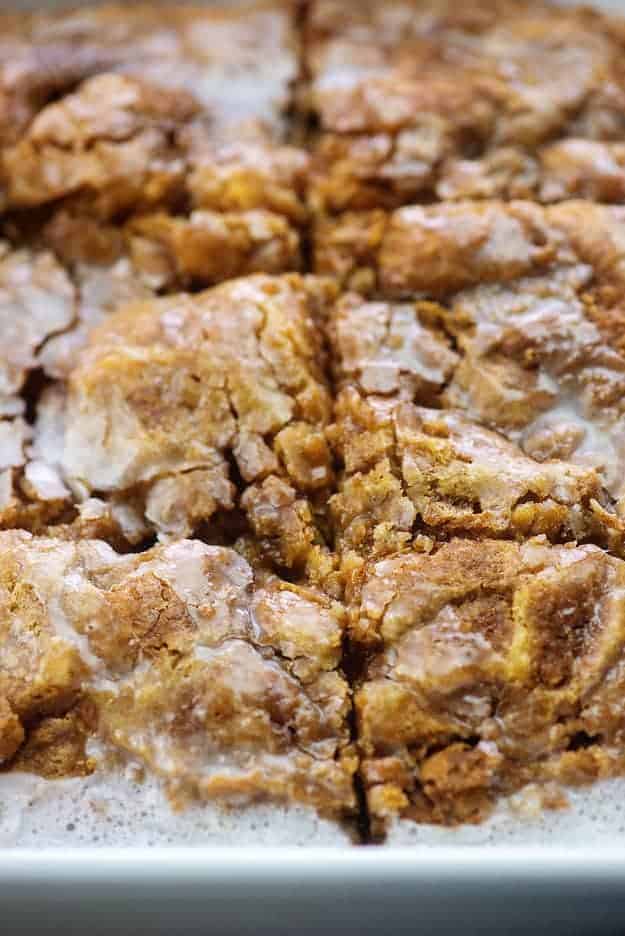 More breakfast recipes: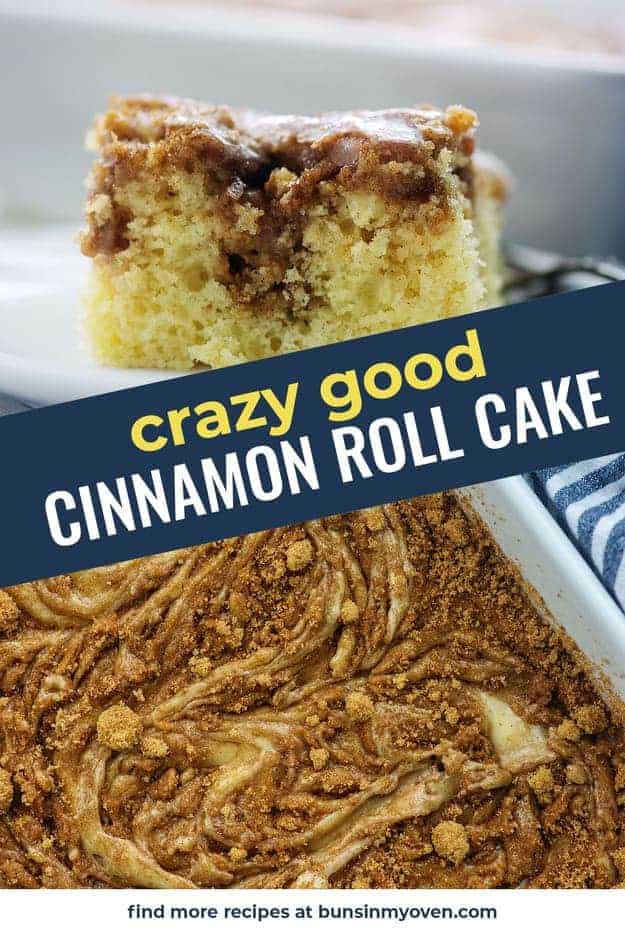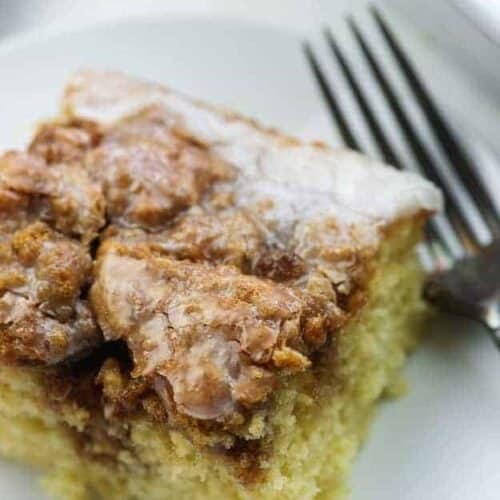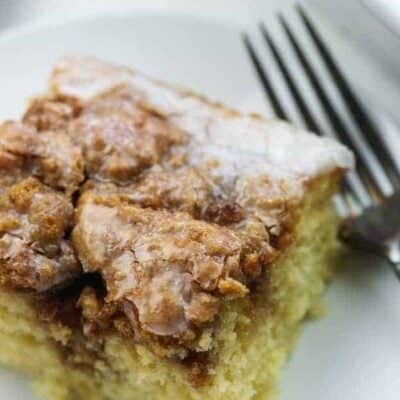 Cinnamon Roll Cake
This moist cake is swirled with a mixture of brown sugar and cinnamon to give it that classic cinnamon roll flavor! The cake gets topped off with an easy glaze and makes a great breakfast or dessert.
Prep15 minutes
Cook40 minutes
Total55 minutes
Ingredients
For the cake:
3 cups flour
3/4 cup granulated sugar
¼ cup brown sugar
4 teaspoons baking powder
½ teaspoon salt
1 1/2 cups milk
2 large eggs
1 tablespoon vanilla
1/2 cup butter melted
For topping:
1 cup brown sugar
1 tablespoon ground cinnamon
For the glaze:
2 cups powdered sugar
3 tablespoons milk or more
Instructions
Preheat oven to 350 degrees. Spray a 9×13 baking dish with nonstick spray.

Add all of the ingredients except for the butter to a mixing bowl and whisk well to combine.

Pour in the melted butter and use an electric mixer on low speed, mixing the batter until it's just combined. Do not overmix.

Pour batter into the prepared baking dish.

To make the topping, whisk together the brown sugar and cinnamon.

Sprinkle the topping over the top of the cake and use a butter knife to swirl the topping into the batter.

Bake for 35-40 minutes or until a tester inserted in the center comes out clean.

Cool for 10 minutes before whisking together the powdered sugar and milk to make the glaze. Add additional milk 1 tablespoon at a time to reach the consistency you prefer. Pour the glaze over the warm cake.

Let glaze set before slicing and serving.
Tips & Notes:
Store the cake tightly covered at room temperature for 3-4 days.
Nutrition Information:
Serving: 1piece| Calories: 347kcal (17%)| Carbohydrates: 65g (22%)| Protein: 4g (8%)| Fat: 8g (12%)| Saturated Fat: 5g (31%)| Cholesterol: 44mg (15%)| Sodium: 160mg (7%)| Potassium: 204mg (6%)| Fiber: 1g (4%)| Sugar: 45g (50%)| Vitamin A: 269IU (5%)| Calcium: 107mg (11%)| Iron: 2mg (11%)