Our Sausage Gravy Recipe is a Southern staple, served over biscuits for breakfast or 'brinner,' and always a huge hit with the family. I'll share the step-by-step + video below for this easy biscuits and gravy recipe or you can push the jump to recipe button and get straight to cooking!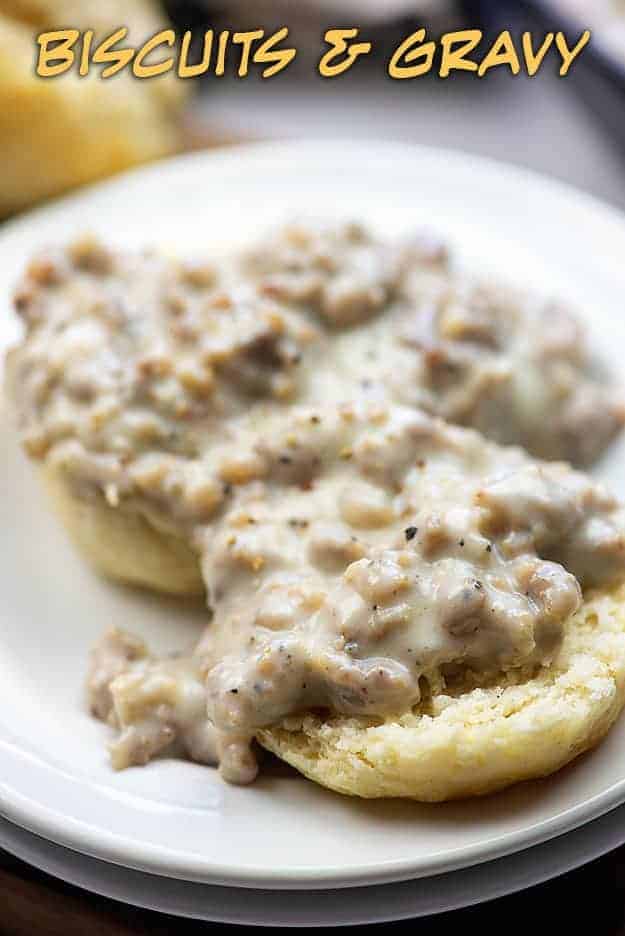 I was horrified to discover that Biscuits and Sausage Gravy are not a popular or readily available dish up north when we had family come to visit.
And I'm not exactly a Southerner, – comin' at ya from Illinois! But we're big on biscuits and sausage gravy and this sausage gravy recipe is just about the easiest thing to make. It's perfect for breakfast, but I really like to make it for dinner!
My dad's homemade biscuits, this easy sausage gravy, a pile of scrambled eggs, and some hashbrowns might just be the perfect breakfast out there. Maybe throw in some of our Belgian waffles if you're really looking for a carb coma. 🙂
If you find gravy making to be a little intimidating, you'll want to try our sausage gravy (also known as sawmill gravy). It's basically the easiest type of gravy you could ever make.
I can just about guarantee you won't mess this recipe up and you won't end up with a bunch of lumps in your gravy!
Ingredient Notes: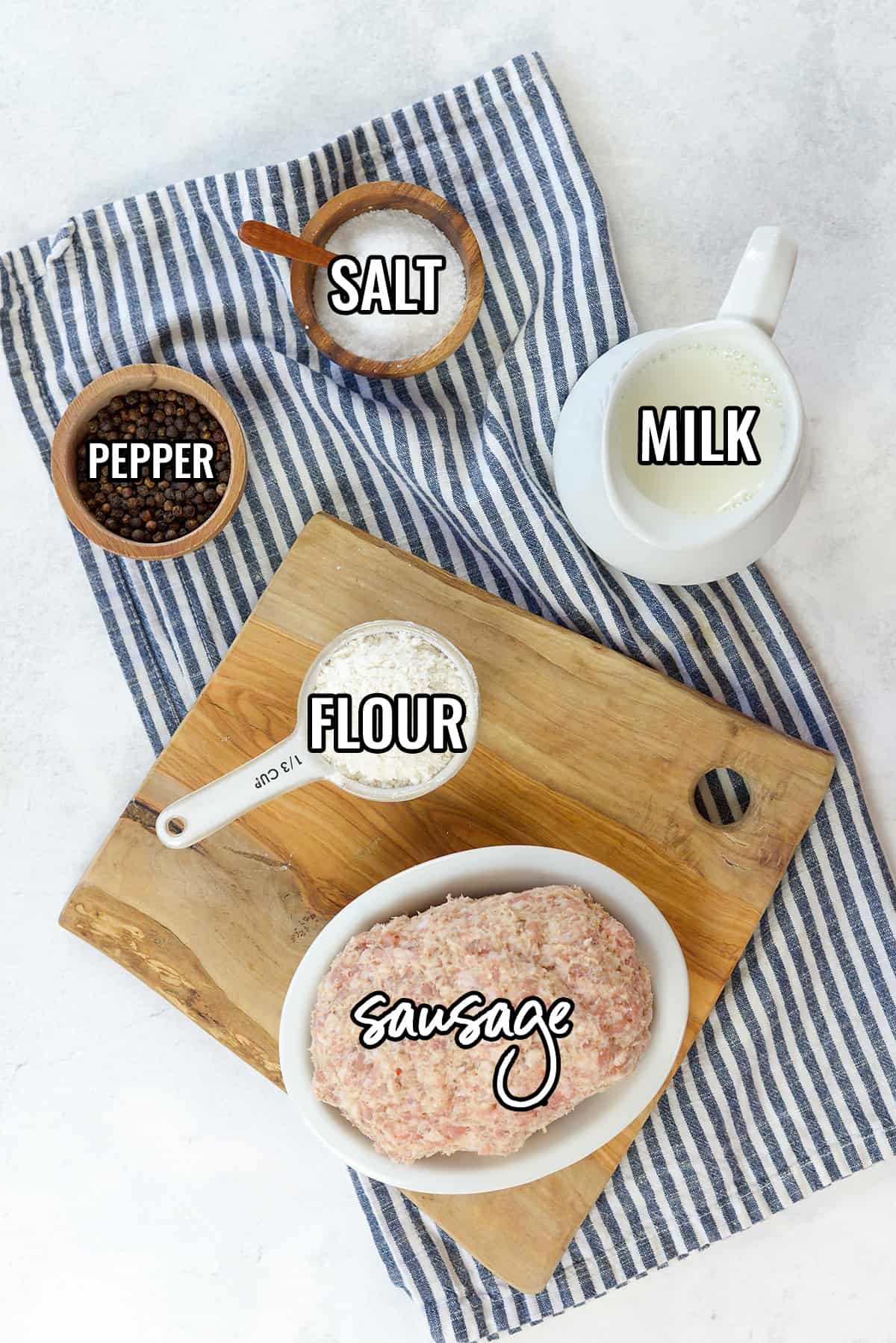 Sausage – We use a roll of breakfast sausage here. The spicy variety is also good, if you like a little kick to your mornings.
Milk & Flour – The main ingredients for pretty much any creamy white gravy recipe! You'll mix these up with the sausage and sausage grease to make the savory gravy.
Salt & Pepper – As much or as little as you'd like to taste.
What Readers are Saying!
"I love this recipe, I have always struggled to make sub par gravy and now, I make awesome gravy thanks to you! Thank you. The only extra I add in is Penzeys Shallot Pepper and it gives it a like kick up." -Diannas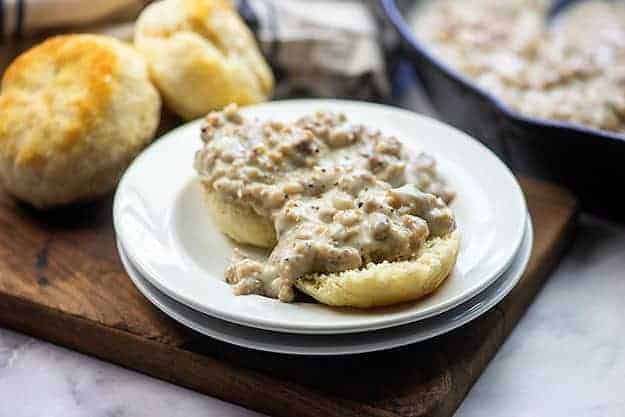 How to Make Sausage Gravy:
Biscuits: Pop your biscuits in the oven while you prepare your gravy. The gravy takes about 15 minutes to make, so plan accordingly on the biscuits.
Serve this sausage gravy over my homemade biscuits for the perfect breakfast or brinner.
Sausage: To start, you'll want to add a pound of breakfast sausage to a large skillet. I always prefer cast-iron but whatever you have is fine. Brown your sausage, breaking it up as it cooks.
Flour: When the sausage is completely cooked through, you'll sprinkle flour over the sausage. Do NOT drain the grease from the sausage. You need that fat to make the gravy.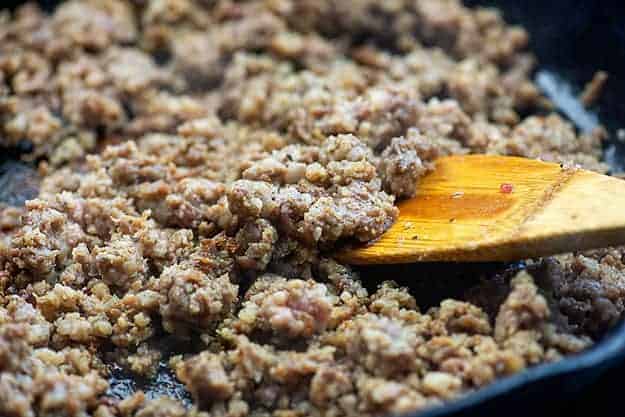 Mix: Stir the sausage well until it starts to look a little dry from the flour. Things will look a bit weird, but just stick with me.
Milk: Pour half your milk right over the sausage and start stirring over medium heat. It'll seem like too much milk at first, but just trust me. As the milk heats up, the gravy will thicken.
Finish: Once the gravy has thickened a bit, add in the rest of the milk. Add in a pinch or two of salt and plenty of freshly cracked black pepper. We like ours really pepper-y! Keep stirring and cooking until the gravy is as thick as you'd like.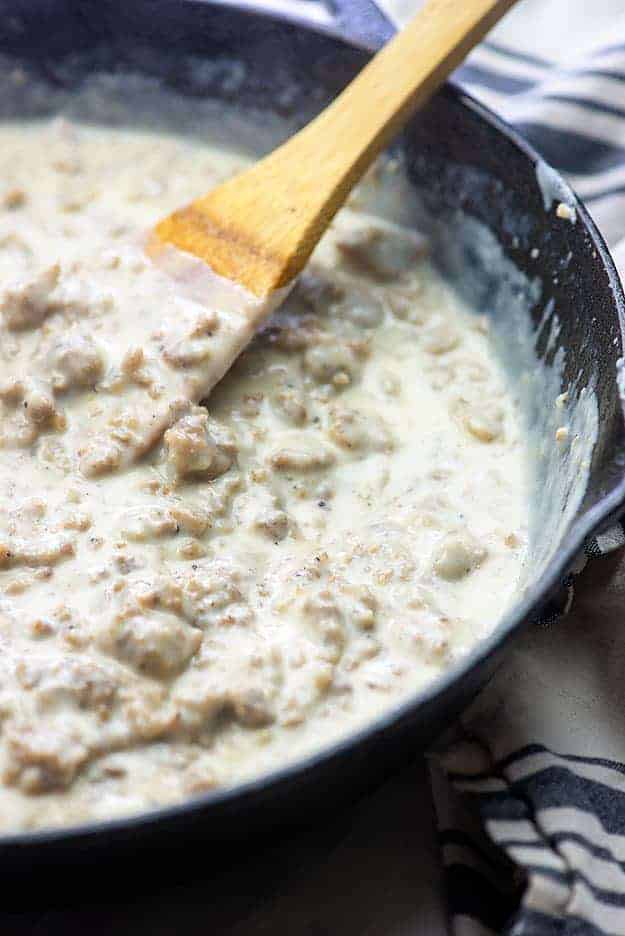 Now, you don't HAVE to stir 100% of the time, but you definitely don't want it to sit for too long without stirring. This goes quick, but it does take some attention.
If you let your sausage gravy get thicker than you'd like, just add in more milk until it hits the consistency you'd like.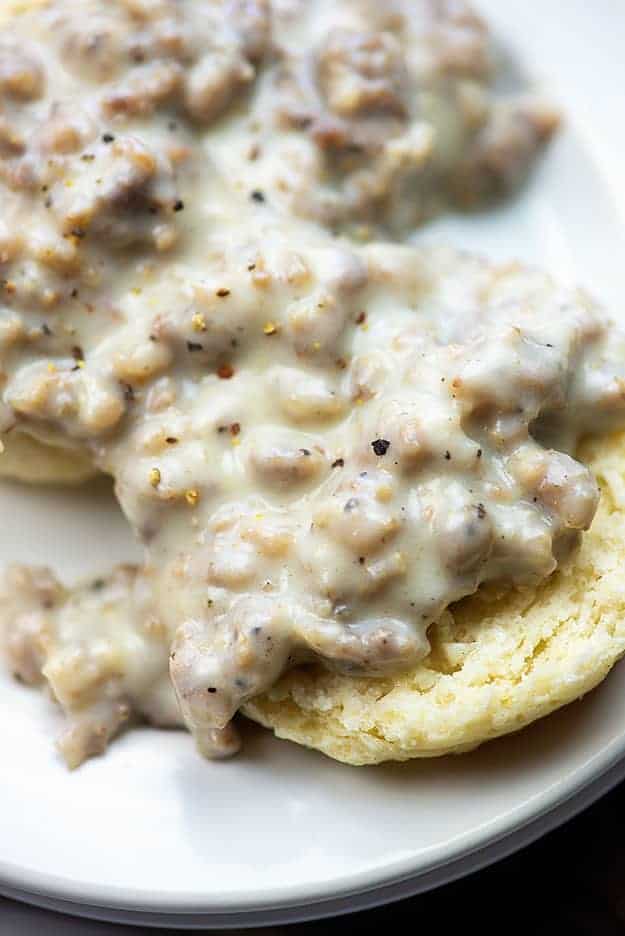 If you want a thicker gravy, just keep stirring over medium heat. Eventually, it will get to a point that it will no longer thicken, but I can't imagine anyone would want the gravy any thicker than it will get following this recipe. If you do, next time just add in a couple extra tablespoons of flour with your sausage.
Split a biscuit in half, spoon the homemade gravy over the top, and dig in!
If you'd like a crazy easy biscuit recipe, try my 7 Up biscuits – they're not quite as good as the homemade biscuits that I linked above but they're very very close and they are easier!
Helpful Tip!
Sausage gravy isn't just for biscuits!
This is great served with hashbrowns, omelets, scrambled eggs, and more! We've even used the leftovers over mashed potatoes. Gravy makes everything better.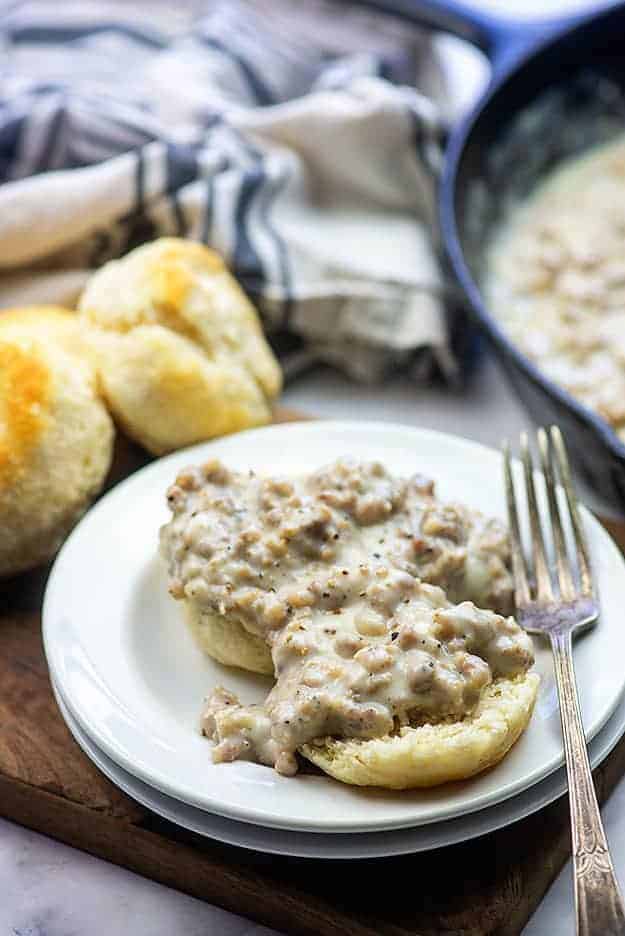 FAQs:
How to store sausage gravy?
You can keep this homemade gravy stored in the refrigerator in an airtight container for about 4 to 5 days. Reheat in the microwave or a skillet, adding a little milk as needed to thin it out.
Can you freeze sausage gravy?
Yes! If you want to store it long term it should freeze well for about 3 months if you store it in freezer safe bags or containers.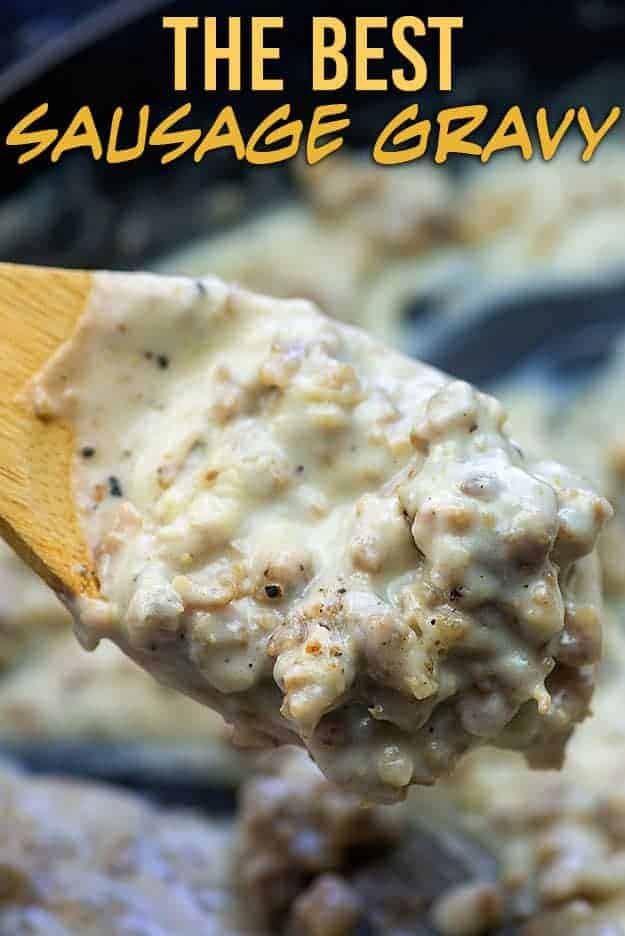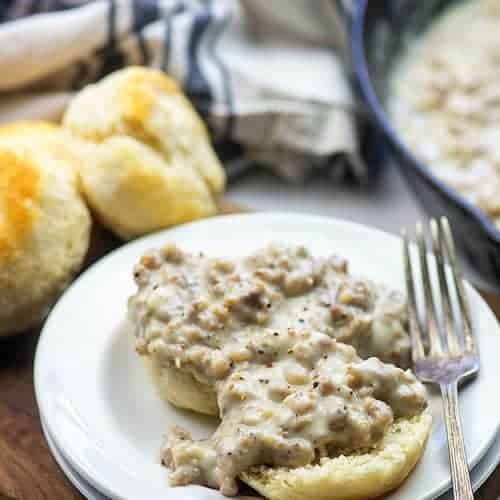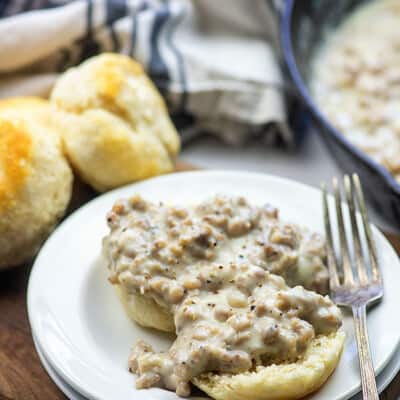 Sausage Gravy
Such a simple recipe, but it's always a crowd pleaser. Serve over homemade biscuits for the best biscuits and gravy!
Prep2 minutes
Cook15 minutes
Total17 minutes
Ingredients
1 pound pork sausage
1/3 cup flour
2 cups milk plus more, as needed
salt and pepper to taste
Instructions
Brown the sausage over medium heat in a large skillet, breaking it into small chunks as it cooks.

When the sausage is cooked through, pour the flour over the meat and stir it to coat all of the meat.

Cook for a couple of minutes until the flour is soaked into the meat.

Pour in half of the milk and stir until the gravy thickens.

Pour in the remaining milk and stir until it comes to the consistency you like. If it gets to thick, add more milk as needed.

Add salt and pepper to taste.

Serve over biscuits, hashbrowns, or eggs.
Tips & Notes:
We use a roll of breakfast sausage in this recipe. Any brand will work fine. We normally have 2% milk on hand, so that's what we use. Skim or whole milk will also work. After pouring in the first half of the milk, you'll think it's too much milk. Just keep stirring on the heat and it will thicken up. That second half of milk will also look like too much, but it will thicken as it cooks. For a thinner gravy, add more milk. For a thicker gravy, use a bit less milk or just cook longer.
Nutrition Information:
Calories: 457kcal (23%)| Carbohydrates: 14g (5%)| Protein: 22g (44%)| Fat: 34g (52%)| Saturated Fat: 12g (75%)| Cholesterol: 94mg (31%)| Sodium: 774mg (34%)| Potassium: 453mg (13%)| Fiber: 1g (4%)| Sugar: 6g (7%)| Vitamin A: 283IU (6%)| Vitamin C: 1mg (1%)| Calcium: 148mg (15%)| Iron: 2mg (11%)
This recipe was originally published October 2011. It was updated with new photos and a video August 2019. Original photo below.