HOMEMADE SAUSAGE GRAVY is always the answer to 'What's for breakfast?' This biscuits and sausage gravy recipe is easy to whip up in no time. I'll share the step-by-step + video below, but you can push the jump to recipe card for the full recipe if you prefer.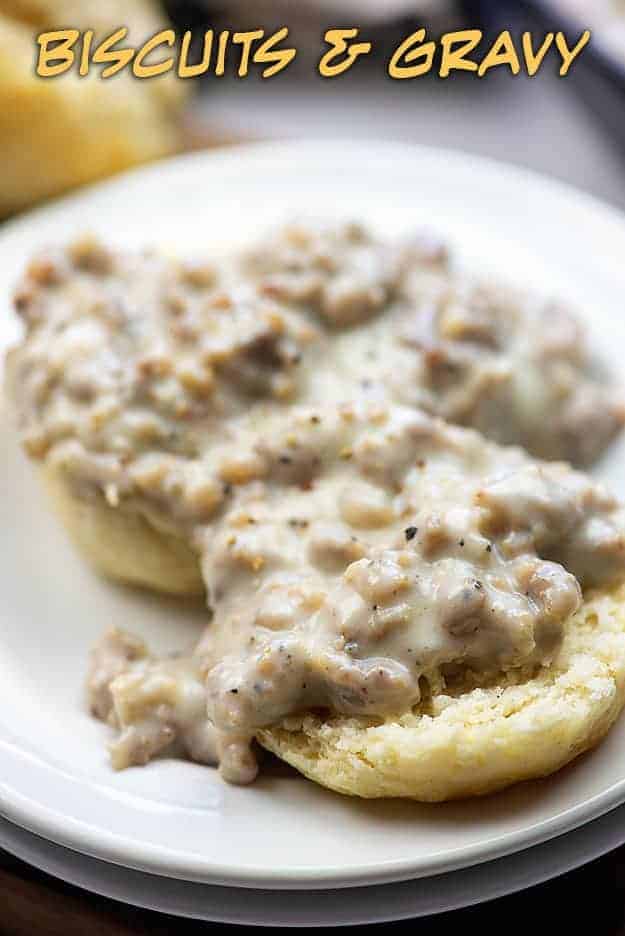 Raise your hand if you like gravy.
Uh huh. Lots of raised hands.
Now, raise your hand if you're good at making gravy.
Strange…not nearly so many hands in the air.
Gravy is a bit scary when you're first starting out in the kitchen, but sausage gravy is basically the easiest type of gravy you could ever make.
I can just about guarantee you won't mess this recipe up and you won't end up with a bunch of lumps in your gravy!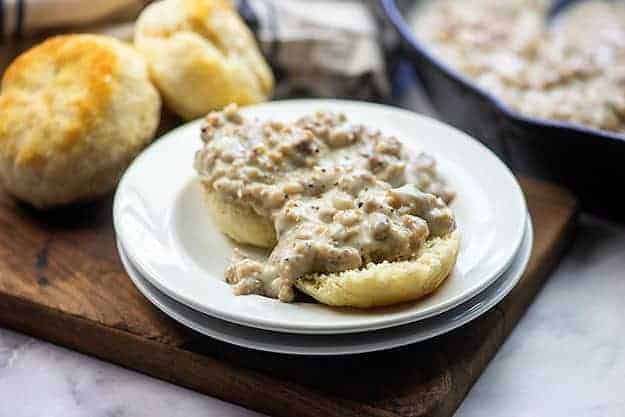 How to make Biscuits and Gravy:
Pop your biscuits in the oven while you prepare your gravy. The gravy takes about 15 minutes to make, so plan accordingly on the biscuits.
Serve this sausage gravy over my homemade biscuits for a weekend breakfast that will literally rock your world! Looking for easier biscuits? These low carb biscuits are delicious too. Both are good alternatives to the canned biscuits.
To start, you'll want to add a pound of breakfast sausage to a large skillet. I always prefer cast-iron but whatever you have is fine. Brown your sausage, breaking it up as it cooks.
When the sausage is completely cooked through, you'll sprinkle flour over the sausage. Do NOT drain the grease from the sausage. You need that fat to make the gravy.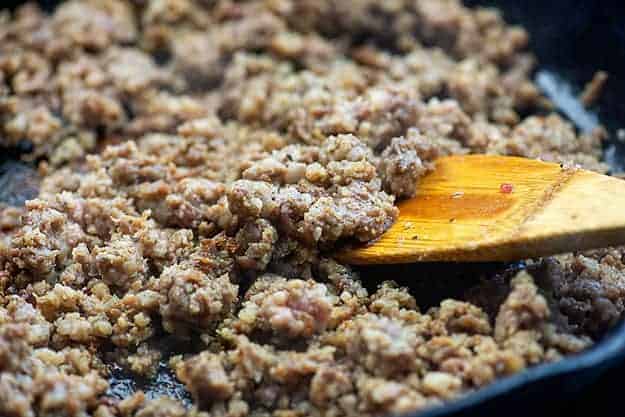 Stir the sausage well until it starts to look a little dry from the flour.
Pour half your milk right over the sausage and start stirring over medium heat. It'll seem like too much milk at first, but just trust me. As the milk heats up, the gravy will thicken.
Once the gravy has thickened a bit, add in the rest of the milk. Add in a pinch or two of salt and plenty of freshly cracked black pepper. We like ours really pepper-y!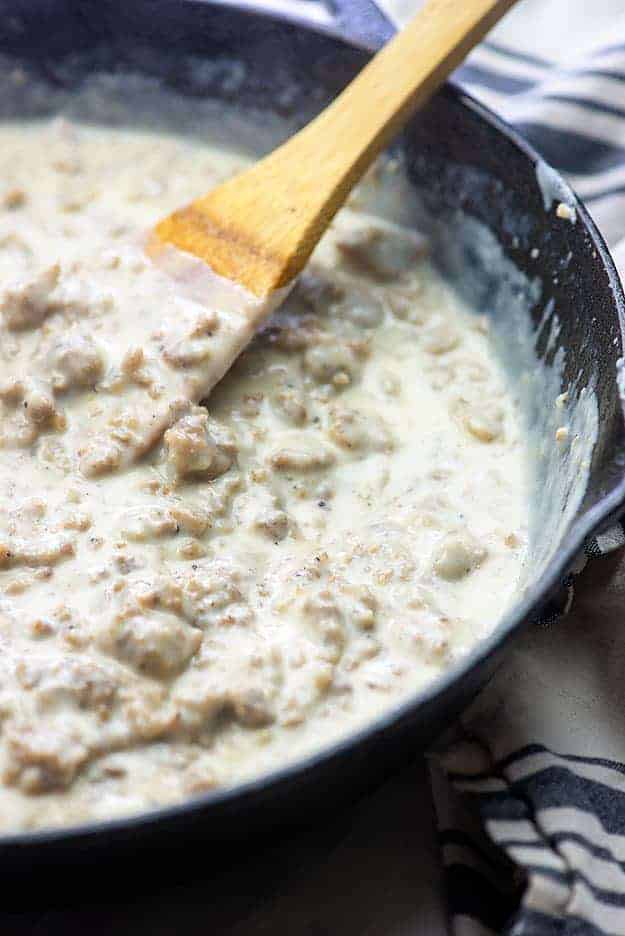 Now, you don't HAVE to stir 100% of the time, but you definitely don't want it to sit for too long without stirring. This goes quick, but it does take some attention.
If you let your gravy get thicker than you'd like, just add in more milk until it hits the consistency you'd like.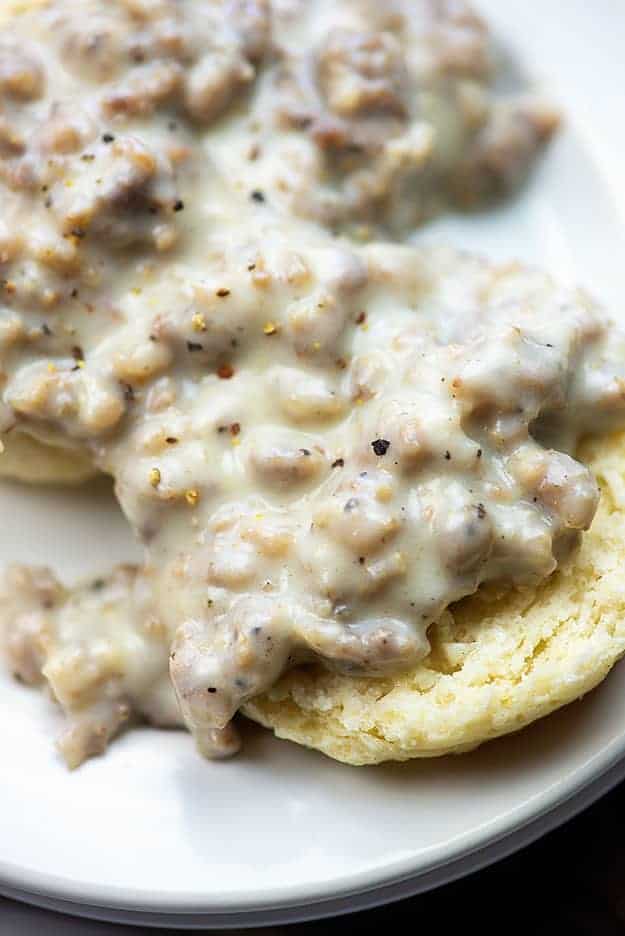 If you want a thicker gravy, just keep stirring over medium heat. Eventually, it will get to a point that it will no longer thicken, but I can't imagine anyone would want the gravy any thicker than it will get following this recipe. If you do, next time just add in a couple extra tablespoons of flour with your sausage.
Split a biscuit in half, spoon the sausage gravy over the top, and dig in!
If you'd like a crazy easy biscuit recipe, try my 7 Up biscuits – they're not quite as good as the homemade biscuits that I linked above but they're very very close and they are easier!
Helpful Tip!
Sausage gravy isn't just for biscuits!
This is great served with hashbrowns, omelets, scrambled eggs, and more! We've even used the leftovers over mashed potatoes. Gravy makes everything better.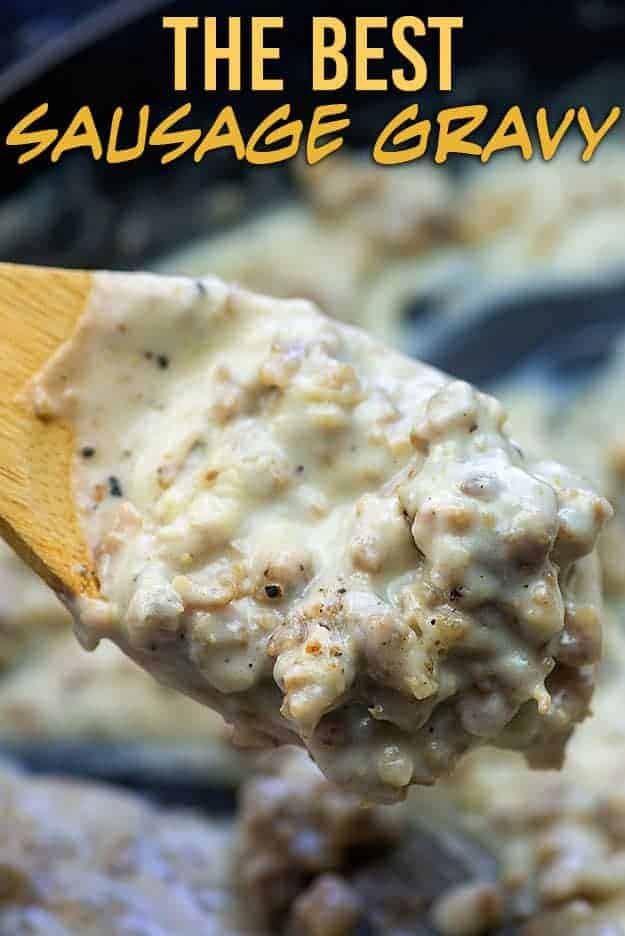 More breakfast recipes to try:
Breakfast food is a favorite in my house and my kids usually go for the baked goods like blueberry streusel muffins, chocolate banana bread, or cinnamon roll casserole.
My pumpkin donuts and Belgian waffle recipe are a personal favorite.
If you want something more savory, try these frittata muffins loaded with bacon and broccoli or my keto breakfast casserole. Both are naturally low carb, which is a nice way to start the day.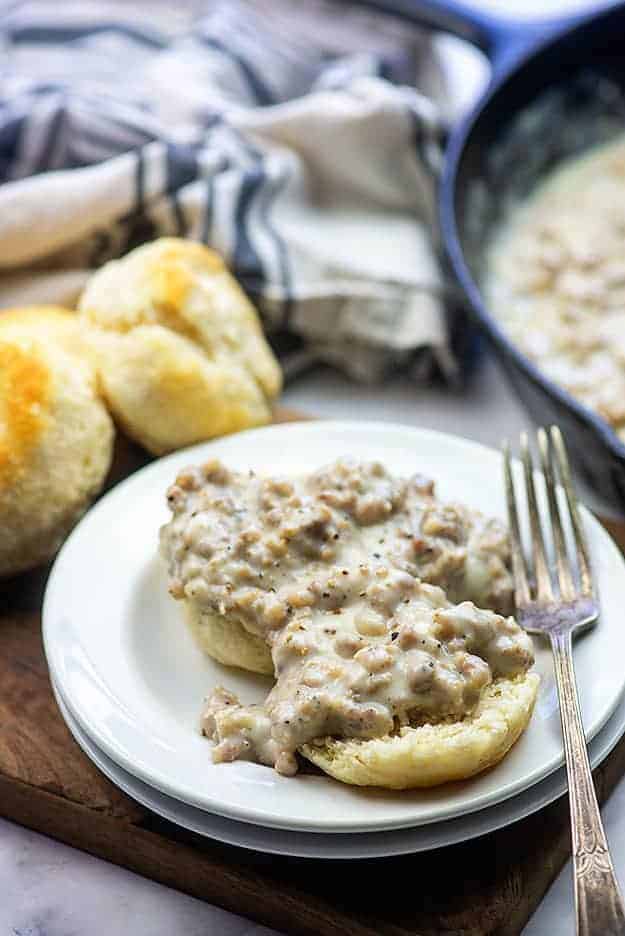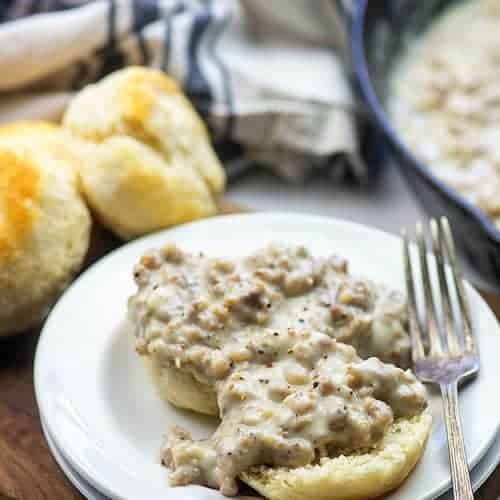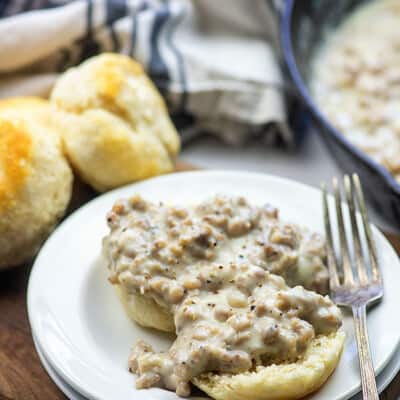 Sausage Gravy
Such a simple recipe, but it's always a crowd pleaser. Serve over homemade biscuits for the best biscuits and gravy!
Prep2 minutes
Cook15 minutes
Total17 minutes
Ingredients
1 pound pork sausage
1/3 cup flour
2 cups milk plus more, as needed
salt and pepper to taste
Instructions
Brown the sausage over medium heat in a large skillet, breaking it into small chunks as it cooks.

When the sausage is cooked through, pour the flour over the meat and stir it to coat all of the meat.

Cook for a couple of minutes until the flour is soaked into the meat.

Pour in half of the milk and stir until the gravy thickens.

Pour in the remaining milk and stir until it comes to the consistency you like. If it gets to thick, add more milk as needed.

Add salt and pepper to taste.

Serve over biscuits, hashbrowns, or eggs.
Nutrition Information:
Calories: 457kcal (23%)| Carbohydrates: 14g (5%)| Protein: 22g (44%)| Fat: 34g (52%)| Saturated Fat: 12g (75%)| Cholesterol: 94mg (31%)| Sodium: 774mg (34%)| Potassium: 453mg (13%)| Fiber: 1g (4%)| Sugar: 6g (7%)| Vitamin A: 283IU (6%)| Vitamin C: 1mg (1%)| Calcium: 148mg (15%)| Iron: 2mg (11%)
This recipe was originally published October 2011. It was updated with new photos and a video August 2019. Original photo below.