Our Breakfast Pizza recipe is loaded with scrambled eggs, sausage, and bacon, all on top of my favorite breakfast pizza sauce and a store bought dough. It's breakfast perfection and we can't get enough! Serve it up for a fun weekend breakfast or a quick brinner any night of the week.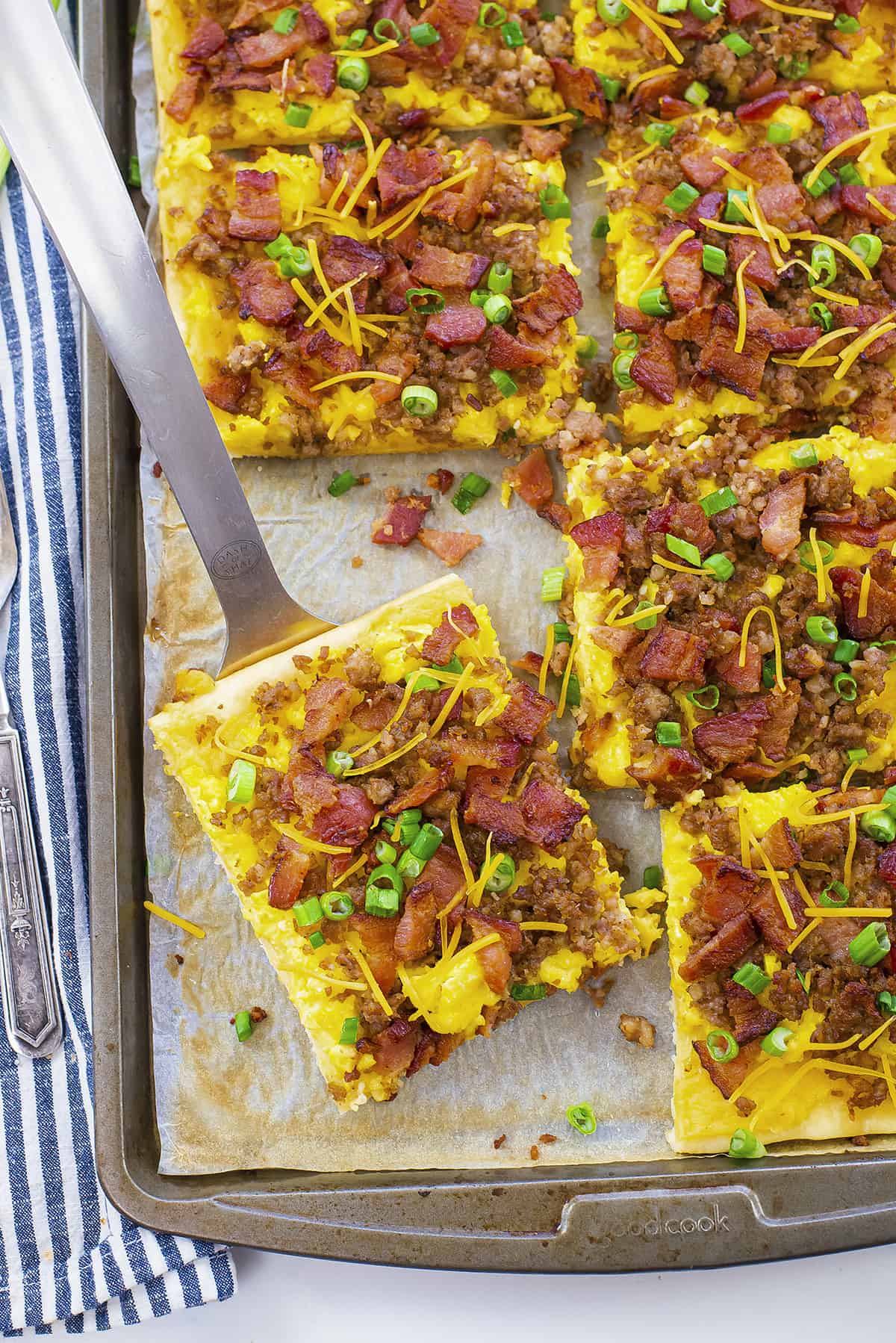 Brinner is kind of a big deal in our house.
My husband is basically obsessed with all things breakfast, so if we can get breakfast food twice in one day, he's a happy man.
He absolutely loves my waffle recipe and requests those at least once a week. I adore my dad's homemade biscuits and make those with sausage gravy pretty regularly.
Another favorite is my keto breakfast casserole.
But the kids? They want pizza and if it's breakfast pizza that's just fine with them!
Our breakfast pizza recipe is loaded with scrambled eggs, bacon, and sausage. We put it all on a creamy cheese sauce over a store bought (or homemade – you do you) pizza dough. Bakes up just perfect!
Ingredient Notes:
This post contains affiliate links. As an Amazon associate and member of other qualifying programs, I earn from qualifying purchases.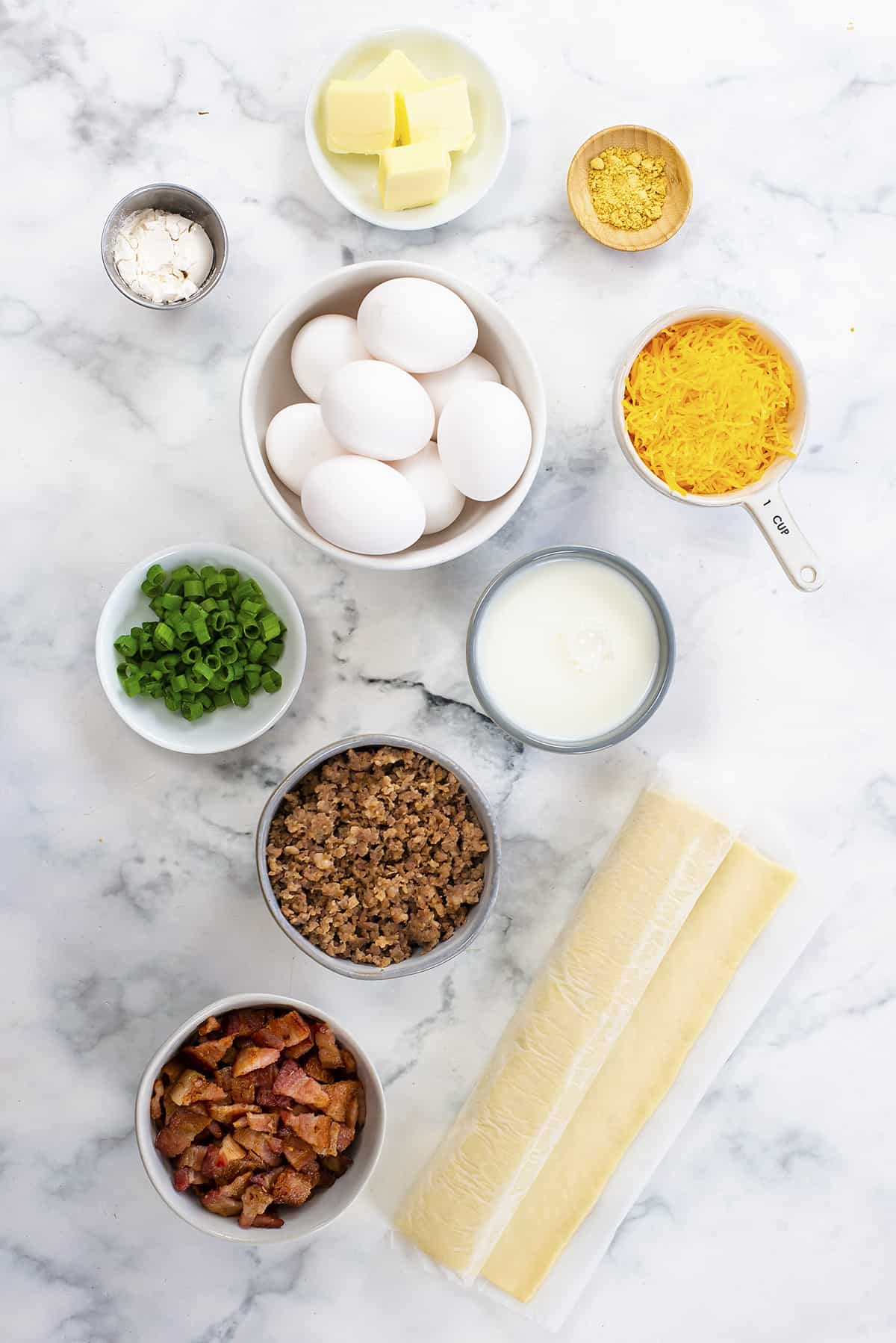 For the breakfast pizza sauce:
We use a creamy cheese sauce as the breakfast pizza sauce – no marinara here! It pairs perfectly with the eggs and meat and keeps the pizza from being dry. You'll need:
Roux – We'll make a roux from butter and flour. You literally just cook the two together over heat in a pan and let them come together – couldn't be easier.
Milk – We'll add milk to the roux to turn it into a gravy.
Shredded Cheddar – Once your gravy thickens up, we stir in sharp cheddar cheese. You could use any variety of cheese you like.
Mustard Powder – Just a pinch for flavor!
For the pizza:
Pizza Crust – You can make your own homemade pizza dough or keep it simple and just buy a premade crust from the store! See below for more info.
Eggs – We'll scramble some eggs with a little milk and butter.
Meat – We use a combination of crumbled bacon and sausage. You can mix things up however you like. Try chorizo or ham. Just use one type of meat instead of a combo, if that's all you have on hand. We do like to use our air fryer bacon recipe for this – so easy!
Green Onions – Some chopped green onions make a simple and flavorful topping for this breakfast pizza.
Other – This is a pizza so feel free to customize it with any other toppings that you might like such as bell peppers, onion, olives, or mushrooms! Anything you'd put into an omelet would go well here.
What We Love About This Recipe:
Just like any pizza you can customize this recipe with your favorite breakfast ingredients!
The homemade cheese sauce is pretty tasty and you could definitely use it in other recipes.

Cast iron skillets are my favorite! They heat so evenly, get piping hot for searing, and nothing is better than bacon fried in a cast iron skillet.
How To Make Breakfast Pizza:
Prepare: Start preheating your oven and then get to work on assembling the pizza! Start by arranging the pizza crust on a baking sheet or pizza pan.
Sauce: Now for the cheesy pizza sauce! Whisk together the butter and flour until combined and then whisk in milk. Once it's thickened, stir in the cheddar and stir until melted. Spread the cheese sauce over the pizza crust and then move on to making the eggs.
Eggs: Melt some butter in a large skillet and then scramble your eggs. You'll want to leave them a bit wet so they don't overcook in the oven.
Top: Spoon the scrambled eggs over the cheese sauce covered pizza crust and then add on the toppings! Bacon, sausage, and any other toppings you might want to add. Maybe more cheese? Mushrooms? Onions? It's all good!
Bake: After topping the pizza place it in the oven and cook it according to the pizza crust recipe/package instructions!
Serve: When the pizza has finished baking remove it from the oven and sprinkle on some green onions! Slice it up and serve immediately. Try it with some Frank's Red Hot! We put that stuff on everything.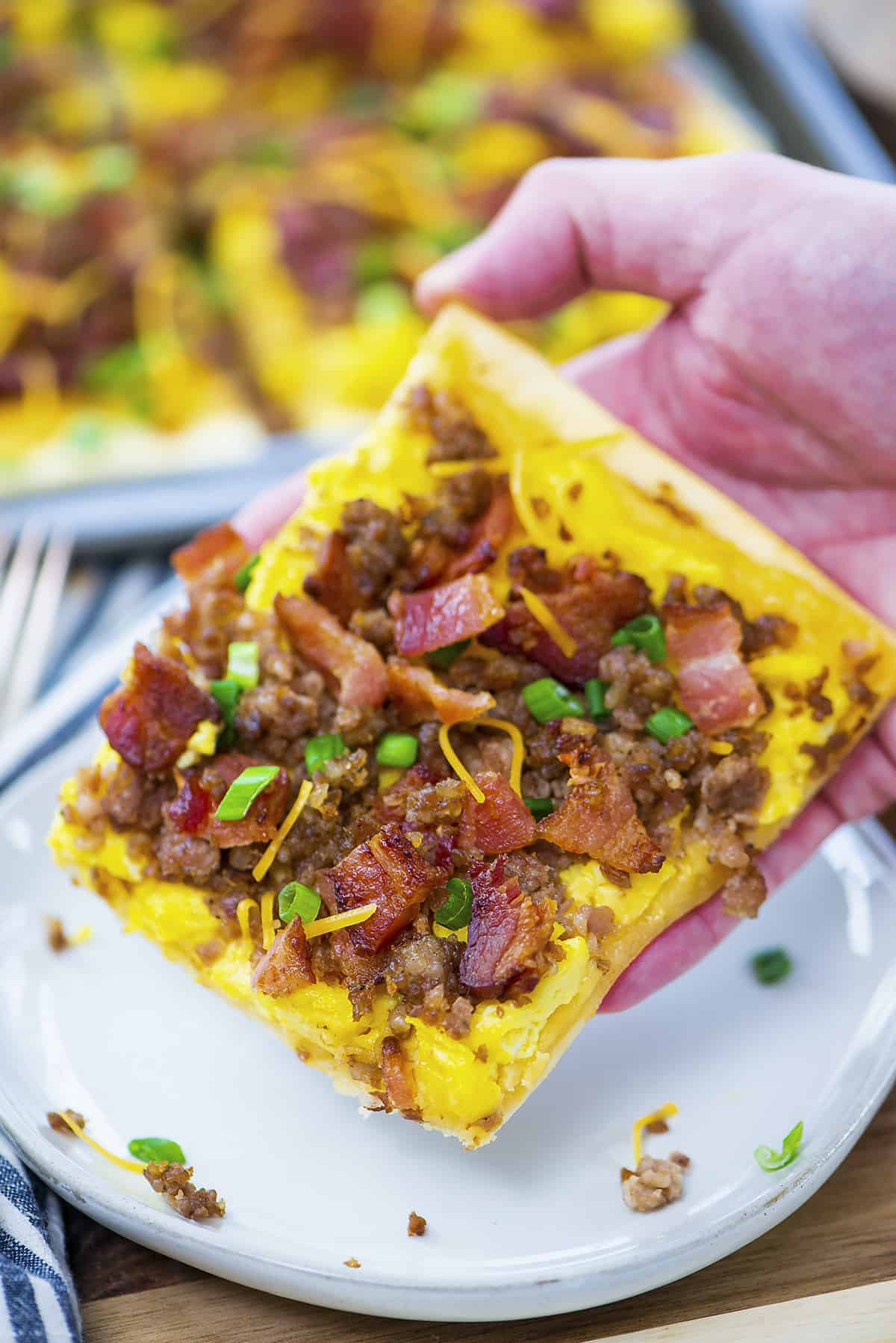 Pizza Crust:
I have made this using homemade pizza dough as well as using store bought. Either works just fine, so do what you prefer!
Honestly, I usually keep pizza night simple and go with the store bought dough. No shame here.
Pro Tip: The crescent roll dough sheet works really great as a base for this pizza! Everyone loves crescent rolls, right?
FAQs:
How to store breakfast pizza?
This breakfast pizza is best enjoyed fresh, but you can save leftovers for up to a few days in the fridge. Reheat in the microwave or oven.
Can you freeze breakfast pizza?
I haven't tried it with this recipe but I think it would work fine. Wrap it up in some plastic wrap and then foil and freeze for up to a couple months.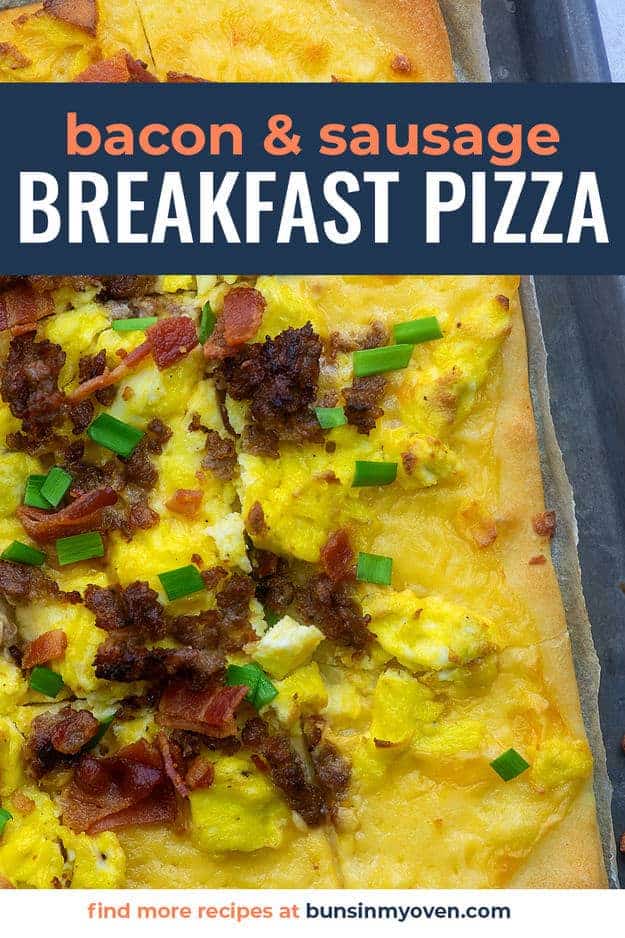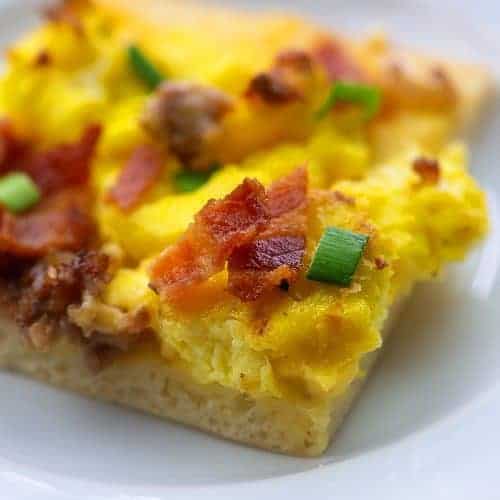 Breakfast Pizza
This breakfast pizza is topped off with a simple cheese sauce, scrambled eggs, bacon, and sausage! It's the perfect brinner or weekend breakfast.
Prep10 minutes
Cook15 minutes
Total25 minutes
Ingredients
For the cheese sauce:
3 tablespoons butter
2 tablespoons flour
1 cup milk
Pinch of mustard powder
1 cup shredded cheddar
For the pizza:
1 pizza crust homemade or store bought
8 large eggs
2 tablespoons milk
1 tablespoon butter
8 slices bacon cooked and crumbled
4 ounces sausage cooked and crumbled
2 tablespoons chopped green onions
Instructions
To make the cheese sauce:
Add the butter to a small sauce pan over medium heat and melt.

Whisk in the flour and cook for 1 minute.

Whisk in the milk and mustard powder and cook, whisking constantly, for 2-3 minutes, until the sauce has thickened.

Remove from the heat and stir in the cheese until the sauce is smooth and creamy.
To assemble:
Preheat oven according to the pizza crust recipe/package directions. Arrange your pizza crust on a baking sheet or pizza pan and spread the cheese sauce over the top.

Crack the eggs into a bowl and whisk together with the milk until smooth.

Add the butter to a skillet over medium heat and let melt.

Pour the eggs into the hot skillet and cook, stirring occasionally, until the eggs are mostly set. Do not cook fully as the eggs will finish off in the oven.

Arrange the scrambled eggs over the pizza crust and sprinkle the bacon and sausage pieces over the top.

Bake the pizza according to the pizza crust recipe/package directions.

When the pizza is fully baked, remove from the oven and sprinkle with the green onions.

Slice and serve immediately.
Tips & Notes:
We normally use store bought pizza dough that rolls out onto a sheet pan. You can use homemade or a round crust just as well. Ham, onions, peppers, and mushrooms all make great toppings as well.
Nutrition Information:
Serving: 1slice| Calories: 486kcal (24%)| Carbohydrates: 28g (9%)| Protein: 21g (42%)| Fat: 32g (49%)| Saturated Fat: 14g (88%)| Cholesterol: 269mg (90%)| Sodium: 732mg (32%)| Potassium: 216mg (6%)| Fiber: 1g (4%)| Sugar: 3g (3%)| Vitamin A: 706IU (14%)| Vitamin C: 1mg (1%)| Calcium: 220mg (22%)| Iron: 3mg (17%)