This pizza bread recipe is about as easy as it gets! Italian bread with pizza sauce, cheese, seasoning, and your favorite pizza toppings all come together for a quick lunch or dinner that the whole family loves!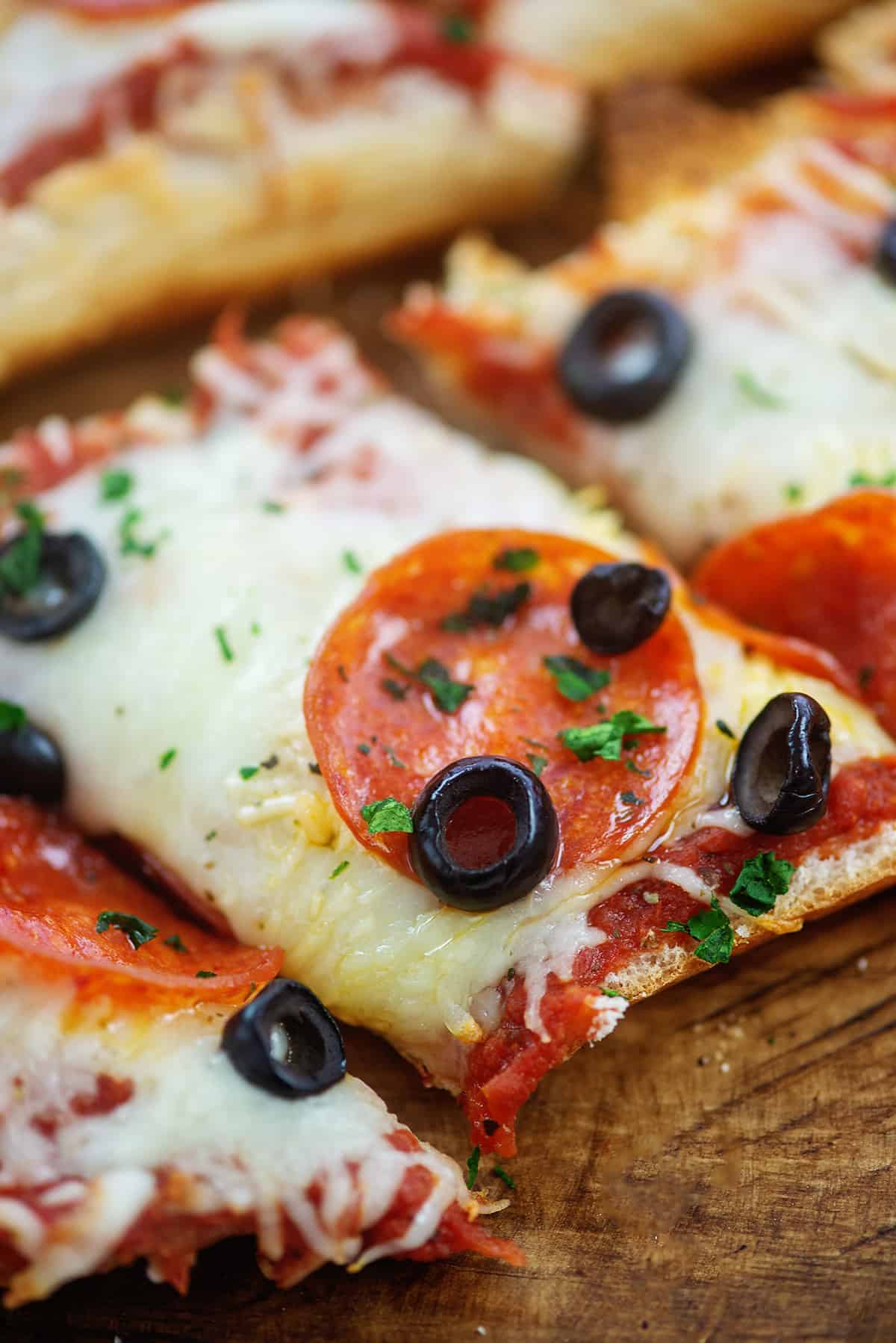 Picture this: You wake up, you feed your kids breakfast, you start your day of homeschooling. Your kids last all of ten minutes before they start asking if it's lunch time. You lose the will to live. You also panic because once again you have no idea what you're going to serve for lunch.
That happens every day around here. Every single day. It's a miracle I've survived this long.
One of my favorite lunches is pizza bread. Sure, I could just pop a frozen pizza in the oven and it'd be done just as quick as this pizza bread, but then I'd feel lazy. I'd feel like a bad mom. I'd also feel sick of frozen pizza, because we probably just ate it yesterday. Ah, the life of a homeschooler. So glamorous.
This pizza bread is so quick to prepare and I pretty much always have the ingredients on hand.
This bakes in about 5-10 minutes, making it perfect for busy days on the go.
Ingredient Notes: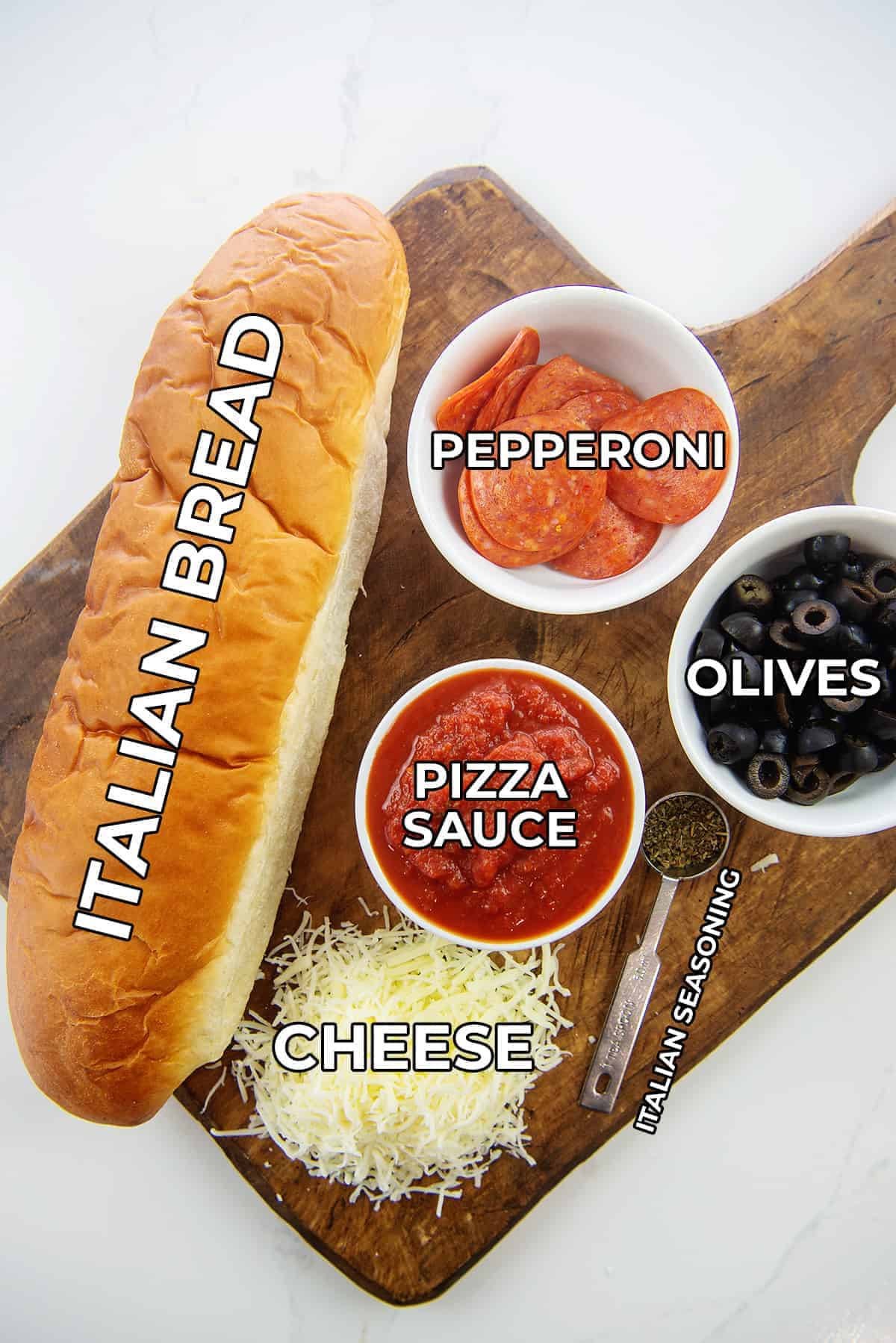 Italian Bread – Our grocery store bakery has a sweet Italian bread that we just love. Any loaf of bread will do though. French Bread Pizza is a total thing for a reason! 😉
Italian Seasoning – Just about any great pizza should have some Italian seasoning that includes some herbs like oregano, basil, thyme, etc.
Cheese – I love mozzarella and Parmesan cheese on my pizza, but you can use whatever cheese you prefer. Cheddar, Provolone, American. It's all good!
Toppings – Some pepperoni and black olives are a great combination, but just about any pizza topping you can think of will work with this recipe!
What Readers are Saying!
"Friday nights are pizza night & this is the only pizza we make. So easy & yummy.. Thanks so much for the recipe!" – Melissa
How to Make Pizza Bread:
Slice: It really does not get any easier than this pizza bread recipe! No need to worry about making a crust from scratch or using one of those pre-made crusts from the store. Italian bread works really well for making this pizza recipe! Slice the loaf in half lengthwise and place on a sheet pan.
Toppings: Now you can start assembling the pizza. As with most any pizza you'll want to start with some pizza sauce! Spread the sauce over both halves of the bread, about three quarters of a cup should work.
Next up is the cheese! Load that bread up with a generous amount of mozzarella and Parmesan cheeses. If you want to add other cheeses (cheddar maybe?) now would be the time to do so.
I like to sprinkle some Italian seasoning over the top at this point just for some extra flavor. And now all that's left is to add your favorite toppings! We love pizza bread with pepperoni, and black olives are also a favorite. But you can add whatever pizza toppings you like!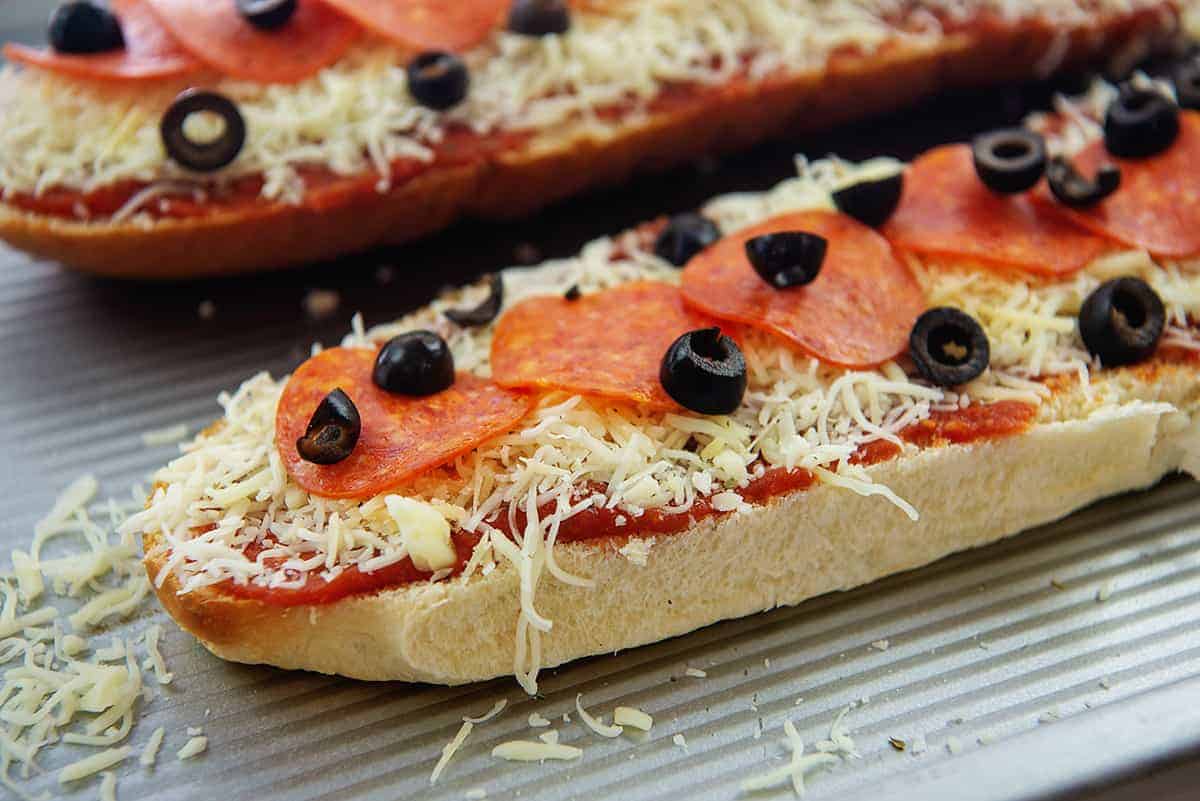 Helpful Tip!
Spice it up…
If you're looking to turn up the heat on this pizza, sprinkle on some red pepper flakes!
Bake: When you've finished adding all your favorite toppings you can go ahead and place the sheet pan in the oven and start baking the pizza bread. It'll only take about 10 minutes at 375 degrees. When the cheese is hot and bubbly and melted it should be ready. Don't overcook or the bread will be too crunchy.
FAQs about Pizza Bread:
What kind of toppings can I use on pizza bread?
We're partial to pepperoni and black olives, but any pizza toppings will work here. Mushrooms, onion, peppers, sausage, ham, and pineapple are all favorites!
Do I have to use Italian bread?
We love soft Italian bread for this recipe, but French bread is a great option as well.
Can I reheat this pizza bread later?
Yes! Pizza is one of those foods that taste just as good or sometimes even better the next day. This pizza bread is no different. Just store it covered in the refrigerator and reheat it in the oven.
More Pizza Recipes!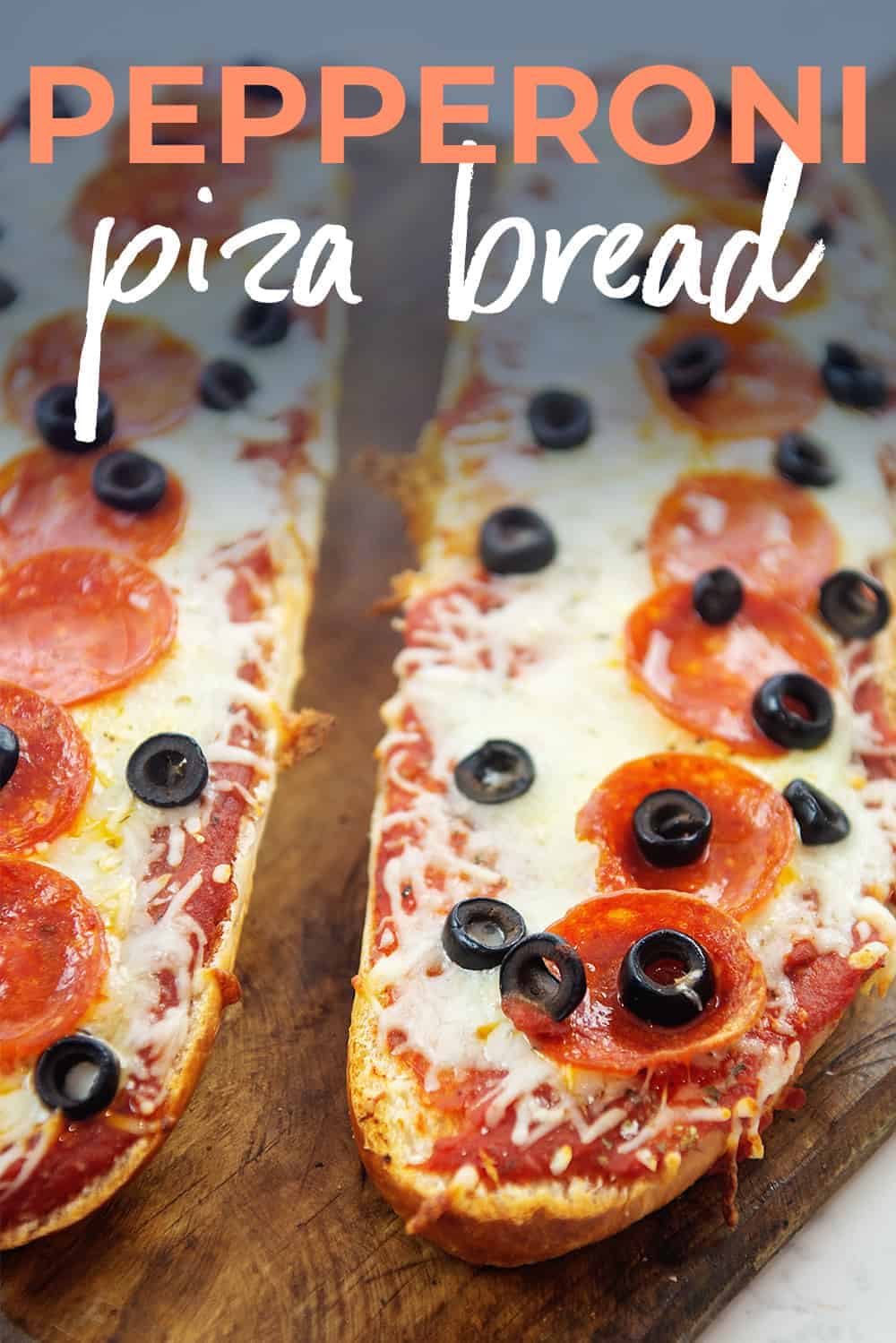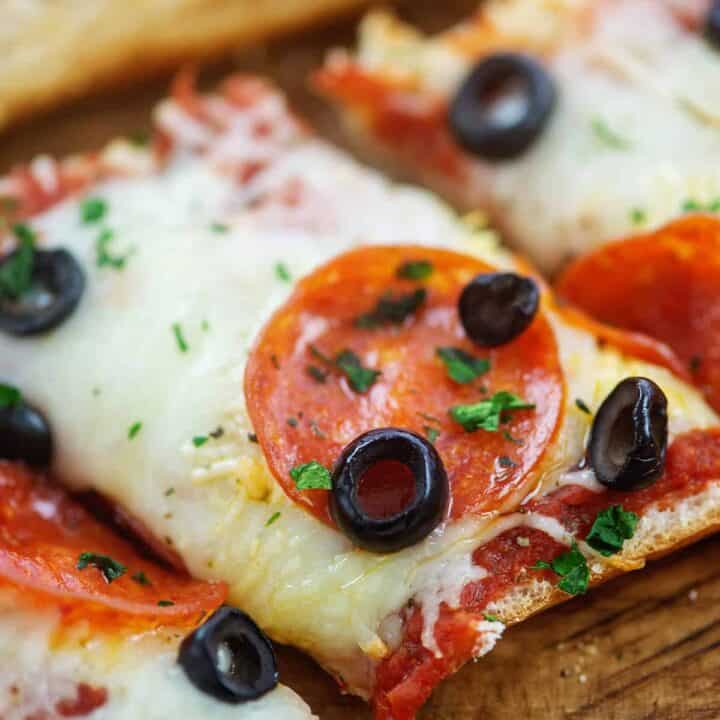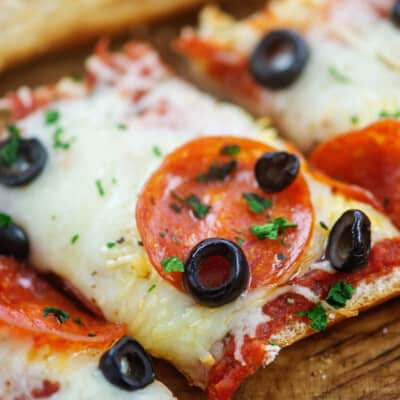 Pizza Bread
Our homemade pizza bread is so simple to make and it bakes in minutes. Feel free to add whatever toppings you like on your pizza.
Prep5 minutes
Cook10 minutes
Total15 minutes
Ingredients
1 loaf Italian bread
1/2 cup pizza sauce
1 1/2 cups shredded mozzarella
½ cup shredded Parmesan
1 teaspoon Italian seasoning
16 slices Pepperoni
1/4 cup sliced black olives
Instructions
Preheat oven to 375 degrees.

Slice the bread in half lengthwise.

Spread each half of the bread with pizza sauce. Top with cheese. Sprinkle with the Italian seasoning. Arrange pepperoni and olives over the cheese.

Bake on a sheet pan for 10 minutes or until cheese has fully melted.

Serve hot.
Tips & Notes:
We love sweet Italian bread for this recipe, but French bread also works well. Add more or less pizza sauce, depending on how saucy you like your pizza. Feel free to swap out the toppings for whatever you like.
Nutrition Information:
Calories: 867kcal (43%)| Carbohydrates: 63g (21%)| Protein: 25g (50%)| Fat: 57g (88%)| Saturated Fat: 31g (194%)| Polyunsaturated Fat: 8g| Monounsaturated Fat: 16g| Trans Fat: 1g| Cholesterol: 50mg (17%)| Sodium: 1317mg (57%)| Potassium: 423mg (12%)| Fiber: 5g (21%)| Sugar: 37g (41%)| Vitamin A: 556IU (11%)| Vitamin C: 2mg (2%)| Calcium: 378mg (38%)| Iron: 3mg (17%)