If you've ever had French bread pizza, you know how amazing this recipe is going to be! It's seriously the best!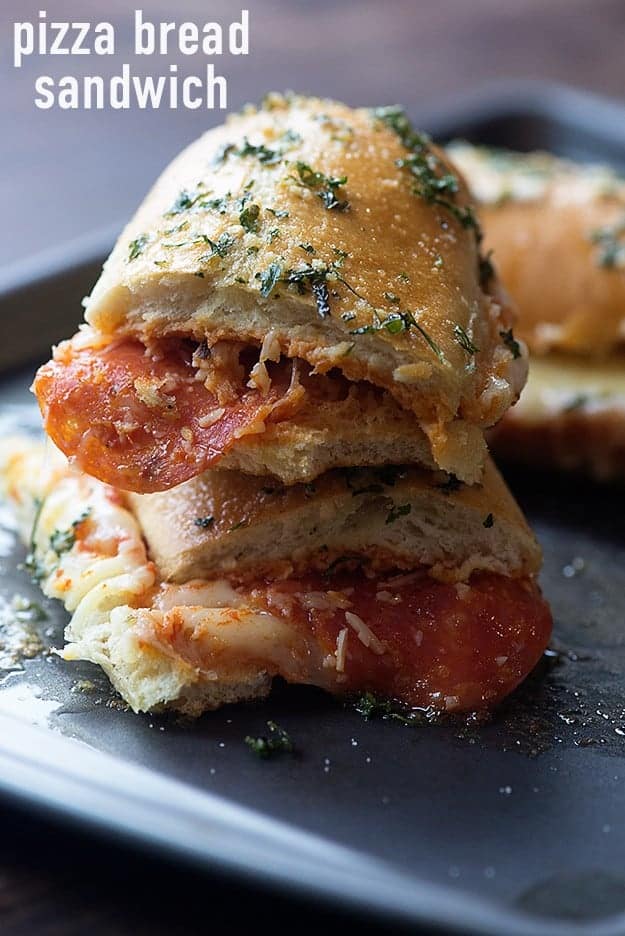 I posted a French bread pizza recipe a few years ago, back when it was one of our lunch staples. You see, I homeschool the kids. That means they are here for breakfast. And lunch. And dinner. Every day. Plus snacks in between.
Sometimes I feel like all I do is feed short people.
Anyway, I like easy food. We were on a major pizza bread kick back in the day and it was divine. Basically just French bread spread with pizza goodies.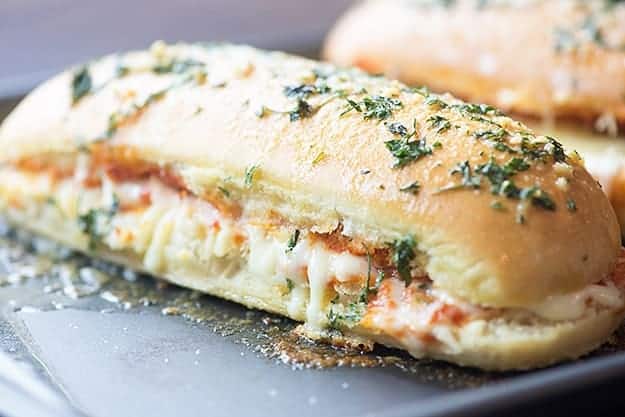 Well, one day we were out of French bread, but I had a pack of sub rolls in the pantry, so I made pizza bread sandwiches and you guys. You guyyyyyyyssssssss.

We rarely make normal pizza bread anymore. I mean, sure, the original is good, but it's nothing compared to these sandwiches!
I top them with garlic butter, so it's like a cross between garlic bread, pizza, and a sub sandwich. How can that be a bad thing? IT CAN'T. 🙂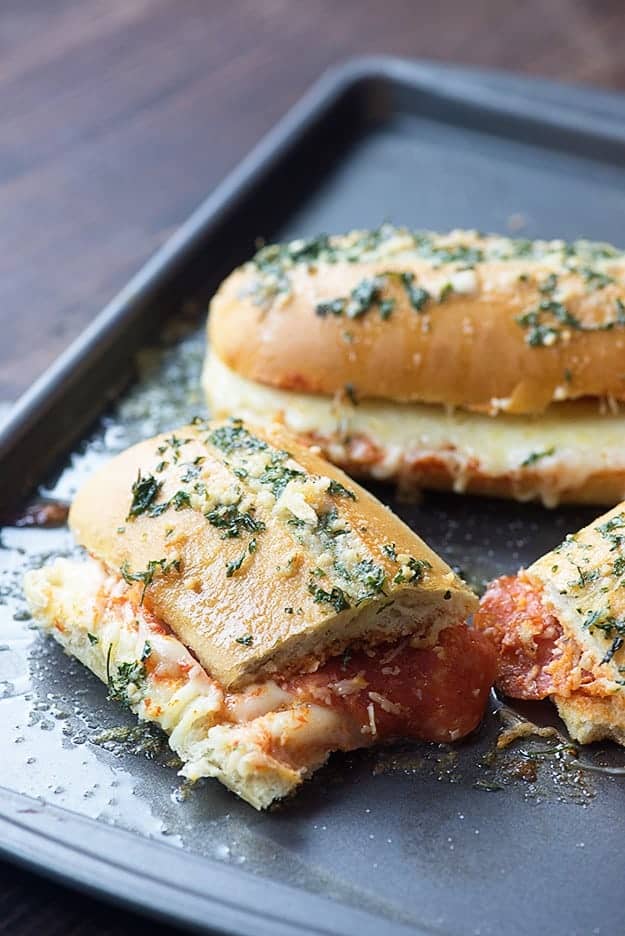 So, if you're like me, feeling like all you do is feed your little people, I implore you to give this simple recipe a try. You could even make a big batch of these and call 'em football food. I mean, I have not met a man yet that wouldn't devour these things!
We also make a lot of our sun-dried tomato pasta since it's a one pot dish that's super quick. I always seem to have a bowl of buffalo chicken salad and my favorite egg salad recipe in the fridge for quick lunches too. And, of course, my pressure cooker mac and cheese is a staple. We put smoked sausage in there for protein and everyone just devours the cheesy goodness! My homemade hamburger helper recipe is also a hit. Then, after I've cooked a million lunches for little people, I go drink a vodka collins. Mom life. 😉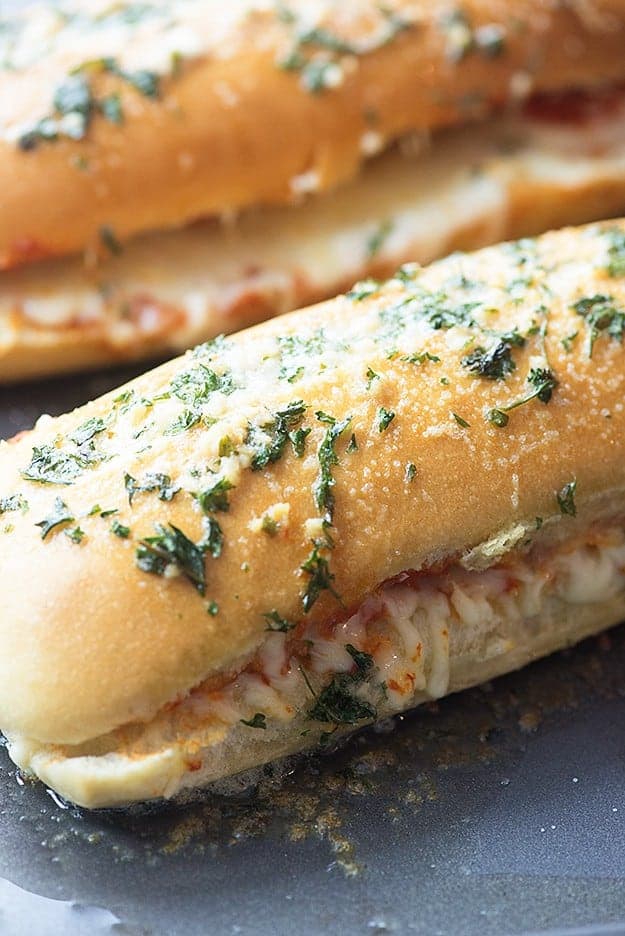 Anyway, I hope you love this easy lunch as much as we do! Oh, and totally feel free to customize your sandwich with your favorite pizza toppings – olives, onions, mushrooms, sausage, you name it. You can't go wrong here!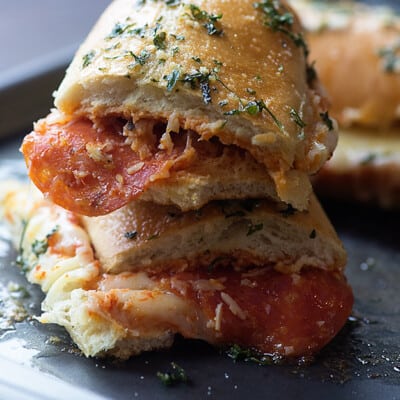 Pizza Bread Sandwich
If you've ever had French bread pizza, you know how amazing this recipe is going to be! It's seriously the best!
Prep5 minutes
Cook15 minutes
Total20 minutes
Ingredients
2 sub rolls
1/2 cup pizza sauce
1 1/2 cups grated mozzarella
1/2 cup grated Parmesan cheese
pepperoni sausage, olives, mushrooms, etc.
1/4 cup butter melted
1 garlic clove minced
1/2 teaspoon onion powder
1 teaspoon dried parsley
Instructions
Preheat oven to 350 degrees.

Split the sub rolls down the middle and spread pizza sauce evenly between each piece.

Top the bottom pieces of the sub rolls with mozzarella. Sprinkle on your preferred pizza toppings. Top with Parmesan.

Place the top halves of the sub rolls over the sandwich.

Stir together the butter, garlic, onion powder, and parsley and spoon over the tops of the sandwiches.

Bake for 15 minutes or until the bread is toasty and the cheese has melted.

Serve immediately.
Nutrition Information:
Calories: 718kcal (36%)| Carbohydrates: 40g (13%)| Protein: 36g (72%)| Fat: 45g (69%)| Saturated Fat: 27g (169%)| Cholesterol: 137mg (46%)| Sodium: 1723mg (75%)| Potassium: 305mg (9%)| Fiber: 1g (4%)| Sugar: 8g (9%)| Vitamin A: 1600IU (32%)| Vitamin C: 4.8mg (6%)| Calcium: 961mg (96%)| Iron: 11.7mg (65%)