Our Garlic Bread Pizza is extra cheesy, loaded with pepperoni, and topped with a simple garlic butter. This mash-up of two of our favorite foods make the perfect lunch or dinner.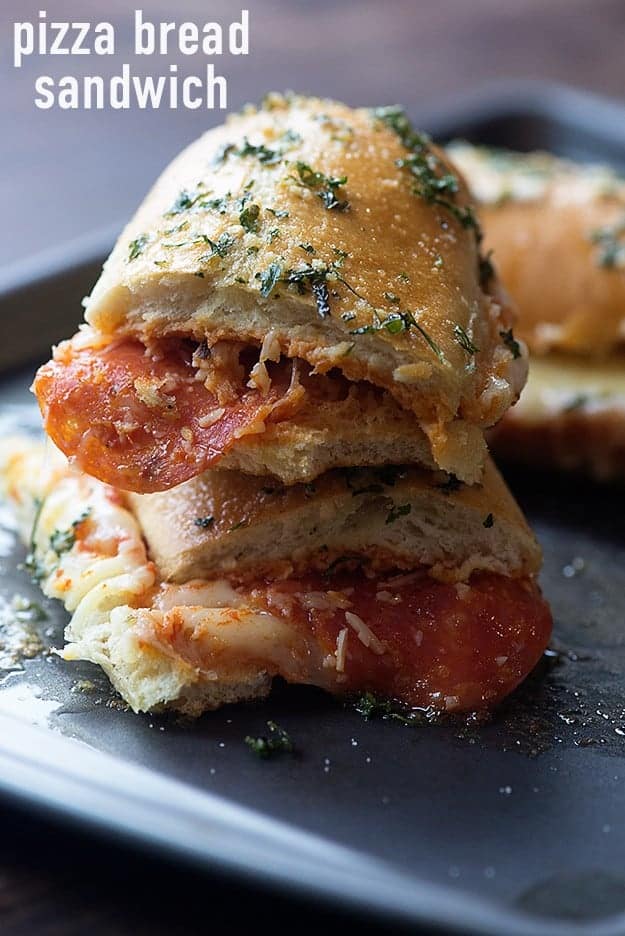 I posted a recipe for pizza bread a few years ago and it's still one of our favorite lunches to make. The kids can do it themselves, it's easy to customize, and hey – who doesn't love pizza?
We like easy lunch ideas because I homeschool the kids. That means they are here for breakfast. And lunch. And dinner. Every day. Plus snacks in between.
Sometimes I feel like all I do is feed short people.
Anyway, one day we were planning to have pizza bread, but we were out of French bread. I had a pack of sub rolls in the pantry, so I made this garlic bread pizza sandwich and you guys. You guyyyyyyyssssssss.
If you're like me, feeling like all you do is feed your little people (and your hungry spouse), you've got to try this. Total crowd pleaser! We've made these for football games to and people rave about our garlic bread pizza sandwiches!
Ingredient Notes:
Cheese – We used Mozzarella and Parmesan for this pizza bread recipe but you can add other cheeses or switch it up entirely if you prefer something else!
Toppings – This can be just about anything you'd like! Pepperoni, sausage, olives, etc. Or just plain cheese if that's your thing!
Sub Rolls – Grab your favorite sub rolls. We like the ones from the bakery department as they're a bit sturdier than most of the pre-packaged ones with the white bread.
Sauce – You can use whatever your favorite brand of jarred or canned pizza sauce is, or make a homemade sauce!
What We Love About This Recipe:
No pizza dough to worry about! Pizza bread is a quick and easy way to get all that homemade pizza goodness without making the dough.
You can load it up with whatever toppings you want!
All that garlic butter flavor!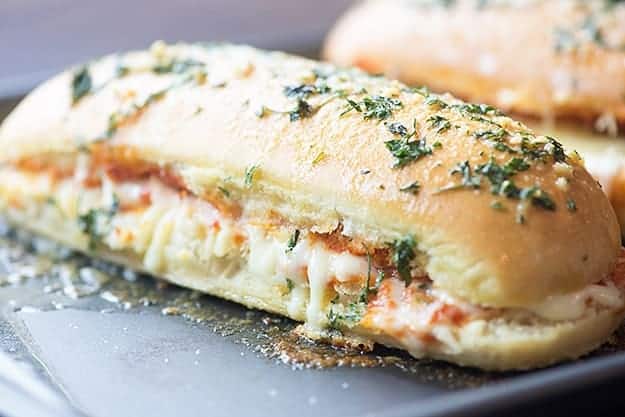 How to Make Pizza Bread:
Prepare: To get started you'll slice the sub rolls in half. Easy! Next you can start saucing them up with your favorite pizza sauce. Spread it evenly over each piece of bread. Be careful not to overload it with sauce, you'll need to save room for the cheese and toppings!
Toppings: Start adding the mozzarella (or whichever cheese you are using) to the bottom pieces of the bread. Then you can start piling on your preferred pizza toppings!
We usually keep it simple with some pepperoni but use whatever you like. Finally, top it off with some of the Parmesan cheese and then place the top halves of the rolls over the bottom. Almost done!
Garlic Butter Topping: Before you can start baking these pizza bread sandwiches we're going to take them to the next level with this topping! In a small bowl stir together the melted butter, garlic, onion powder and parsley.
Start spooning that buttery garlic mixture over the tops of the sandwiches. And be generous! It's going to add that amazing buttery garlic bread taste to your pizza sandwich.
Bake: When you've finished assembling the pizza bread sandwiches and topping with the buttery garlic sauce topping you can start baking!
These only took about fifteen minutes in my oven, but that may vary depending on the size and brand of sub rolls that you use and the amount of cheese, sauce, and toppings you add.
Once the bread is nice and toasty and the cheese has melted serve the garlic pizza bread sandwiches while they're still good and hot!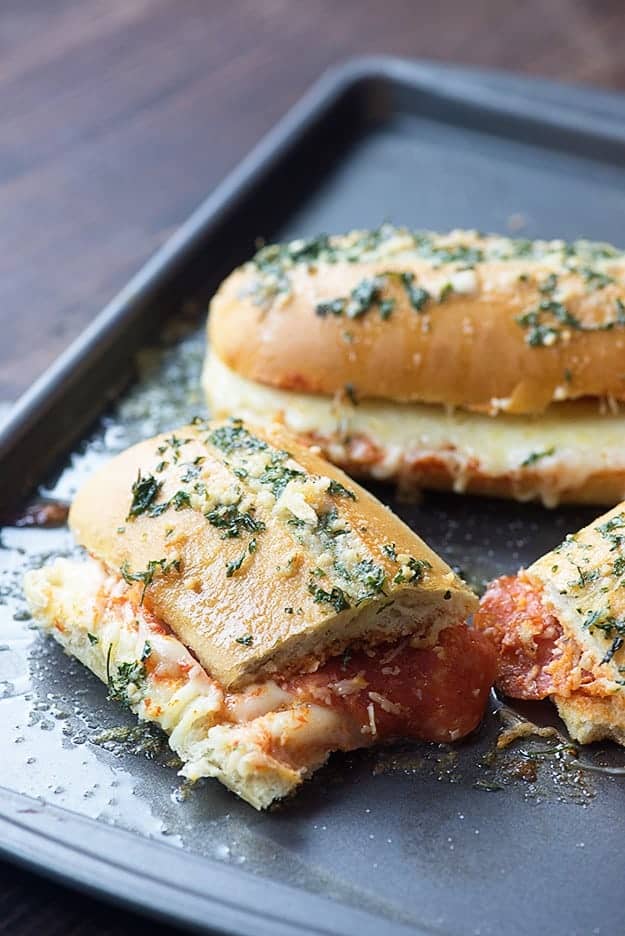 FAQs:
Can I add different toppings?
Just like with a regular pizza you can use whatever toppings you want. This is a sandwich though so it's not as large as a pizza would be so you may not want to overload it too much with toppings.
Can I make this like traditional pizza bread, or does it have to be a sandwich?
The sub rolls work really well for making a sandwich out of this, but you certainly could just top both halves of the bread and eat each halve like you would with regular pizza bread. But trust me, it's even better as a sandwich!
How to store garlic pizza bread?
You can keep these sandwiches in the fridge for about 2 to 3 days if they are well sealed. The bread may get a little soggy but they should still be good re-heated in the oven!
MORE QUICK & EASY LUNCH RECIPES!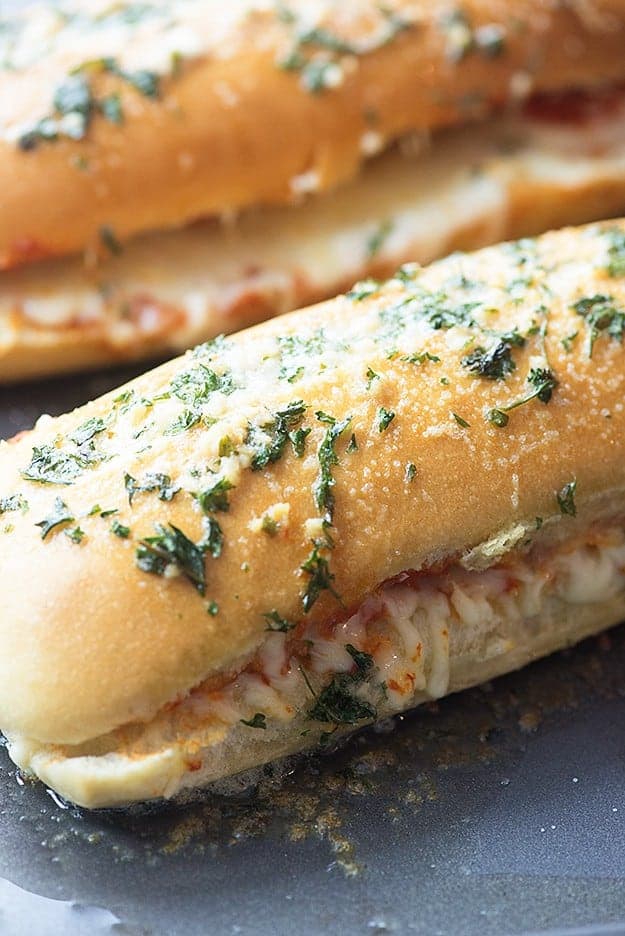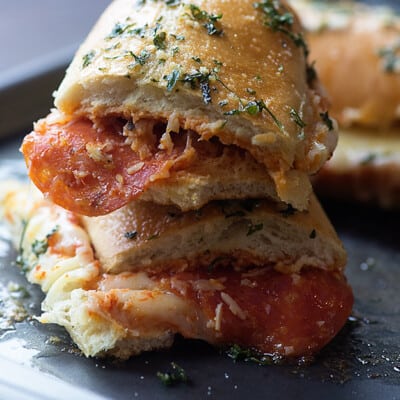 Garlic Bread Pizza Sandwich
If you've ever had French bread pizza, you know how amazing this recipe is going to be! It's seriously the best sandwich, loaded with both pizza and garlic bread vibes.
Prep5 minutes
Cook15 minutes
Total20 minutes
Ingredients
2 sub rolls
1/2 cup pizza sauce
1 1/2 cups grated mozzarella
1/2 cup grated Parmesan cheese
12 slices deli pepperoni
1/4 cup butter melted
1 clove garlic minced
1/2 teaspoon onion powder
1 teaspoon dried parsley
Instructions
Preheat oven to 350 degrees.

Split the sub rolls down the middle and spread pizza sauce evenly between each piece.

Top the bottom pieces of the sub rolls with mozzarella and pepperoni. Add extra toppings if using. Top with Parmesan.

Place the top halves of the sub rolls over the sandwich.

Stir together the butter, garlic, onion powder, and parsley and spoon over the tops of the sandwiches.

Bake for 15 minutes or until the bread is toasty and the cheese has melted.

Serve immediately.
Tips & Notes:
We normally keep it simple with pepperoni, but you could add whatever toppings you like. Sausage, mushrooms, and black olives are great options.
Nutrition Information:
Serving: 1sandwich| Calories: 718kcal (36%)| Carbohydrates: 40g (13%)| Protein: 36g (72%)| Fat: 45g (69%)| Saturated Fat: 27g (169%)| Cholesterol: 137mg (46%)| Sodium: 1723mg (75%)| Potassium: 305mg (9%)| Fiber: 1g (4%)| Sugar: 8g (9%)| Vitamin A: 1600IU (32%)| Vitamin C: 4.8mg (6%)| Calcium: 961mg (96%)| Iron: 11.7mg (65%)