Show of hands, please.
How many of you have had deep dish pizza?
Like, not Pizza Hut deep dish, but real, honest to goodness, there is a pound or more of cheese on this pizza, sauce on top, toppings not on top, deep dish pizza?
It's my new mission to be sure that everyone experiences deep dish pizza the right way. What is the right way, you ask?
Thick, crunchy dough.
Sliced mozzarella, and lots of it. Provolone is nice, too.
Easy on the toppings.
Chunky-ish, simple tomato sauce. Nothing fancy and certainly nothing from a jar labeled "pizza sauce."
That, my friends, is deep dish pizza. It's actually super easy to make and it is super filling. One 12 inch deep dish will easily feed 4. Probably closer to 6, but I'm a big believer in having more than enough food to go around.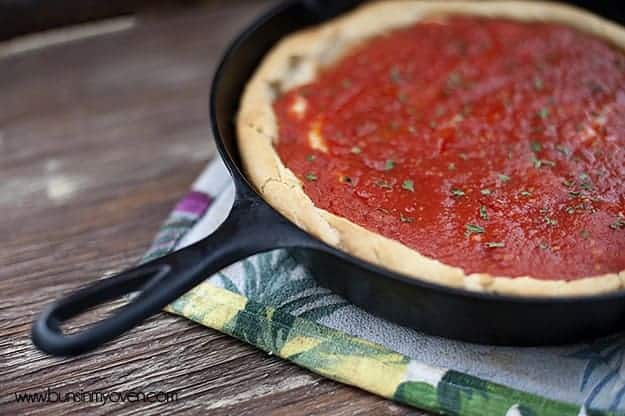 Chicago Style Deep Dish Pizza
Extra cheesy deep dish pizza!
Prep30 minutes
Cook30 minutes
Rise Time6 hours
Total1 hour
Ingredients
To make the crust:
3/4 cup warm water
1 1/2 teaspoons active dry yeast
2 cups flour
1/3 cup vegetable or corn oil
1 teaspoon sugar
1 teaspoon kosher salt
softened butter for greasing the pan
2 tablespoons corn meal
For the sauce:
28 ounce can whole peeled tomates
1 teaspoon Italian seasoning
pinch of sugar
pinch of salt
Toppings:
12 ounces deli sliced mozzarella cheese
6 ounces deli sliced provolone
pepperoni sausage, onions, etc.
Instructions
To make the crust:
Add the water and yeast to the bowl of a stand mixer fitted with dough hook. Let sit 5 minutes.

Add the flour, oil, sugar, and salt to the bowl and turn the mixer to low. Mix until just combined and increase speed to medium, kneading for 2 minutes.

Place the dough ball into a large, greased bowl and set in a warm place for 6 hours.

Lightly butter a 12 inch cast iron skillet. Sprinkle the corn meal in the skillet.

Punch down the dough and let rest for 15 minutes.

Place the dough in the skillet. Use your fingers to press it into the bottom of the skillet and up the sides.

Bake for 10 minutes in a preheated 450 degree oven.

While the crust is parbaking, prepare the sauce.

Drain the whole tomatoes and place in a blender or food processor. Add the Italian seasoning, sugar, and salt and blend until the tomatoes are mostly broken up, but still somewhat chunky.

Remove the crust from the oven and layer the cheese slices in the crust.

Add your favorite toppings.

Pour on about 1/2 cup of sauce. Use more or less, depending on how saucy you like your pizza. We go pretty easy on the sauce. (There will be quite a bit of leftover sauce. Freeze it in a freezer bag or refrigerate and use within 5 days.)

Return to the oven and bake for 20 more minutes or until the crust is golden and the cheese has melted.

Let sit 5 minutes before serving.
Nutrition Information:
Serving: 1slice| Calories: 434kcal (22%)| Carbohydrates: 32g (11%)| Protein: 20g (40%)| Fat: 25g (38%)| Saturated Fat: 10g (63%)| Cholesterol: 48mg (16%)| Sodium: 887mg (39%)| Potassium: 311mg (9%)| Fiber: 2g (8%)| Sugar: 3g (3%)| Vitamin A: 590IU (12%)| Vitamin C: 9.2mg (11%)| Calcium: 415mg (42%)| Iron: 2.9mg (16%)