All of the flavors of a Hawaiian pizza stuffed inside a chicken breast! This is a lower carb option for my favorite pizza recipe and it's super simple to make!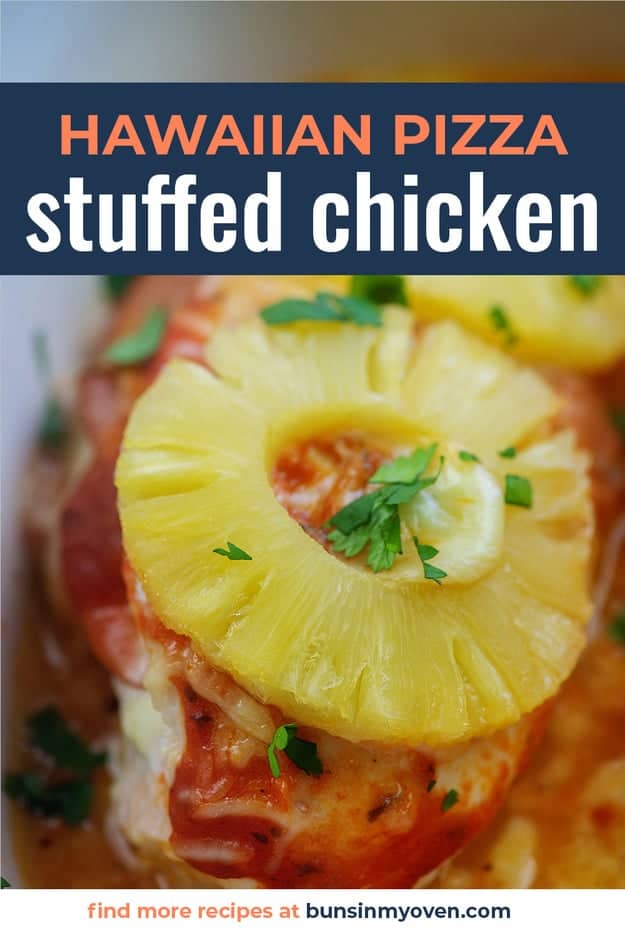 Okay, look.
There are two types of people in this world: Those that love pineapple on their pizza and those that are wrong. 😉
I'm sorry, but the sweet pop of pineapple on pizza is quite possibly the closest thing to heaven on Earth.
I'm not really a traditionalist when it comes to Hawaiian pizza though – I swap out the ham for either pepperoni or bacon and I always add fresh slices of jalapeno.
Salty, sweet, spicy…it's seriously divine!
Anyway, we're not talking about my favorite pizza order right now, we're talking about this stuffed chicken recipe that I am currently obsessing over.
If you like pineapple or pizza or ham or chicken or cheese, I think you're going to like this one. (I covered all my bases there, because this was seriously so good that I really want people to just TRUST ME for a hot minute and give something new a try!)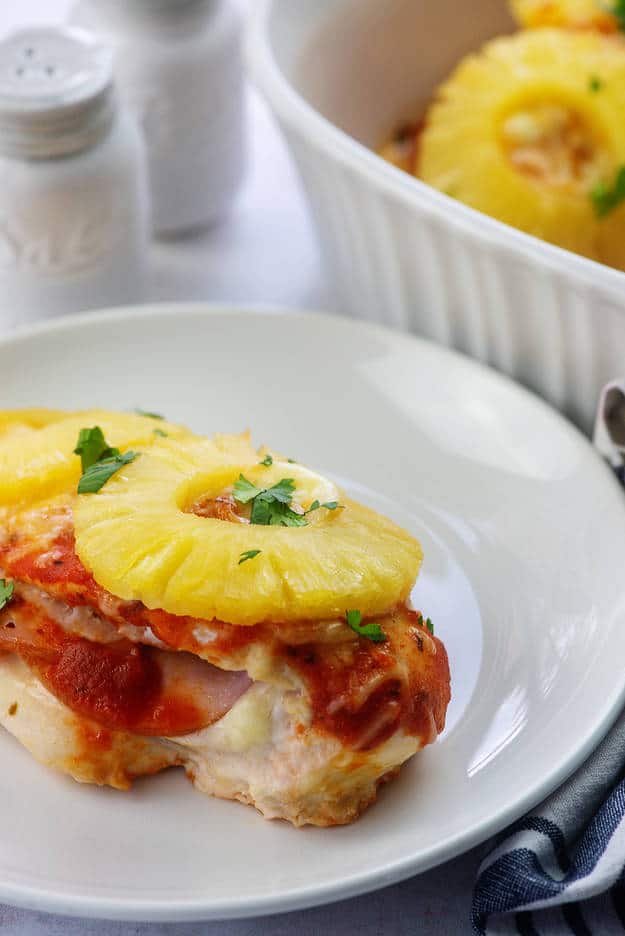 How to:
Start by slicing a deep pocket into the side of some chicken breasts. Sounds fancy, but it's super simple!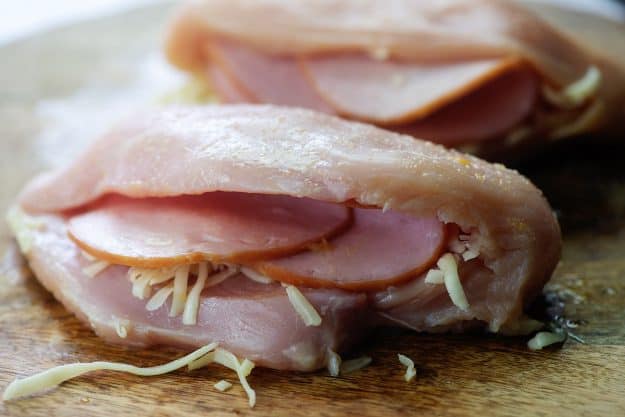 Just place the chicken on a cutting board, place on hand on top to hold it in place, and use a sharp knife to cut a deep horizontal slit (or pocket) into the chicken, almost like you're butterflying the chicken. Just don't cut all the way through.
Watch my video off to the side to see this in action! It's really easy.
Then you'll season the chicken and start filling the pocket with mozzarella, deli ham or Canadian bacon – whichever you prefer is fine here.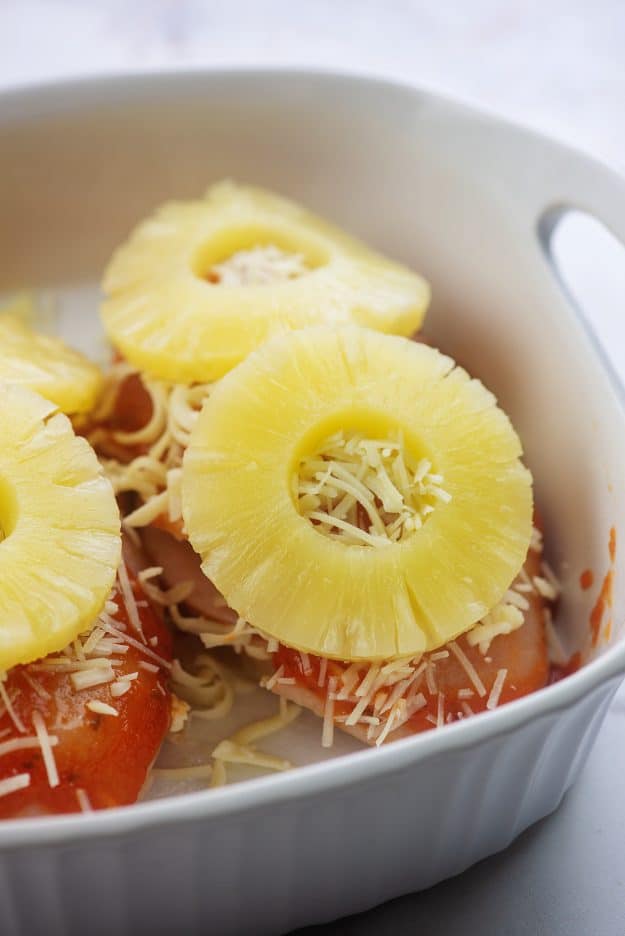 Pop the chicken into a baking dish and top it off with pizza sauce and more cheese. And, of course, a couple of slices of pineapple! The pineapple is the best part!
This bakes in about 30 minutes.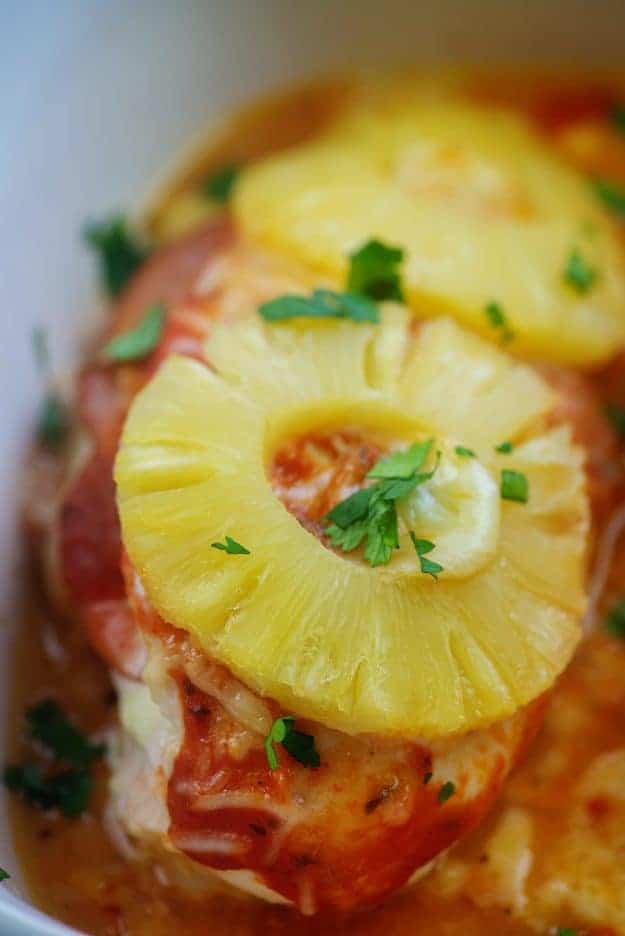 picky kid tip!
Swap out the pizza topings!
No need to stick with ham and pineapple! Stuff your chicken with pepperoni, sausage, olives, or mushrooms!
Whatever pizza toppings your kids love will work great in this recipe!
See this pizza stuffed chicken for inspiration!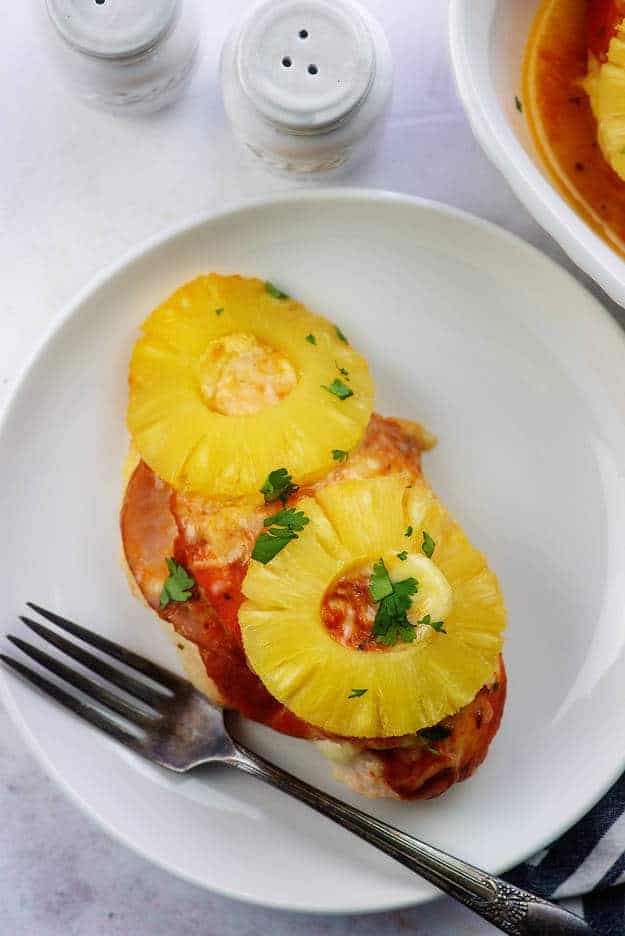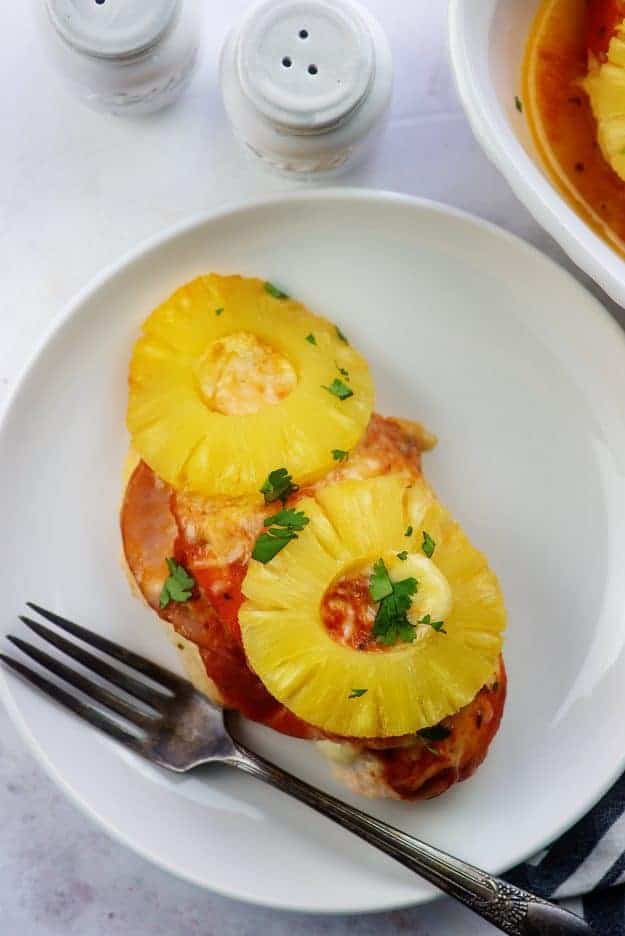 Cutting Carbs?
This is a great lower carb option, since the pizza crust is missing!
That said, to keep it even lower in carbs, just use 1 pineapple ring per chicken breasts. This will cut the carbs down to about 8 net carbs per serving, depending on the specific brands and products you use.
Leftover Hack!
Chop up any leftover chicken into bite-sized pieces and turn it into a Hawaiian Pizza quesadilla using tortillas and extra cheese.
More favorite chicken recipes: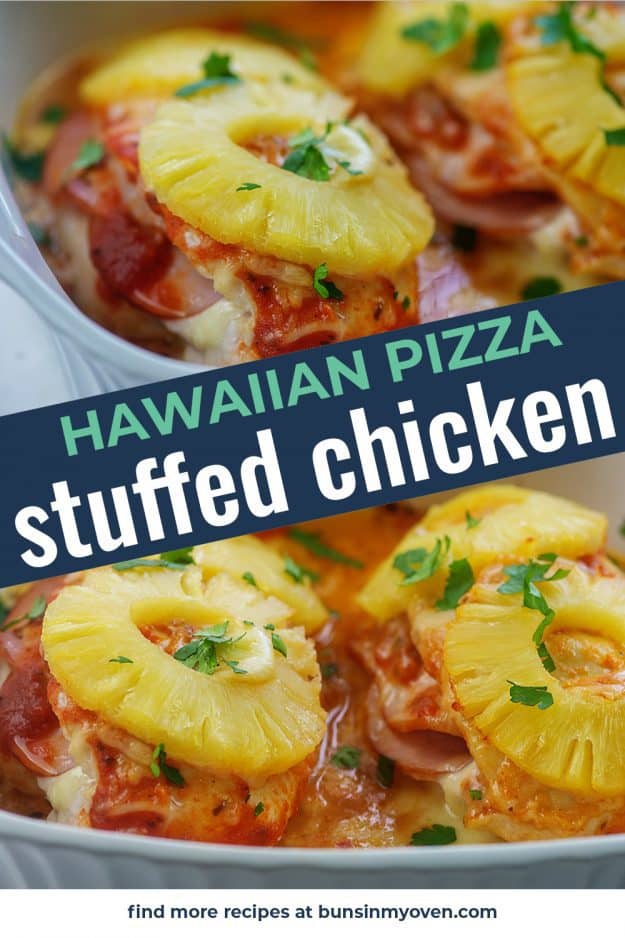 Hawaiian Pizza Stuffed Chicken
All of the flavors of Hawaiian pizza stuffed inside a juicy piece of chicken! This is a lower carb & healthier take on pizza and kids absolutely love it!
Prep15 minutes
Cook35 minutes
Total50 minutes
Ingredients
4 chicken breasts about 6 ounces each
2 teaspoons olive oil
1 teaspoon garlic powder
½ teaspoon salt
1 1/2 cups grated mozzarella divided
¼ cup Parmesan cheese
8 slices Canadian bacon
1/2 cup pizza sauce
8 slices canned pineapple
Parsley for garnish
Instructions
Preheat oven to 375 degrees. Spray a 9×13 baking dish with non-stick spray.

Place the chicken breasts on a cutting board. Use a sharp knife to cut a pocket into the side of each chicken breast.

Drizzle both sides of the chicken with oil and season with the garlic powder and salt.

Place 2 tablespoons of mozzarella in the pocket of each chicken breast. Add 2 slices of Canadian bacon to each piece of chicken.

Place the chicken in the prepared baking dish and drizzle with the pizza sauce. Spread the sauce out to cover the tops of the chicken.

Sprinkle with the remaining mozzarella. Top with the Parmesan and pineapple slices.

Bake, uncovered, for 30-35 minutes or until the chicken is cooked through.

Sprinkle with fresh parsley before serving.
Tips & Notes:
Deli sliced ham works well in place of Canadian bacon if that's what you have on hand.
Nutrition Information:
Serving: 4| Calories: 574kcal (29%)| Carbohydrates: 15g (5%)| Protein: 73g (146%)| Fat: 20g (31%)| Saturated Fat: 8g (50%)| Cholesterol: 205mg (68%)| Sodium: 1593mg (69%)| Potassium: 1317mg (38%)| Fiber: 2g (8%)| Sugar: 18g (20%)| Vitamin A: 509IU (10%)| Vitamin C: 15mg (18%)| Calcium: 443mg (44%)| Iron: 2mg (11%)